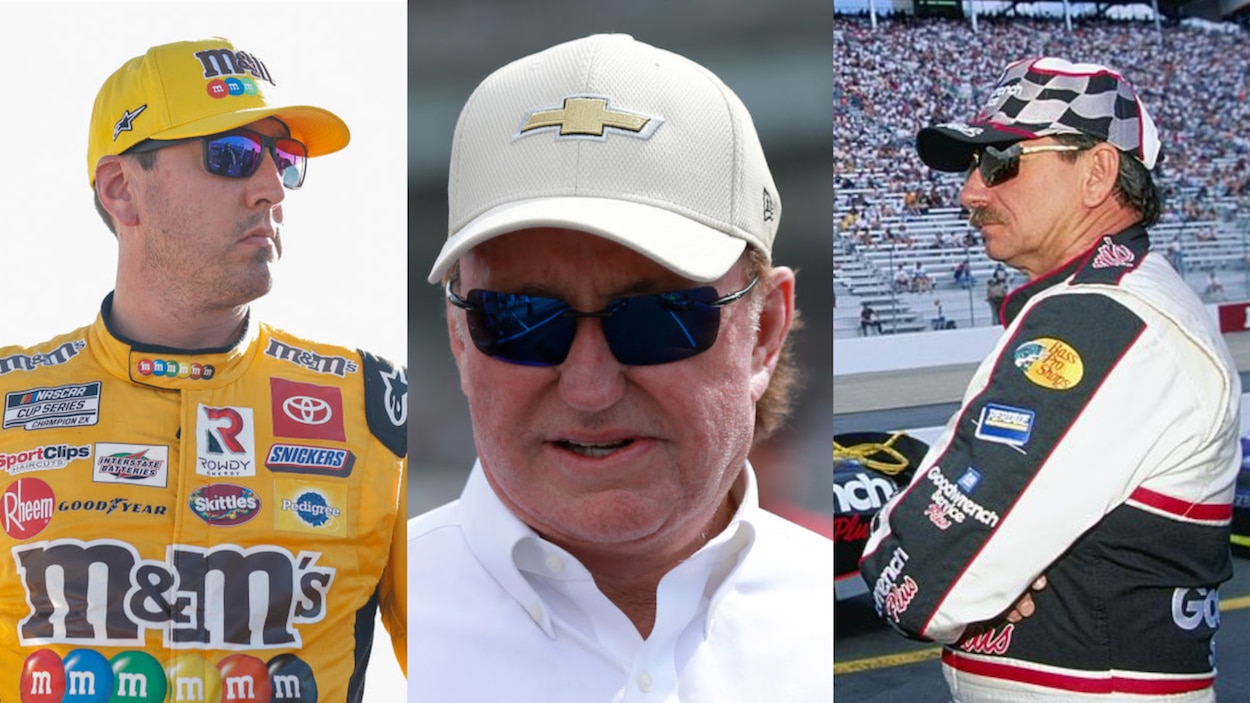 Richard Childress Sees a Lot of Dale Earnhardt in New Driver Kyle Busch, and the Comparison Is Totally Justified
Being compared to Dale Earnhardt is certainly high praise, but Kyle Busch is deserving of the honor. Just ask his new boss.
First, the obvious: Six-time NASCAR Cup Series champion team owner Richard Childress hired Kyle Busch because Busch is an extremely talented race car driver — arguably the most talented in the sport. 
But during Tuesday morning's press conference at the NASCAR Hall of Fame in Charlotte, North Carolina, where Busch formally announced his plans to compete for Childress in 2023, Childress had a lot more to say about the driver he signed to replace Tyler Reddick next season in the No. 8 Richard Childress Racing Chevy.
Hands-down, Childress' most interesting take from Tuesday morning is that Busch — a winner of two Cup Series championships and more than 200 NASCAR national touring series races — reminds him of someone special. That special someone is the late Dale Earnhardt, who built a legacy with RCR like no other over two decades leading up to his death on the final lap of the 2001 Daytona 500. 
While some folks — particularly those who were devoted fans of Earnhardt — might dispute or even resent the comparison between Earnhardt and Busch, it's a very fair one. In fact, it's not just fair. It's spot-on.
And in just a minute, you'll find out why.
Like Dale Earnhardt before him, Kyle Busch will stop at nothing to win
To have a nickname, one must first have a reputation. So it's no accident that Dale Earnhardt was known as "The Intimidator," and Kyle Busch has long been dubbed "Rowdy."
Like Earnhardt in the '80s and '90s, Busch has built a reputation over the past 18-plus years in the Cup Series as the kind of driver who's willing to do almost anything to win. And that includes wrecking or rubbing people without hesitation when the big check and big trophy are on the line.
Among the drivers Busch has clashed with on the track at various points during his time in NASCAR are Kevin Harvick, Joey Logano, Chase Elliott, Dale Earnhardt Jr., Brad Keselowski, Kyle Larson, Ron Hornaday Jr., and Austin Dillon — who is Richard Childress' grandson and the one responsible for setting up a meeting between Busch and Childress to discuss the possibility of Busch joining RCR in 2023.
More often than not in these situations, Busch has been the aggressor. But in that way, he's no different than Earnhardt, whose Hall of Fame career included memorable run-ins with the likes of Darrell Waltrip, Rusty Wallace, Terry Labonte, Bill Elliott, and Geoff Bodine. Remember, it was Earnhardt who, after knocking Labonte out of the way to win the 1999 Bristol night race, memorably chided that he wasn't trying to wreck Labonte but merely "rattle his cage."
That was Earnhardt: tough, bold, brash, and hell-bent on not losing. Busch has taken a remarkably similar approach over the years — leading to a remarkably similar level of success.
"I've watched Kyle's talent for many years — since he started in the Busch (now NASCAR Xfinity) Series," Childress said during Tuesday's recorded livestream announcement. "Just how he handles the car, the car control, the way he drives a car, and his take-no-prisoners attitude, that's the Dale Earnhardt style that I was accustomed to racing with. And I think Kyle has that modern-day style of racing that Dale Earnhardt had in his time."
How does it make Busch feel to be compared to Earnhardt by the legendary driver's longtime friend and team owner, who himself drove in the Cup Series before handing the wheel over to Earnhardt in the middle of the 1981 season?
"Yeah, I mean, certainly it's flattering," Busch said during Tuesday's livestreamed announcement. "It's happened a lot over the years, but to hear it from RC [Childress] — obviously, he was the closest to [Dale], and RC being a racer himself and being in the driver seat and putting on a helmet himself over the years, he knows what it's like to get behind the wheel and be in the elements of what it is to have success and go out there and achieve success. So it's flattering, it's a great honor."
Kyle Busch knows how to play mind games similar to how Dale Earnhardt did long ago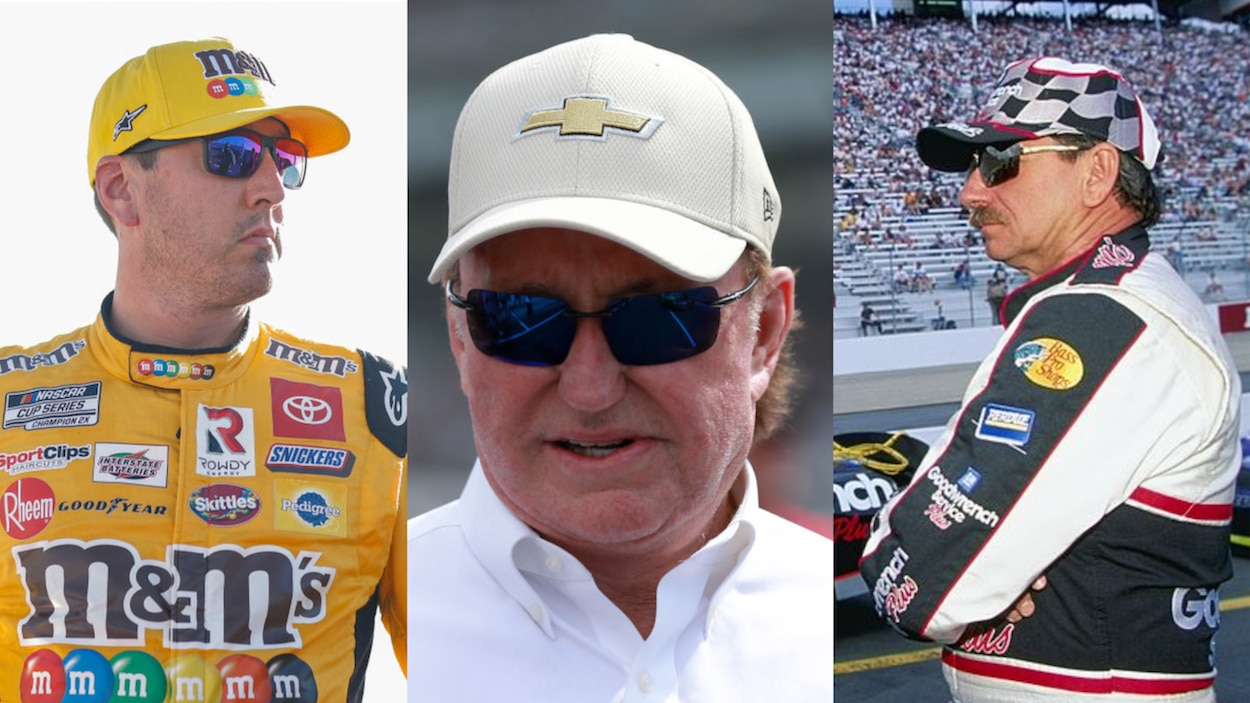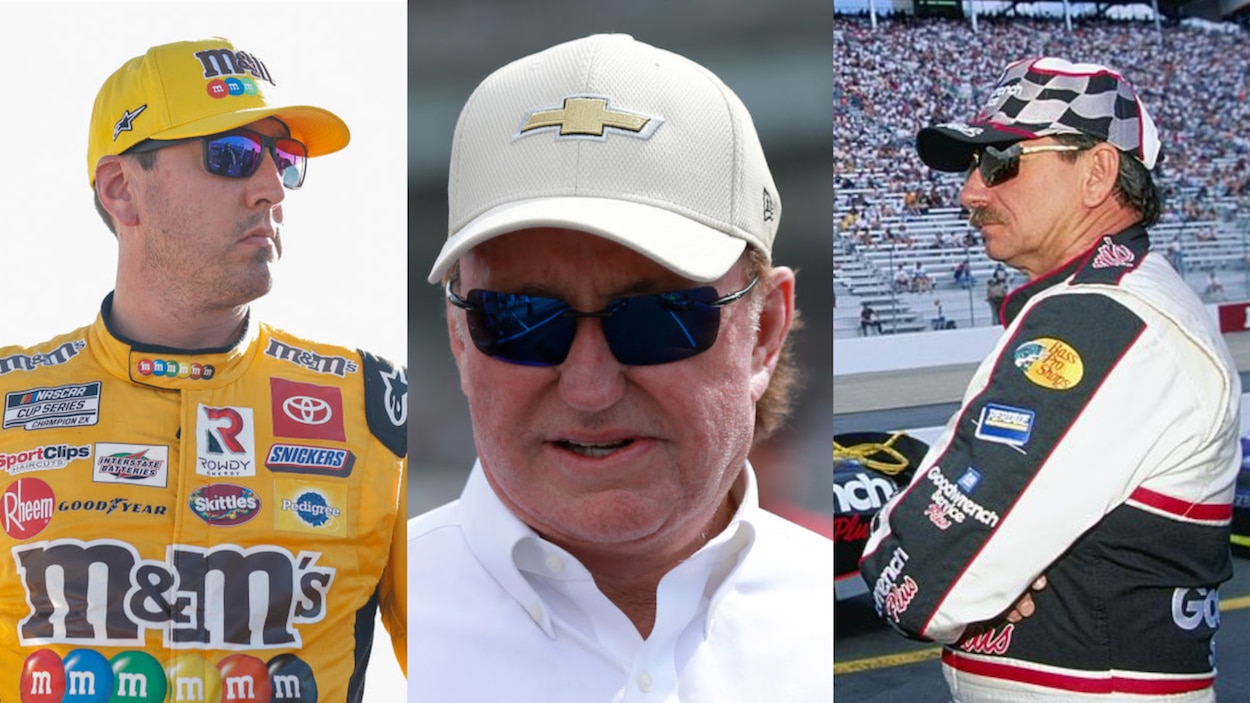 The way Kyle Busch conducts his business on the race track isn't his only resemblance to Dale Earnhardt. No, like Earnhardt back in the day, Busch has a certain mystique, aura, and confidence about him that most drivers lack.
Never one to be reluctant to speak his mind, Busch is rarely gracious in defeat, and he's taken more than one opportunity over the years to voice a strong opinion about fellow competitors and NASCAR itself. And he's even thrown the occasional tantrum along the way.
Busch has also engaged in more than one physical altercation with other drivers or members of other teams, including Childress — his new boss — who punched him and placed him in a headlock following a race at Kansas Speedway in 2011.
While Earnhardt wasn't known for fighting (he did have to be separated from Rusty Wallace after the Bristol night race in 1995), the Kannapolis, North Carolina native was a master of mind games and making his competitors fear him. "The winner isn't the one with the fastest car," the late legend once said. "It's the one who refuses to lose."
Earnhardt knew how to get inside his competitors' heads like no other, and Busch has demonstrated that same knack at times, including during a joint press conference with Brad Keselowski and two other fellow championship contenders in 2017 when he made no effort to hide his contempt for Keselowski just days before the final race.
"Sometimes you just don't like a guy," Busch said, with Keselowski sitting just two seats away.
Kyle Busch is ready to carry on the legacy Dale Earnhardt laid before him at RCR
Dale Earnhardt captured six of his record-tying seven NASCAR Cup Series championships and all but nine of 76 career Cup wins in cars owned by Richard Childress.
Fifty-six of Kyle Busch's 60 Cup Series victories have come in Joe Gibbs Racing Toyotas, but Busch's trips to Victory Lane have been uncharacteristically sparse since 2019 — the last year he won more than twice in the same season.
When Childress and Busch met recently to talk about Busch possibly coming on board at Richard Childress Racing, the former man recognized the same kind of fire in the 37-year-old driver that he remembers recognizing in Earnhardt long ago.
"We talked about championships, and we talked about winning races, and I looked at him in his eye, and I saw that look in Dale Earnhardt Sr.'s eye that he's hungry," Childress said. "We're going to win. I'd seen that look before."
As much as he embraces the comparison with arguably NASCAR's all-time greatest driver, Busch wants to make one thing very clear.
"Dale Earnhardt is Dale Earnhardt, and there's only one of those," he said on Tuesday. "And there's probably only one Kyle Busch, as it's going to be hard to figure out somebody else that's as close to this one as I am. But obviously [being compared to Earnhardt] is a huge accolade, and I look forward to continuing that winning tradition of RCR and allowing myself to go up there and bring some more championships to that organization that already has a storied legacy."
A storied legacy that's likely going to grow even stronger thanks to Busch — and his striking similarities to Earnhardt.
Like Sportscasting on Facebook. Follow us on Twitter @sportscasting19 and subscribe to our YouTube channel.