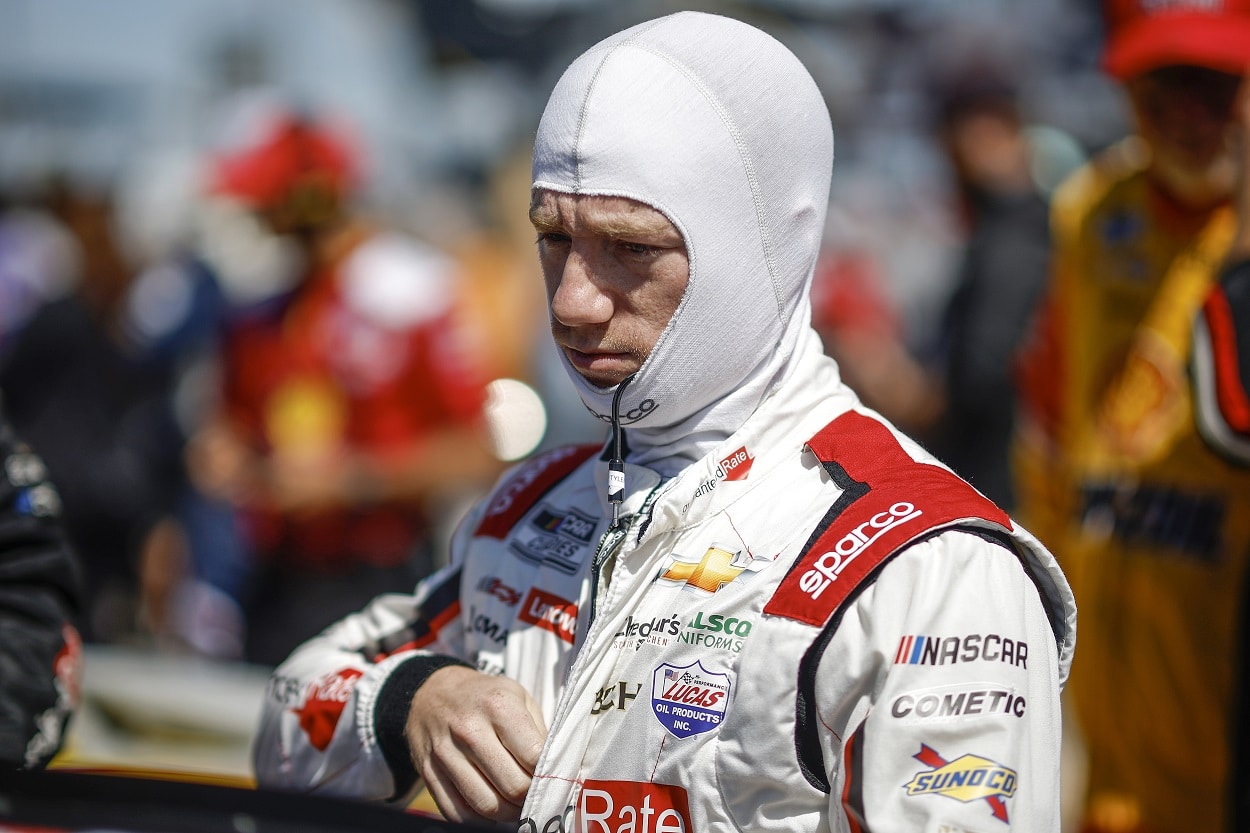 Tyler Reddick and the No. 8 Richard Childress Racing Team Made a Massive Mistake at Kansas, and It Could Cost Them Dearly
Tyler Reddick's playoff standing changed quickly in Kansas.
Tyler Reddick has had a career year in every conceivable sense. But a recurring issue arose again Sunday at Kansas Speedway that could mark another early end to his championship hopes.
Reddick has flourished in his third full-time NASCAR Cup Series season. He won his first two races in the series with a victory at Road America n early July and another at the next road-course race later in the month at Indianapolis Motor Speedway. He also won the pole award for the Indianapolis event.
The 26-year-old Richard Childress Racing driver (for now, that is) has already set career highs in wins, top-fives, poles, and laps led. He entered the 2022 NASCAR Playoffs tied for eighth in the playoff standings in the No. 8 car after transforming himself from a driver who was happy to make the playoffs a year ago to a bonafide title contender this season.
Reddick reached the 16-driver playoffs for the first time in 2021 but did so based on his points total despite only two top-five finishes in the 26-race regular season. He did not record a top-10 in the first round and was eliminated from championship contention after the first three races.
Tyler Reddick was a force in both the Truck and Xfinity series
He entered the 2022 campaign still winless in the Cup Series despite substantial previous success in NASCAR's lower ranks. Reddick won a pair of races and finished second in the 2015 Camping World Truck Series standings as a 19-year-old driving for Brad Keselowski Racing.
By 2018, he had risen to the Xfinity Series and won the championship with two race wins in the No. 9 car for JR Motorsports. He defended that title a year later with six wins despite moving to RCR to drive the No. 2 Xfinity car.
That success led to a full-time seat in the No. 8 Cup Series car for 2020. He had typical rookie struggles that first season. He led only 30 laps, managed three top-five finishes, and finished 19th in the points standings.
He made progress in 2021 with his first pole award at the Circuit of the Americas road course in Austin and made his first playoffs appearance.
This season has been different, however. Reddick is a legitimate contender more weeks than not. His nine top-fives are tied for fourth-most in the series, his 9.4 average starting spot ranks second, and he has led a career-high 369 laps.
The No. 8 RCR team didn't need to be aggressive at Kansas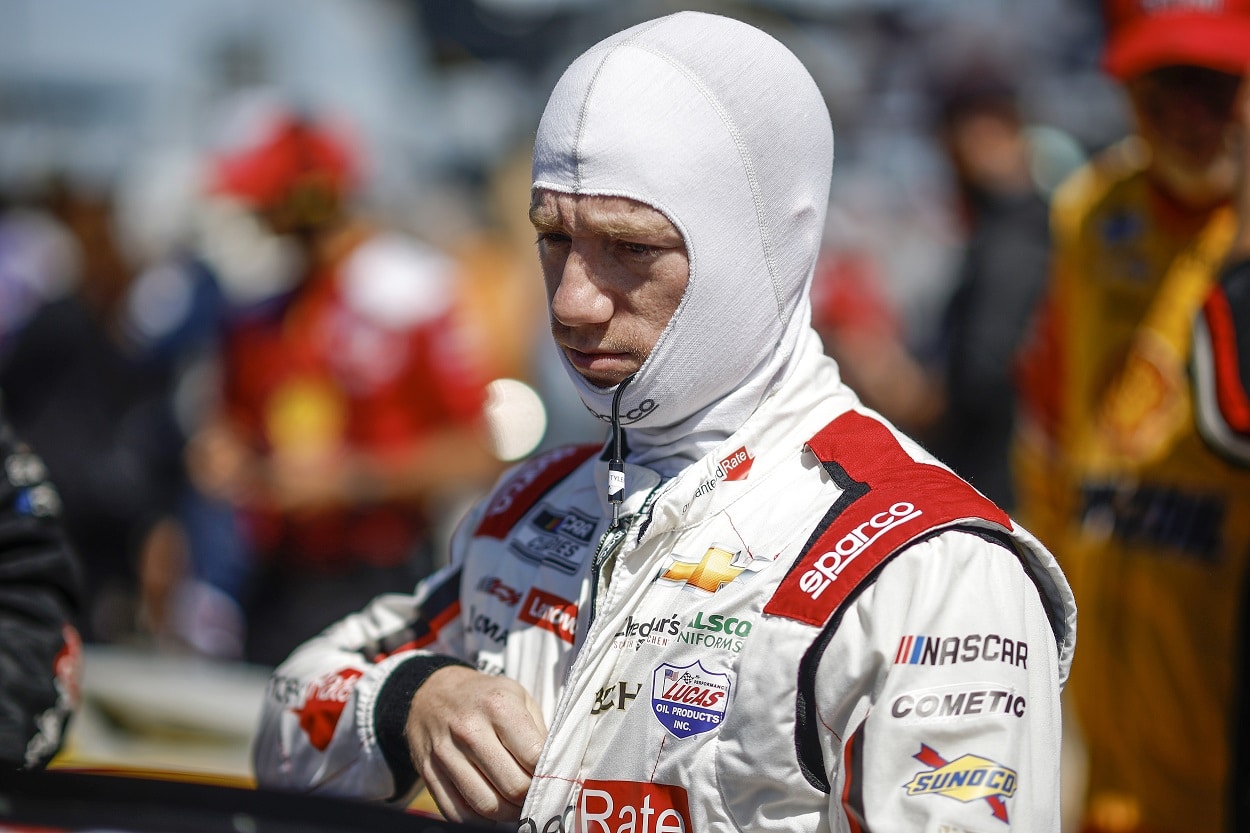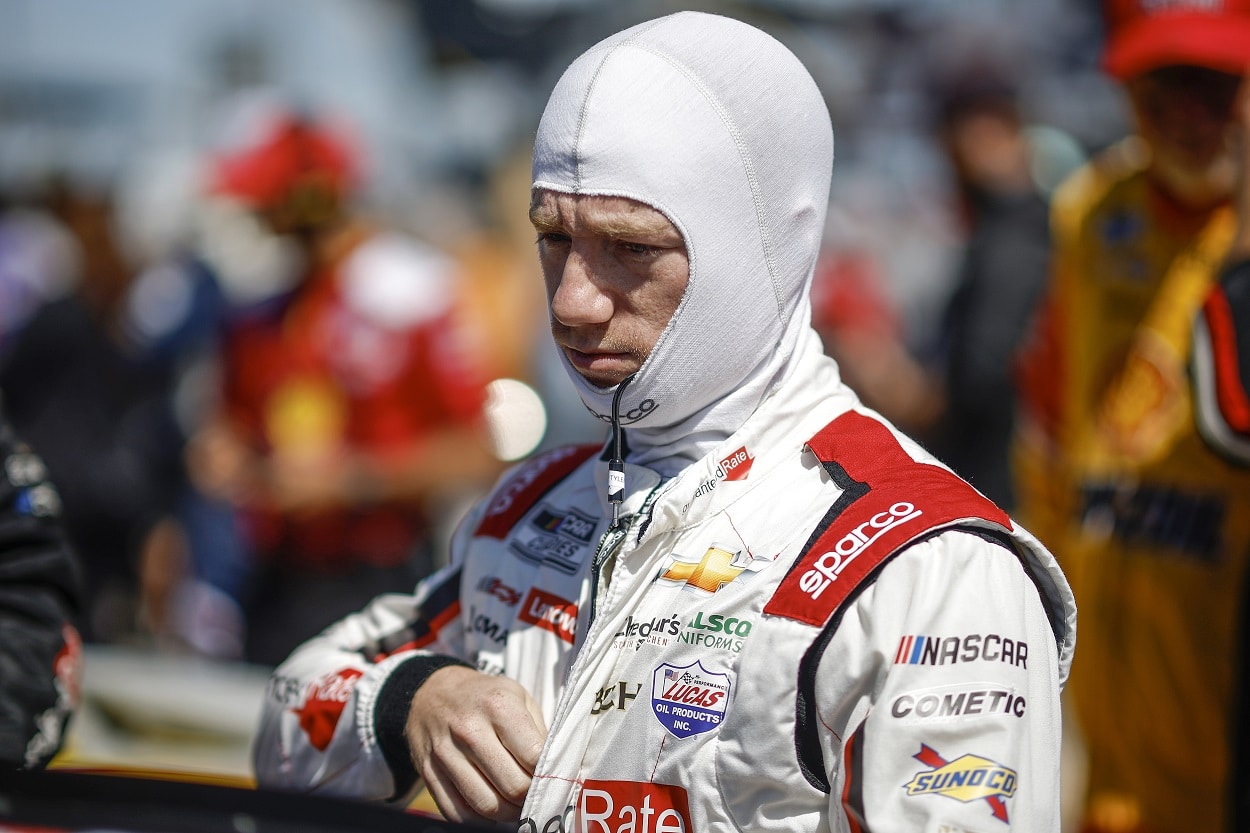 All of those impressive numbers make his problem Sunday at Kansas puzzling, as this has been a lingering issue for the No. 8 operation.
Reddick won his second pole of the season Saturday. He then led 38 of the first 65 laps before a flat right-rear tire caused him to slide into the Turn 2 wall and ended his day.
"The right-rear tire just blew like we've had a few times," Reddick said after the race. "At Fontana (Auto Club Speedway), I was able to save it. But here, it snapped at the worst possible point, and we just killed the wall."
He did not make contact with anything before the flat tire, nor did a host of other competitors have similar issues. That suggests the No. 8 team either pumped the air pressure too high in his tires or was too aggressive with the rear camber settings that determine how far the tires lean to one side.
More camber will typically help a car get through the turns faster, but it also carries the risk of wearing out the tire prematurely. Perhaps that helped Reddick turn his fast lap in qualifying, but he was finally in a position where he did not need to be ultra-aggressive.
Reddick entered the Kansas race fifth in the playoff standings after a third-place effort in the postseason opener a week earlier at Darlington Raceway. He had a 23-point cushion over 13th place, the first spot below the first-round elimination cutline.
Reddick will be on the playoff bubble at Bristol
He now is only two points ahead of the cutline and tied with Austin Cindric for 11th after the blown tire resulted in a 35th-place finish at Kansas.
The final race of the first round is Saturday at Bristol Motor Speedway, where Reddick has had marginal success. He nearly won the spring race at the track, but that was with the surface covered in dirt. Reddick has one top-five in four races on the concrete surface at Bristol, while his other three results have been 13th or worse.
It's undoubtedly going to be a nerve-wracking weekend for Reddick and the No. 8 team, although it didn't need to be so. Perhaps some more playoff experience would have shown them they didn't have to be so aggressive in their Kansas setup, given where they sat in the standings.
Kansas might have been a learning moment for the No. 8 team in this year's playoffs. For the driver's and crew's sake, hopefully, the lesson didn't happen too late.
Stats courtesy of Racing Reference
Like Sportscasting on Facebook. Follow us on Twitter @sportscasting19 and subscribe to our YouTube channel.