Joey Logano Calls Out Tyler Reddick for Smiling and Casual Reaction After Getting Wrecked on Final Lap at Bristol: 'I Would Be Livid'
Joey Logano, like many others, including Chase Briscoe, was surprised by Tyler Reddick's reaction after getting robbed of his first Cup Series win and called him out for it.
Joey Logano finished third in the NASCAR Cup Series dirt race at Bristol on Sunday night. He had as good a view as anyone besides Kyle Busch of what transpired in the final turns when Chase Briscoe wrecked Tyler Reddick, ending their chances at victory. 
After the race, Briscoe approached Reddick and many, including the Stewart-Haas driver, expected fireworks. Instead, it was an awkward moment with both drivers accepting responsibility for what happened. Logano made his weekly appearance on SiriusXM NASCAR Radio, talked about the last-lap incident, what happened afterward, and called out Reddick for his behavior and how he would have reacted differently.      
Joey Logano wrecked at Bristol and confronted Denny Hamlin
Joey Logano has been in Tyler Reddick's shoes before at Bristol. In 2013, Denny Hamlin got into the rear of the No. 22 car at Thunder Valley, sending him for a spin into the outside wall. Moments after the race, the Penske driver hurried down pit road in search of Hamlin.
When he found him, Logano leaned over inside the No. 11 car and said a few words to Hamlin before crew members from both teams intervened. Soon after, Fox caught up with both drivers and asked about the incident.
"He said he was coming for me," Hamlin said. "I usually don't see him so it's usually not a factor."
"It's Bristol but it's ridiculous," Logano said. "I feel like I race him clean all the time and he's going to do that. I understand the way he races now that he's not my teammate and I will race him the same way that he races me."
Joey Logano calls out Tyler Reddick for his reaction at Bristol
Chase Briscoe admitted when he approached Tyler Reddick after wrecking him on the last lap at Bristol that he half-expected the Richard Childress Racing driver to punch him. Instead, the 26-year-old inexplicably shouldered much of the blame, suggesting that he shouldn't have allowed Briscoe to get close enough to wreck him in the first place. 
While some credited Reddick for being professional, others were dismayed by his nonchalant reaction. Count Logano among the latter. 
"If I'm Tyler Reddick, I probably understand that it was an accident and it wasn't intentional, but I'm still really angry about that because it's one thing to move me, it's one thing to bump me for the win," Logano said on SiriusXM NASCAR Radio. "I am OK with that. You're going to come in and move me out of the way. Am I going to be mad? Yeah, but I'm going to be OK with it because I'm willing to do the same thing. I'm not really willing to wreck somebody for a win. I'm willing to move somebody for a win. That's what I expect. You can't be a hypocrite. I would be mad because I just got wrecked out of a win, my first win. I would be livid."
Logano said he respected Briscoe for walking up with everybody around and apologizing but Reddick's response to the situation was not anything that he would have done. 
"I don't know if I'd be laughing and joking and shaking hands at that point. I think I'd be a little bit more angry," the 2018 Cup Series champion bluntly admitted. "Dude, you just robbed the win from me. And neither one of us won. Now it's like what the heck was that about. If it's me and that happens, you got one coming, bud. That's what I would say. I don't know. I don't think I'd be laughing about it and joking about it. That's a big hit. You think about it. You're about to win your first race. It's going to put you in the playoffs. The impact that makes for your team. The impact that it makes on the checkbook. You just got robbed, dude. Like you had it in the bank and got wiped out. I just wouldn't be happy about it. I couldn't smile. There's no way in heck I'd be smiling for the next two days."
Ryan Blaney was expecting fireworks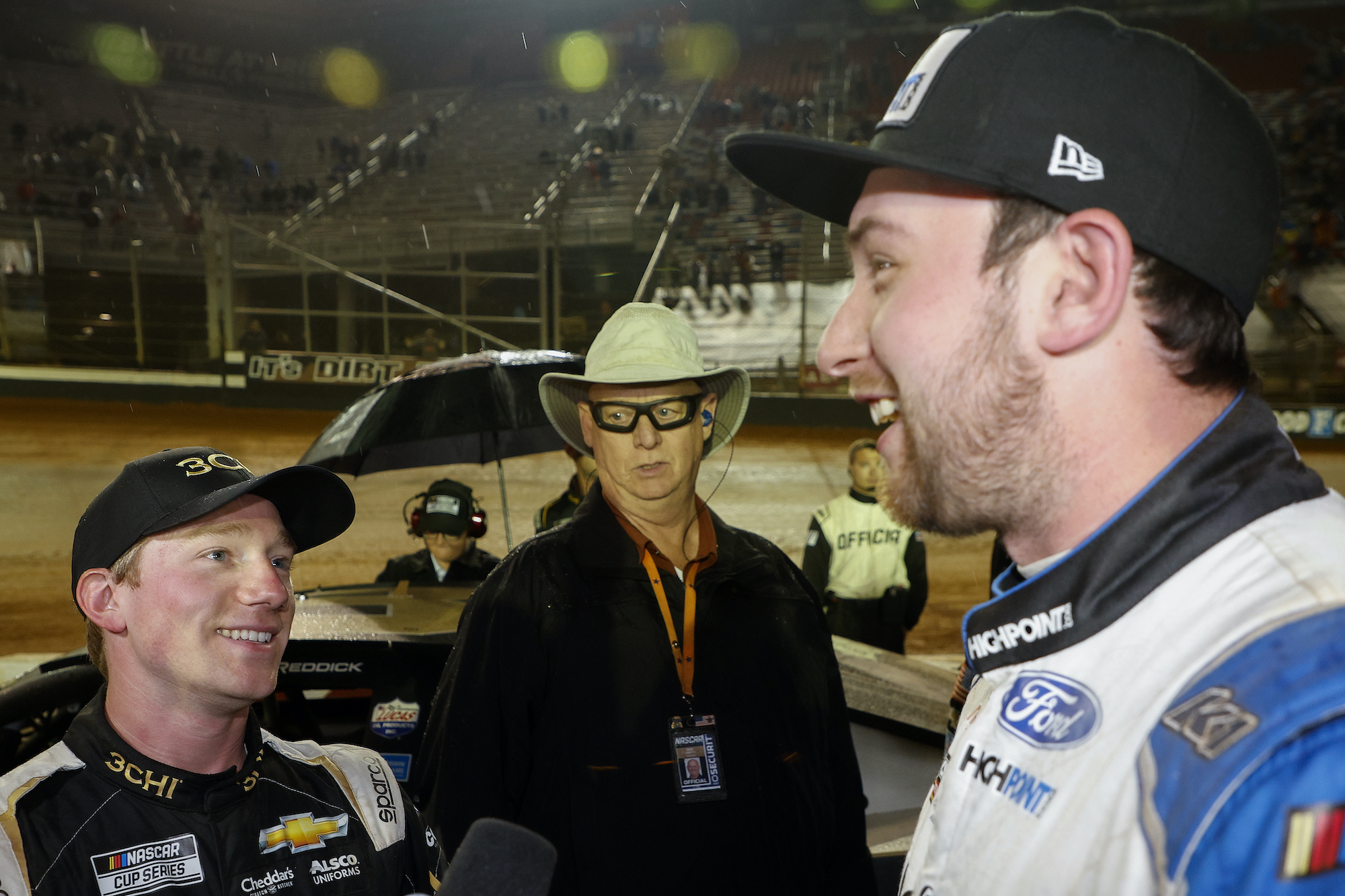 During an episode of NASCAR Race Hub this week, Logano's teammate Ryan Blaney and the rest of the studio crew discussed the postrace confrontation that never happened. Blaney admitted he was surprised by the RCR driver's response.
"It's good that those guys settled it how they did, and everyone is going to react differently," he said. "Everyone is going to react differently than Tyler did. We're all unique people, but I did expect a little more than that. I was standing by my car and I had my eyes peeking over there what was going to happen. It was nice that they were able to move on."
Many pundits believe it's just a matter of time before Tyler Reddick earns his first Cup Series victory. Sunday night's race at Bristol confirmed he's close. Unfortunately, what happened after the race has some questioning whether he has that killer instinct to win. And that likely won't go away until he finally makes it to Victory Lane.
Like Sportscasting on Facebook. Follow us on Twitter @sportscasting19.