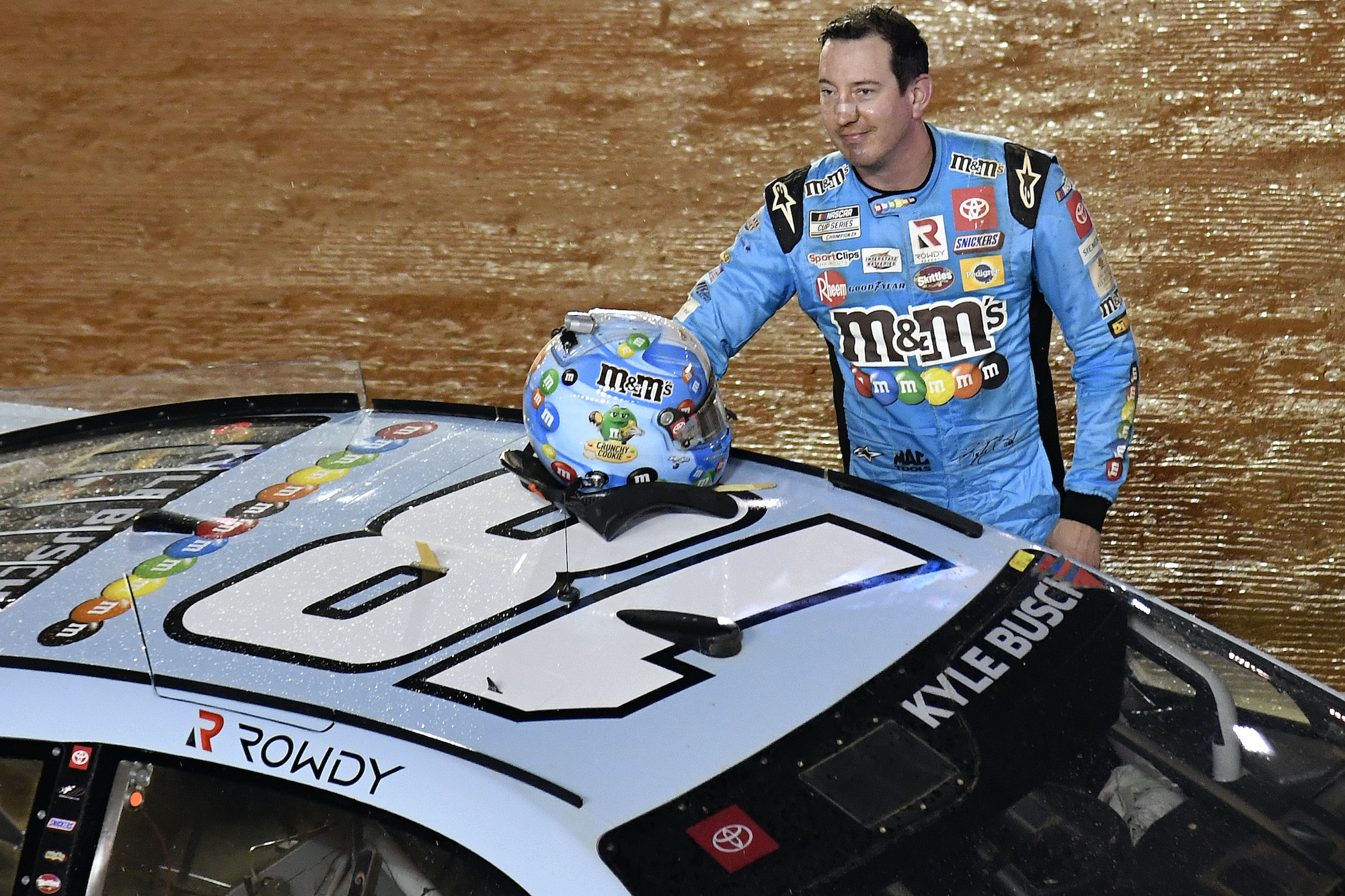 Kyle Busch's Hypocrisy Exposed After Backing Into Bristol Win in a Race He Said Takes the Sport Backwards
Kyle Busch won on the Bristol dirt and afterward got exposed for a pair of hypocritical takes in the last month.
Kyle Busch's win at Bristol tied him with Richard Petty for an impressive record of winning one race a year for 18 consecutive seasons. It's a testament to the Joe Gibbs Racing driver's ability to maintain a high level of success over an extended period of time. 
While his numbers will one day deservedly earn him a spot in the NASCAR Hall of Fame, if you're looking at the totality of Busch and his racing career, you can't ignore his sometimes petulant behavior and the hypocrisy that comes with it. The two-time Cup Series champion has provided multiple examples in 2022, the latest coming on a rainy night in Bristol. 
Kyle Busch loses at Vegas and explodes
In March, Kyle Busch had an awful start to the weekend at his home track of Las Vegas, hitting the wall less than 10 minutes into practice. However, in a backup car, Busch impressively managed to overcome an early-race incident, dominated late, leading 40 of the final 45 laps, and appeared headed to Victory Lane. 
That all changed when a late caution came out with three laps to go. On the final pit stop, Busch's team took four tires. All the Hendrick Motorsports cars around him battling for the win took two. That strategy paid off for HMS as Alex Bowman won the race. 
Busch finished fourth and angrily exploded at Bowman moments after crossing the finish line.  
"The same f****** guy who backs into every f****** win that he ever f****** gets backs into another f****** win," he said of Bowman. "Bulls***! F***!"
Not a fan of Bristol dirt
Fast forward to this past week when a reporter questioned Busch about the upcoming dirt race at Bristol. When asked if the event didn't go well should NASCAR consider moving the race to a dirt-specific track or cut the cord, the two-time Cup Series champion didn't hesitate.
"Cut the cord," he said before pausing. "As Richard Petty said, dirt takes our sport backwards." 
Kyle Busch hypocrisy twice-exposed at Bristol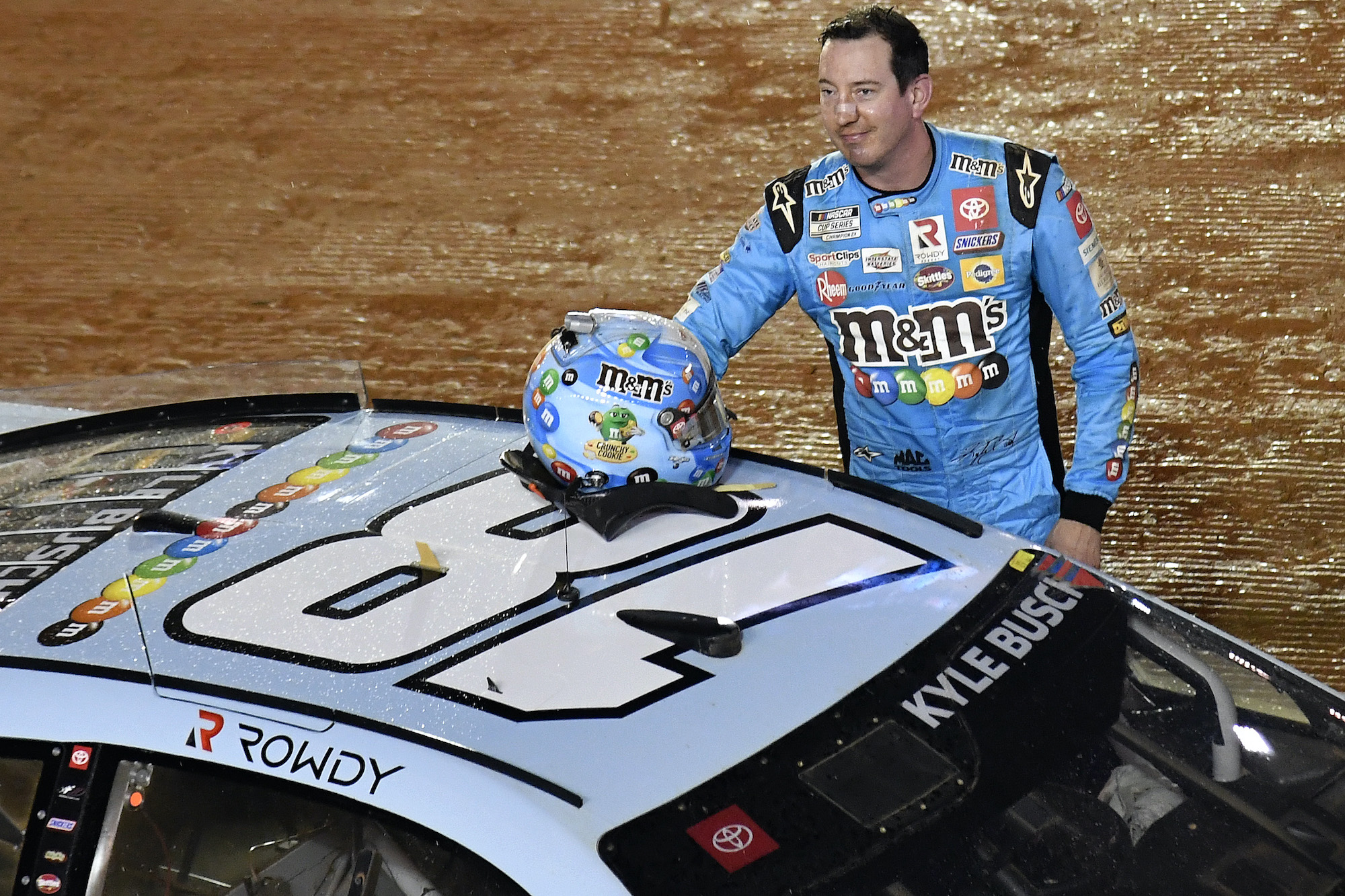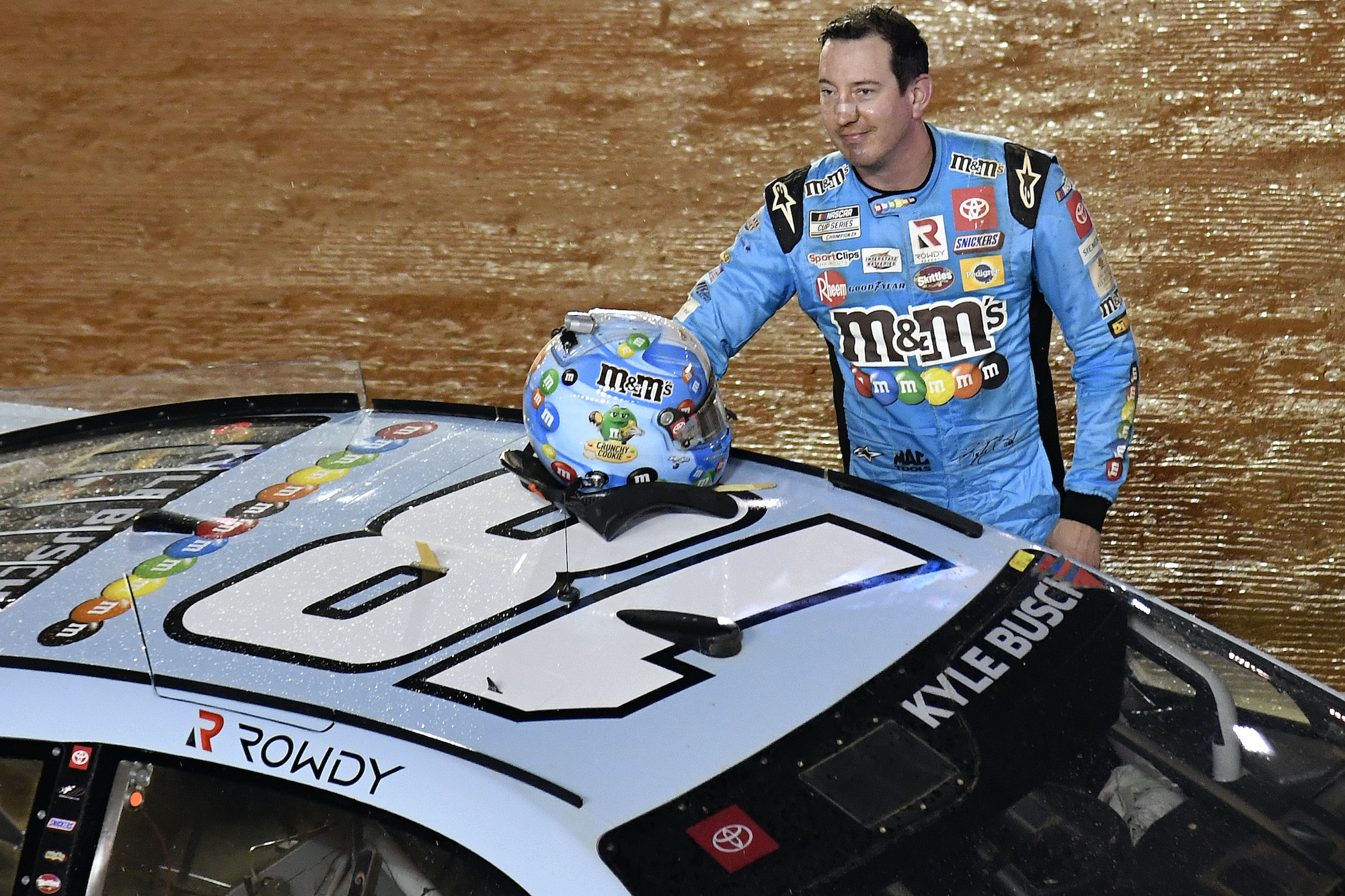 On Sunday night at Bristol, as the final laps on the dirt track dwindled, no one gave Kyle Busch much of a chance as it appeared to be a two-car race between the leader Tyler Reddick and Chase Briscoe. 
Everything changed on the final lap going into Turn 3 when Briscoe made a desperate move that spun him and the No. 8 car. Reddick made a complete 360, got on the gas, and raced to the checkered flag, only to have Busch pass him just yards before the line for the win.
Busch's victory, which included him leading a single lap, was the definition of "backing into a win" as he had so readily berated Bowman for a month earlier. 
"Yeah, we got one," Busch told Fox's Jamie Little in the postrace interview as fans booed him in the background. "Doesn't matter how you get them. It's all about getting them."
Several minutes later in the postrace press conference, he was asked about his previous "taking the sport backward" remarks and whether he still stood by them.
"There were some bright spots, for sure, to the night, to this race," Busch opened. "I don't know if the good outweighed the bad."
He then talked about the rain delays and the length of the race, and how the biggest dirt races are typically 50 laps, suggesting that the Bristol race was too long. While Busch still wasn't all-in for Bristol dirt, his stance had dramatically softened. 
Kyle Busch will be remembered by his loyal followers as one of the greatest drivers in NASCAR history. His statistics back it up. Conversely, his critics will remember him as someone who could drive but was a poor sport and whined when things didn't go his way. What we've learned in just over a month is both can be true.
Like Sportscasting on Facebook. Follow us on Twitter @sportscasting19.