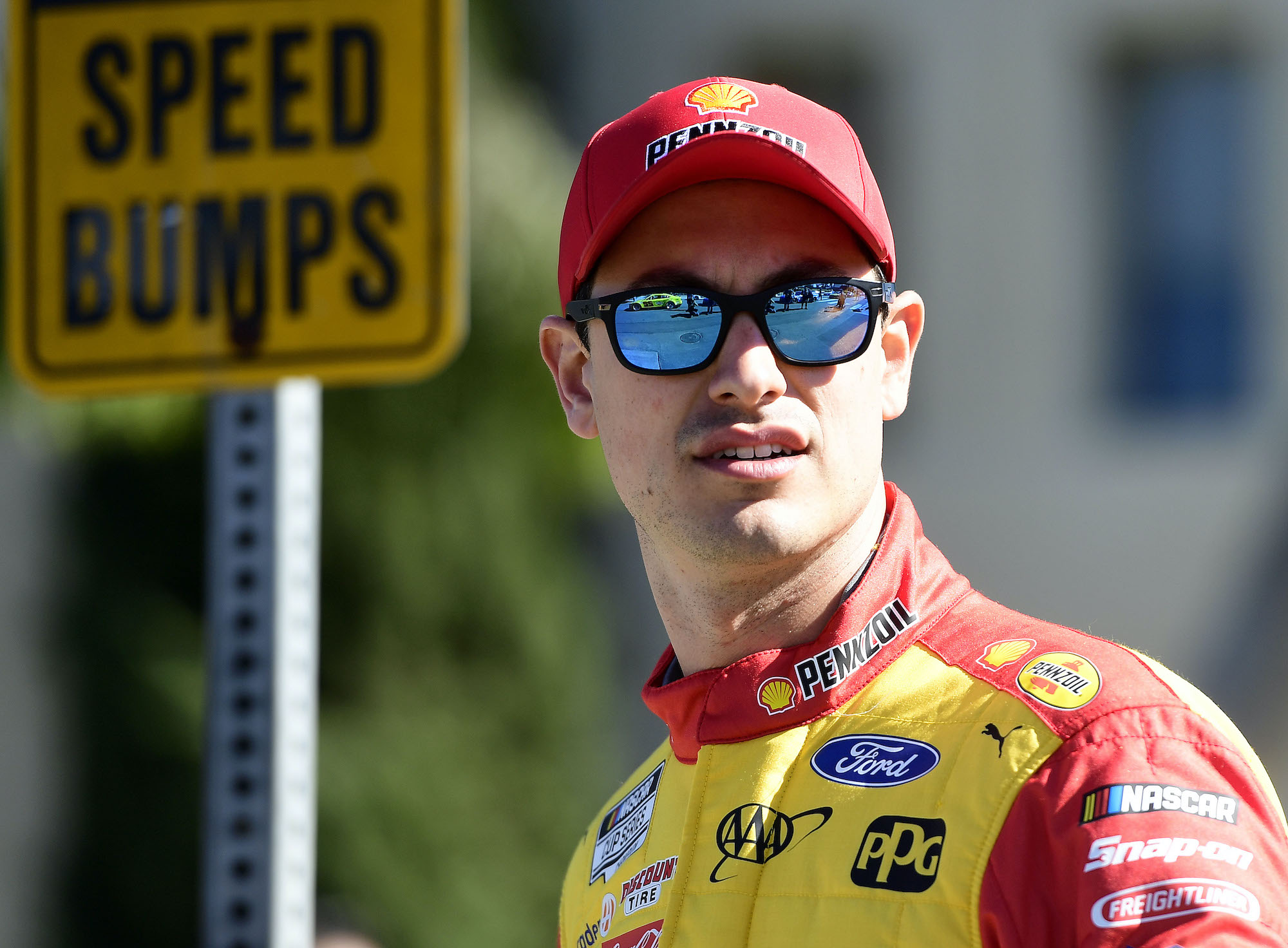 Joey Logano Makes Surprising Admission How He Suffers from Illness That Causes Nasty Problems Inside a Car but Doesn't Affect His Racing
Joey Logano has won 27 times, including the 2018 Cup Series title, but admitted this week on SiriusXM how he suffers from an illness that negatively affects him inside a car but not when he's racing.
Joey Logano will likely one day be in the NASCAR Hall of Fame. At just 31, he's already won 27 times and the 2018 Cup Series title. The Team Penske driver made his weekly appearance on SiriusXM NASCAR Radio and talked about how he hopes to get his next win at this weekend's race at Martinsville.
During that conversation, the driver made a surprising admission about a condition he suffers from inside a car that doesn't affect him while driving at speeds nearing 200 miles per hour but prevents him from ever traveling as a passenger in someone else's car at the regular speed limit.  
Joey Logano talks about the grind of Martinsville
Joey Logano kicked off the season by winning at the shortest track on the 2022 Cup Series schedule, the exhibition Clash at the LA Coliseum. He suffered jack issues at Richmond and finished 17th in the first points race on a short track this year.
During this week's visit on SiriusXM NASCAR Radio, Logano talked about the next Cup stop at another short track in Martinsville, where he's had success in the past, including taking home the grandfather clock in 2018, and how he's looking forward to the shorter 400 laps (500 in the past) because that race is a physical test for the drivers.
"That's the one that your back hurts when you get out," Logano admitted. "You get out and you get the limps going because you've been pressing the brake pedal 1000 times pretty hard. So your left leg is all jacked up and your back is all tweaked up."
Reveals surprising reason why he insists on driving home after race
A few moments later when asked how he recovers from such a physically demanding race, Logano said before he ever considers recuperating, he must first endure a long car ride back home.
"The toughest part about the race is that you get done and then you just want to get home so you get in the car and you drive home," Logano said. "But that ride home is kind of where everything starts to set in. You're sitting still for two and a half hours or whatever on the way home and you get out of the car like, 'aaaah.' To me, the next morning, go work out. That's what I do."
When Logano confirmed to the show co-hosts that he'll drive home from Martinsville on Saturday night, he also made a surprising admission about a condition he suffers from that prevents him from allowing anyone else to drive him home — even after a long day at the track.
"I drive. Yes. I definitely will," he said. "I can't ride with anybody, man. I get car sick. I don't ride. I can't ride, literally, anybody. I drive. Every week I drive myself back to the airport. Or, if we're driving home, after the Bristol night race a lot I'll drive back through the mountains. That's what, three and a half hours.
"I get motion sickness like crazy. It's not good. I'm fine if I'm driving and paying attention. But in the passenger seat I get distracted, I start looking around, I start talking, if I look at my phone, it's game over. Not good."  
Logano won on Bristol dirt in 2021
Speaking of Bristol, Logano hopes to be driving home after a win there in a couple of weeks. Even though he admitted his confidence is understandably guarded because it's the first time at all of these tracks in the Next Gen car, resulting in a lot of unknowns, he should head into the race as confident as anyone.
For starters, against all odds and the prohibitive favorites, including Christopher Bell and Kyle Larson, he won the first-ever dirt race there last year. And then this year, he won the first-ever race in the Next Gen car in the Clash at the Coliseum.
He's won on Bristol dirt. He's won in the Next Gen car on a short track. That combination of factors could lead to another Bristol sword. It would also likely take away some of the sting of a painful car ride home.
Like Sportscasting on Facebook. Follow us on Twitter @sportscasting19.