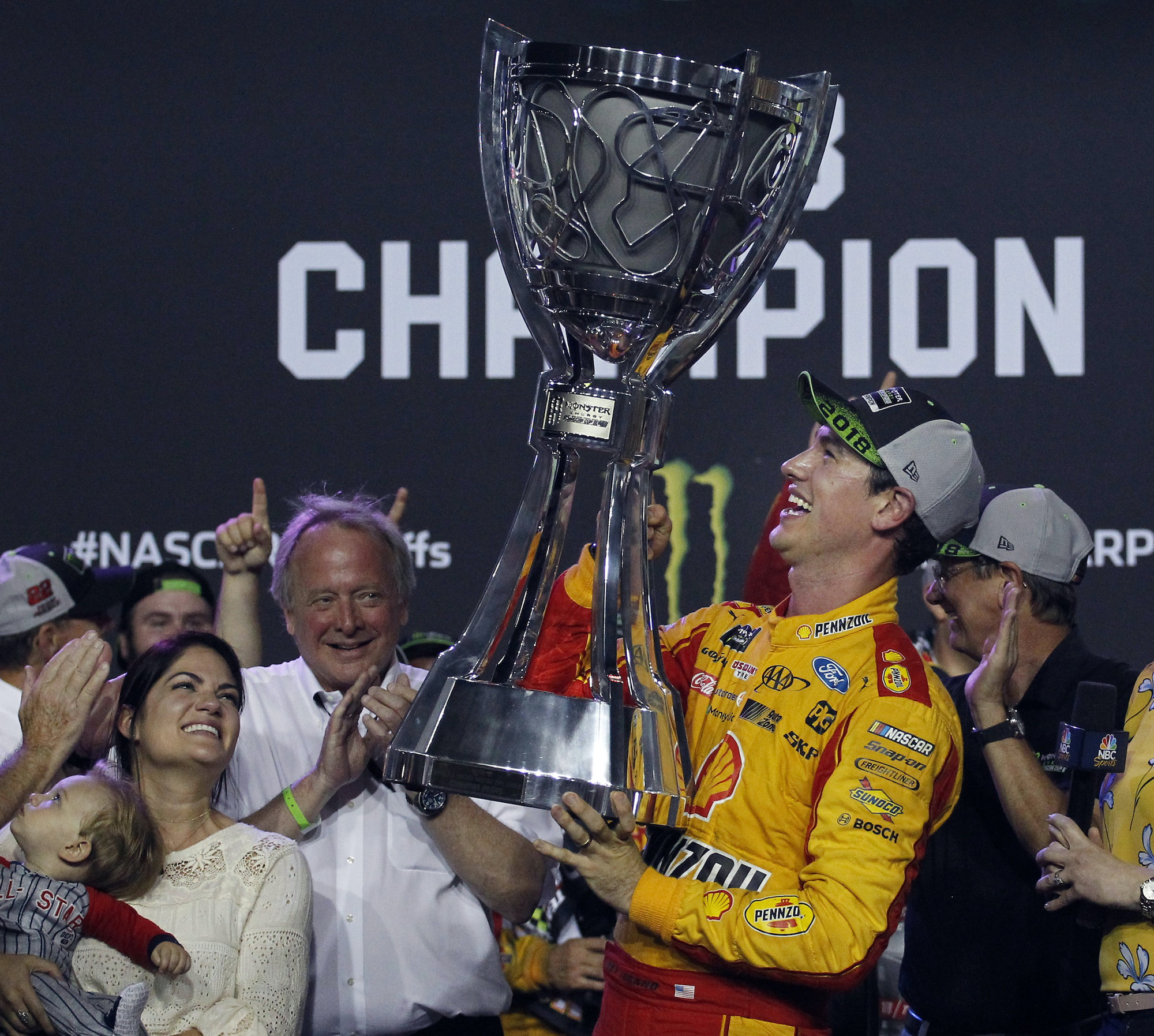 Joey Logano Reveals Shocking Price Tag of NASCAR Cup Series Trophy
Joey Logano stunned the hosts and the listening audience on SiriusXM NASCAR Radio when he revealed the unbelievable price tag on the Cup Series trophy.
Joey Logano regularly appears on SiriusXM NASCAR Radio for his weekly Behind the Wheel with Joey Logano segment and talks about the week's previous race and the different scuttlebutt around the garage. During this week's interview, he discussed the race at Las Vegas Motor Speedway and his 14th-place finish.
However, before breaking down this past weekend's race in Sin City, the 2018 NASCAR Cup Series champion visited with hosts Mike Bagley and Pete Pistone via video chat and described the various collection of trophies arranged in his office. During that initial conversation, the Team Penske driver stunned the hosts and listening audience when he revealed the shocking price tag of the Cup Series trophy.
Joey Logano talks about his prized NASCAR trophies and a belt
Opening the conversation, Mike Bagley described the trophies he saw displayed in Logano's office, including the Cup Series trophy, the Daytona 500 trophy, and a couple of Martinsville grandfather clocks. 
The 31-year-old driver said he also has a couple of Pennzoil 400 trophies, one from his Bristol dirt win last year, and another interesting award not from NASCAR. 
"It's a WWE wrestling belt," Logano said, which produced a laugh from all three men. "The WWE wrestling belt is the funniest. So when GameStop was my sponsor, the wrestling game was on the car. And it sponsored mine and Kyle Busch's car at the same time because we drove for Gibbs. 
"So we went to Monday Night Raw and drove the cars in, got out and went up on stage and talked some crap to some guys that were way bigger than us. And so I got the picture to go with me and they gave me a belt when we were done. It was pretty cool."  
Joey Logano reveals shocking price tag of Cup Series trophy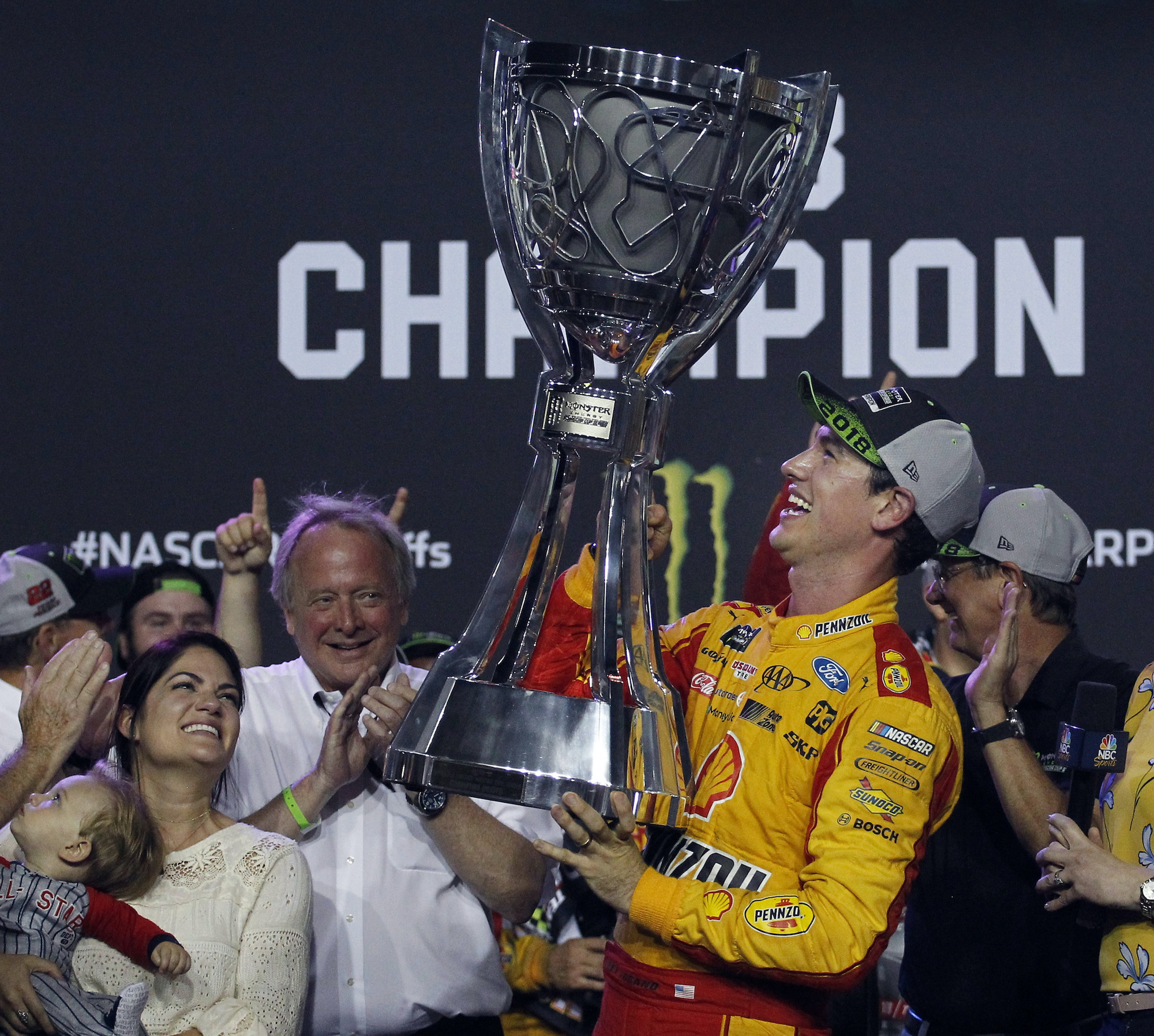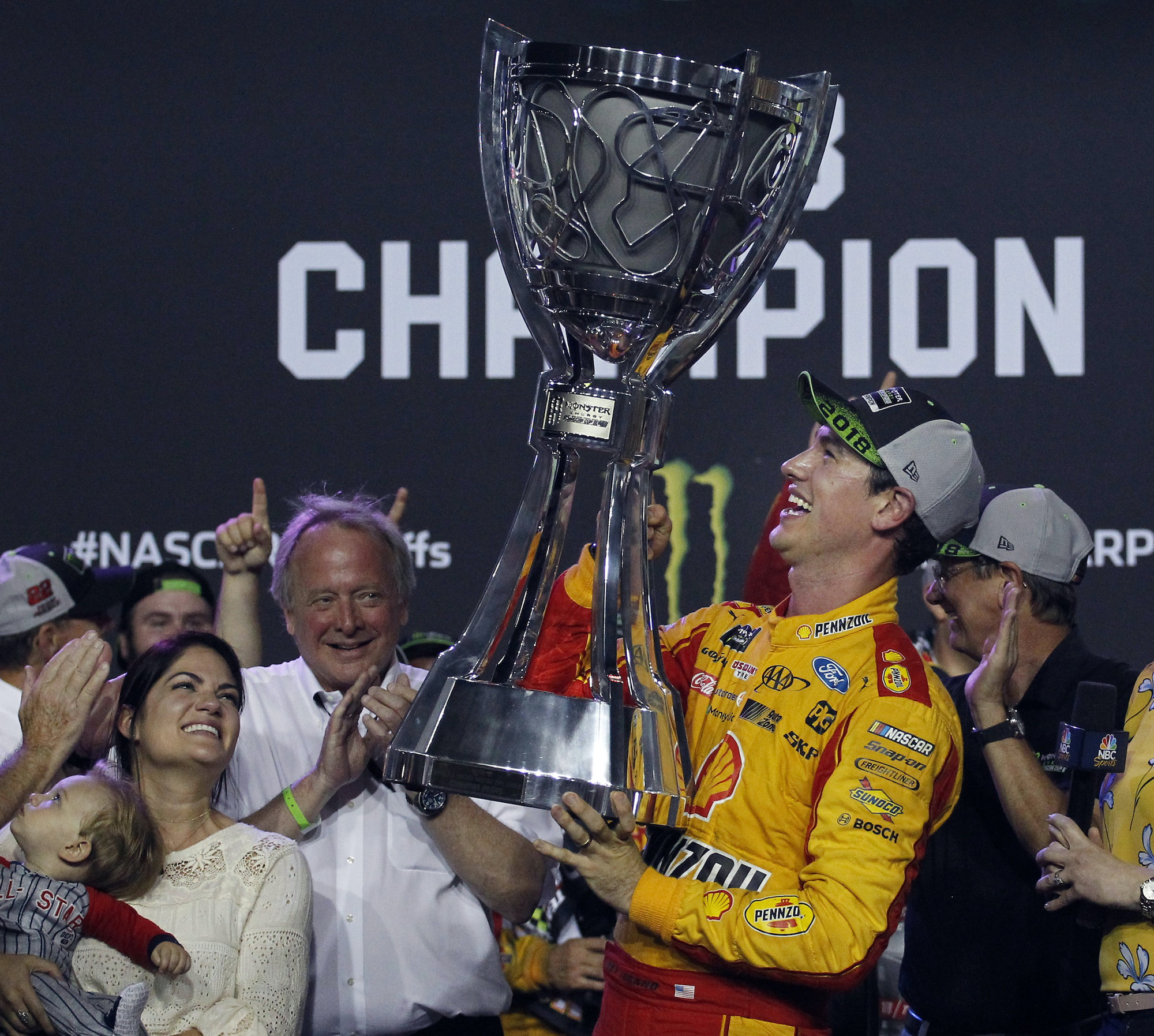 Logano admitted during the conversation that he's a big fan of the historical trophies that have more tradition behind them, like Bristol, Daytona 500, and Miles the Monster from Dover. He then talked about the coolness factor of the championship trophy but said it's "ridiculously expensive." He found out when he won the title in 2018 and wanted to buy a replica version.
"We all want to know, how much?" Bagley asked him. 
"In 2018, I think it was over 70," Logano said. 
"Dollars?" Pistone joked.
"What!" Bagley said, shocked.
"Seventy grand," Logano told them. "I'm sure inflation and all. It's probably close to a hundy now."
"Wow!" Pistone replied in disbelief.
"Good lord," Bagley echoed. 
"Oh, it's nuts," the driver said. 
How does it compare to other sports trophies?
The natural question with Logano's information is — how does it compare to the trophies awarded in the other major sports? It stacks up quite nicely.
According to NBC Philadelphia, the Vince Lombardi Trophy, which was awarded last month to the LA Rams, is made by Tiffany & Co. costs a total of $50,000 to produce. It's valued at $10,000. 
The Larry O'Brien Trophy, which is awarded to the NBA champion, is also produced by Tiffany & Co. According to a USA Today report in 2017, the year before Logano won his title, the trophy is valued at $13,500.
In that same report, the World Series champion receives a trophy worth $18,615. Outside of the NASCAR trophy, the Stanley Cup is reportedly second-most valuable at $23,478.
While the Cup Series trophy would be considered the most valuable trophy to win in American sports, it pales in comparison to the World Cup trophy, which is reportedly worth a staggering $20 million.   
Like Sportscasting on Facebook. Follow us on Twitter @sportscasting19.