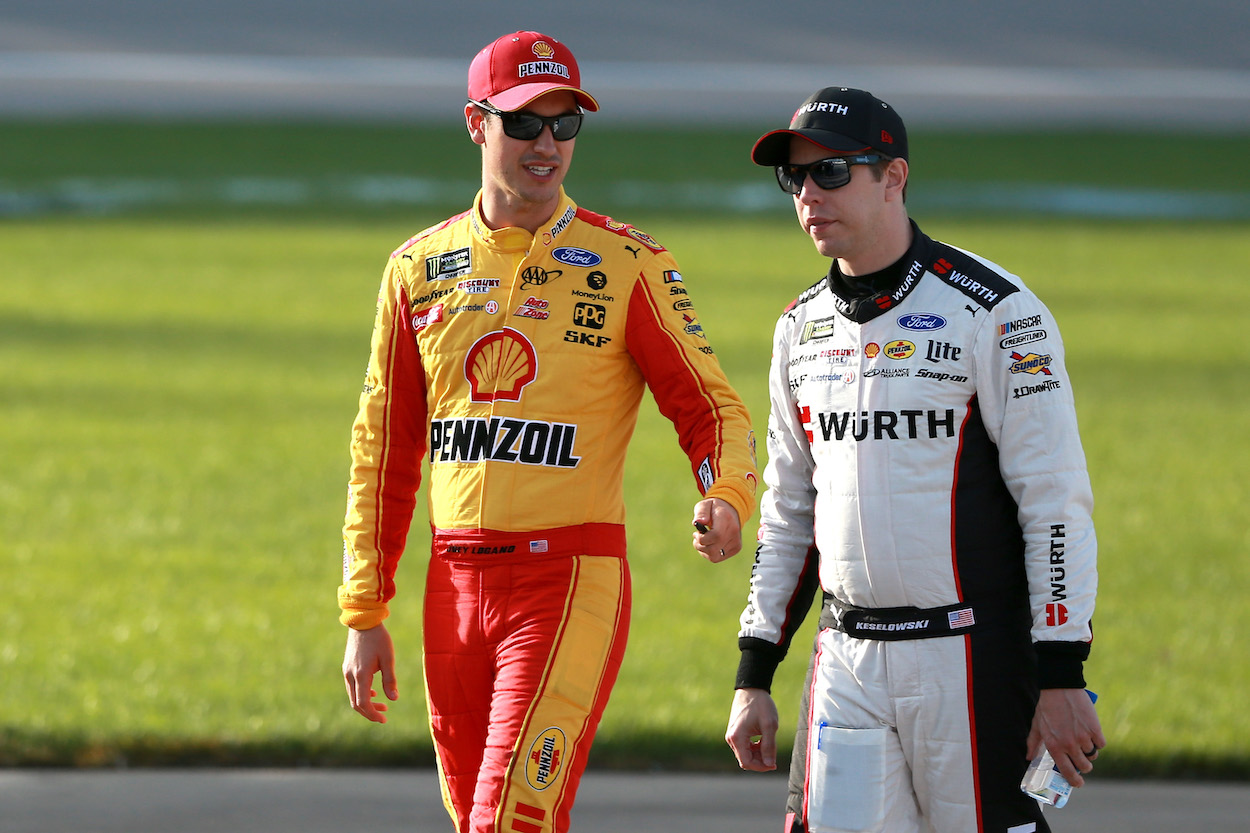 Joey Logano Predicts Kyle Larson-Chase Elliott Saga Is First in Growing Trend of Similar Conflicts in 2022
Joey Logano shared his thoughts on the Kyle Larson-Chase Elliott drama and why fans should expect more of it in 2022.
Joey Logano knows what it's like to have teammate drama. He lived it exactly a year ago with former Penske partner Brad Keselowski following a disastrous finish at the Daytona 500. 
This week, with the Kyle Larson-Chase Elliott incident in Fontana all the talk of NASCAR, the 2018 Cup Series champion weighed in and provided details of what it's like behind the scenes when the drama is unfolding in real-time. He doesn't paint a pretty picture at Hendrick Motorsports headquarters and suggests this is just the beginning of team feuds in 2022.
Joey Logano and Brad Keselowski in controversial crash at Daytona 500
Heading into the final lap of the 2021 Daytona, Joey Logano took the white flag with his Penske teammate Brad Keselowski on his rear bumper and a train of cars behind. Unfortunately for the two drivers, 2.5 miles later, neither took the checkered flag first because they made contact with each other in the final turn, setting off a massive chain-reaction accident with multiple cars, or the always-anticipated "big one." 
It was the worst possible ending for Team Penske, and it was just the beginning. Over the next several weeks, things were frosty between the drivers of the Nos. 2 and 22. Logano admitted as much during an appearance on NASCAR Race Hub. 
"I think we've got to cool off," he said. "We've got the cool-down machine plugged in right now." 
While the two drivers eventually moved past the incident and the resulting emotions, Roger Penske made sure everyone was clear on how to race before the next superspeedway race at Talladega, meeting with the pair and working through different race scenarios to avoid further conflict coming down the stretch. 
Logano provides interesting details of past drama with teammates
This week during his regular appearance on SiriusXM NASCAR Radio, Logano talked about last week's race at Fontana and the surprise conflict that developed between the Hendrick Motorsports teammates at the end of the race. The 31-year-old driver then provided his thoughts on teammate drama and shared his personal experience on what it's like behind the scenes.
"It's tough, and it's awful. If I'm being honest, it is the worst when you have teammate drama," Logano said. "I hate being in drama anyways, but I'm in it because I race hard, and I try to win. But I don't like it, and when it's with a teammate, it's even worse because you can't get away from it. You have to fix it. You just have to. I don't know how, but you have to because you're teammates, and that's not going to change."
Logano said what often happens is an obvious division forms. 
"Hendrick is not one team anymore," he said. "There's two sides. Until they can fix it, there's the 5, and there's the 9. And everyone is forced to pick a side. It's like when your friends get divorced. You got to pick a side it seems like. It's kind of hard to be friends with both. It's that type of situation for the teams and the people on the team. And everyone is going to see in different ways. And that will destroy a race team quickly. Point blank. It will.
"Because now everyone's got their own opinion. Everyone's talking about each other behind each other's back. Now it's a big competition internally of who's going to beat who. You better get them back or not get them back. You got to move forward. Everyone's got an opinion on this thing and you're not talking about race cars anymore. You're talking about high school drama. That's what it goes to. It's awful. I've been through it. It's just not fun."
Expects more conflict among teams in 2022 
Logano admitted that conflicts, which fans love, is part of racing. He said fans should really enjoy the 2022 season not just because of the Next Gen car, but because that car is going to produce more feuds for a simple reason.
"It's going to happen a lot this year, I think, because these cars are very much the same. Even from team to team, but internally, the cars are identical for the most part," Logano said. "It might be a couple of little setup changes and might be a little better here or there, but we're going to be racing each other a lot. I'm going to be racing my teammates a lot this year. I know that already. And how that all works and plays out, who knows, but we're probably going to be racing for wins a few times this year."
It's already happened once this year for Team Penske when Ryan Blaney ceded the lead to rookie Austin Cindric, ironically enough, at the end of the Daytona 500. The teams within the organization had already game-planned for the very scenario that played out. Why? Because they learned what happened last year not only cost them the sport's biggest race but also created drama and tension in the building. And Logano hated it. 
Like Sportscasting on Facebook. Follow us on Twitter @sportscasting19.