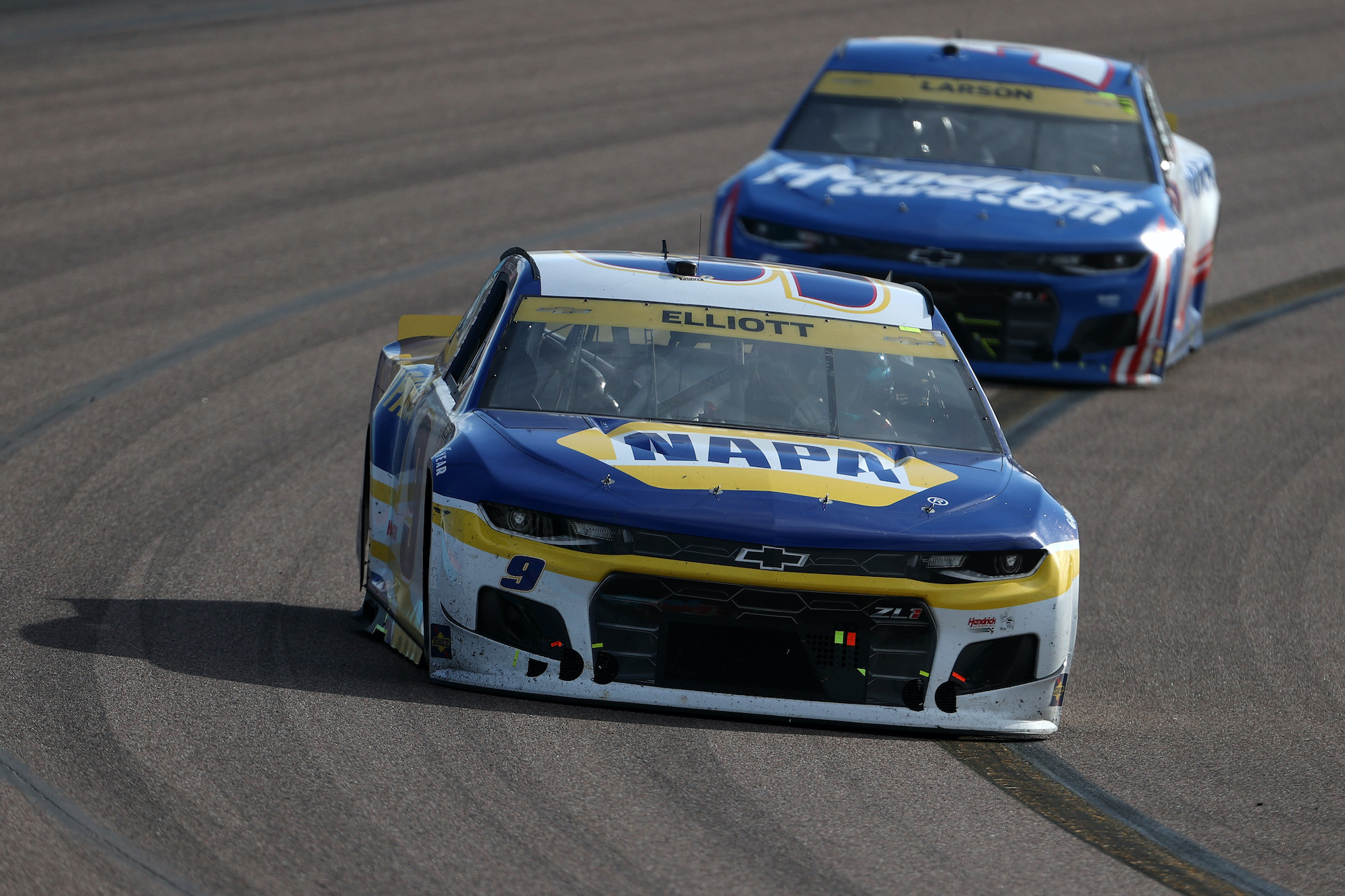 Chase Elliott Like You've Never Heard Before; Goes Ballistic With Profanity-Laced Tirade Directed at Kyle Larson
Chase Elliott was irate when teammate Kyle Larson ran him into the fence and went ballistic over his radio in a profanity-laced tirade.
Chase Elliott is a great race car driver. When not racing, he comes across as that genuine good guy most moms and dads want their daughters to marry. Those two factors combined are the main reasons he's won the Cup Series Most Popular Driver Award every year since 2018.
During Sunday's race in Fontana, the 2020 champion wasn't concerned about popularity when his Hendrick Motorsports teammate Kyle Larson ran him into the fence late in the race. And in that moment of raw emotion, the 26-year-old showed a side of him rarely heard before. 
Chase Elliott fenced by Kyle Larson late in race
During Sunday's Cup Series race at Auto Club Speedway in Fontana, Kyle Larson eyed his first win of the 2022 season with just over 20 laps remaining. He also had a close eye on Joey Logano, who battled him to his inside. 
Unfortunately, the reigning champ and his spotter weren't paying close enough attention to what was happening behind with teammate Chase Elliott. After crossing the start-finish line, the No. 9 appeared to be shot out of a cannon, got a great run to the outside, and attempted to pass his HMS teammate heading into Turn 1. 
Larson and his spotter Tyler Monn reacted too late to the move, and the attempted block turned into one HMS car escorting the other into the fence. 
Elliott was understandably irate.
Chase Elliott goes on profanity-laced tirade 
Moments after the incident, an angry Elliott didn't hold back over his radio.
"Stupid motherf*****!" Elliott fired, starting his tirade.
"He's a f****** idiot," crew chief Alan Gustafson responded.
After spotter Eddie D'Hondt directed the limping car out of the way of fast-approaching traffic, the driver knew his car was severely damaged. He mentioned it in another transmission over the radio.
"It f****** broke again," Elliott said, referring to the toe link of his car, which had already broken earlier. "Piece of s*** motherf*****. God damn it!"
Laps later, when he spun, Elliott knew his day was over. 
"It broke that right rear. What the f*** is he doing, man? It wasn't even f****** close," he said, referring back to the original incident. "I'm like way way outside."
Rick Hendrick won't let this fester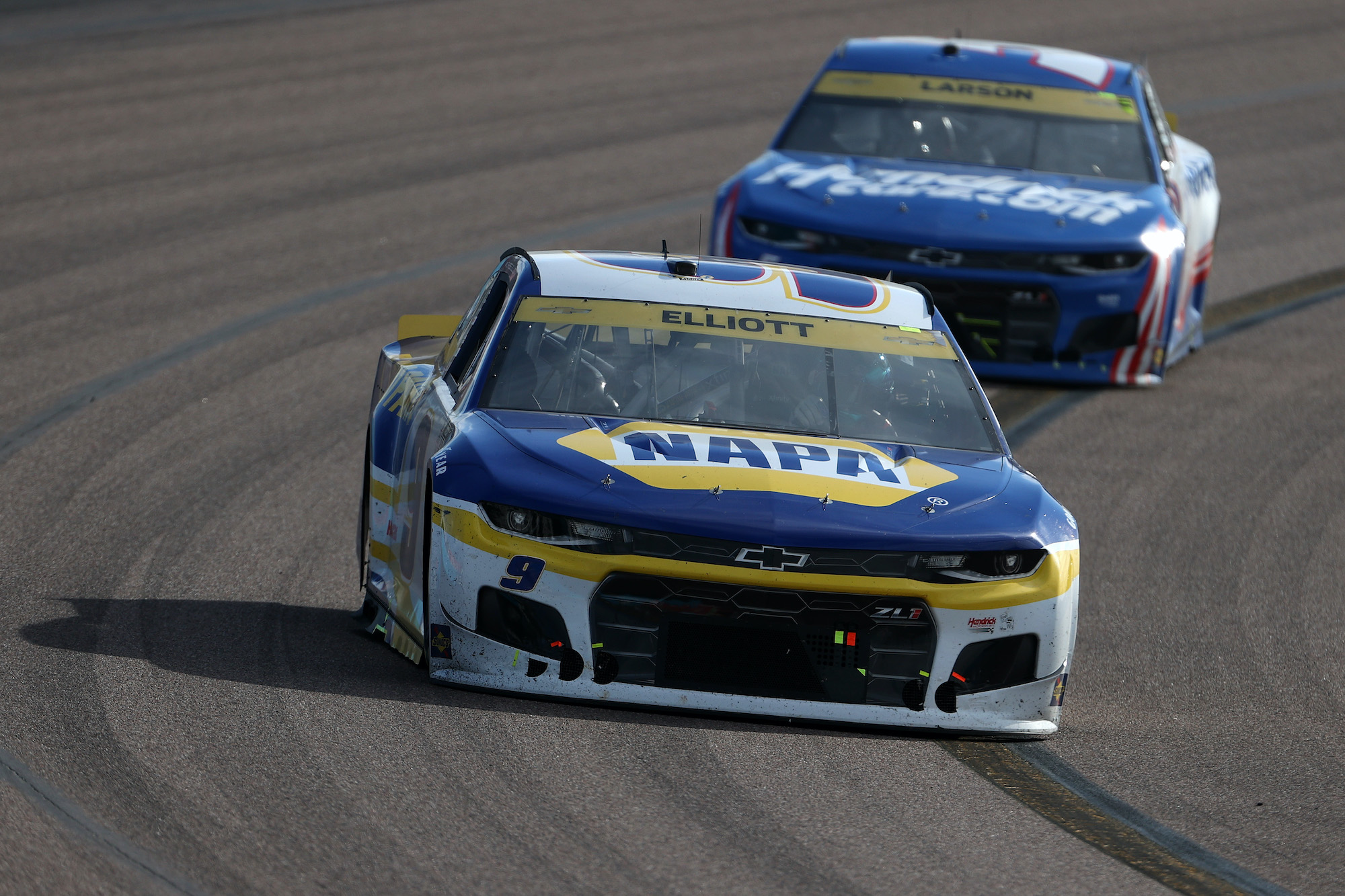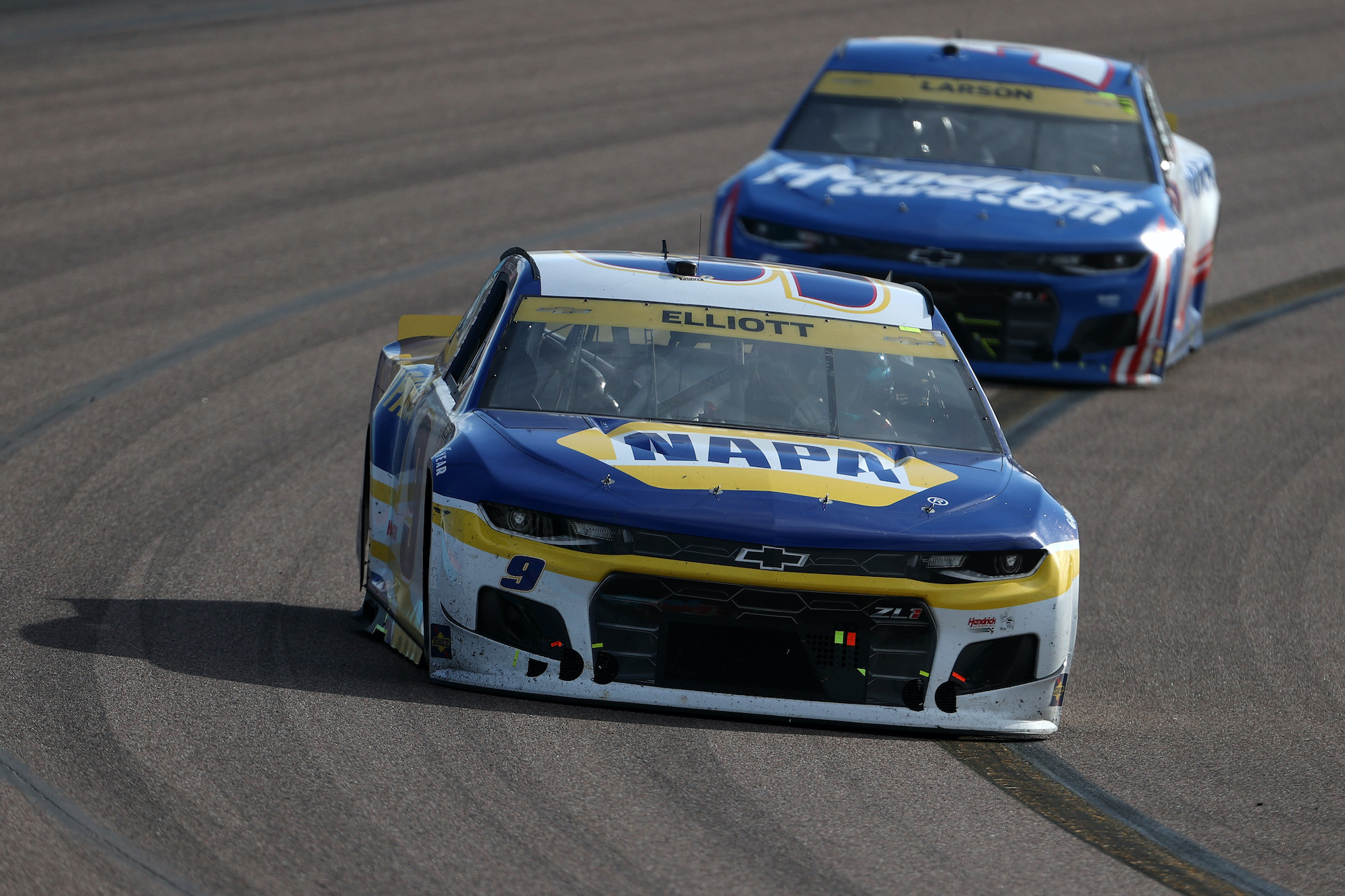 While some have speculated that this could be a season-long problem for the past two champions, history at Hendrick Motorsports suggests otherwise.  
A dozen years ago, Hendrick had a similar situation when his two top drivers at the time, Jimmie Johnson and Jeff Gordon, had a couple of on-track incidents, including one that led to the latter publicly commenting after a race at Talladega that Johnson was testing his patience. Those words caught the bossman's attention and he addressed it.
"He said guys, you need to voice your opinions and handle things on the track as you see fit, but let's not let this carry on too far," Johnson said in a press conference. "Rick was concerned from the standpoint that, 'OK, if you guys are competitive, you're doing your thing, you guys need to sort it out and I'm not going to interfere with that.' But we don't need this breaking apart the organization."
HMS is the winningest team in Cup Series history for a reason. It's because the organization knows there will be conflict when your team is regularly competing for wins. That's a good problem to have. But it won't be a problem for the rest of the season. Rick Hendrick won't allow it it happen.
Like Sportscasting on Facebook. Follow us on Twitter @sportscasting19.