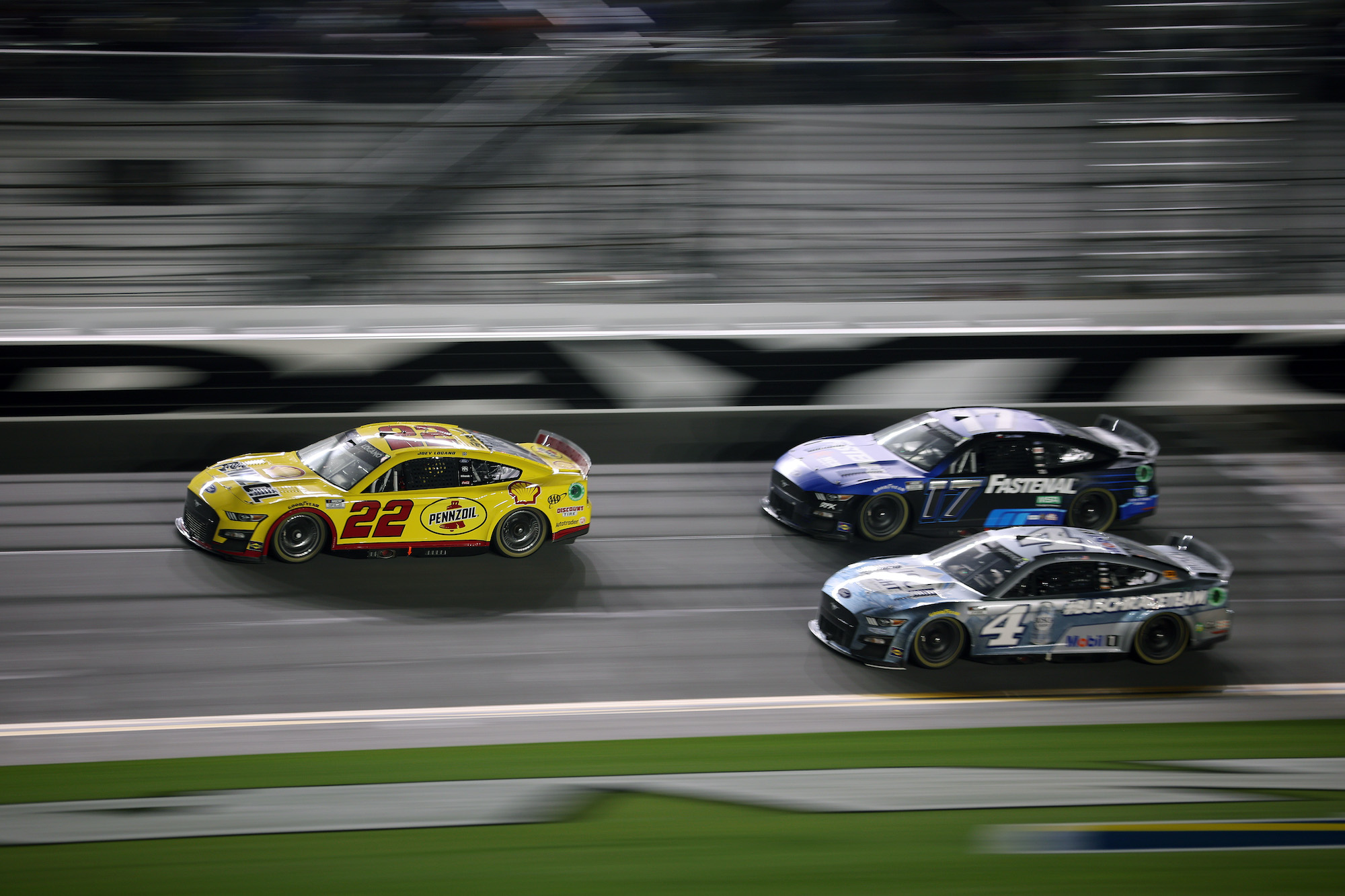 Joey Logano Embarrassingly Eats Words After Boneheaded Blunder in Duel, and Brad Keselowski Gets Last Laugh
Joey Logano made a costly blunder during the second Duel race and was embarrassingly forced to eat his words from the day before.
Joey Logano is unquestionably one of the most aggressive drivers in the NASCAR Cup Series. That style has won him plenty of races but hasn't won him a lot of friends as evidenced by a survey last year of his fellow drivers when he was voted "most frustrating to race against."
During the second Duel race, the 2015 Daytona 500 winner stayed out front for much of the race and was in position to win it late. However, instincts took over. When it was all said and done, the Penske driver was forced to eat his words from the day before and allowed his former teammate, Brad Keselowski, to get the last laugh.
Joey Logano blocks teammate Brad Keselowski in 2021 Daytona 500
At last year's Daytona 500, Joey Logano and Brad Keselowski took the white flag in first and second position with a train of cars behind them. A lot can, and often does happen in the final 2.5-mile trip around the track. And it did.
Unfortunately for the Penske teammates, both ended up on the wrong side of the situation when the 2018 Cup Series champion put on a late block of Keselowski, which sent both cars in opposite directions — the No. 22 went left onto the infield, and the No. 2 veered hard right up into the fence, erupting into a huge fireball. Michael McDowell, who was riding in third, won the race.
Keselowski didn't hide the frustration with his teammate after the race. 
"I had a big run down the backstretch," he said. "Went to make the pass to win the Daytona 500, and it ended up really bad. Don't feel like I made a mistake, but I can't drive everyone else's car. Frustrating."
The pair weren't on speaking terms for days and the relationship was strained for weeks. Eventually, team owner Roger Penske stepped in and ordered the drivers to play nice with each other.
Joey Logano blocks Buescher in Duel and admits he made a mistake
On Thursday night, after Brad Keselowski won the first Duel and his first race for the new Roush Fenway Keselowski organization, Logano appeared to be in a position to win the second Duel. The yellow No. 22 ran upfront as the final laps dwindled, accompanied by a pack of Fords, including RFK's other car with Chris Buescher, followed by Michael McDowell, and Harrison Burton. 
On the final lap, Buescher got a run on Logano, dropped down to the inside for the pass, and the Penske car attempted to block in a situation eerily similar to a year earlier. This time, the RFK car got into Logano, who then went up hard into the outside wall. 
Buescher cleared the severely damaged Penske car and was in the lead ahead of McDowell when the caution came out and was declared the winner. After the race, a dejected Logano accepted responsibility for the incident.
"I just made a mistake," he bluntly admitted. "I didn't think the run would come that quick. It just seemed like it happened — even watching the replay — it happened quicker than I thought it would. I knew the run was going to happen at some point on the last lap. I thought that was pretty early. I didn't think it would happen there, and the speed that it happened was quicker than I thought and thought I was still clear and I wasn't. 
"Apologize to my race team. Wrecked our car and tore up the 21 as well. It was a dumb move. We were in position to, at worst, finish fourth, and I just blew it."
Eats words from day before
While Logano was sincerely apologetic to his team for the blunder, everyone should have seen it coming. Just over a month ago during Next Gen testing at Daytona, Logano got overly aggressive with Denny Hamlin and others in pack racing, and even admitted afterward that his competitive side took over. 
"The bumping and shoving gets the cars moving around a lot," Logano told NASCAR's Alex Weaver. "Kurt (Busch), myself, Denny, and Ricky (Stenhouse Jr.), we were all out there shoving each other pretty hard. Racing like we're coming to the end of the Daytona 500. I don't know why we do that, but it's a race. There's race cars on the race track. It turns into a race, and we race each other." 
His actions a month ago at Next Gen testing were one thing. His words just over 24 hours earlier at Daytona 500 Media Day were something altogether different and foretold of what happened in the Duel. Interestingly, it was Weaver who brought up superspeedway racing and his aggressive driving style.
"Do you think I'll change?" he asked her before answering his own question. "No. Absolutely not. I had this question a few times today at media day. It was like, 'How do you balance not wrecking your car in the Duels?' I said, 'What balance?' There is no balance here. You've got to go win. That attitude is to go win. If you're scared of crashing your car, you think you have a chance of winning at that point? No. You don't even have a chance."
Joey Logano threw caution to the wind and foolishly brought out a caution on the final lap of Duel 2. It's a cautionary tale and one that could have potentially cost him a legitimate shot at winning his second 500. Meanwhile, Keselowski and Buescher have a pair of trophies to show for their efforts and fast cars that could take them to Victory Lane on Sunday. 
Like Sportscasting on Facebook. Follow us on Twitter @sportscasting19.