Kevin Harvick Admits Numerous Drivers Owe Apologies After COTA and the Aggressive Driving Is Here to Stay
Kevin Harvick admits there a lot of apologies owed after racing action at COTA and the aggressive driving is here to stay.
Kevin Harvick knows a little something about being aggressive. Look no further than last season and his feud with Chase Elliott, including blatantly dumping the 2020 champion at the Charlotte Roval. But that was the old car. 
The 2014 Cup Series champion appeared on SiriusXM NASCAR Radio this week and revisited the first road course race of the season at Circuit of the Americas. He said that there are plenty of apologies owed after the aggressive racing action but that fans should get used to seeing it because the Next Gen car has changed the game. 
Kevin Harvick sees a lot of aggressive driving at COTA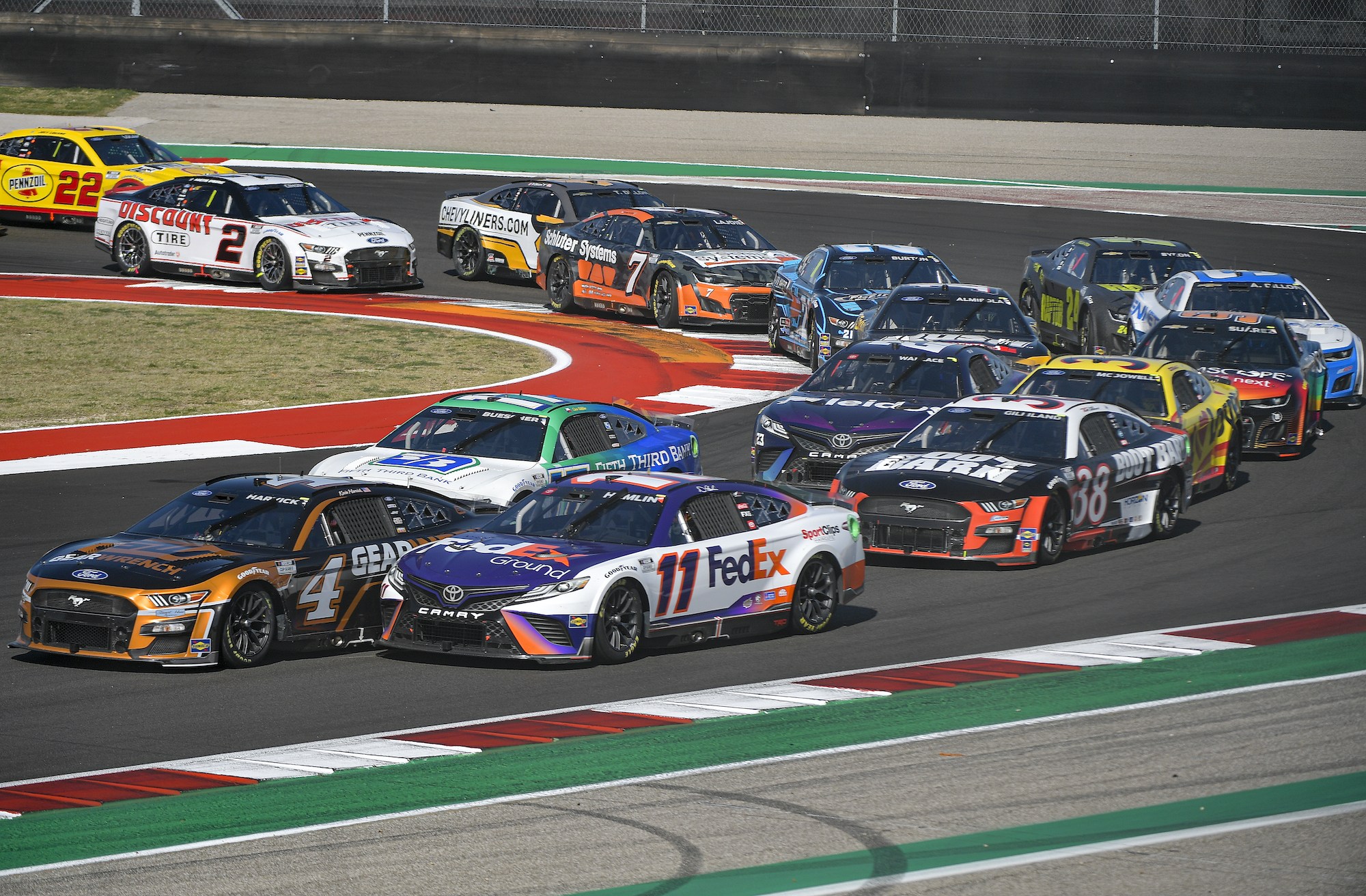 Kevin Harvick, like every driver, knew coming into COTA that Turn 1, especially in dry conditions, would be pure chaos on restarts. It was. 
Just ask Joey Logano, Daniel Suarez, Kyle Larson, and Kurt Busch. All of those drivers were involved in an incident on the wild hairpin turn that challenges drivers immediately after rapidly ascending the 133-foot hill on the front stretch. And those were just the ones shown on TV.
It happened time and time again. However, it wasn't just isolated to that turn. There was aggressive action throughout the day on the 3.41-mile, 20-turn layout, culminating in a spectacular final lap that featured more beating and banging that ended with two cars being sent off track and Ross Chastain racing to his first Cup Series win. 
Kevin Harvick admits plenty of apologies owed and aggressive racing is here to stay
Kevin Harvick appeared on SiriusXM NASCAR Radio with Claire B. Lang this week. The host brought up a tweet by Parker Kligerman, who wondered how many apology texts were being sent after the weekend's three races at Circuit of the Americas and admitted he was part of three such conversations.
"I know from my experience on Sunday. I guess we would all have to send each other an apology text because it seems like to me that everybody ran into everybody in Turn 1," Harvick admitted to Lang. "I think that's the beauty of the new car, though, is everybody can be aggressive because you don't have to worry about dinging up a fender and losing your performance. 
"Now you can kind of beat and bang a little bit and not have to worry about the fenders or doors, or whatever it is rubbing on the tires, and you can still race. That's why you see what you saw on Sunday into Turn 1 and all the things that happened lap after lap after lap because the drivers feel comfortable being aggressive." 
Offered another reason last month for aggressive driving
Interestingly, just a little over a month ago, Harvick addressed aggressive driving before the start of the season on the Daytona 500 prerace show. However, during that interview, he approached the subject not from a car durability standpoint but from a generational perspective and suggested that younger drivers are aggressive because they don't care and that's how they've been taught how to race. 
"I have a better perspective of that and a lot of that has probably come from Keelan," Harvick said, referring to his son. "A lot of these kids when they come through go-karts, it's hammer down. They're so focused on push-push-push, that they don't know how to think-think-think. That's been good for me to able to push myself in order to just not care because they just don't care. And I can not care, too." 
The No. 4 car getting more aggressive in 2022 because other drivers are doing it and the new car allows it is just what Kevin Harvick fans want to hear. Could it result in a win? Or, could it result in hurting the feelings of another driver?
Chase Elliott has been officially put on notice.
Like Sportscasting on Facebook. Follow us on Twitter @sportscasting19.