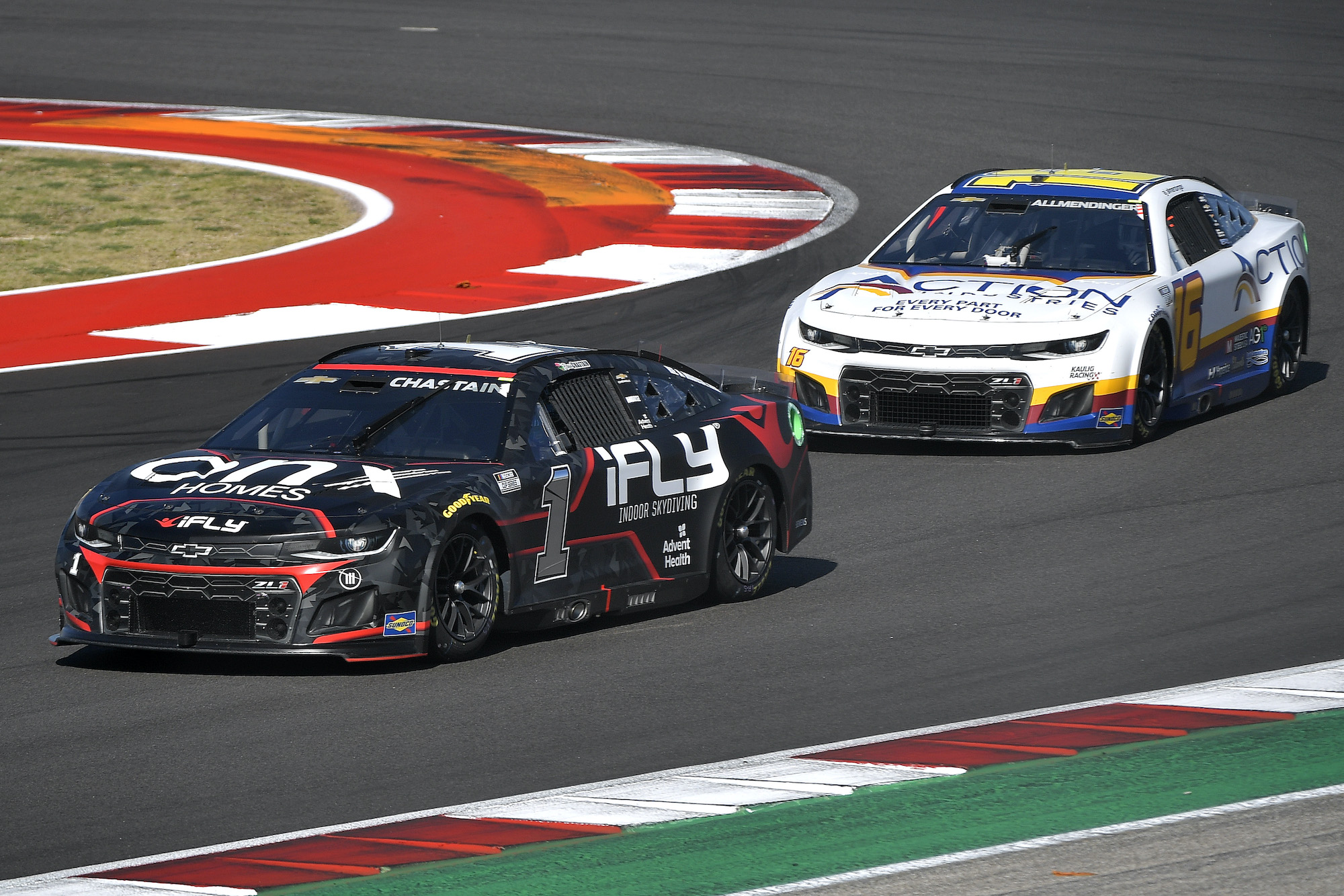 Ross Chastain Candidly Admits Tough Talk with AJ Allmendinger About COTA Was One-Sided Conversation
Ross Chastain and AJ Allmendinger appeared on NASCAR Race Hub and the pair revealed why their rough moves Sunday won't linger into the future.
Ross Chastain headed into the final turns on the last lap of Sunday's NASCAR Cup Series race at Circuit of the Americas, knowing this was his chance. After surrendering the lead a few turns earlier, the watermelon farmer was prepared to do whatever it took to reclaim the lead and win the race. And he did. 
The driver of the No. 1 pushed AJ Allmendinger heading into Turn 19, who then hit Alex Bowman on his outside — knocking both drivers out of contention — made one final turn, and raced to his first Cup victory. Moments after the race, Allmendinger was not happy about the late-race move. On Tuesday, Chastain revealed the pair had talked about the incident in Texas and admitted it was a one-sided conversation. 
Ross Chastain wins and AJ Allmendinger not happy with move
Ross Chastain won his first Cup Series race in spectacular fashion on Sunday at the 3.41-mile Circuit of the Americas. And it took him every turn on the 20-turn layout to do it. 
Chastain was the dominant car in the final stage and appeared destined for victory after leading a race-high 31 laps. However, on the most important lap, the 29-year-old saw the lead and potential victory slip away when AJ Allmendinger closed the gap and gave him an extra push going into Turn 15, knocking him out of the top spot. 
The next couple of turns proved chaotic, as Alex Bowman joined in on the fun, got inside of both cars, and briefly took the lead before Chastain gave Allmendinger a push going into Turn 19, which caused the No. 16 to wiggle, and make hard contact with the No. 48 on his outside, causing both cars to go off track. 
The No. 1 car slid by on the inside, made it through Turn 20, and raced to the checkered flag. 
Minutes after the race, Allmendinger, who finished 33rd, was understandably frustrated.
"At the end of the day, you've got to look yourself in the mirror, and if you're OK with it, you're OK with it," the 40-year-old driver told Fox's Bob Pockrass. "Every person is different. So it doesn't matter what I think. We had a shot to win a Cup race. It's pretty special." 
Chastain admits pair talked and he did a lot of listening
After celebrating with his team and the fans, Ross Chastain visited with the media and told reporters that he had no regrets about the move, which unsurprisingly became a hot topic of debate in NASCAR circles. 
On Tuesday, Chastain appeared as a guest on NASCAR Race Hub and talked about the finish and what Allmendinger said afterward. Host Shannon Spake asked the Trackhouse Racing driver if he and his former Kaulig Racing teammate had spoken.
"We did. Yeah, it's not all fun and games on TV, right. We have to handle some stuff off. Yeah, we did, and he did more talking than I did," Chastain soberly admitted, which drew a laugh from former crew chief Chad Knaus. 
Former teammates speak highly of each other
Later in the show, Allmendinger appeared remotely as a guest, and Spake once again brought up the pair's earlier conversation, asking if either wanted to provide more details on what was said.
"AJ had more words than I did," Chastain opened, repeating what he had said earlier.
"I told Ross that I hate that I taught him how to road course race," Allmendinger said. "So it's my fault. I told him it's my fault I was backwards. He's in the clear."
"That's not what he said," Chastain responded, hinting that the remarks were more serious than Allmendinger presented. "He did teach me a lot. My road racing game stepped up when I was teammates with him in 2019 and 2020. He would stand there at the simulator with me and say, 'No, yes, push, turn more, turn less, shift here.' It was a game changer." 
Allmendinger then spoke glowingly of Chastain and his talent, even acknowledging that he felt pride in his competitor on Sunday as the pair drove away from the field, knowing that he had played a role in helping him elevate his road course game.
In NASCAR, like all sports, conflict often arises when someone does or says something in the heat of the moment. That could have happened after Sunday's race. It didn't. Their appearance together on Race Hub and the kind words they shared about one another revealed why.
Like Sportscasting on Facebook. Follow us on Twitter @sportscasting19.