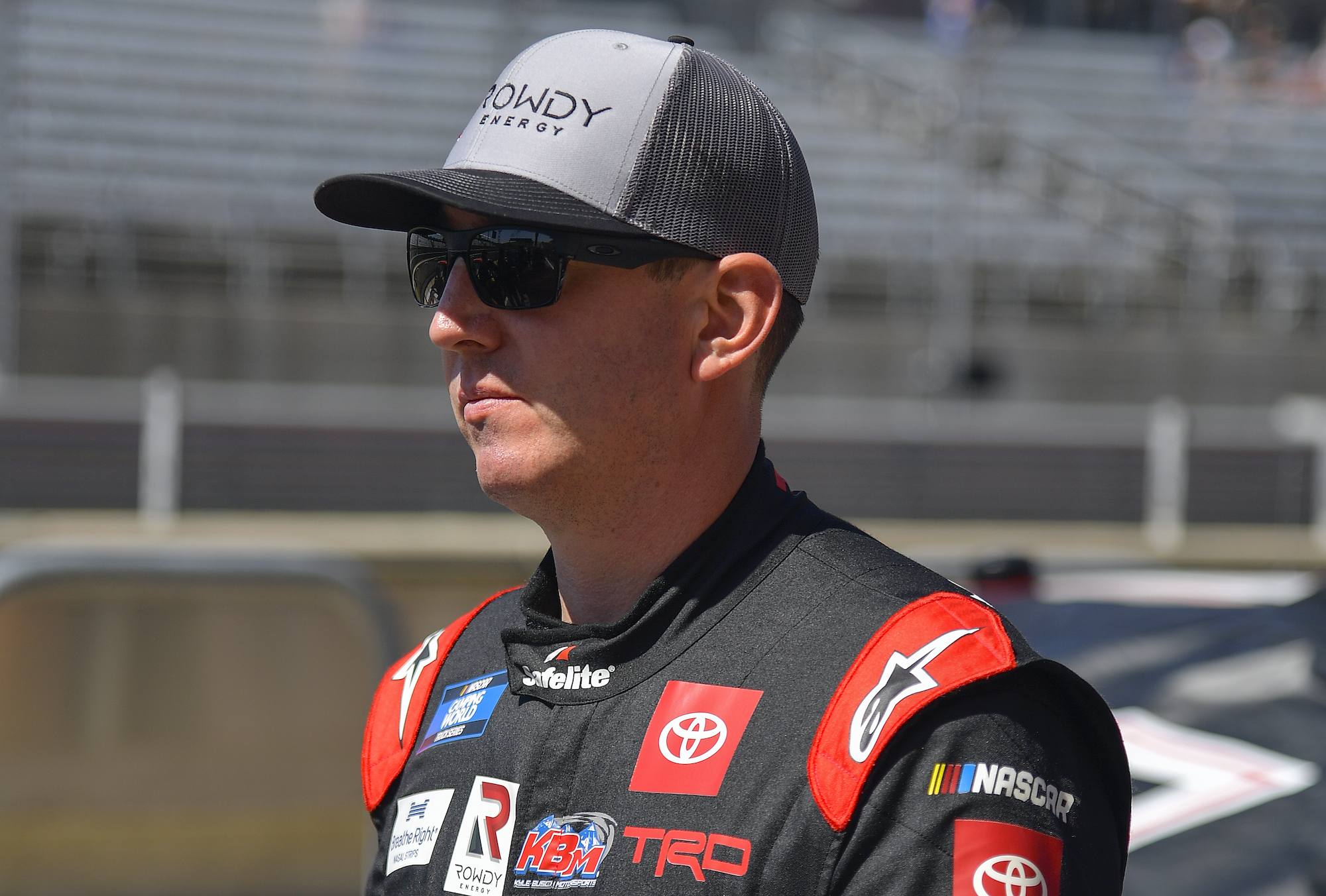 Kyle Busch Shown Lesson in Maturity by Alex Bowman After Late-Race Incident at COTA
Kyle Busch has been unhappy with Alex Bowman twice in the last month. After Saturday's Truck Series race, the younger driver showed the two-time champ a lesson in maturity.
Earlier this month at Las Vegas, Kyle Busch exploded with anger directed at Alex Bowman when the No. 48 team made a late pit strategy call on tires and won a race that the Joe Gibbs Racing driver had dominated late. The Hendrick Motorsports driver admitted a few days later that he had spoken with the two-time Cup Series champion and all was good. 
During Saturday's Truck Series race at COTA, the two drivers got in extra seat time on the 3.41-mile circuit and, unsurprisingly, both found themselves in contention late. However, in overtime, Bowman made a mistake, the two drivers and Stewart Friesen made contact, effectively ending all of their chances at victory. 
After the race, Bowman took the mature route and approached his fellow Cup competitor to acknowledge his blunder. Busch was less than receptive.  
Kyle Busch explodes after watching Bowman win race
Kyle Busch appeared destined for victory during the third race of the NASCAR Cup Series season on his home track in Las Vegas. The only thing that could prevent it from happening did. A late caution interrupted a certain coronation of the 36-year-old driver, who had led for dozens of laps, fending off his closest pursuer, teammate Martin Truex Jr. 
The JGR car took four tires on the ensuing pit stop while Bowman and his HMS teammate Kyle Larson took two. It was the difference as the No. 48 won. Moments after the race, Busch exploded in defeat.   
"The same f****** guy who backs into every f****** win that he ever f****** gets backs into another f****** win," Busch said of Bowman. "Bulls***! F***!"
A couple of days later, Bowman appeared on SiriusXM NASCAR Radio and talked about a conversation he had with Busch regarding the remarks.  
"I talked to Kyle Monday night. He was just mad to have lost the race," Bowman said of their talk. "Like he wasn't mad at me. I didn't do anything to him. Kyle and I have always raced each other with respect. He was just mad that he lost the race. I was the one on the other end of the rant. 
"Obviously, Kyle is very passionate. We've seen that from him for a long time. I was in the fire on that one. He basically said he was just mad about losing the race and didn't mean to be so disrespectful to me." 
Bowman causes incident with Busch in Truck race at COTA
Kyle Busch and Alex Bowman were naturally prohibitive favorites during Saturday's NASCAR Truck Series race at Circuit of the Americas. Both drivers ran near the front for much of the race.
In the race's final laps, the two Cup drivers firmly held down the top two spots, with veterans Stewart Friesen and Parker Kligerman in close pursuit. With three laps to go, a caution came out and sent the race to overtime.
On the second overtime restart, the KBM truck, which led a race-high 32 laps, surged to the lead, with Bowman falling to third behind Friesen. Heading toward the hairpin in Turn 11, the two chasing trucks dropped to the inside of Busch when Friesen attempted to make a move left. However, Bowman, on his inside, wheel-hopped and locked up his brakes. 
As a result, all three trucks missed the corner, driving out wide. Zane Smith pounced on the mistake, moved into the lead, and never looked back. Busch finished fifth. Bowman finished 27th. 
Apologizes to Busch
Moments after the race, Bowman sought out Busch on pit road to explain what happened and to offer an apology.
"I know you're probably pissed at me and the 52… As soon as he cranked it left, I wheel hopped and locked up. So, I apologize," Bowman said. "I try to race you with respect, and you have with me as well." 
Busch, his body language clearly conveying his displeasure with what happened, drank his water and nodded his head affirmatively while the 28-year-old talked. Bowman apologized again, Busch said "OK," and the HMS driver walked away.
It was a dramatic contrast of weeks before when Bowman didn't do anything wrong yet was on the receiving end of Busch's vitriolic remarks. This time around, he owned up to a mistake he made and apologized, yet he got a similar cold response.
Like Sportscasting on Facebook. Follow us on Twitter @sportscasting19.