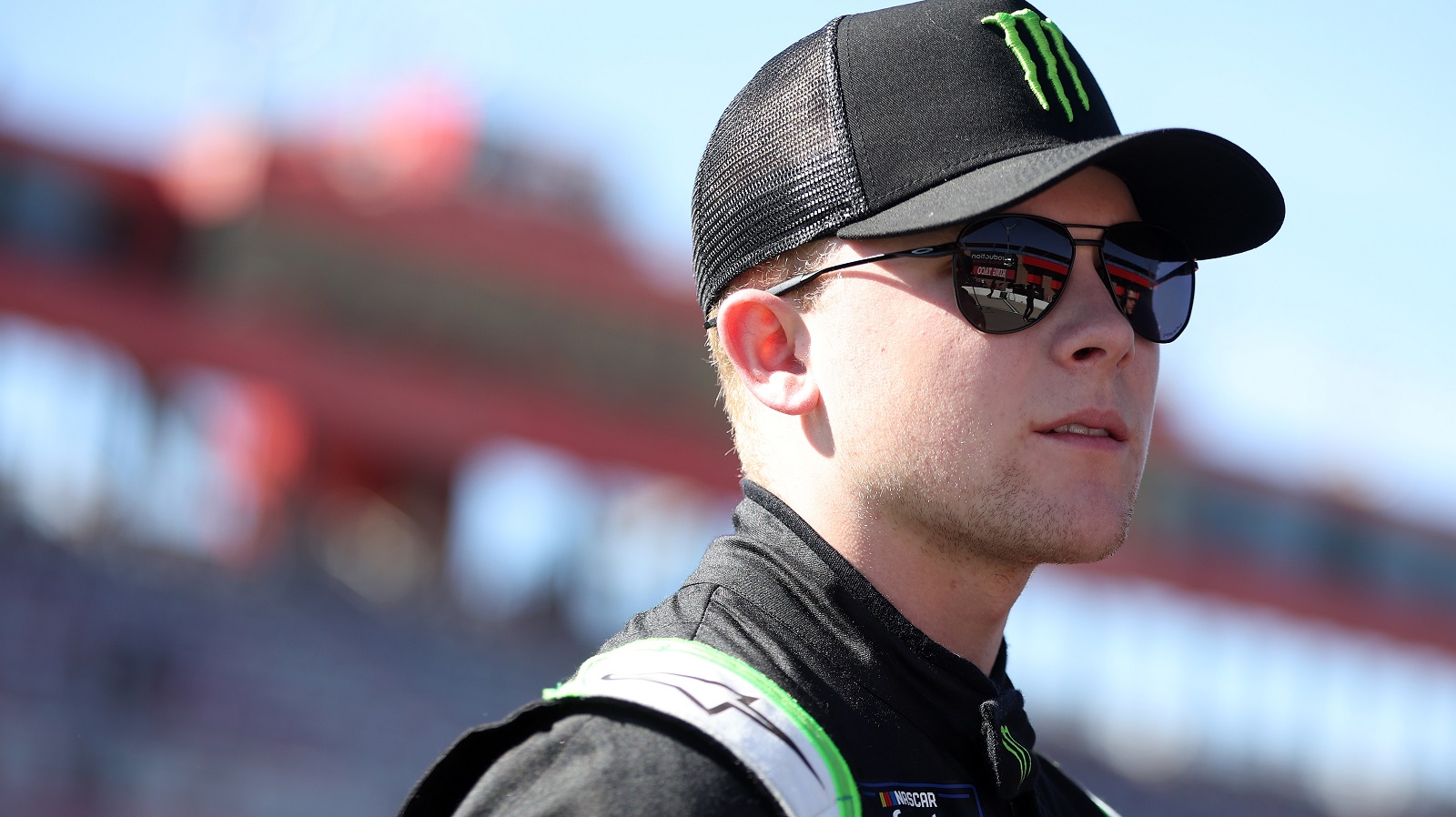 COTA Winner AJ Allmendinger and Xfinity Series Friends Give Ty Gibbs the Business Over a Missed Date Night
Ty Gibbs left himself open to some ribbing with a quote after winning in Atlanta. AJ Allmendinger and fellow NASCAR drivers were happy to pile on.
Second-year Xfinity Series driver Ty Gibbs will earn plenty of chances to get his revenge over the next couple of decades, but Saturday was a day for racing rivals to poke fun at one of NASCAR's emerging stars.
Gibbs wrestled with car problems in the Pit Boss 250 at Circuit of the Americas and finished 15th. However, he took a bigger beating in a playful video top 10 list produced by Fox Sports.
AJ Allmendinger adds to his reputation for savvy driving on road courses
AJ Allmendinger and racing on road courses go together like Tom Brady and Super Bowl rings, Zion Williamson and missed NBA games, and Angel Hernandez and bad umpiring.
Allmendinger won Saturday's NASCAR race at Circuit of the Americas in dominating fashion, battling Ty Gibbs early and Ross Chastain late, then holding off runner-up Austin Hill after the final caution flag. The victory in the No. 16 Kaulig Racing Chevy was the 11th of his Xfinity Series career, with seven coming on road courses.
He also possesses a pair of Cup Series victories on road courses, including last season at Indianapolis Motor Speedway. Allmendinger will be right up there with Chase Elliott and Kyle Larson on the list of drivers to watch in Sunday's Cup Series race at COTA.
Allmendinger began his day third to Noah Gragson and Gibbs in Xfinity Series points, but the victory in Austin, Texas, moved him that much closer to a playoff berth after finishing fourth a year ago in his first full season with Kaulig Racing.
Ty Gibbs set himself up as a target for AJ Allmendinger and others
It has taken AJ Allmendinger just 66 races to score his 11 victories in the NASCAR Xfinity Series. Ty Gibbs' batting average is even better. The 19-year-old grandson of the Joe Gibbs Racing owner, who is in his first full season, has won six of 24 starts.
Gibbs earned victory No. 6 a week ago at Atlanta Raceway, where he made a daring late move following an overtime restart to beat Austin Hill and AJ Allmendinger to the checkered flag.
Gibbs' celebration featured two memorable moments. First, he slipped and landed flat on his back while jumping down from his car in front of the main grandstand. Then, the plans he announced for his Saturday night weren't in the boring "I'm going to Disney World" class.
"I'm going to be missing that date tonight," Gibbs announced. "I'm partying with the boys!"
That was fun fodder in subsequent interviews as well as various TV, radio, and online stories during the week, and Fox Sports picked up the ball and ran with it Saturday during its race preview.
Xfinity Series drivers poke some fun at Ty Gibbs
Passing up his planned date in favor of "partying with the boys" was a reasonable plan for Ty Gibbs at Atlanta. After all, his Xfinity Series team had reason to celebrate. However, Fox Sports wasn't going to let the teen standout live it down. The network's race broadcast team enlisted the help of other drivers to compile a David Letterman-style list of top 10 reasons for canceling a date.
At No. 5 on the list, AJ Allmendinger referenced his well-known cat with, "I can't make it. Mr. Tickles needs me."
Many of the rest were racing related and even funnier. The video above has the full rundown, but the highlights include:
Brandon Jones: "I can't make it. I got caught missing a lug nut."
Sheldon Creed: "I can't make it. I've got helmet hair."
Myatt Snider: "I can't make it. I got called to the NASCAR hauler."
Finally, there was Xfinity veteran Ryan Sieg, whom Gibbs wrecked two weeks ago in an instance of overly aggressive driving.
"I can't make it," Sieg deadpanned. "I was in a big accident."
All stats courtesy of Racing Reference.