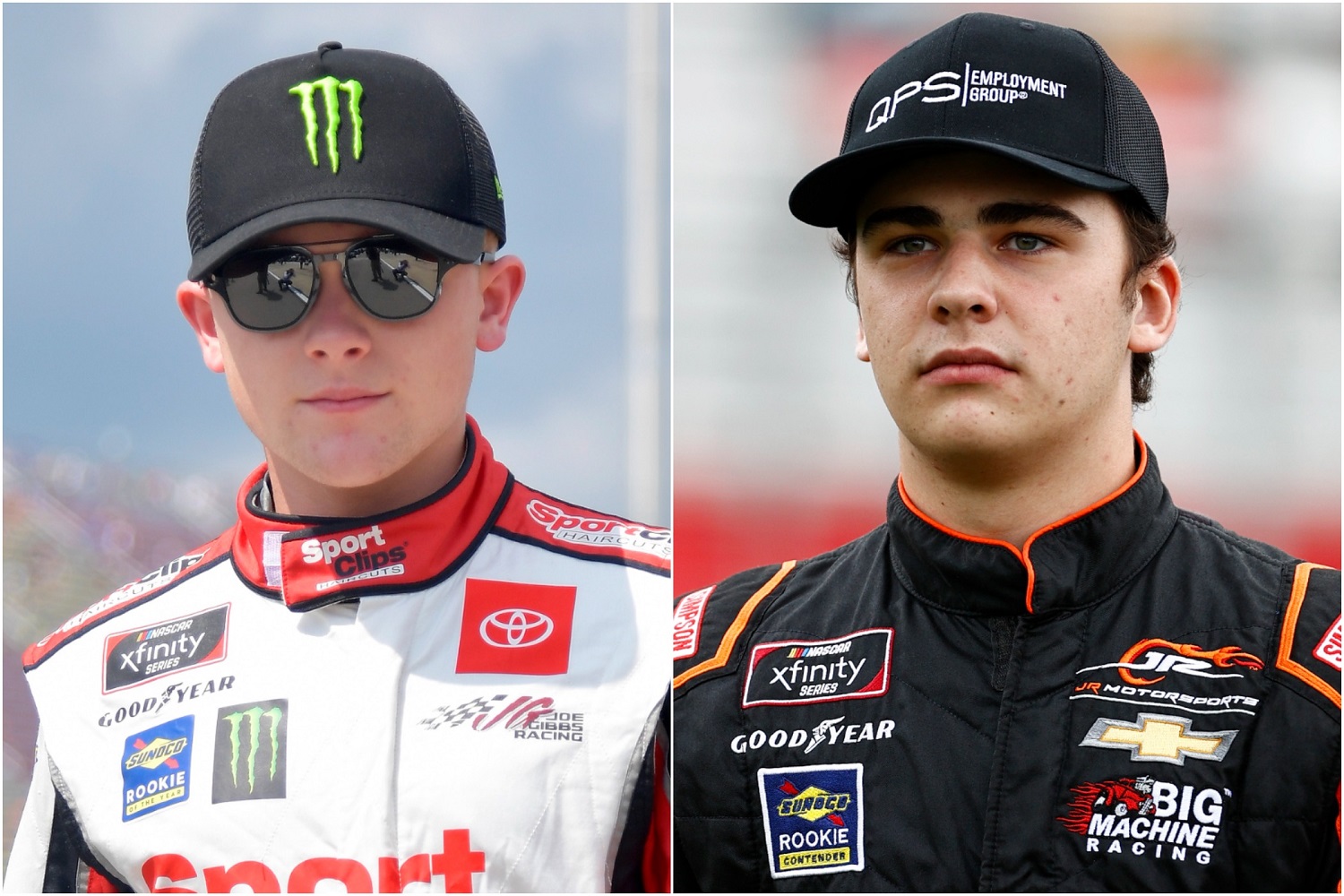 Ty Gibbs vs. Sam Mayer Will Make a Stacked Xfinity Series Lineup Even Better in 2022
Ty Gibbs of Joe Gibbs Racing and Sam Mayer of JR Motorsports figure to be prominent parts of the battle for the 2022 NASCAR Xfinity Series championship.
Article Highlights:
The 2021 Xfinity Series won by Daniel Hemric was a wide-open affair all season
Ty Gibbs and Sam Mayer raced partial seasons for their respective teams.
Gibbs and Mayer will be among the youngest and most-watched Xfinity drivers in 2022
Kevin Harvick and Chase Elliott have unfinished business to settle when the NASCAR Cup Series resumes, and it likely will bring some casual race fans back to the track or at least compel them to watch on TV. Ty Gibbs and Sam Mayer don't have that simmering animosity, but they do have a blooming rivalry that makes a deep Xfinity Series field even better in 2022.
The NASCAR Xfinity Series is coming off an exciting season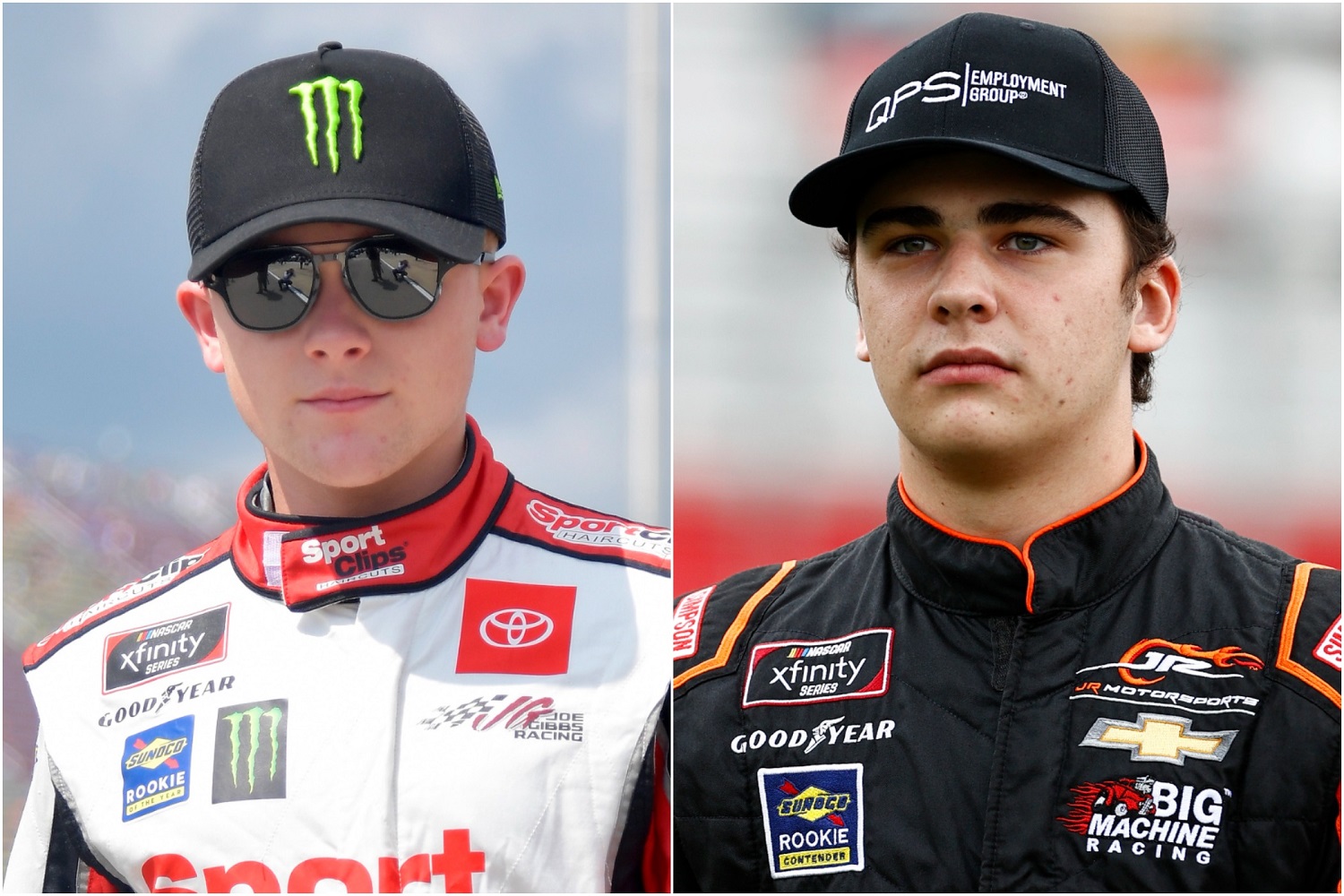 If there was a problem with the NASCAR Cup Series in 2022, it was that it felt inevitable two-thirds of the way through the regular season that the championship would come down to Denny Hamlin vs. Kyle Larson. Hamlin wasn't rolling up wins, but he was finishing consistently well. Even as Larson overtook him in points on his way to a 10-win season, Hamlin was hanging close. Others may have been competitive, but it still looked like a two-man race.
The Xfinity Series has no such issues. There was never a moment in the season when Austin Cindric slipped below second in points, but Justin Allgaier, AJ Allmendinger, Harrison Burton, Jeb Burton, and Daniel Hemric swapped the next five places on a weekly basis. Noah Gragson, Justin Haley, and Brandon Jones weren't far behind.
Picking win, place, and show for the season was impossible even midway through the playoffs, and a bettor could have gone broke trying to box trifecta combinations. NASCAR couldn't have asked for a better scenario.
Meanwhile, two exciting young prospects were creeping up behind them, positioning themselves for the future. Ty Gibbs, 18 when the season began, won his Xfinity debut on the Daytona road course and finished the season with four victories.
Sam Mayer, too young to compete until midway through the year, scored a modest six top-10 finishes in 18 starts but saw nearly as many days end in crashes. Still, JR Motorsports understandably sees him as the man to build a team around.
Ty Gibbs and Sam Mayer represent the next generation
Daniel Hemric, NASCAR's best story of the year other than Kyle Larson, prevailed in the 2021 Xfinity Series by scoring his first career victory at the absolute best possible moment. Faced with a prove-it-or-lose-it opportunity with Joe Gibbs Racing, Hemric maintained a top-five position in the standings almost the entire season and then won the Championship 4 race.
With Austin Cindric (Team Penske), Justin Haley (Kaulig Racing), and Harrison Burton (Wood Brothers) earning promotions to the Cup Series, Hemric becomes the top name in the 2022 Xfinity Series by virtue of his status as defending champion and his move to Kaulig Racing, which will treat him as an equal to AJ Allmendinger.
Allmendinger (39) and Justin Allgaier (35) will carry the label of veterans facing the reality of perhaps not ever landing full-time Cup Series gigs but remaining dangerous in Xfinity cars. Hemric (30) and Jeb Burton (29) remain in the conversation as they look to open doors with another big season.
Meanwhile, Noah Gibson (23) and Brandon Jones (24) are no longer the young drivers with the-sky's-the-limit futures. They remain likely to make it to the Cup Series at some point, but Ty Gibbs (19) and Sam Mayer (18) are now on the clock as the young faces to watch.
Ty Gibbs vs. Sam Mayer will make the Xfinity Series even better
Young Xfinity drivers Ty Gibbs and Sam Mayer have put together impressive resumes that have included their share of head-to-head competition, with Gibbs generally holding the advantage.
Gibbs has won 18 of 47 ARCA Menards starts since 2019 and finished in the top 10 an amazing 42 times. He's also 7 of 13 in the Menards regional series. Mayer has scored five wins and 23 top-10 showings in 28 starts in the national series to go with six victories in 10 regional races.
With his four victories and six other top 10s in a partial 2021 season, Gibbs goes into the new season with the advantage. His grandfather's Joe Gibbs Racing team has not announced which car he'll be driving next year, but it's a given that he and Mayer will each get their first full season in Xfinity cars and fans, will be comparing notes on a weekly basis.
All stats courtesy of Racing Reference.