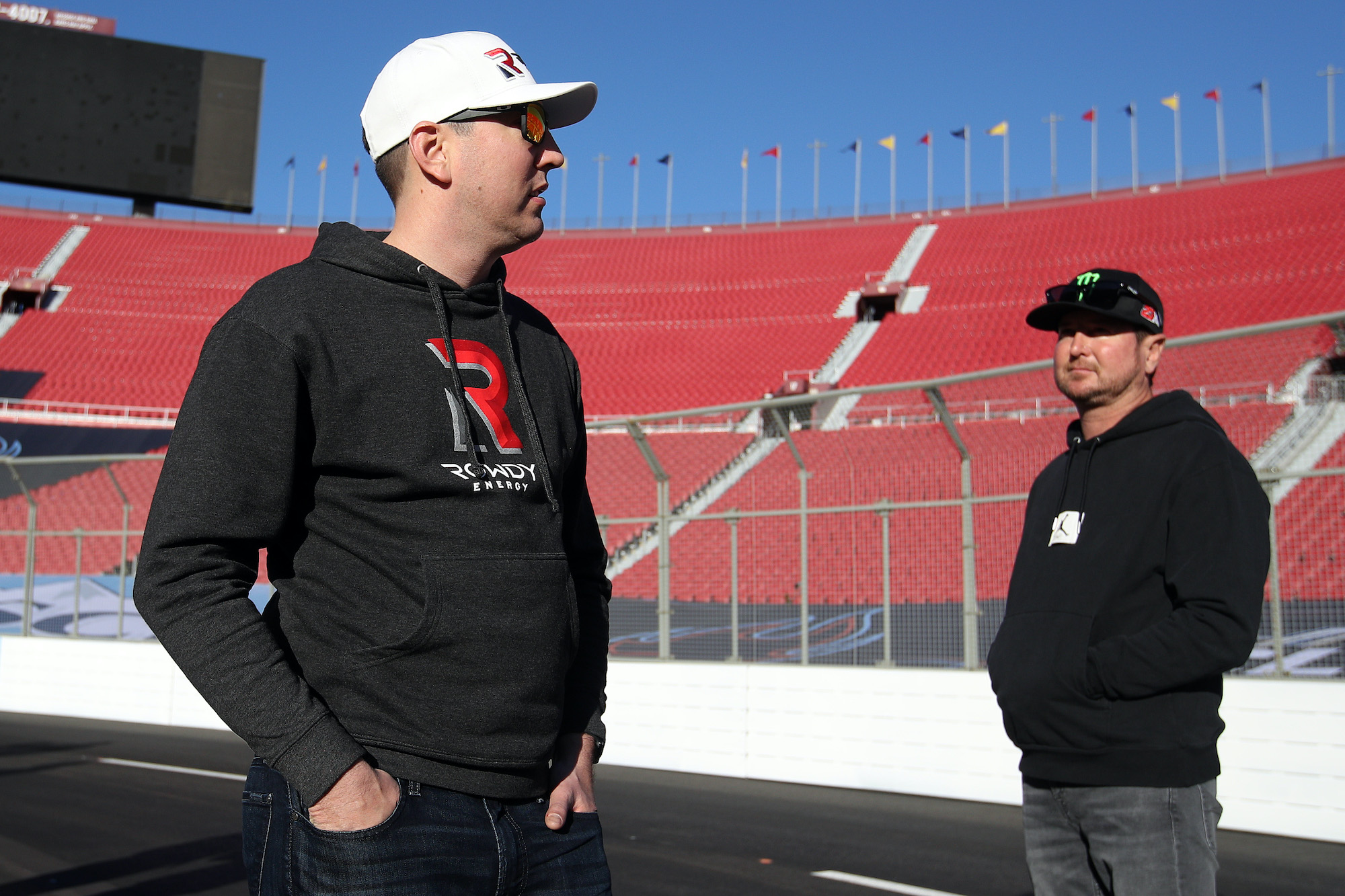 Kurt Busch Threatens to Call Out Brother Kyle for Dirty Racing During NASCAR Truck Series Race
Kurt Busch worked in the Fox broadcast booth for the Truck Series race in Las Vegas and threatened to call out Kyle for dirty racing after being involved in a crash late in the race.
Kurt Busch is Kyle's other brother. During Friday's NASCAR Truck Series race in Las Vegas, the older brother, working up in the Fox broadcast booth, picked on his younger brother racing on the track as older brothers are wont to do.
Late in the race, with action heating up, Kyle raced near the front when he was involved in a questionable accident that took out the race leader. Kurt put aside his brotherly role and threatened to call out his younger sibling for dirty racing. 
Kurt Busch takes shot at Kyle in Truck Series race
Kurt Busch has become a regular in the Fox broadcast booth for the NASCAR Truck Series races. He worked up in the booth multiple times last year and made his first appearance of the season during Friday's race in his hometown of Las Vegas. 
It was an interesting set of circumstances because it was also his younger brother Kyle's first Truck Series race of the season. Unsurprisingly, the broadcaster took a few cracks at his younger brother competing on the track.
After Ben Rhodes won the first two stages, Busch, who picked Rhodes to win the race, got on the radio from the booth and talked about it with his younger brother.
"We like the strategy of the KBM trucks now in this final stage firing up, but Stage 2, tell me why you didn't win it," the elder Busch said. "It looked like Ben Rhodes just owned you through Turns 3 and 4 right there."
"Yeah, I had a nice little draft there on the backstretch and I didn't want to put myself on the bottom and have him crowd me and then wad up a pretty good truck," Kyle said. "It's not that time of the day, bud. This is where it pays right now."
Kurt threatens to call out Kyle for dirty racing after late incident
Kyle Busch battled for the lead against his former Kyle Busch Motorsports driver Christian Eckes with nine laps remaining in the race. Coming out of Turn 2, Busch appeared to get into the left-rear of the No. 98 truck, which sent it sideways and spinning hard into the inside wall. 
Up in the broadcast booth, Busch and Vince Welch captured the drama of the moment. 
"Oh, he's into him," Busch said of his younger brother's move. 
"Kyle got into Eckes," Welch described as the truck slid helplessly down the track. 
"Turned him," Busch said. "There was some lane changing, there was some blocking, and there was some unusual situations that developed to create that. Wow!"
After Welch described the heartbreak that Eckes must be going through ending his day so close to a potential win, Busch jumped back into the conversation.
"I'm telling you, you're kind of messing with the biggest bull out there, but I'm interested in some of these replays," the 2004 Cup Series champion said. "I'm not going to defend Kyle if I see something dirty but maybe it was something that Eckes was throwing at him that Kyle didn't quite like."
A few minutes later, after watching multiple replays from different angles, everyone in the booth agreed it was Eckes who misjudged his timing in trying to make a block on Busch, who was already there.    
Elder brother attempts to entice younger brother into fighting
Last October in a Truck Series playoff elimination race at Martinsville, KBM driver John Hunter Nemechek, contending for a championship, got aggressive with another driver who then returned the favor several laps later, making contact with the No. 4, sending him into the outside wall, and ending his day and potentially his chances of advancing.
Up in the broadcast booth, Kurt Busch addressed the incident.
"It's a typical disagreement of 'Dude, you ran into the back of me and now you're pulling this. I'm going to do that.' There's that line," Busch said. "Do you respect a championship front runner? Or do you want to just try to take it into your own hands? Now there's a problem. Now you've got crews pissed off at each other. Owners. This is on if the No. 4 truck doesn't make the Championship 4." 
Moments later, after Welch talked about Nemechek's last DNF, Busch returned to his previous remark.
"Did you see what I did there?" he proudly asked. "I was trying to get Kyle Busch to go out there and fight as a team truck owner." Welch and Michael Waltrip both laughed.
When Kurt Busch retires, he definitely has a future in the broadcast booth if he chooses. And just based on age, Kyle will still be competing. For the fans watching at home, that translates into entertaining action on the track and in the booth where the older brother gets to pick on the younger brother for everyone to hear. 
Like Sportscasting on Facebook. Follow us on Twitter @sportscasting19.