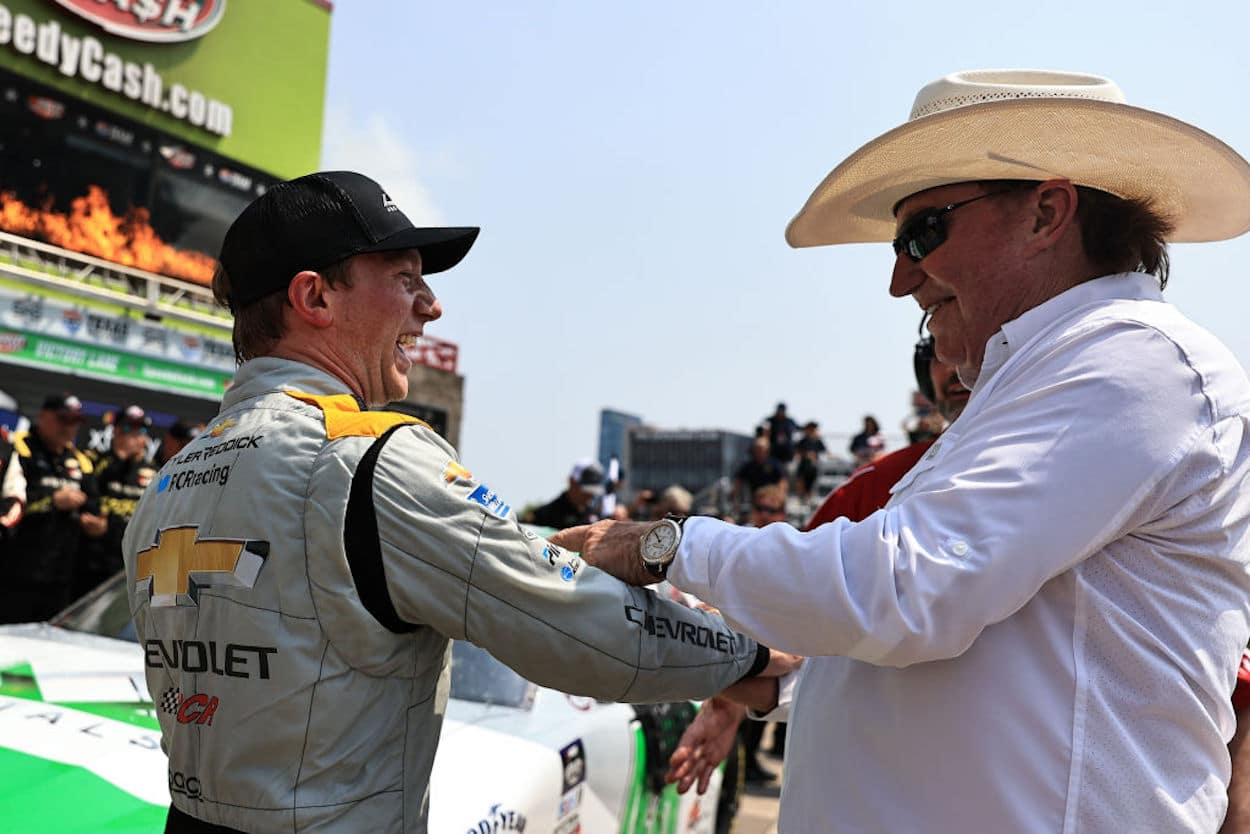 In Pushing Austin Dillon to Win, Tyler Reddick Shows He's a Bigger Man Than Boss Richard Childress
Despite his relative youth has already proven that he's capable of acting like the adult in the room. Richard Childress, on the other hand, hasn't covered himself in glory.
On the day Tyler Reddick shocked the NASCAR world with the news he was leaving Richard Childress Racing for 23XI Racing after the 2023 season, the young driver went out of his way to let it be known how he would approach the remainder of his time at RCR.
"For me, nothing changes," Reddick said on a July 12 Zoom call announcing his 2024 plans. "My commitment to the team is as strong as it has ever been. I'd almost argue that now that I know the window I have with them has an end, I feel like I have even more pressure on myself to give them everything I have with the time we have left."
Reddick wasn't done talking about his current NASCAR team, though. 
"We have two opportunities to go out and have great years – we have the rest of this year, we have next year," he said. "For me, nothing changes. I'm going to keep giving RCR everything I have."
Notice that Reddick didn't just say he would continue to do his best; he said he would continue doing his best – for RCR.
After Sunday's Coke Zero 400 at Daytona International Speedway, it's clear beyond a shadow of a doubt that Reddick is a man of his word.
Life as a lame duck has been challenging for Tyler Reddick
In the short time that Tyler Reddick has been a lame-duck driver at Richard Childress Racing, it hasn't been all peaches and cream for the 26-year-old California native.
Within about 10 minutes of Reddick revealing his imminent departure, RCR blasted out a tweet that left nothing to the imagination about where the organization stood on his decision.
"Timing of this announcement could not be any worse," the tweet read in part.
Yet Reddick carried on in the weeks that followed, refusing in multiple interviews to throw any shade at team owner Richard Childress or the organization that ushered him into the Cup Series in 2020. And Reddick continued to put his best foot forward on the racetrack just as he promised, finishing second at Pocono just 12 days after his announcement and winning from the pole the following weekend at the Indianapolis Motor Speedway road course.
But even after going to Victory Lane at Indy and prevailing for the second time in five races, Reddick was still in the doghouse with his current boss.
"Anytime you win at Indy, it's great," Childress told FOX Sports' Bob Pockrass when asked about Reddick moments after the race ended. "You put everything out (there) when you win at Indy." Then Childress quickly pivoted, recalling how he and Kevin Harvick made a joint announcement in 2013 about Harvick's plans to leave RCR at the end of that season. "This didn't happen like that," Childress said of Reddick's announcement.
So there were no congratulations. No willingness to move on and bury the hatchet. Just another cheap shot at the driver responsible for RCR's only two Cup Series wins since 2020.
Reddick, meanwhile, took the high road during the postrace winner's press conference at Indy.
"I need to do everything I can to win as many races as possible for this group because I wouldn't be the road course racer I am today if it wasn't for RCR, if it wasn't for the people on my team, if it wasn't for Chevrolet," he said. "I owe it to them. I owe it to my team. I owe it to the people that really have helped me to get that done and go out there and deliver for them."
Richard Childress' refusal to acknowledge Tyler Reddick continues
After winning at Indianapolis, Tyler Reddick had a couple of rough weeks before posting a solid seventh-place finish on the road course at Watkins Glen. Then came Sunday's Cup Series regular-season finale at Daytona, which proved to be the biggest test yet of Reddick's commitment to RCR.
With teammate Austin Dillon – who happens to be Richard Childress' oldest grandson – needing a win and nothing less to qualify for the playoffs, Reddick stayed less than half a car length from Dillon's back bumper over the final three laps after the two moved around race leader Austin Cindric. Rather than making an attempt to pass, Reddick seemed perfectly content to ride in second, and he later admitted that he was indeed trying to hold the field at bay so his teammate could clinch a playoff berth.
"Everything was on the line for RCR today trying to get Austin in the playoffs," Reddick told a group of reporters (h/t Matt Weaver) on pit road after the race. "A lot of crazy things unfolded, and I'm really glad it went the way that it did. … I was able to sneak through and get to the back bumper of Austin Dillon and really provide the buffer that I feel like was going to be necessary with a lot of really hungry drivers behind us in the closing laps."
When The Athletic's Jeff Gluck followed up by asking Reddick if his decision to be a good teammate near the end might relieve some pressure he's been feeling internally at RCR, Reddick demurred.
"It's not why I did it. I did it for Austin," he said, as seen in a clip shared by Noah Lewis. "That wasn't even on my mind, honestly. It was just trying to get my friend, my teammate, fellow driver at RCR in the playoffs because it's not just my group of guys that deserve it; it's everybody at RCR that works really hard on these cars, and now both of our cars are in the playoffs."
Dillon, who a few days after Reddick's 23XI announcement said he agreed that its timing wasn't ideal for RCR, struck a considerably different tone toward Reddick after being pushed to the win by his teammate at Daytona.
"He has been in a way inspirational to me to pick up my game because he has so much speed, and he shows it constantly," Dillon said during his postrace winner's press conference. "Tyler has been good for me. I think I've been good for him in some consistency aspects. We've rubbed off on each other in different ways to really help.
"When he got to my back bumper, I knew that I could trust him. … I'm thankful that he has been my teammate for this long."
As for Childress, surely the NASCAR Hall of Fame team owner would give Reddick his proper due this time, right?
Think again.
Asked during the winning team owner's press conference if Reddick's willingness to stick with Dillon at the end of the race would help Reddick's standing within RCR, Childress refused to give a direct answer.
"I talked to all of those guys after his announcement, and I said, 'We're going to give him 100 percent chance to win races and 100 percent chance at winning the championship,'" the six-time Cup champion team owner said. "Now, we've got two [drivers in the playoffs], so we've got to give both of them the same advantage to try to win the championship."
Pressed on whether Reddick would be viewed more favorably within RCR for staying tucked behind Dillon's bumper and playing the role of protector, Childress again tiptoed around the question.
"They were all just working together, I think," he said. "I didn't talk to any of them. I didn't hear any communication on the radio. I was just standing up there, old heart beating fast and watching it."
Tyler Reddick, not Richard Childress, remains the grownup in the room
Given the way he's been treated by Richard Childress since stating his intentions to leave RCR after next season, Tyler Reddick had good reason not to play henchman for Austin Dillon on Sunday at Daytona.
After all, Reddick wanted to win the race, too. But he instead chose to remain true to his word about giving RCR everything he has while he's still with the organization. The way Reddick handled his business at Daytona also shows that he's not spiteful or interested in sticking it to RCR for the way he's been treated in-house over the last several weeks.
Reddick also demonstrated – just as he has ever since making his future plans known – that he's taking a big-picture approach to his job as a NASCAR Cup Series driver and has no desire to tarnish his reputation in the sport or burn bridges.
As for his 76-year-old boss? 
Let's just say it's time for Childress – who Dillon affectionately calls "Pop-Pop" – to stop acting like a spoiled kid who needs a popsicle shoved in his mouth before he'll stop crying.
Like Sportscasting on Facebook. Follow us on Twitter @sportscasting19 and subscribe to our YouTube channel.