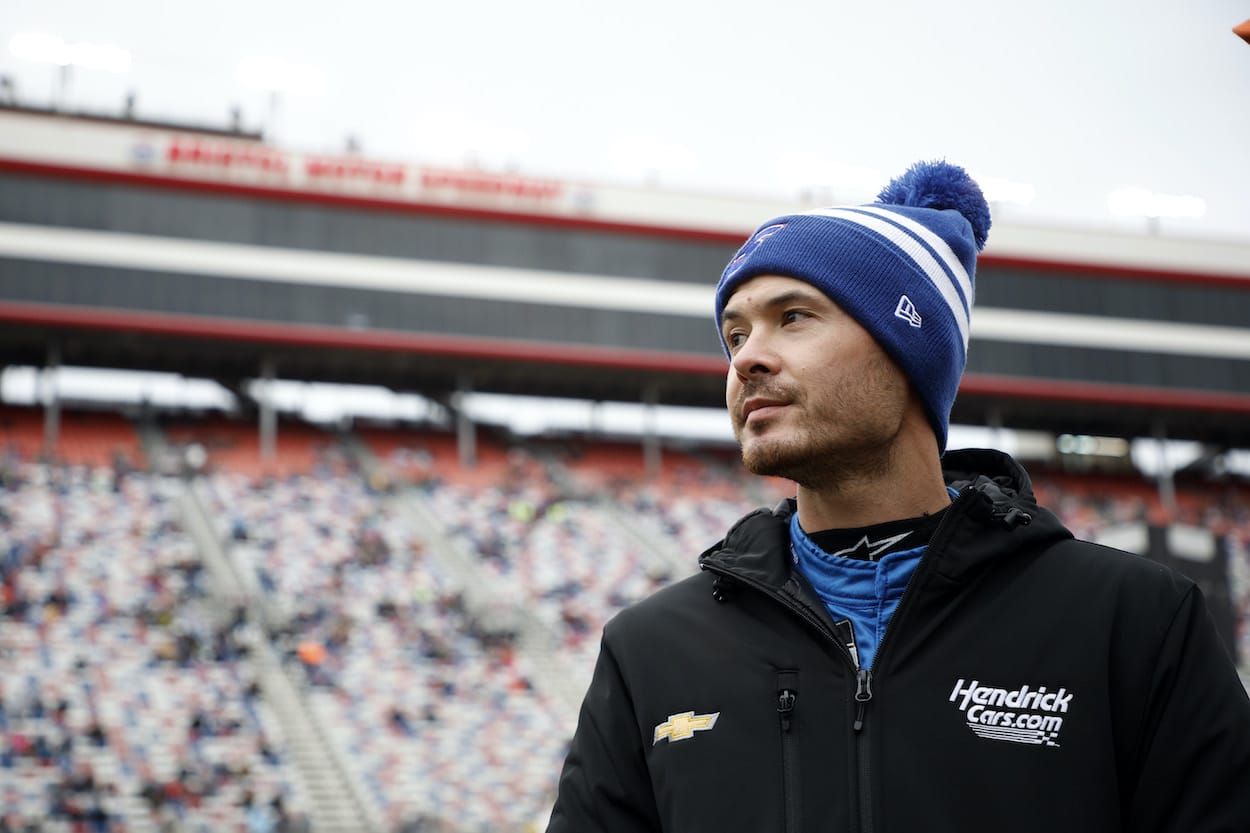 Kyle Larson Once Again Doesn't Sugarcoat What He Thinks About Cup Series Racing on Dirt at Bristol or Anywhere Else
Kyle Larson has been vocal in the past and was no different this year in criticizing NASCAR for the Cup Series racing on dirt at Bristol.
Kyle Larson is undeniably one of the best drivers in the NASCAR Cup Series. But he's proven through the years that he's versatile and can win in anything he gets behind the wheel and that includes on asphalt and dirt.
With his success at various styles of racing, it would make sense for the Hendrick Motorsports driver to welcome a chance to race his full-time job on dirt at Bristol. He doesn't. The 2021 champion has been consistent in the past about what he thinks of racing on dirt and echoed those thoughts before this year's installment of the Bristol dirt.   
Kyle Larson outspoken about dirt in 2022
Last year before the second edition of the Bristol dirt, Kyle Larson appeared on SiriusXM NASCAR Radio and offered his thoughts on the race.
"The way I look at it if we're not going to take the windshields out then why are we racing on dirt? We shouldn't race on dirt if we're not going to take the windshields out and actually have a dirt race with moisture in the track and being able to produce a real dirt race," Larson said. "I feel like we're wasting everybody's time a little bit and not giving the fans and the competitors what we all deserve. In my opinion, if we're not going to take the windshields out, we might as well never put dirt on Bristol again, which I'm all for not putting dirt on Bristol, whether we have windshields or not. I think the racing at Bristol is amazing just as normal."
Those remarks were before the race where he finished fourth. Several weeks later in a 12 Questions interview with The Athletic's Jeff Gluck, the driver unexpectedly brought up the subject when talking about things in NASCAR that are concerning to him. 
"Stuff I'm worried about? I can't really think of anything off the top my head," he said. "I feel like NASCAR continues to do a good job with the schedules and freshening that up and adding some excitement. Maybe the only thing I'd be nervous about is I enjoy road courses, but I don't want too many of them. And no more dirt races."
Larson echoes previous sentiment
Interesting how Larson talked about his concern for too many road courses, but then had to throw in that little jab about racing on dirt. Fast forward to this year, and nothing's changed for the 30-year-old. He admitted as much this weekend at Bristol when asked if dirt should be continued in the future.
"I think we all really enjoy the concrete surface here at Bristol," he said. "I think the crowd's typically bigger it seems like at this point now for the concrete stuff. I don't know. It's up to the series and the promoters but I would love to get to running two races on the concrete here."
A reporter then asked Larson, who won this year's pole, if NASCAR changed the race to a different dirt track, which one would he prefer? 
"None," he bluntly said. "None." 
"Why's that?" the reporter questioned. 
"Because we don't need to be racing on dirt," the driver said.
Kyle Busch not a fan of racing on dirt
Larson isn't the only Kyle and Cup champion opposed to dirt racing. Kyle Busch made that clear before he won last year on the half-mile track.
"Cut the cord. As Richard Petty says, it takes our sport backwards," Busch told the media.
Speedway Motorsports Inc. CEO Marcus Smith has said there hasn't been a decision made on whether dirt will return to Bristol in 2024. One thing is clear — if it does, two of the favorites to win still won't be happy about it.
For the latest breaking news and information about NASCAR's three national series, check out @kdsportswriter on Twitter.