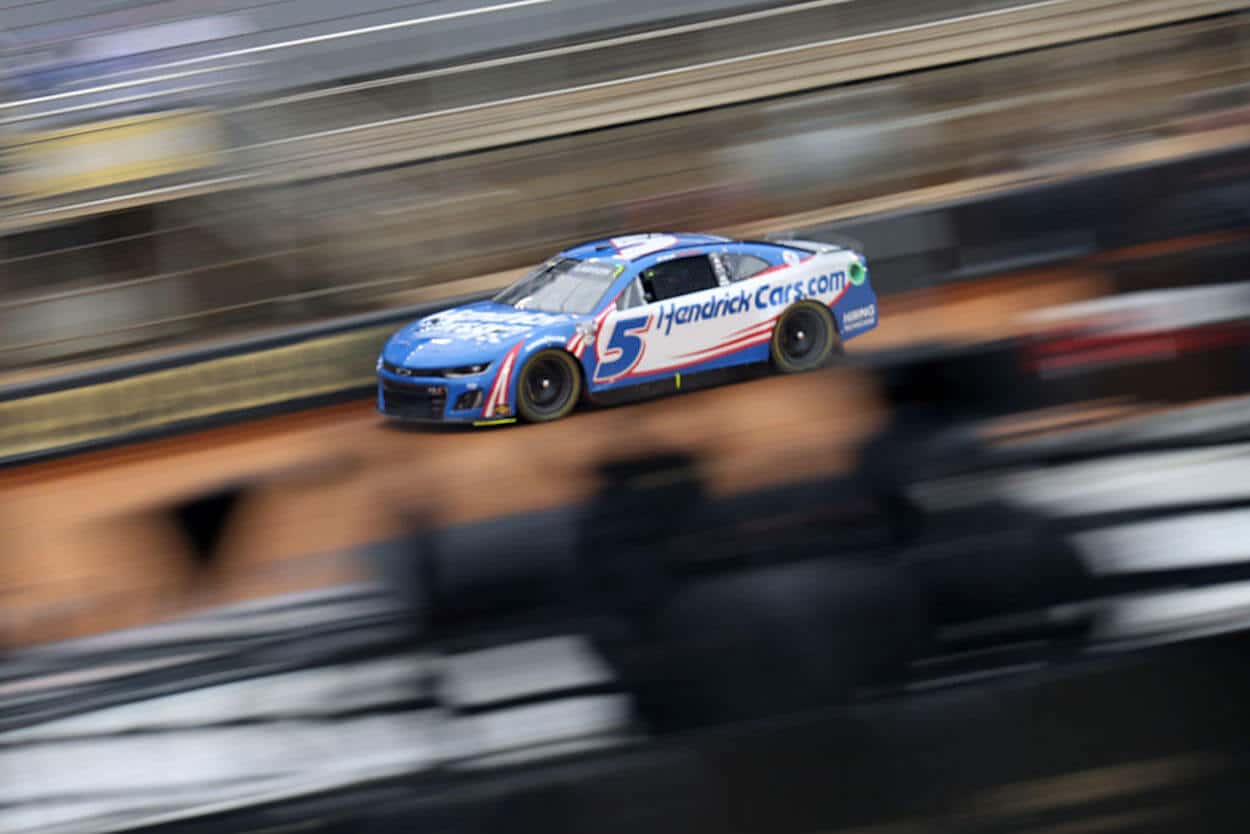 5 NASCAR Drivers More Than Capable of Conquering the Bristol Dirt
While the Food City Dirt Race on Dirt at Bristol Motor Speedway isn't everyone's cup of tea, it's still a race on the schedule. Who will claim the checkered flag?
For the first and only time in 2023, the NASCAR Cup Series is going dirt-track racing.
The big event is today, and the venue is Bristol Motor Speedway, the fabled Tennessee short track that's hosting a clay-covered springtime showdown for the third consecutive year.
Before NASCAR's brightest stars get down and dirty tonight for 250 laps of hard-nosed racing under the lights, here are five drivers with a plausible path to victory at the half-mile, high-banked oval.
5. Chase Briscoe
Chase Briscoe had the right idea but the wrong execution in the 2022 Bristol dirt race when he used a final-lap surge to rapidly run down race leader Tyler Reddick, only to lose control of his No. 14 Stewart-Haas Racing Ford in the final corner and wipe out both himself and Reddick in one fell swoop.
Briscoe later apologized to Reddick while discussing the incident on pit road, and Reddick, thankfully, was accepting of Briscoe's conciliatory gesture — even putting some of the blame on himself. 
Assuming Briscoe has learned from his mistake, he should factor heavily into the mix again tonight as he seeks his first top-five finish of 2023, a season after capturing his first career Cup victory at Phoenix and advancing all the way to the Round of 8 in the playoffs.
4. Tyler Reddick
Tyler Reddick put on a show last year at dirty Bristol, leading nearly 40 percent of the race in his Richard Childress Racing Chevrolet and holding the top spot on the final lap before his contact with Chase Briscoe.
Even with the last-lap mishap, Reddick still managed to finish second and turn a lot of heads with his dirt-track prowess. The Corning, California native will be competing for a different team tonight at Bristol — the 23XI organization co-owned by basketball legend Michael Jordan and Denny Hamlin — but expect him to be a contender for the victory just the same after putting his No. 45 Toyota P6 on the grid.
After starting off the year in a major slump, Reddick has turned it around in recent weeks and is just two weeks removed from a playoff-clinching triumph at the Circuit of The Americas road course in Austin, Texas.
3. Kyle Busch
Kyle Busch was the luckiest man in Thunder Valley one year ago when Chase Briscoe and Tyler Reddick's final-corner collision opened up the door for him to snatch away the lead and win a race he hadn't led all day.
Busch returns to the Bristol dirt tonight as the driver of the No. 8 Richard Childress Racing Chevy that Reddick led 99 of 250 laps in last season, so his chances of back-to-back victories on the Bristol mud are even better based on that pleasant reality.
Busch — a two-time Cup Series champion — will roll off from the fifth position looking to earn his second triumph of 2023.
2. Kyle Larson
Starting from the pole tonight is Kyle Larson, who has plenty of reasons to feel especially optimistic about his chances of going to Victory Lane. 
In addition to having the luxury of leading the field to the green flag, Larson is an accomplished dirt track racer and two-time winner of the prestigious Chili Bowl Nationals that draw hundreds of racers from all over the world and thousands of fans to an indoor dirt track in Tulsa, Oklahoma each January.
Larson arrived at Bristol this weekend with a fresh dose of confidence after securing his first win of 2023 this past weekend at Richmond, where he became the second Hendrick Motorsports driver this season to punch a ticket into the playoffs.
1. Christopher Bell
A three-time winner of the Chili Bowl Nationals and prolific dirt-track racer whose accomplishments on red clay are far too many to list in this space, Christopher Bell is the undisputed favorite to leave Bristol with a big trophy tonight.
Besides boasting far more laps on dirt than most of the drivers he'll be racing against this weekend, Bell is having a terrific year with four top-five finishes in seven starts. The Joe Gibbs Racing driver and top performer for JGR this season has managed to build on his success from 2022 when he posted a career-high three triumphs in his No. 20 Toyota and made the Championship 4 for the first time.
Bell will take the green flag from the fourth position today, but it shouldn't take him long at all to find his way to the front.