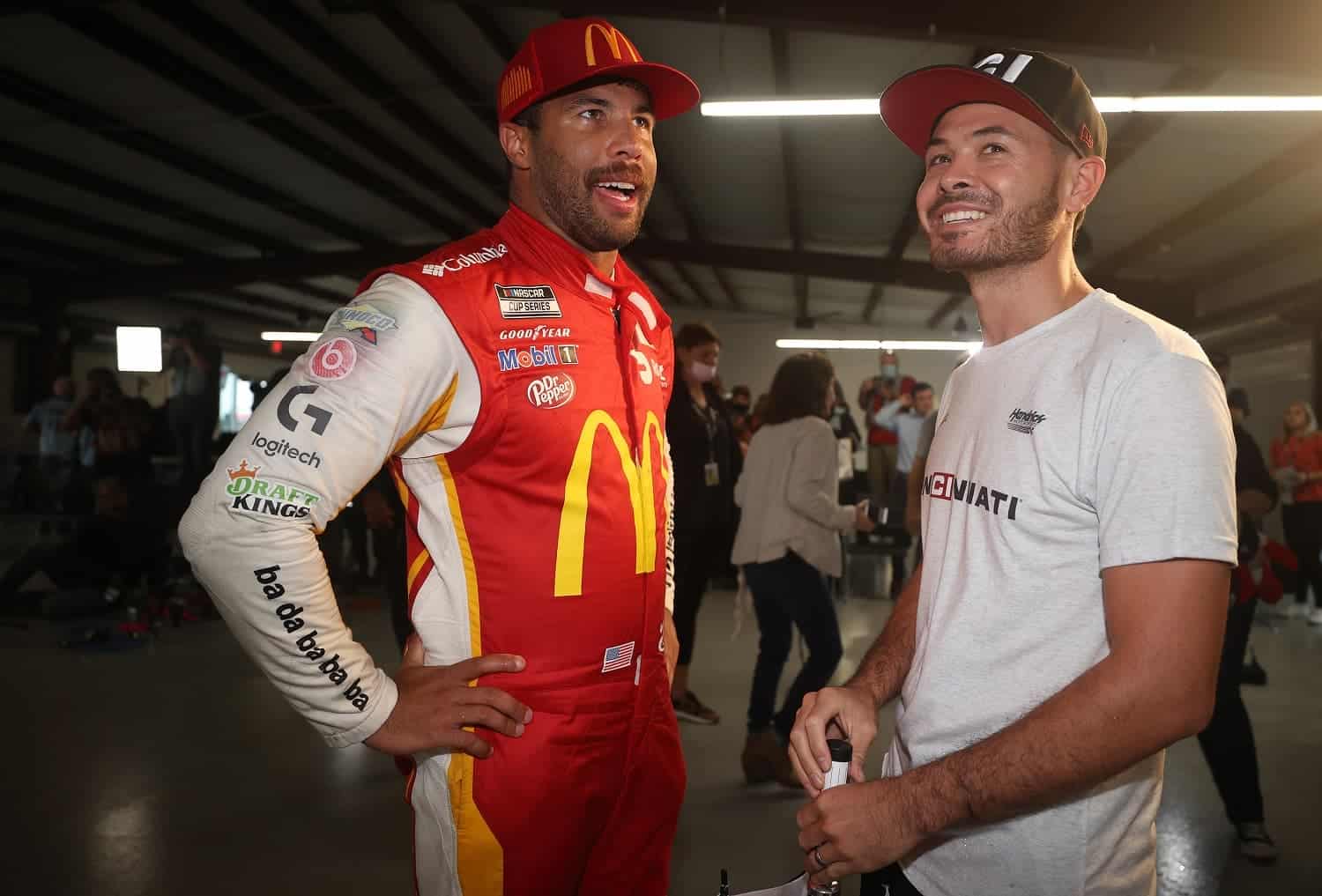 Kyle Larson Got His Mojo Back From YouTube; Bubba Wallace Is Still Lost in the Wilderness
Kyle Larson's win at Richmond has him back on track figuratively while Bubba Wallace is spinning his wheels.
The evidence is indisputable that Bubba Wallace has never been on Kyle Larson's level as a NASCAR driver. Larson has generally driven better cars, but that hardly explains his 20 NASCAR Cup Series wins to Wallace's two.
The difference in where they are in the driving hierarchy has never been more apparent than now. Larson owned a pair of top-five finishes this season but was in a funk before winning over the weekend at Richmond Raceway. Wallace arrived at Richmond coming off 27th place at Atlanta and 37th at COTA, leaving him questioning whether he even belongs in the Cup Series.
Maybe we should have known where their trajectories were headed after Larson won at Homestead-Miami last fall.
Kyle Larson vs. Bubba Wallace was a memorable NASCAR moment in 2022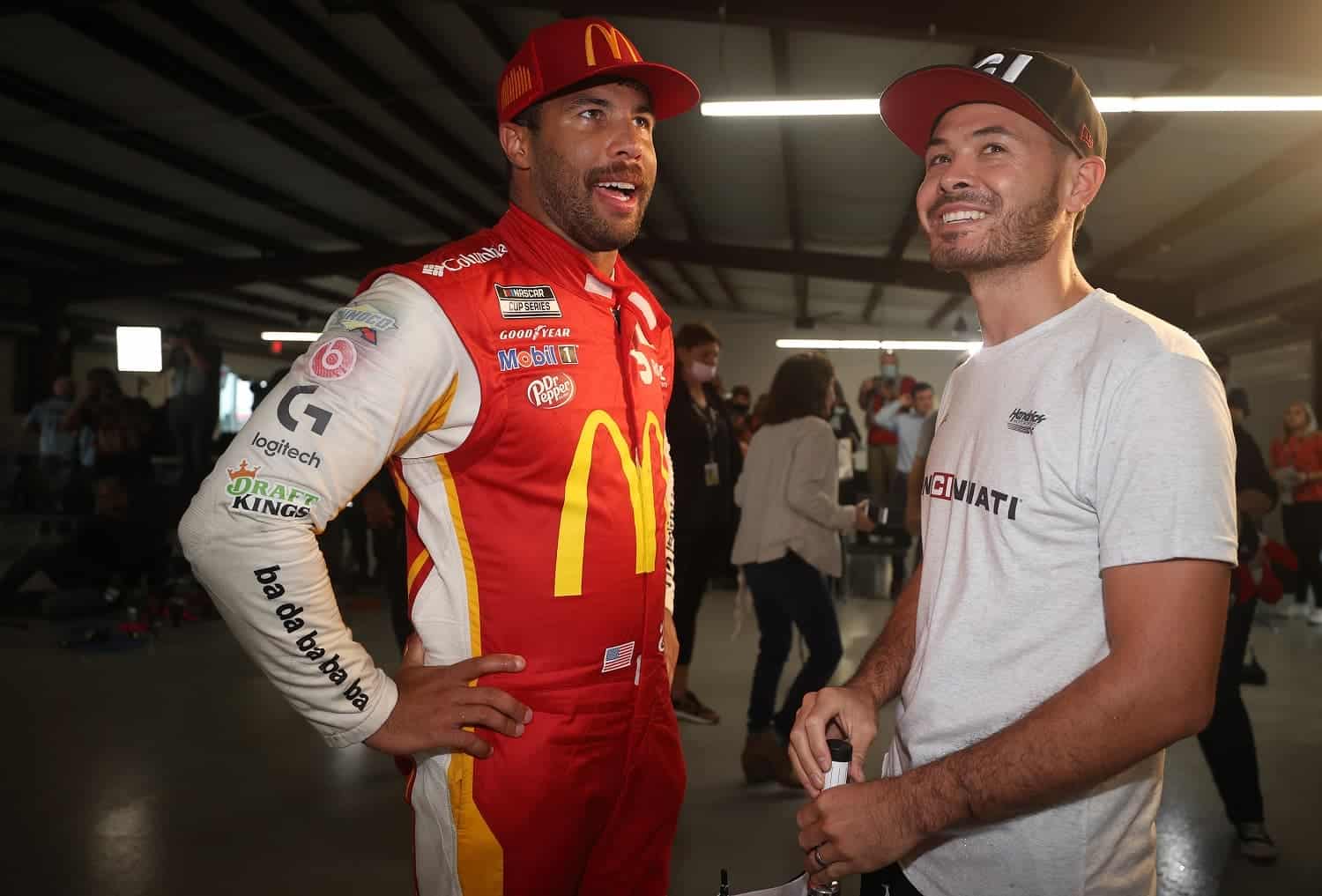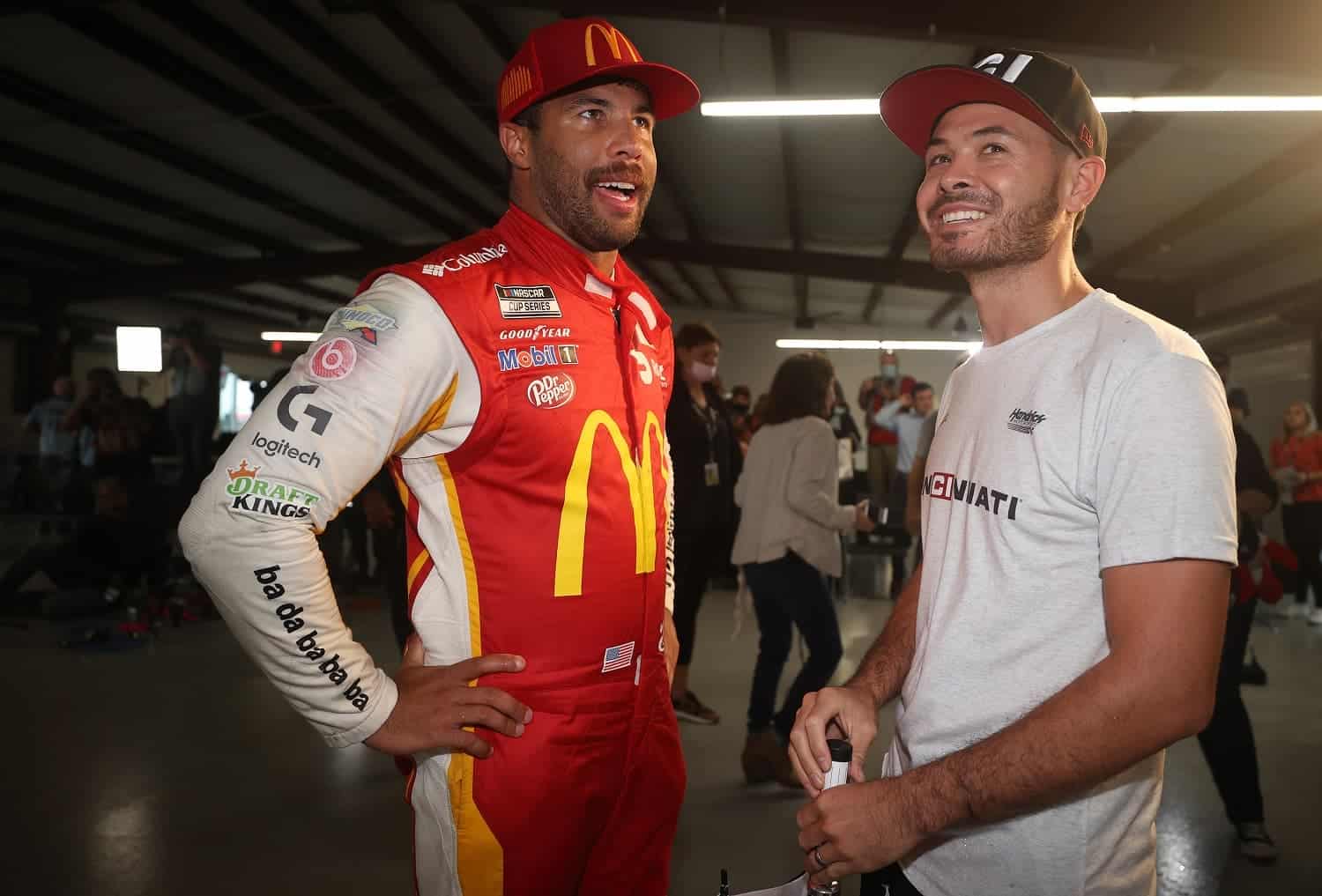 The fracas between Bubba Wallace and Kyle Larson – it was only Wallace doing the shoving – on the Las Vegas Motor Speedway infield dominated the sports news cycle at a time when the NFL was a month into its season and MLB was immersed in its playoffs. It resulted in a one-week suspension for Wallace, who was driving the No. 45 Toyota.
Wallace's car, driven by Kurt Busch and then Ty Gibbs during the regular season, was only in playoff contention in the fall for the owners' championship. Larson was in the running to defend the drivers' championship when the playoffs began, but he was eliminated a week before Las Vegas.
While Wallace was cooling his heels back at the 23XI Racing shop, Larson scored a convincing victory at Miami-Homestead, leading 199 of 267 laps in a masterful display of riding the high grove. It was a small consolation prize as part of a three-win season a year after capturing 10 victories, but it was also a reminder Larson's head was still in the game.
Bubba Wallace is struggling
None of the six Toyotas have won seven weeks into the Cup Series season, and Denny Hamlin is the manufacturer's only driver with a stage victory. Richmond Raceway is historically a strong track for Joe Gibbs Racing and the Toyotas, but the results disappointed a bit over the weekend, although Christopher Bell finished fourth and Ty Gibbs ninth. Among the six Camrys, Wallace brought up the rear in 22nd place.
Wallace's only top-10 finish this year has been fourth at Las Vegas, and he arrived at Richmond in the aftermath of 27th at Atlanta and 37th at COTA. After wrecking himself on the Austin road course after 10 laps, Wallace expressed his frustration.
"Just trying my hardest not to go down that slippery slope of self-doubt right here," he said. "Two weeks in a row making rookie mistakes. Six years in the Cup. I need to be replaced."
It didn't get better for Wallace and his team at Richmond. A tire retriever fell over the wall during a pit stop on lap 294 to trigger a penalty, and the No. 23 Toyota needed a subsequent wave-around to get back on the lead lap. He finished 22nd.
Kyle Larson has had his own issues in 2023, but not quite as bad
Kyle Larson now has the victory at Richmond under his belt, all but assuring a return to the playoffs, and he stands sixth in points in the Cup Series. However, it's been an uneven season. Throw out second place at Las Vegas and fourth at Phoenix, and his best remaining result was 14th at COTA, though he was in the hunt at Daytona (18th place) until an overtime wreck.
Richmond was his second win in his last 18 starts, which actually constitutes a slump. In trying to solve the Next Gen car last year, his number of laps led plunged from 2,581 to 635, and his average finished fell from 9.1 to 14.1.
This season's inconsistency was admittedly messing with him a little bit.
"I was flipping through old YouTube videos this week of my 2021 season so I could remind myself I used to be good," Larson said at Richmond, drawing a chuckle from reporters.
Larson did notice a difference between 2021 postrace interviews and his reactions this year.
"Since we've gone to the Next Gen car, it's hard to get your confidence up," he explained. "I just really wanted to look at old tape of myself and see where my mindset was and see my confidence."
With a win in the books and the points that NASCAR had docked the Hendrick Motorsports cars restored on appeal, confidence shouldn't be an issue the rest of the way.
Got a question or observation about racing? Sportscasting's John Moriello does a mailbag column each Friday. Write to him at [email protected]