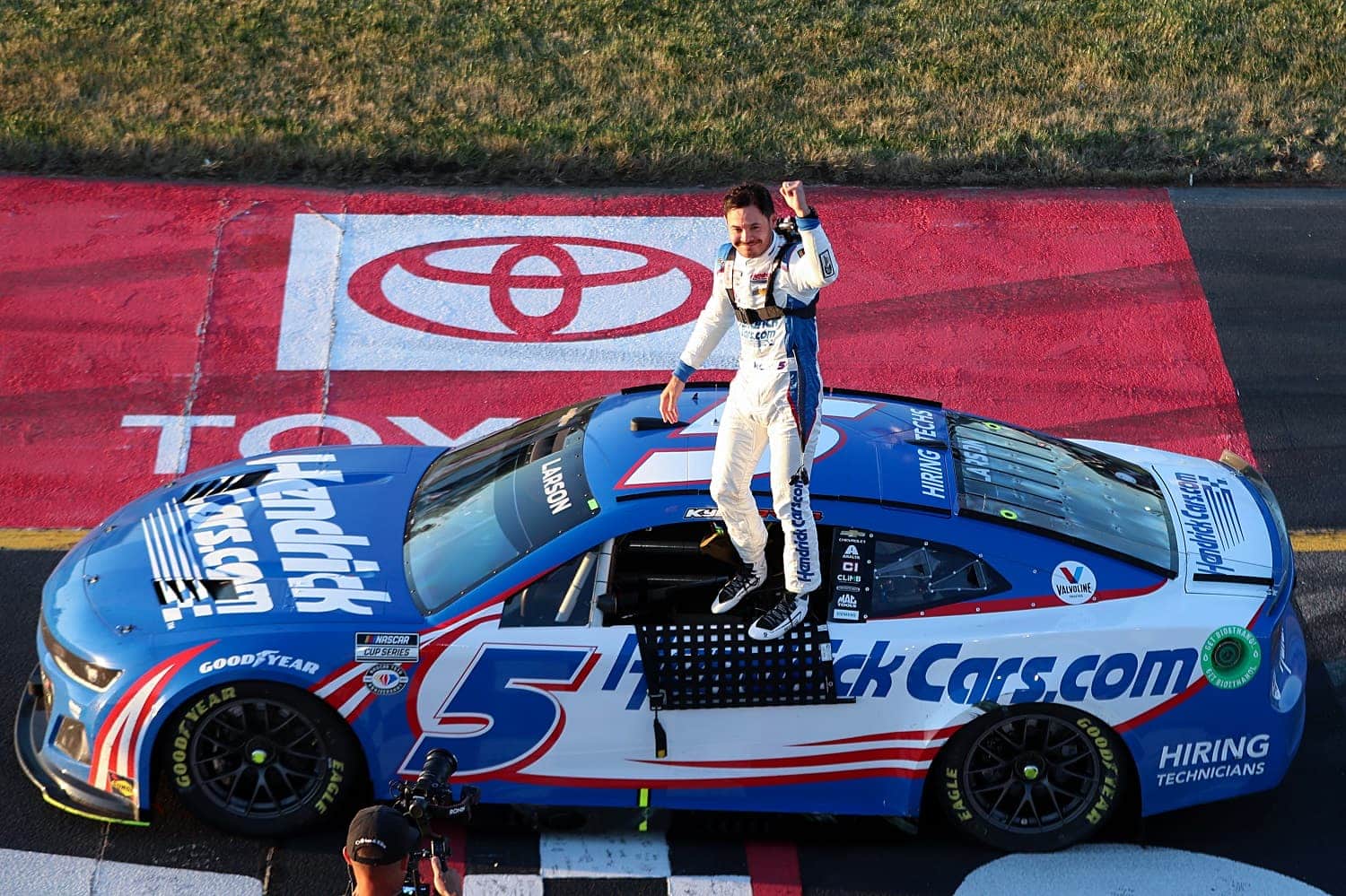 NASCAR Figures React to Kyle Larson and the Special Significance of His Win
Kyle Larson drove onto Victory Lane with the paint scheme used by the late Ricky Hendrick two decades earlier.
Though his No. 5 Chevy has shown speed all season, the Cup Series results have been uneven for 2021 NASCAR champion Kyle Larson. Sunday at Richmond Raceway got him back onto Victory Lane.
It was "only" Larson's second win in his last 18 starts – a mini-slump for him but a great half-season for 95% of all others. At the end of the day, however, racing fans were learning the victory had special significance across the Hendrick Motorsports organization.
Kyle Larson led a solid showing for Hendrick Motorsports
Hendrick Motorsports has already scored a first-through-third finish at Las Vegas this season as William Byron, Kyle Larson, and Alex Bowman monopolized the podium. The team grabbed the top two positions Sunday at Richmond Raceway, but it could have been better.
Larson won, Chase Elliott fill-in Josh Berry took second, and Bowman placed eighth. The story behind the story, though, is that Byron could just as easily have scored his third win of the year. Byron won the day's first stage and led 117 of the 400 laps, only to be victimized by Christopher Bell's sloppy move on a restart with 20 laps to go.
It capped a winning week for the organization. On Wednesday, HMS succeeded in reclaiming the 100 points NASCAR took away from each of the cars for a parts violation. Now, they go to the Bristol dirt race with Larson, Byron, and Bowman all in the top six in points. Meanwhile, Berry has kept Elliott's No. 9 Chevy in the top 20 in owner points.
Mike Joy and Bob Pockrass noted the significance of the win
Shortly after Kyle Larson took the checkered flag, Fox announcer Mike Joy called attention to something almost everyone at Hendrick Motorsports but likely few others knew. The emotion was clear in Joy's voice as he explained the car Larson was driving carried the paint scheme used by Ricky Hendrick, who would have been celebrating his 43rd birthday.
Hendrick won a race in the 2001 truck series before driving the No. 5 Chevy in the 2002 Xfinity Series, his final year of competition. By then, Hendrick was already helping run his father's NASCAR operation. Tragically, he was among the 10 people killed in a plane crash while on the way to Martinsville Speedway in 2004.
Joy wasn't the only media member acknowledging the significance of Larson's victory. Fox Sports reporter Bob Pockrass noted Hendrick was already making his mark heading up the Xfinity Series team before he perished.
"He's the one who hired Brian Vickers," Pockrass said. "His dad didn't want to hire Brian Vickers, but he was like, 'If this is my team and I'm running it, I get to hire who I hire.' And he hires Brian Vickers, and they win a championship.
"When you think of Hendrick Motorsports, you wonder how much Ricky would be involved now. You think that he would be possibly running the place and you would know that it would be in good hands."
Jeff Gordon and Kyle Larson reflect on the day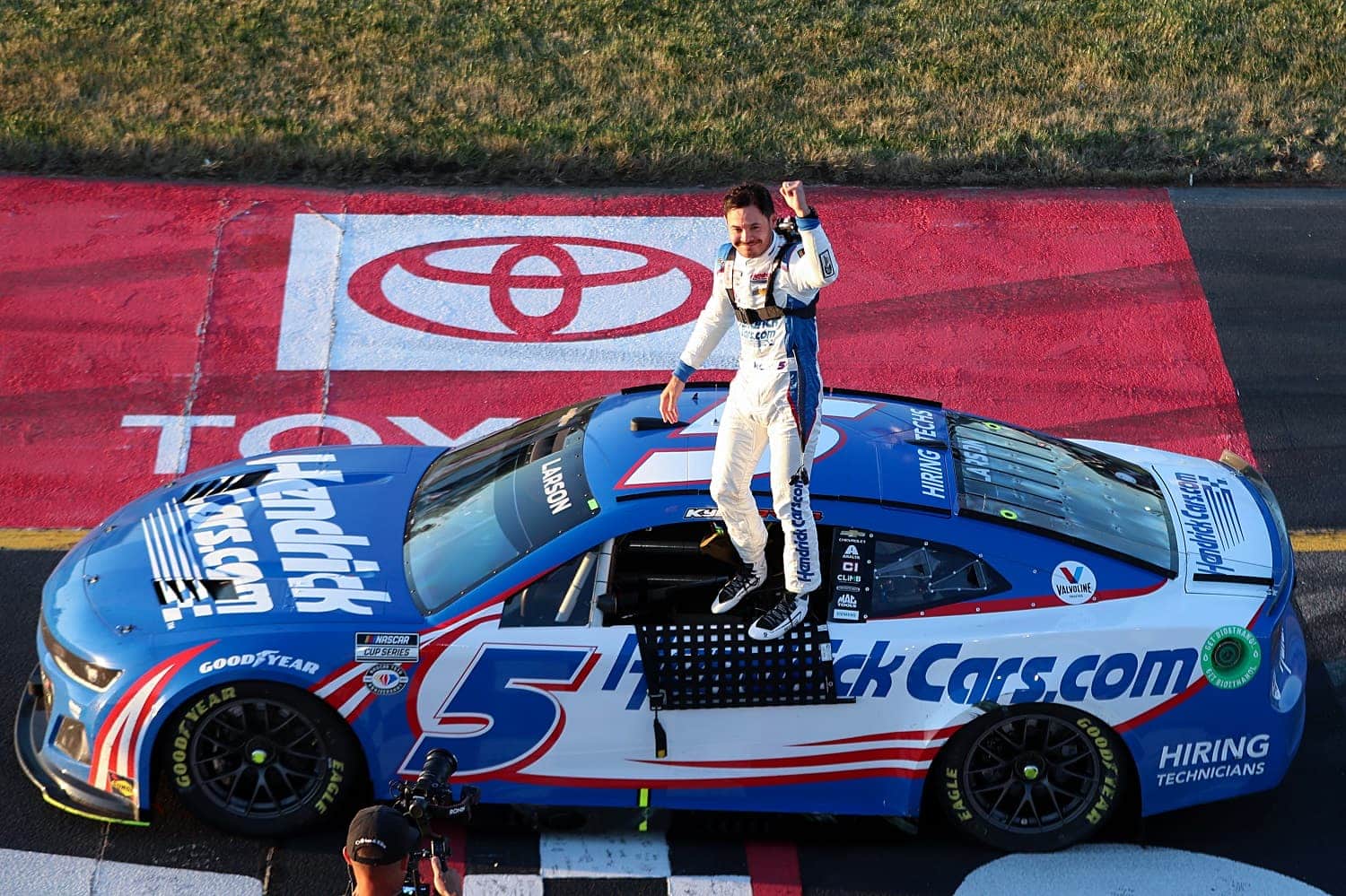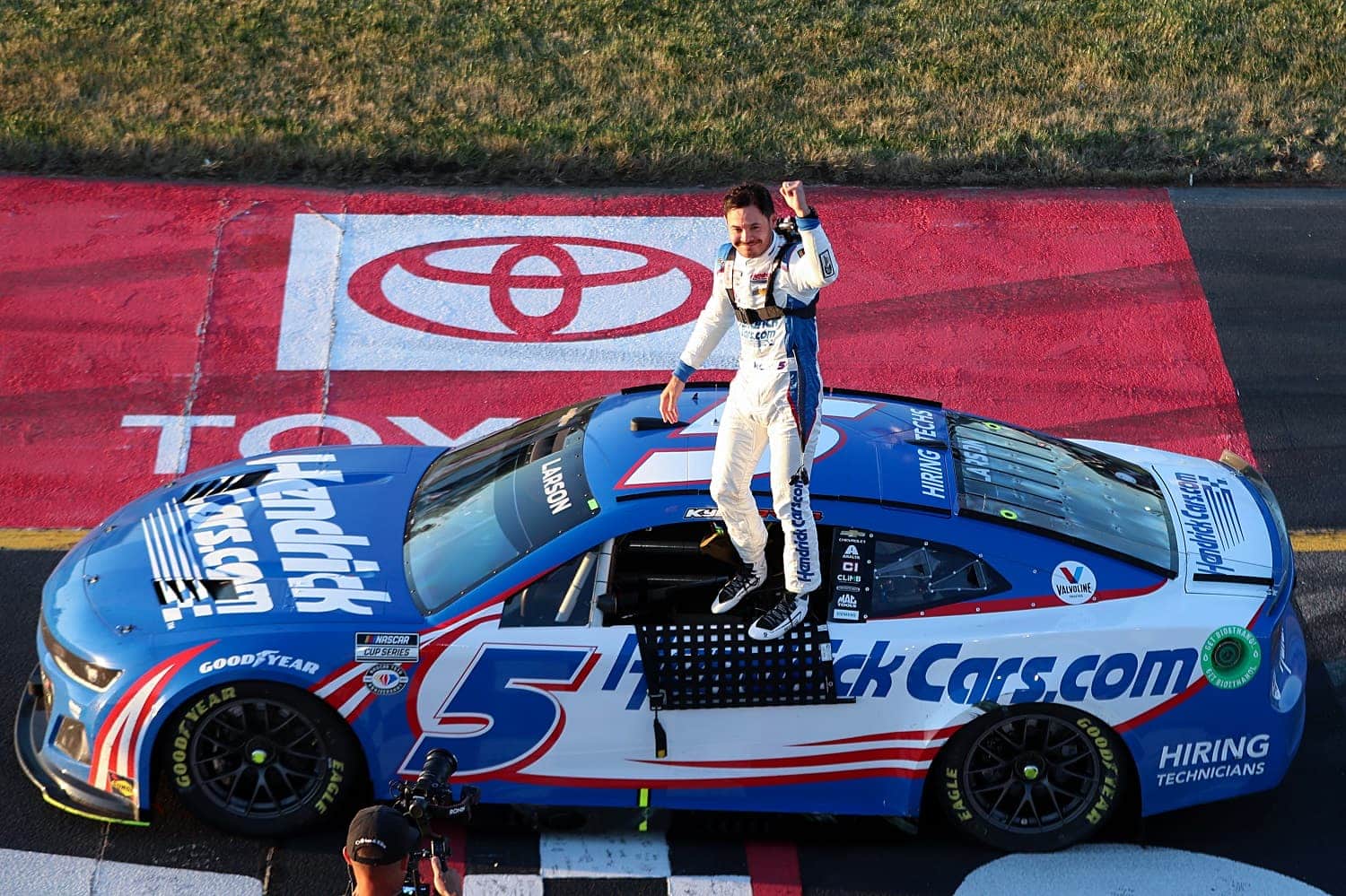 Team executive Jeff Gordon represented Hendrick Motorsports at the news conference following Kyle Larson's win at Richmond Raceway.
"Certainly, our folks try to do everything they can to make Rick Hendrick proud," Gordon said. "But when you know what Ricky's impact could have been on our company and the people and the '5' car and that paint scheme and what that means to the whole company, it's very rewarding to know that we're still kind of thinking of him and paying tribute to him as often as we can. Maybe he is looking down on us as well."
Larson is compiling a body of work likely to conclude with enshrinement in the NASCAR Hall of Fame. He didn't arrive in the organization until 2021, long after Ricky Hendrick's death, but the connection that began at Las Vegas that season isn't lost on him.
"Vegas was my first win with Hendrick and that was my first race with that paint scheme and the colors that year," he said. "Kansas later on that year I think was 17 years to the day of the accident. And now this. You win on his birthday, it's all really special, and it's kind of crazy how things work out from the power above."
Got a question or observation about racing? Sportscasting's John Moriello does a mailbag column each Friday. Write to him at [email protected]