Dale Earnhardt Jr. Doesn't Want Josh Berry Driving for Him in the Cup Series
All it took was a normal week of preparation for Josh Berry to get his bearings in the Next Gen Car. That's not to say he'll appear regularly in the top 10 as Chase Elliott's fill-in, but what Dale Earnhardt Jr.'s protégé did at Phoenix Raceway was more indicative of his ability than what NASCAR Cup Series fans saw the previous week.
It helps explain an unexpected take from Earnhardt: If the Hall of Famer jumps into Cup Series ownership soon, he doesn't want Berry driving for him.
Dale Earnhardt Jr. gave Josh Berry the break he needed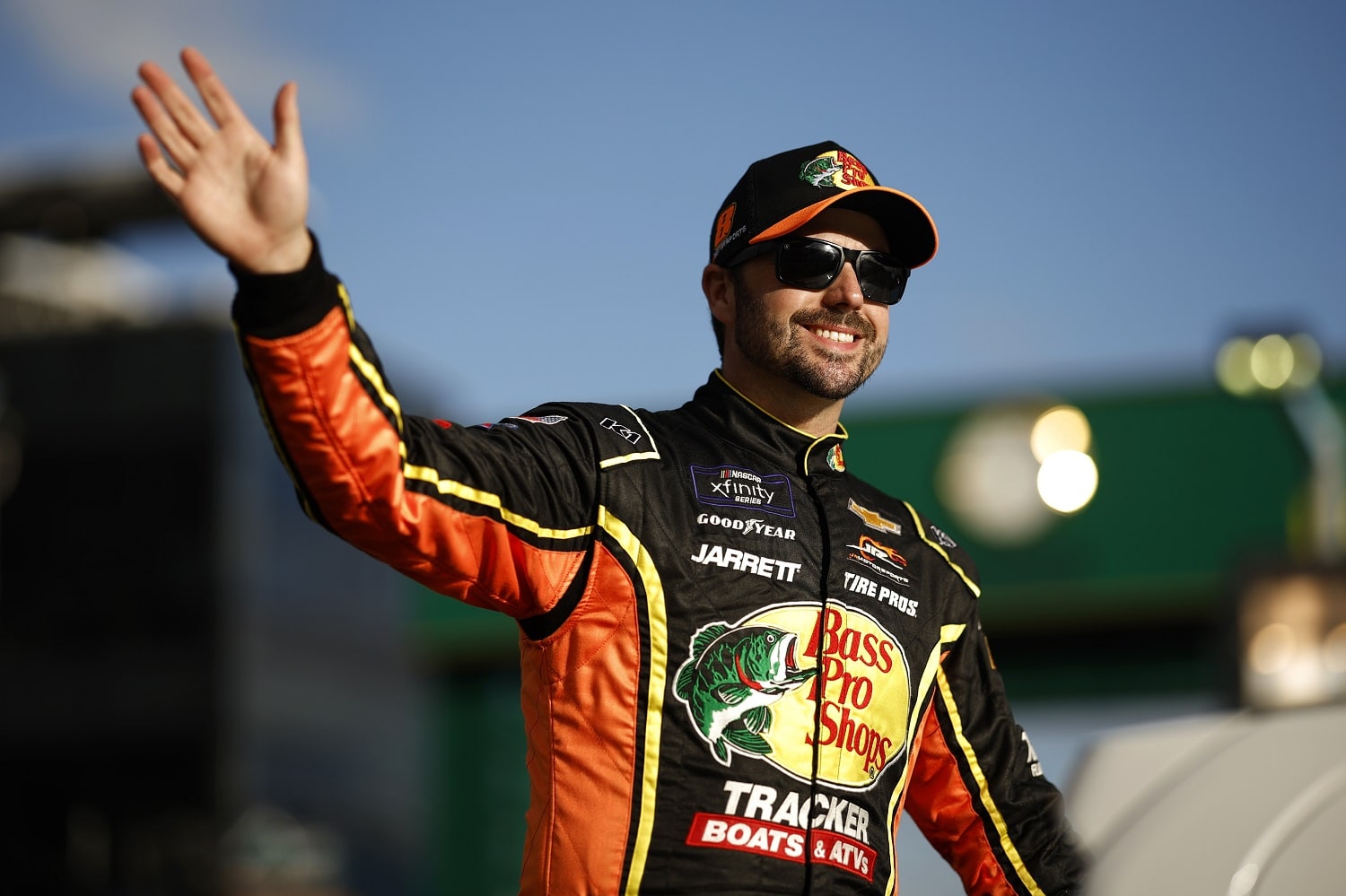 Dale Earnhardt Jr. brought Josh Berry aboard in 2010 to race Late Models and just generally be a jack of all trades at JR Motorsports, taking their friendship to a new level. The two crossed paths in online racing leagues in 2008 while Berry was attending junior college and looking for a way into racing beyond Nashville-area tracks.
Berry became increasingly successful, and his breakthrough came in 2020 when he won 24 races in the NASCAR Weekly Series to earn the title. While Earnhardt was holding the No. 8 Chevy in the 2021 Xfinity Series for Sam Mayer once he turned 18, he gave Berry starts in the second-tier series. Berry won at Martinsville in his fifth race and posted seven top-10 finishes in 13 appearances.
Once Mayer took over the car, Berry, 32, picked up rides with Jordan Anderson and in JR Motorsports' No. 1 Chevy. He finished the year with two wins and 17th place in points despite racing only two-thirds of the season.
The body of work earned Berry a full 2022 season. He responded by winning three races and battling his way into the Championship 4 alongside fellow JRM drivers Noah Gragson and Justin Allgaier. Berry finished a disappointing 13th in the finale at Phoenix, but his body of work established him as a quality competitor.
Dale Jr. doesn't want Josh Berry driving for him in the Cup Series
Though Dale Earnhardt Jr. is the face of the organization, Rick Hendrick is an investor in JR Motorsports and is a fan of his former Hendrick Motorsports driver. When Hendrick needed a fill-in for the 2022 Cup Series playoffs while Alex Bowman recovered from a concussion, he summoned Noah Gragson from JRM.
When Chase Elliott broke his leg two days before the Las Vegas race this month, Hendrick called upon Earnhardt again, and Josh Berry jumped into the No. 9 Chevy. With no time to prepare and hampered by a throttle issue, Berry finished 29th in his Next Gen car debut.
He was much more competitive in the second outing, taking advantage of overtime carnage to slide into 10th place at Phoenix as all four Hendrick Motorsports cars cracked the top 10. It was indicative of what Berry can do with a normal week of preparation, even as he remains in the Xfinity Series.
For his part, Earnhardt is looking for an avenue into the Cup Series as an owner. The likely route involves buying a charter and building from a single-car team the way 23XI Racing and Trackhouse Racing have done. Earnhardt would take Berry as his driver in the blink of an eye but doesn't want it playing out that way.
"My hope is that by the end of this year he's got a deal for next year at the Cup level with someone," Earnhardt told NBC Sports before the Phoenix race. "That would be the best-case scenario. 
"JR Motorsports, even if we were going Cup racing, I would be hesitant to make Josh have to deal with that growth and building that program. He's 32 years old. He's Cup-ready."
Josh Berry is getting his bearings at Hendrick Motorsports
Josh Berry appears assured of at least four more starts – sports car ace Jordan Taylor will handle duties at Circuit of the Americas – in place of Chase Elliott at Hendrick Motorsports. Beyond that, there doesn't appear to be much hope for more scheduled rides with Cup Series teams this season.
Still, the way he grasped Xfinity Series racing so quickly and then jumped into Elliott's seat on an emergency basis makes him desirable as a fill-in on short notice, especially since the Xfinity Series is on-site with the Cup Series most weekends.
Berry is getting comfortable with Sunday racing.
"We had a couple of runs in there that were really good," he said, according to Motorsport. "A couple runs where we fell back a little bit, but it's just all part of a learning experience for me. These races are so long and I need to be able to learn this car a little bit better where I can give Alan (Gustafson, crew chief) a little bit better direction on how to help me."
Jeff Gordon stood atop Berry's pit box and liked the way Berry spent the early going getting his feel for the track and then grew more opportunistic.
"He was mixing it up, man. On those restarts, he was right in the middle, three- and four-wide. I was a little bit nervous because they're pretty deep in points and needed a solid finish.
"It was great to see Josh get that. That's going to build his confidence."
Got a question or observation about racing? Sportscasting's John Moriello does a mailbag column each Friday. Write to him at [email protected]