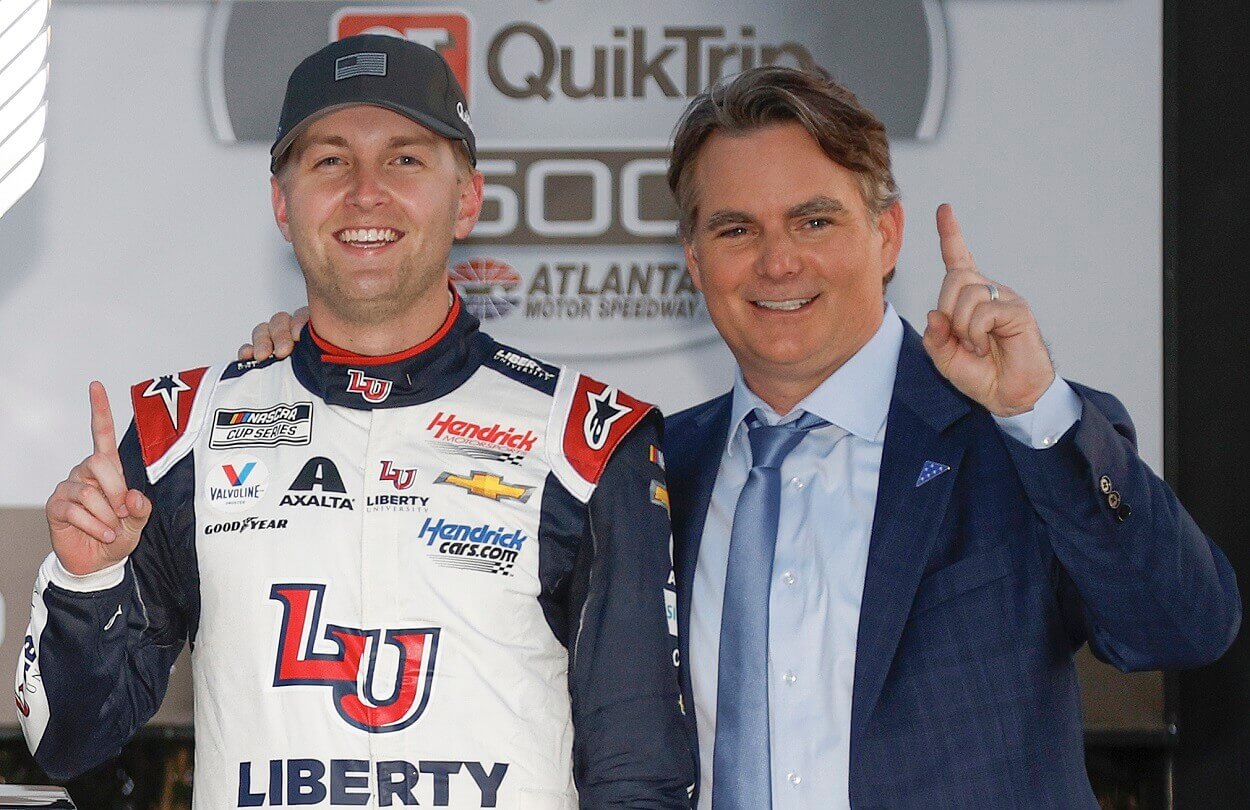 William Byron Is Finally Becoming a Star Worthy of Succeeding Jeff Gordon in the No. 24
William Byron could be about to actually live up to the out-sized expectations that come with the No. 24 car famously driven by Jeff Gordon.
William Byron has had a somewhat slow-but-steady rise through the NASCAR Cup Series since he debuted as a 20-year-old in 2018, and he is now on the verge of becoming a legitimate star in one of the most high-profile cars in the sport.
Byron has won half of the Cup Series races this season with victories at both Las Vegas Motor Speedway and Phoenix Raceway in a car number made famous by one of the greatest drivers in the sport's history, Jeff Gordon.
Jeff Gordon famously drove the No. 24 to 93 wins and four championships
Hall of Famer Jeff Gordon drove the No. 24 machine fielded by Hendrick Motorsports full-time for 23 years from 1993-2015. He won 93 races and four championships during that span to reach third place on the all-time Cup Series win list. 
Byron, 25, has an incredibly long way to go to be in the same realm of those numbers. Still, he now has six career Cup Series wins and is showing the potential of a driver who could regularly win several races and compete for championships every year for the foreseeable future.
Byron actually took over the No. 24 car from his current teammate Chase Elliott, although Elliott drove the No. 24 for only two seasons before switching to the No. 9  that his father, Hall of Famer Bill Elliott, made famous three decades earlier.
The younger Elliott never won in the No. 24 car, so Byron was the first driver to bring it to Victory Lane in nearly five years when he triumphed in the 2020 regular-season finale at Daytona International Speedway to clinch both his first career win and second playoff appearance.
He did not last beyond the first round that season, but he gathered another victory in 2021 with a win at Homestead-Miami Speedway in the third race of the season after HMS reunited him with crew chief Rudy Fugle, who paired with Byron to win a series-high seven races in the 2016 Craftsman Truck Series season when Byron was only 18 years old. Byron and Fugle advanced to the second round of the playoffs in their first season back together.
The pair made more progress a year ago when Byron became the first driver of the season to win multiple races. He triumphed in March at Atlanta Motor Speedway and in April at Martinsville Speedway. He also nearly won in May at Darlington Raceway, but Joey Logano pushed him out of the way for the win with three laps to go.
Byron and the No. 24 team went into a tailspin after that event. After two wins and four top-fives in the first eight races of the year, Byron did not score another top-five finish until the playoff night race in September at Bristol Motor Speedway.
He did rebound in the playoffs, however. Byron notched six top-10s, did not finish worse than 16th in any of the 10 playoff races, and reached the Round of 8 for the first time in his career.
William Byron's versatility and growing ability to close out races recall memories of Gordon's success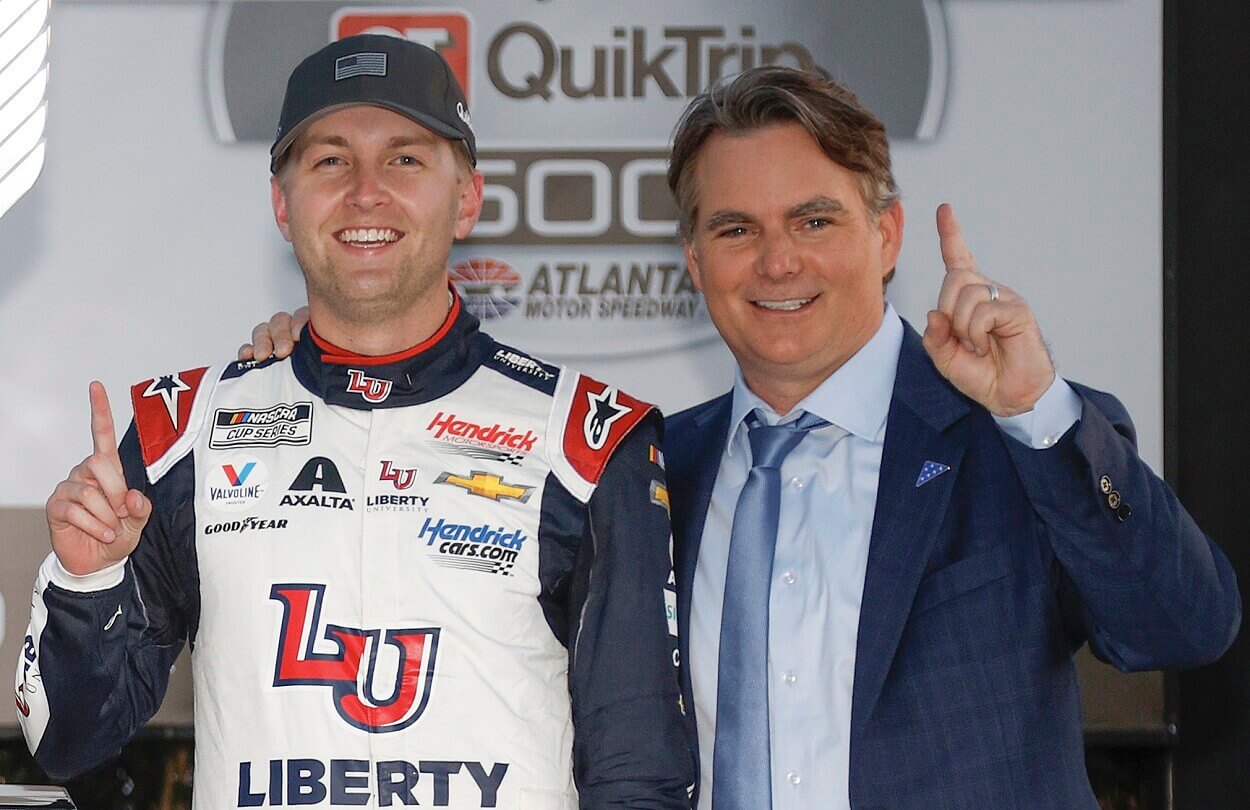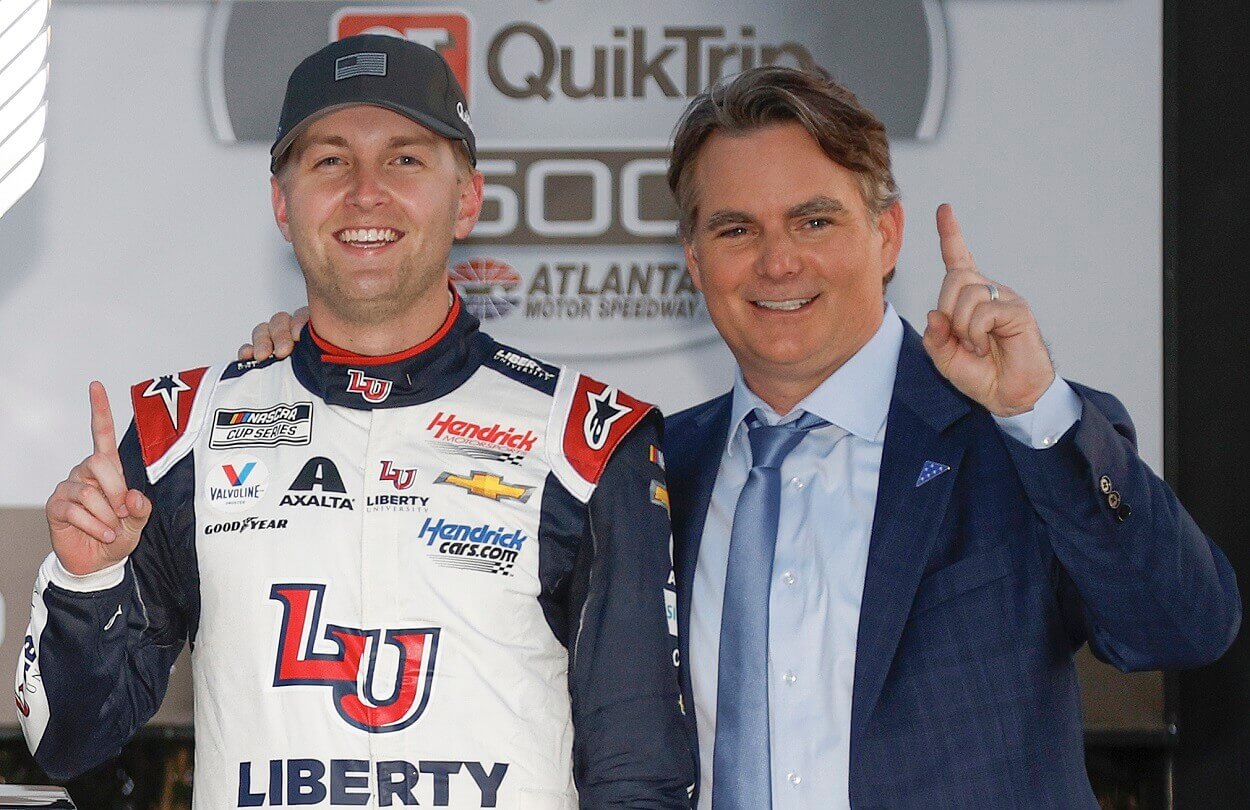 Byron is now on the top of the NASCAR world as the hottest driver in the Cup Series after he took advantage of late cautions in each of the last two races with the series headed back to Atlanta, where he is the defending race winner.
Sure, HMS has been dominant across the company to start the season. Byron has obviously performed well, as has Kyle Larson. And fellow teammate Alex Bowman led the points standings until NASCAR issued 100-point penalties Wednesday to HMS drivers. Elliott would likely also be in the mix, but he is currently out with a broken leg suffered in a snowboarding incident prior to the Las Vegas race.
Byron ranks second behind only Larson with 240 laps led the season and has started to show the ability to close out races when he has a competitive car. Byron has also won at a variety of different race tracks. He has two wins in superspeedway-style races, two wins on intermediate tracks, and two wins on flat tracks.
All of those factors have begun to come together to form a driver who might actually be able to hang amongst the lofty standards Gordon set in the No. 24 car. Of course, Byron has a long way to go to work his way into that conversation. And it's always challenging to be a driver who takes over a famous car number with a team that has previously had substantial success. 
His next immediate challenge will be to avoid the midseason swoon he experienced a year ago because he is set up as well as any driver in the series to have a potentially dominant season.
Jeff Gordon has been out of the No. 24 car for eight seasons, but it appears HMS has found a driver in William Byron who can once again put one of the most famous car numbers in the sport in championship contention for many years to come.