3 Reasons Why Alex Bowman Is Heading for a Monster Season
New year. New contract. New crew chief. He may not have rolled onto Victory Lane – yet – but Alex Bowman is off to a great start in the 2023 NASCAR Cup Series season, and the success is sustainable. He hasn't lucked into those three top-10 finishes.
Bowman could be heading to the Championship 4 for the first time, making for a magnificent comeback story.
Alex Bowman is off to the best start of his career, and Blake Harris is a factor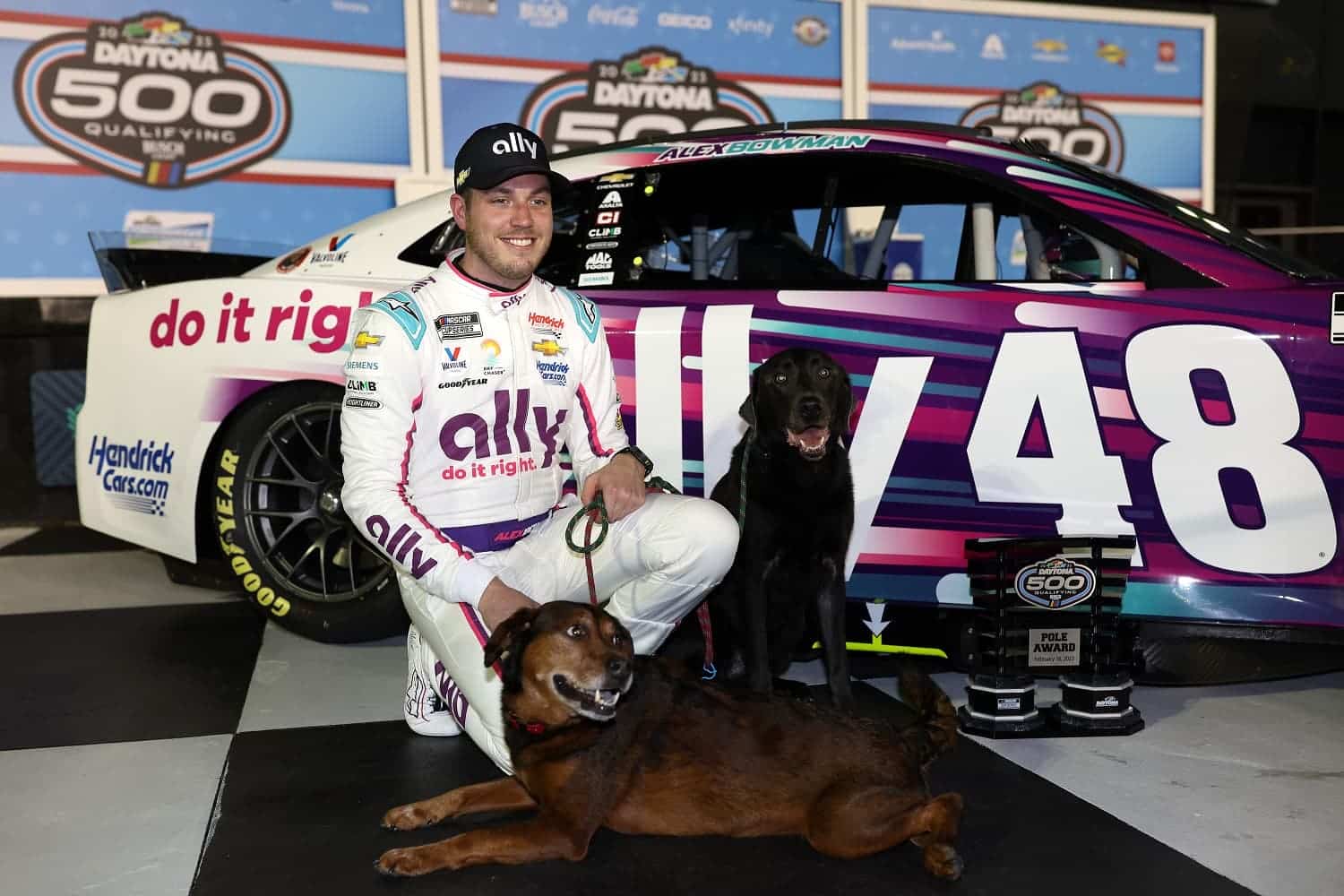 After 185 races together, Alex Bowman and Greg Ives are no longer a team. Ives stepped down from atop the No. 48 Chevy's pit box at the end of last season, replaced by Blake Harris.
As big and successful as Hendrick Motorsports has been in the NASCAR Cup Series, particularly in recent seasons, it's interesting that the people calling the shots went outside the organization for Ives' replacement as crew chief.
Looking outside to fill an important position can bring new ideas and new energy. That's not to say that has happened here, but Harris' background – starting with Everham Motorsports at 18 and going on to Furniture Row Racing, where he was the car chief for Martin Truex Jr., gave him a working knowledge of how other shops operated.
Last season, Harris moved up to crew chief for Michael McDowell. The collaboration resulted in McDowell's best season: 12 top-10 finishes, including a pair in the top five.
The Bowman-Harris partnership has launched with fifth place at the Daytona 500 (where Bowman started on the front row for the sixth straight year), eighth at Auto Club Speedway, and third in Las Vegas.
Alex Bowman's contract extension has taken the pressure off him
Whether it's a race result or a contract negotiation, one of the Hendrick Motorsports drivers is always going to be fourth in line. Alex Bowman was bringing up the rear in both respects last season.
Bowman was the HMS laggard in the points standings, going into the Cup Series playoffs as the 14th seed. After winning in Las Vegas, he scored just nine more top-10 finishes in the regular season and then two more in the playoffs before the effects of a crash-related concussion sidelined the Arizonan for five weeks.
The combination of the concussion and slipping from four victories in 2021 to just one contributed to a lot of speculation that Bowman's future at Hendrick Motorsports was in jeopardy as he entered his contract year while Chase Elliott, Kyle Larson, and William Byron possessed long-term deals.
The speculation should have never gotten as far as it did. With seven wins since 2019 and a squeaky-clean reputation, Bowman was on firm ground both with the team and primary sponsor Ally Financial. That was confirmed shortly before the Daytona 500 when HMS announced it extended Bowman's contract through 2026 and had locked in Ally through 2028.
If Bowman had had concerns about job security, they evaporated like the mist shooting out of a broken water pump 150 laps into a race.
The third factor behind the No. 48 Chevy's outstanding start
Perhaps forgotten in the late-season excitement around Ross Chastain at Martinsville and Joey Logano in the Championship 4 is that Alex Bowman made it back from his concussion in time to compete in the finale at Phoenix Raceway.
Bowman's 34th-place result that day was inconsequential. The bigger deal is that he got back in his car and made it to the finish to close out the season. Aside from showing determination on his part, it allowed the 29-year-old driver to put aside any doubts he may have had about himself.
As a bonus, it cut way down on offseason media inquiries about his status, which would have been unnecessary reminders of the concussion. Instead, he was able to go through production days and media sessions at the Busch Light Clash and Daytona 500 with the questions already asked and answered months earlier.
There's likely no single factor behind Bowman's outstanding start to 2023, but all the above must be considered contributing factors.
Got a question or observation about racing? Sportscasting's John Moriello does a mailbag column each Friday. Write to him at [email protected]