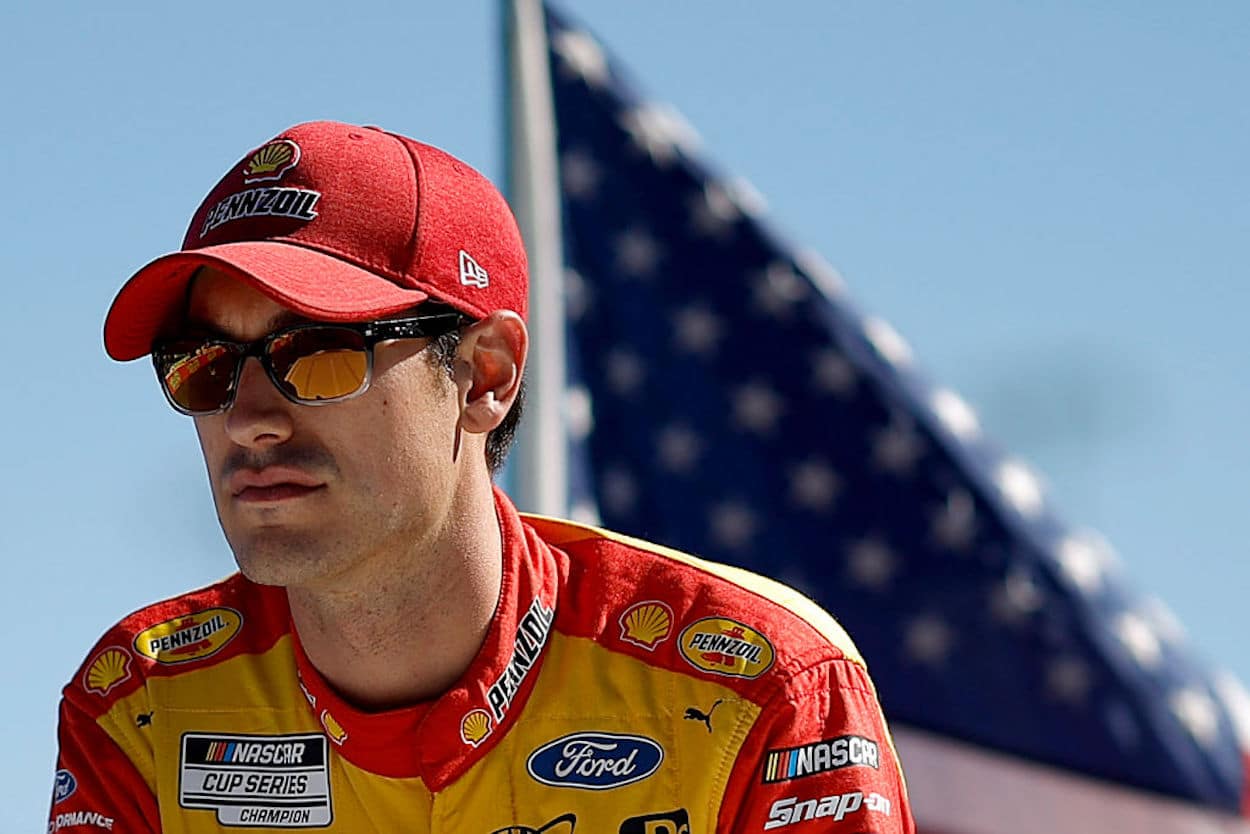 3 Reasons Why Joey Logano Has Almost No Chance of Repeating as Cup Series Champ
Joey Logano may be a talented driver, but winning back-to-back Cup Series crowns is a challenge for anyone. Here's a look at what he'll be facing.
If you're a betting person, it's probably not a good idea to place a hefty wager on Joey Logano repeating as NASCAR Cup Series champion in 2023.
Sure, the Team Penske driver will undoubtedly have fast cars and an opportunity to go all the way, but what are the chances of it actually happening? Well, they're slim to none.
It's not because Logano has forgotten how to drive or because his veteran crew chief, Paul Wolfe, has forgotten how to call races, however. No, it's nothing of the sort.
In the next few moments, we'll look at three reasons why the deck is substantially stacked against the Connecticut native becoming a back-to-back kingpin of NASCAR's premier division.
1. Historically, it's very hard to do
Since the turn of the century, only one driver — Jimmie Johnson — has won consecutive NASCAR Cup Series championships. And not since Johnson captured the last of his record-breaking five consecutive titles in 2010 has anyone managed to go back-to-back.
Oh sure, Joey Logano and Kyle Busch have won two championships each in the past 12 years, but they haven't come in succession, and there's a reason for that: It's because winning championships in consecutive years is pretty dang hard to do.
Impossible? No. But downright tough? Absolutely. It's no surprise, therefore, that those who've actually accomplished this rare feat are a who's who in NASCAR's 74-year history: Buck Baker, Lee Petty, Joe Weatherly, David Pearson, Richard Petty, Cale Yarborough, Darrell Waltrip, Dale Earnhardt, Jeff Gordon and, as mentioned, Johnson.
While Logano certainly has the talent to join these legends of the sport in this rarefied air, even he can't like his odds if he considers just how difficult winning consecutive titles has proven to be — especially in the last two dozen years, when Johnson has been the lone repeat champion.
2. Joey Logano has never made the Championship 4 in consecutive seasons
Yes, you read that correctly. Since NASCAR instituted a season-ending Championship 4 race for its premier series in 2014, Joey Logano has been among the quartet of title contenders five times — but never in consecutive seasons. 
So after being part of the Championship 4 in 2014, he missed it in 2015. Then he returned to the Championship 4 in 2016 but failed to advance this far in 2017. Yeah, you see the pattern here.
For whatever reason, Logano just can't seem to get over the hump and into the Championship 4 in consecutive years — and in odd years. Maybe this is pure coincidence, but it's more likely a testament to just how difficult it is to go this deep in a 16-driver playoff consisting of drivers who are all there for a reason — the reason being that they earned it.
3. Joey Logano's enemies are going to stop at nothing to stop him from going back-to-back
Joey Logano himself would be the first to admit that he has quite a few enemies. That's not particularly surprising, of course, when you consider Logano's sustained success over many seasons and his aggressive, cut-no-one-a-break style of racing that has placed him in the center of controversy on numerous occasions.
Among the drivers the defending champ has knocked out of the way to win a race or engaged in a heated postrace exchange or physical altercation with at some point over his 14 years as a full-time Cup Series driver are Kevin Harvick, Kyle Busch, William Byron, Martin Truex Jr., Denny Hamlin, Tony Stewart, Matt Kenseth, Chase Elliott, and Ryan Newman. And yeah, we're probably forgetting a few.
The point is this: Logano has never been one to shy away from controversy, and as a result, he's never been a paragon of popularity in the Cup Series garage. That remains true today and all but guarantees that multiple drivers will go out of their way in 2023 to make sure that Logano's reign as Cup Series champion ends at one year.