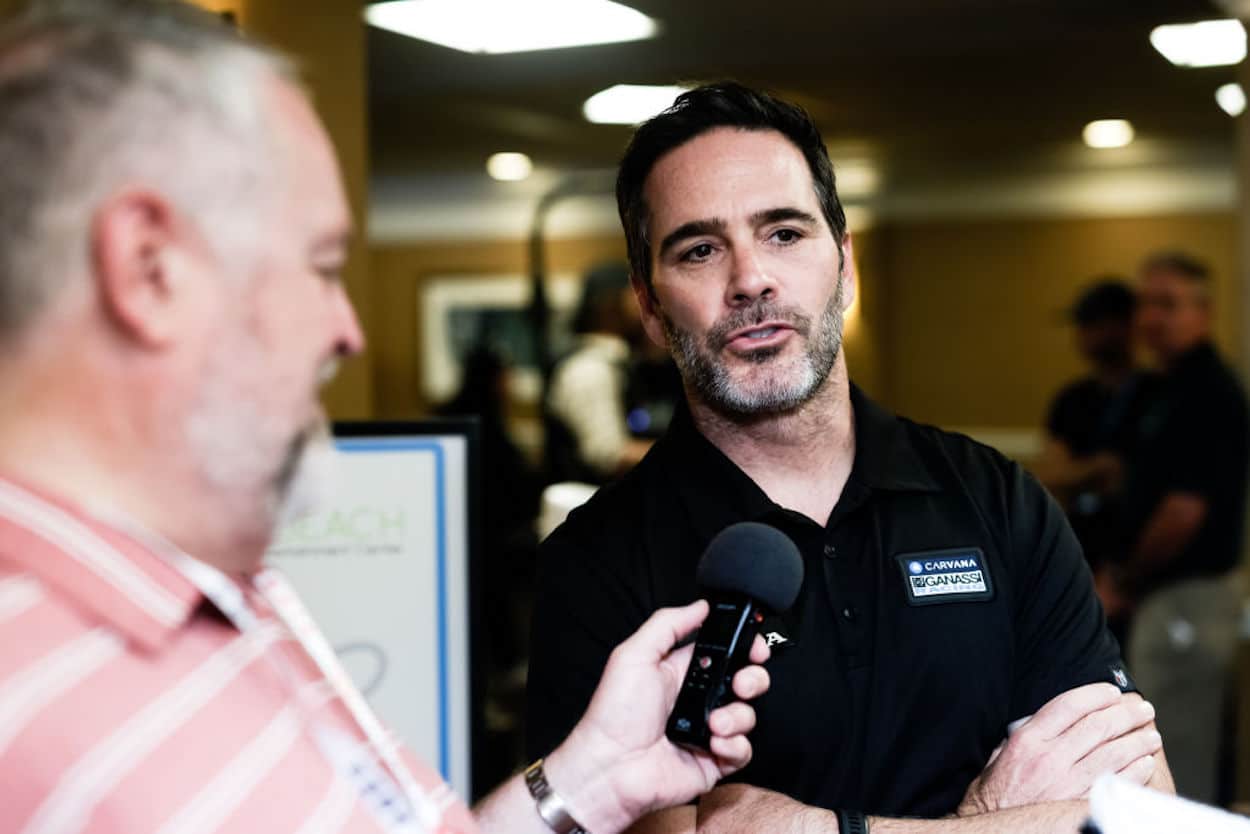 Jimmie Johnson Is Making a NASCAR Comeback, But It Seems Almost Destined to Fail
No one can argue with Jimmie Johnson's raw racing talent. There is room, however, to debate the wisdom of his NASCAR comeback.
First things first: Jimmie Johnson is and will forever be one of the greatest drivers in NASCAR history. In fact, one could make a solid case that Johnson — winner of 83 Cup races and a record-tying seven championships at the sport's highest level — is the greatest driver in NASCAR history.
Now that we've gotten that out of the way, it's time to deal with the here and now. Johnson made a special appearance at Phoenix Raceway on the final weekend of the 2022 NASCAR season to announce that he has become a part-owner of Petty GMS and will run an 8-10 race Cup schedule for the organization in 2023 alongside full-time drivers Erik Jones and Noah Gragson.
While all this sounds wonderful in theory — having one of only two living seven-time champions back in the mix is nothing but good for NASCAR — Johnson is absolutely kidding himself if he expects to win another race or be even remotely competitive.
And in just a minute, you'll find out why.
Jimmie Johnson's final seasons in the Cup Series were rather unimpressive
Given the incredible success that Jimmie Johnson enjoyed over the vast majority of his 19-year run as a full-time NASCAR Cup Series driver, it's easy for most people — perhaps even Johnson himself — to forget just how badly he struggled over his final three-and-a-half seasons in NASCAR's premier division.
Consider the following:
Johnson finished his full-time driving career, which ended in November 2020, riding a 130-race winless streak dating back to June 2017.
Johnson led a total of 495 laps over his last four seasons in Cup. That's fewer laps than he'd led in any single season as a full-time driver up to that point.
Johnson finished a career-worst 18th in the standings in each of his final two seasons, missing the playoffs in both years.
Johnson finished no better than 10th in points in any of his final four seasons.
Johnson recorded fewer top-10s and fewer top-fives in his last four seasons than he did in any previous season as a full-time Cup driver.
It's also worth noting that Johnson's crew chief in 2017 and 2018 was present-day Hendrick Motorsports executive Chad Knaus, the same guy who was responsible for leading him to 81 of his 83 career victories — and the same guy who is hailed as one of the brightest and most innovative minds in NASCAR's 74-year history.
Likewise, consider that Johnson's crew chief over his final season-and-a-half was Cliff Daniels, who over the past two seasons has won a Cup Series championship and 13 Cup races with Hendrick driver Kyle Larson. Translation: If you think Daniels was the reason for Johnson's struggles near the end, you couldn't be more wrong.
Jimmie Johnson has a tall hill to climb to be competitive in a part-time role
Based on all the information outlined in the previous section, which doesn't even touch on how badly Johnson struggled over the past two years as first a part-time then full-time IndyCar Series driver, why should anyone believe that Johnson is going to come out and set the woods on fire with a Petty GMS team that has logged just one Cup Series season under its current name and ownership structure?
In short: It's just not going to happen. Look, I hate to pop everyone's bubble, but Johnson — who celebrated his 47th birthday in September — will be fortunate if he records a single top-10 finish in his 8-10 starts in a race car that currently lacks both a primary sponsor and a car number.
On top of the sad reality that his skills were already clearly in decline well before he even quit full-time Cup Series racing, there's also the fact that Petty GMS is a mid-tier team at best — unlike the powerhouse Hendrick Motorsports organization where Johnson has made all 686 of his previous Cup starts in the No. 48 Chevrolet.
Let's also not forget that while Johnson was running a full-time IndyCar schedule in 2022, the NASCAR Cup Series was debuting a new model car — the Next Gen vehicle — that Johnson has turned nary a lap in.
Are we really to think that Johnson will jump in a Next Gen car and not miss a beat when he was sparsely competitive in his final seasons with the old Generation 6 Cup car that had been around since 2013? Please.
As feel-good-of-a-story as Johnson's return to NASCAR might be, it's precisely that: a feel-good story. And nothing more. So if you're expecting eye-popping results from Johnson when he hits the track in 2023, beginning with the season-opening Daytona 500, prepare to be disappointed. It's not going to happen — for numerous reasons.