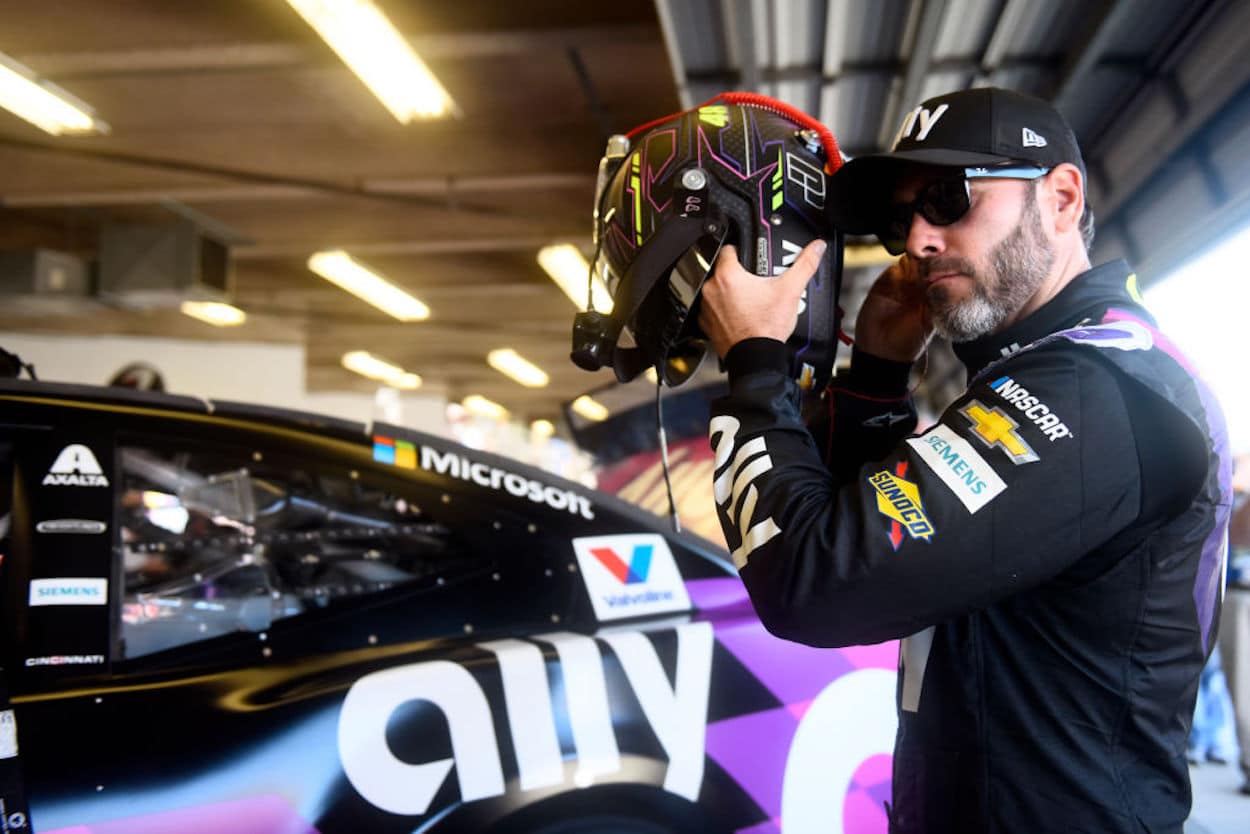 Building Jimmie Johnson's Perfect 2023 Schedule: A Look at the Races He Can't Afford Not to Run
We don't know which races Jimmie Johnson is eyeing for his Cup Series comeback, we we built a schedule for him.
Two years removed from what most folks believed was his final NASCAR Cup Series start, Jimmie Johnson announced over the weekend at Phoenix Raceway that he'll return to NASCAR's premier division in 2023 as a part-owner and part-time driver for Petty GMS.
Johnson plans to make 8-10 starts in a car fielded by the organization for which fellow seven-time Cup Series champion Richard Petty is chairman and youngsters Erik Jones and Noah Gragson will be full-time drivers next season.
Details such as Johnson's car number, crew chief, primary sponsor, and schedule are all still to be determined, with one notable exception: Johnson will attempt to qualify for February's Daytona 500. The rest of his schedule will be revealed at some point in the next couple of months.
So with Johnson's 2023 itinerary still a work in progress, let's have a little fun and take a look at nine other points races — and an exhibition event — that the 83-time Cup Series race winner and legend of the sport simply can't afford to miss.
Martinsville is the one track Jimmie Johnson should race at twice
Once dubbed "Mr. Martinsville" for being practically unbeatable every time the NASCAR Cup Series showed up to race at Martinsville Speedway, Jimmie Johnson owes it to himself, his team, his sponsors, and, most of all, his fans to participate in both events at the fabled .526-mile short track.

Not only does the 47-year-old Johnson run virtually no risk of getting banged up at Martinsville — the shortest and slowest track on the entire Cup Series tour — but his history of success at the paperclip-shaped oval makes Martinsville a must-do for Johnson in both the spring and the fall.
No, Johnson may not win — but there's no place he'll have a better shot at going to Victory Lane than the place where he leads all active Cup Series drivers with nine victories, the most recent of them coming in the fall of 2016 on the way to his record-tying seventh and final Cup championship.
Jimmie Johnson is the king of Dover, so 'The Monster Mile' is a must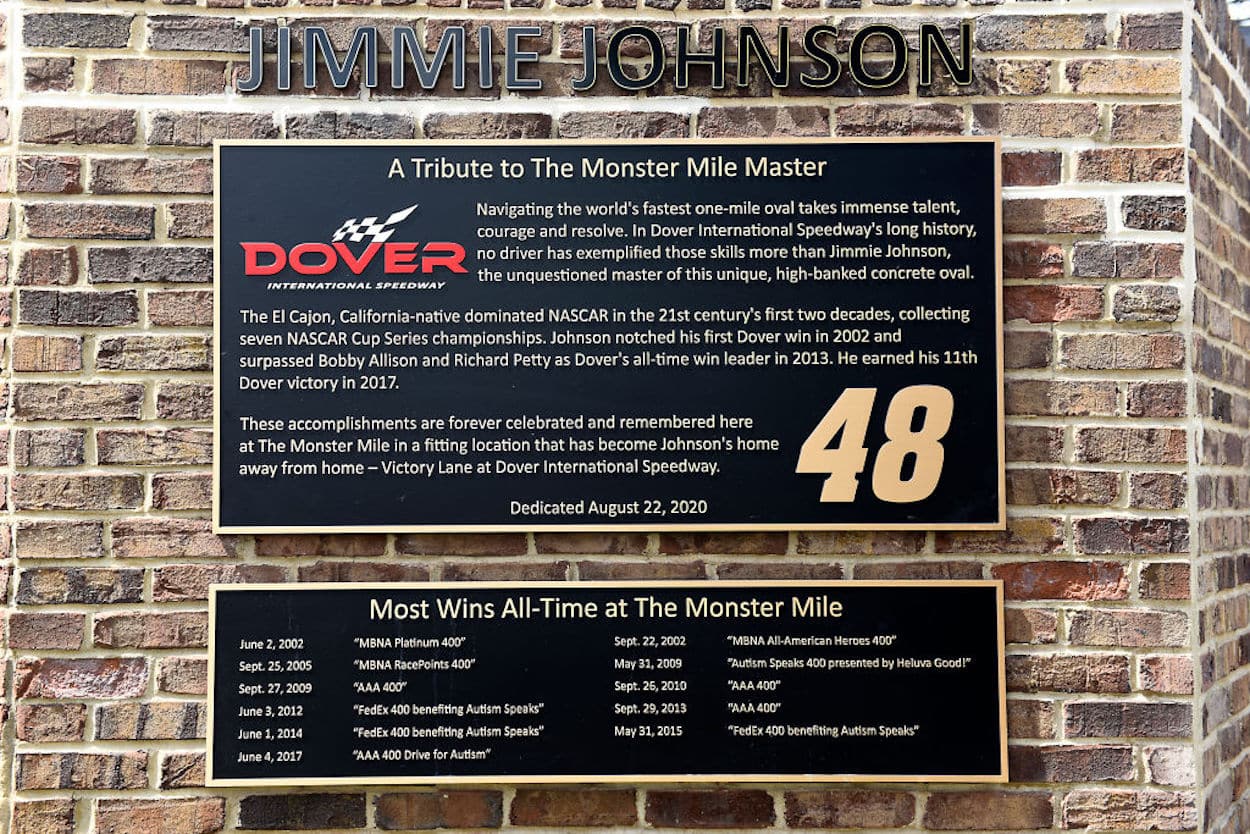 There's only one track on the Cup Series schedule where Jimmie Johnson has enjoyed more success than Martinsville, and that's Dover — the 1-mile, high-banked oval where he triumphed a Cup Series-record 11 times.
However, unlike in all of Johnson's full-time Cup seasons, NASCAR's premier division now only competes at Dover once a year. 
So that means April 30 will be Johnson's only opportunity to add a trophy to his already bulging collection of hardware from the track known as "The Monster Mile." But regardless of whether that ultimately happens, Johnson would be silly to pass up a chance to return to the Delaware facility — which has been the site of some of his finest moments.
Jimmie Johnson's Charlotte success and physical fitness make the Coke 600 a natural choice
Another track where Jimmie Johnson's history makes his return in 2023 nearly inescapable, it would seem, is Charlotte Motor Speedway. 
While Johnson doesn't have a compelling reason to run on the Charlotte ROVAL in the fall, the Coca-Cola 600 — held Memorial Day weekend on the traditional Charlotte Motor Speedway quad-oval layout — is an entirely different matter.
Johnson is a four-time winner of the 600, and his extreme dedication to optimal physical fitness and conditioning — even as a 47-year-old who's undeniably past his prime racing years — could propel him to another terrific showing in NASCAR's longest and most physically demanding race.
Jimmie Johnson competing at the Chicago street course would be a boon for NASCAR
How could Jimmie Johnson forgo an opportunity to race on the all-new Chicago street course, a race that will be the first of its kind for NASCAR's premier series and that's bound to bring a lot of new attention — and introduce a lot of new fans — to the sport?
Johnson, it should be noted, could have a substantial leg up on the competition in Chicago since he's entered multiple street course races over the past two years as an NTT IndyCar Series driver.
The July 2 Chicago event is all about the novelty of the Cup Series competing on a street course for the first time, and, obviously, it's a huge race market that NASCAR would love to capitalize on. Having the sport's most recent seven-time champion on the starting grid will only help the cause and increase exposure, so don't be surprised if Johnson gets some pressure from NASCAR to show up for this one.
Talladega might be risky, but Jimmie Johnson is guaranteed a fighting chance
I debated whether to include this one on the list just because of the risk factors involved with racing at Talladega, a track notorious for major multi-car wrecks commonly dubbed the "Big One."
But Jimmie Johnson is a two-time winner at the 2.66-mile, high-banked Alabama facility, which is one of the few tracks on the schedule where just about anyone can win if they get the right push from behind at the opportune time.
Running the spring Talladega race — as opposed to the fall playoff race at Talladega when there's more on the line and drivers tend to race more aggressively — would provide a golden opportunity for Johnson to potentially steal a win in a relatively low-stakes setting.
And considering that Johnson has already announced he'll enter the Daytona 500, it doesn't appear that he's all that concerned about risking injury.
Jimmie Johnson needs to experience the 'new' Atlanta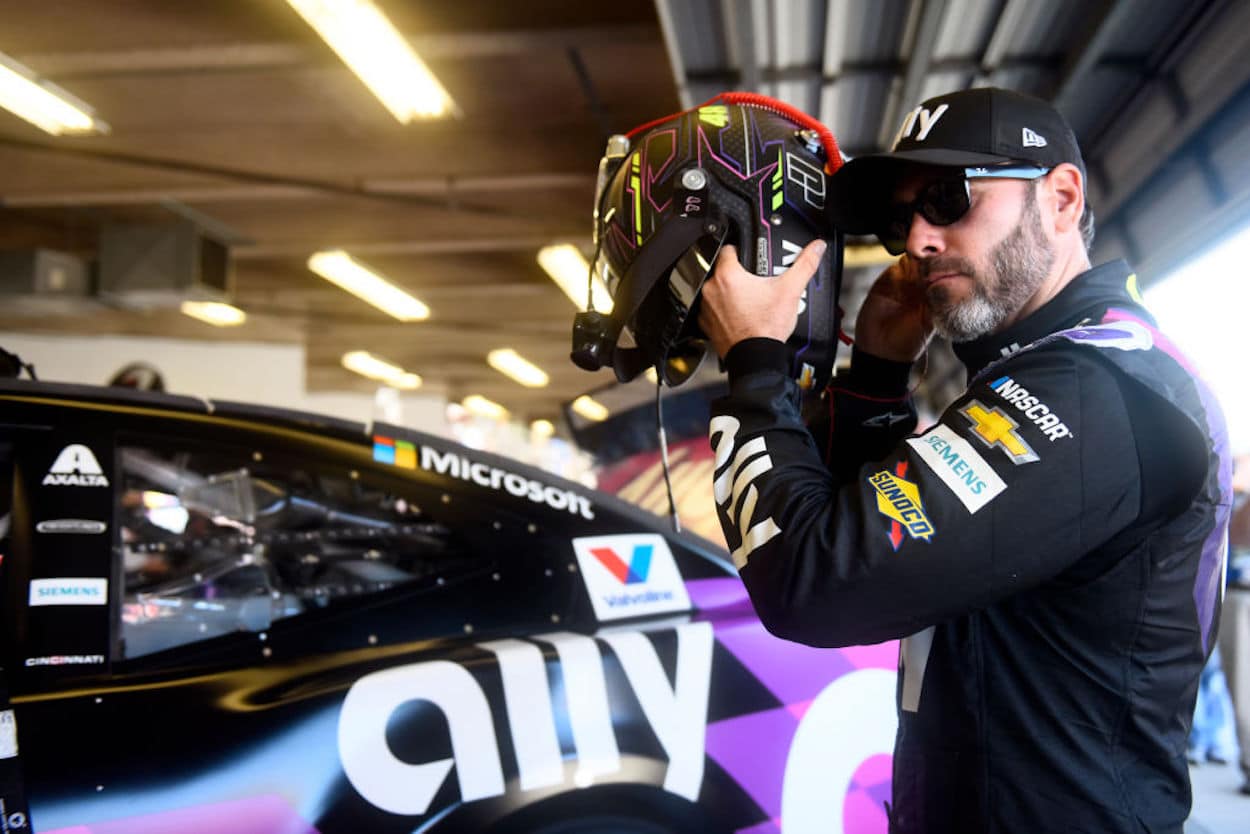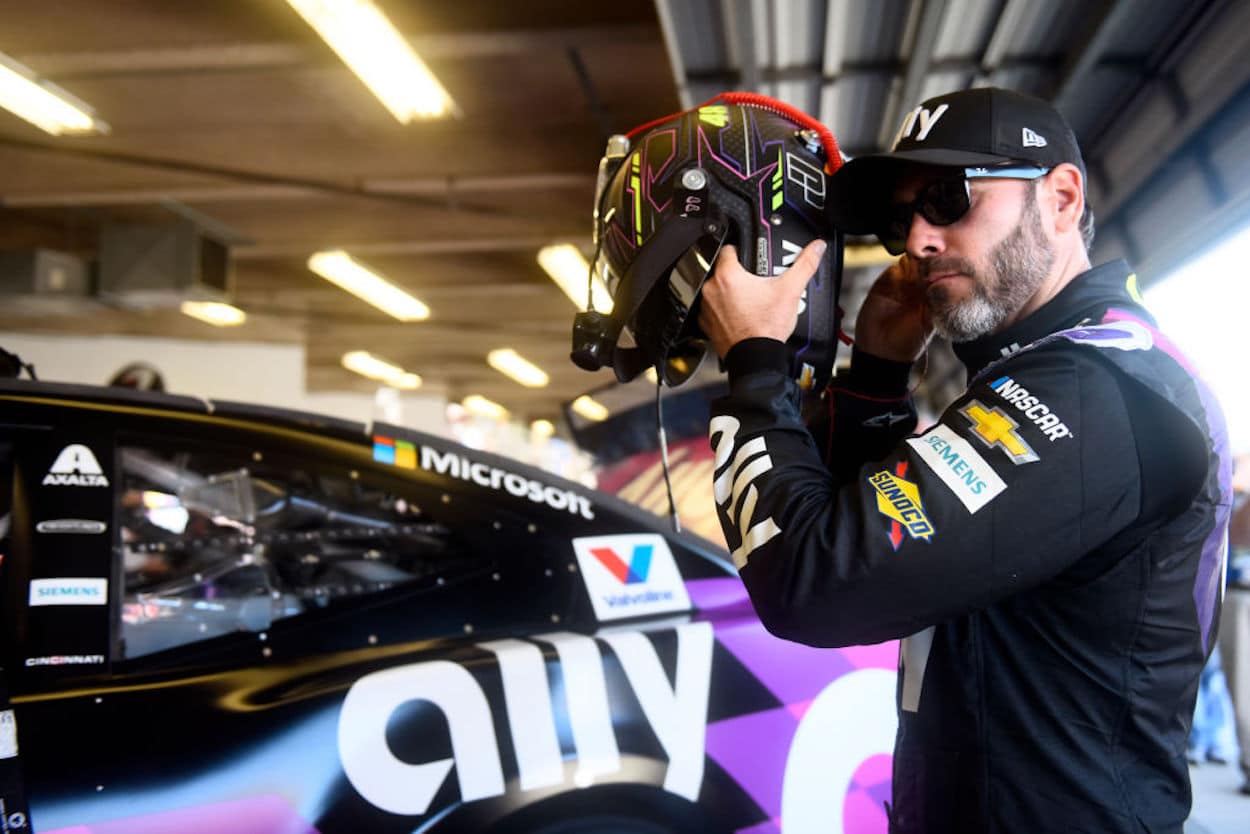 Since Jimmie Johnson called it good on full-time NASCAR Cup Series racing at the end of 2020, Atlanta Motor Speedway has undergone quite the transformation. Now featuring higher banks and a narrower racing groove, the 1.54-mile quad-oval races like a mini Daytona or Talladega, where drivers stay clumped together in tight packs all race long.

This year's two Atlanta races were two of the most exciting, competitive events on the calendar, and that was especially true of the July event where hometown hero Chase Elliott took the win but only after fending off a spirited charge from major underdog Corey LaJoie on the final lap. 
Johnson owes it to himself to experience the new Atlanta, which is a totally different animal than the Atlanta where he's a five-time winner.
Jimmie Johnson loves a challenge, and the Bristol dirt provides just that
Jimmie Johnson made his last start as a full-time Cup Series driver a season before Bristol Motor Speedway started covering its familiar high-banked concrete surface in red clay for the .533-mile track's spring race. 
Johnson has no dirt-track experience to speak of, so running this race would be an entirely different ballgame for the first-year Petty GMS driver. 
But considering that Johnson has spent the last two years in open-wheel racing after two decades of driving stock cars, it's fair to say that the seven-time Cup champ embraces any new challenge.
A dirty Bristol would definitely be one for Johnson.
Jimmie Johnson should seize the opportunity to go home
Every driver likes a home race, and Jimmie Johnson is no exception. Johnson's hometown is El Cajon, California — just over two hours from Fontana, California and Auto Club Speedway, which will host the second Cup Series event of 2023.
Johnson earned his first career Cup Series triumph at the 2-mile track back in 2002, so to say that Fontana has a special place in Johnson's heart would be an understatement.
Not to mention, 2023 will be the final year of racing at ACS as we know it, since the track has announced plans to convert its familiar layout into a short track in 2024. Why wouldn't Johnson want one last crack at the current Fontana configuration, where he's a six-time winner?
There's no way Jimmie Johnson can say no to North Wilkesboro
If Jimmie Johnson competes in all the races highlighted above, plus the Daytona 500, that'll be 10 events — which he says are the most he wants to enter. But the All-Star Race at North Wilkesboro Speedway is a non-points affair, so that doesn't really count against Johnson's total, right?
As a former winner of the All-Star Race, Johnson has an automatic spot on this year's All-Star grid if he wants it — and why wouldn't he? With North Wilkesboro's rich history and 27-year absence from the Cup schedule, this race is already a sellout, and it figures to be one of the most anticipated NASCAR events of all time.
Considering that North Wilkesboro fell off the Cup schedule beginning in 1997 and Johnson didn't go full-time Cup racing until 2002, Johnson would be foolish to say no to an opportunity to compete at one of the sport's most iconic cathedrals.