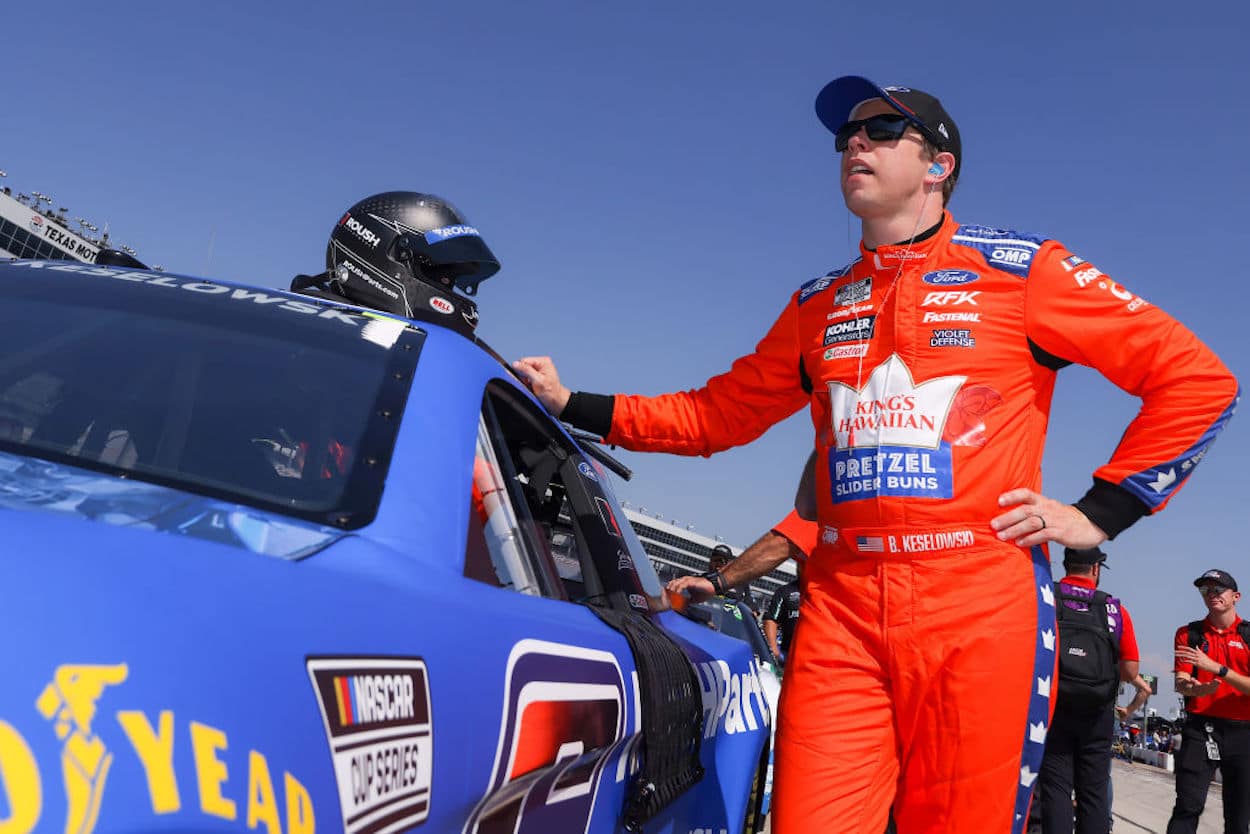 Brad Keselowski and the 5 Drivers Most Likely to Follow Kevin Harvick Into Retirement
Now that we know Kevin Harvick's NASCAR future, it's only a matter of time until the other shoe drops. Maybe some of his peers will join him in retirement.
When one shoe drops, another is always not far behind. So now that Kevin Harvick has announced plans to call it a career after the 2023 NASCAR Cup Series season, who'll be next to follow him into retirement?
Let's take a look at a handful of other drivers whose days as full-time competitors in NASCAR's premier series are numbered, starting with the driver who'll most likely be the next to reveal his intent to hang it up.
1. Martin Truex Jr.
Almost without question, the next driver to render a retirement announcement will be Martin Truex Jr. Why so confident of this? Well, Truex seriously flirted with the idea of calling it quits at the end of 2022 — before ultimately deciding last summer to give it another go in the No. 19 Joe Gibbs Racing Toyota.
Truex was noncommittal about any plans to race beyond 2023, however, so it's possible that he's even already quietly decided he'll be moving on after one more season.
Unlike Kevin Harvick, who will soon embark on a farewell tour likely to be filled with lots of tributes and pageantry, Truex is a very low-key guy who's never cared to hog the limelight. Knowing Truex, he'll probably wait until fairly late in the season again to tell everyone about his plans. If this is his final year, he certainly won't mind avoiding the type of weekly going-away party that Harvick will inevitably receive. 
Truex turns 43 in June, and if he's still on the fence about what he wants to do next year, it could all come down to how he performs in 2023.
Last year — when he missed the playoffs and failed to win a race — was one of the most disappointing seasons of his lengthy career, and a similar outcome this year would almost surely be the last straw that would push the 2017 Cup Series champion into retirement.
2. Aric Almirola
Unlike Martin Truex Jr., Aric Almirola didn't just consider retiring in 2022 — he actually announced plans to retire from the sport. Until, of course, he changed his mind.
After telling the world in January that he was done with the weekly grind that being a full-time Cup Series driver requires, Almirola did a complete 180 in August when he reversed course and revealed his intention to be back in the No. 10 Stewart-Haas Racing Ford for at least one more season.
All signs suggest that the 38-year-old driver's change of heart had little to do with a renewed desire to race on but a lot to do with Smithfield — his longtime primary sponsor — agreeing to make a hefty financial commitment to Almirola and his team if he did indeed decide to come back. Ultimately, Almirola couldn't say no to Smithfield or SHR co-owners Tony Stewart and Gene Haas, who unquestionably encouraged the veteran driver to reconsider in light of how much of an impact his return would have on the organization's bottom line.
The question going forward, however, is whether Almirola is good for just one more year or multiple years. If Smithfield and his bosses have anything to do with it, 2023 probably won't be the end. But if Almirola is truly burnt out with being on the road and needs a change of pace — as he said was the case when making his initial retirement announcement — this season could actually be it for him.
3. Denny Hamlin
Denny Hamlin has made it perfectly clear that he wants to finish his career as a full-time driver at Joe Gibbs Racing, with longtime sponsor FedEx on board his No. 11 Toyota.
But with both FedEx and Hamlin in the final year of their respective contracts with JGR and the sponsor exploring its options for 2024 and beyond, Hamlin may not be able to complete his time at JGR — or in the Cup Series — on his own terms. In other words: If FedEx moves on, which seems like a very real possibility, Hamlin is likely gone, too, and even though Hamlin is the co-owner of another team — 23XI Racing — the 42-year-old has expressed no desire to race full-time for his own team, even if that's his only option.
So, in the case of Hamlin, his plans for 2024 are really at the mercy of his primary sponsor and what it ultimately decides to do.
4. Michael McDowell
The last two seasons of Michael McDowell's lengthy run in NASCAR's premier series have been his best. In 2021, he won the Daytona 500 in stunning fashion after going 0-for-357 in Cup Series competition. In 2022, he set or matched career highs for top-fives, top-10s and laps led.
So, would now really be the optimal time for the 38-year-old Front Row Motorsports driver to call it quits? In short: It really depends on how 2023 goes.
While McDowell has enjoyed success like never before in each of the past two seasons, he'll embark on this coming season with a new crew chief — which almost inevitably means some kind of transition period. If McDowell can quickly get up to speed and have a season that's comparable to or even better than his last two years, then he could reasonably stick around for a few more.
But if he suffers a major decline in performance and finds himself struggling to be even remotely competitive, as he did for over a decade, it wouldn't come as a shock to anyone if he took his final checkered flag in the season finale at Phoenix Raceway.
5. Brad Keselowski
Like Denny Hamlin, Brad Keselowski is both a team owner and a driver. The difference lies in the fact that Keselowski competes for the same team for which he drives.
Therefore, it's conceivable to think that Keselowski — who turns 39 in February — might soon decide to hand over the steering wheel to someone else and focus exclusively on the ownership side of his duties at Roush Fenway Keselowski Racing, which sputtered through a difficult 2022 aside from driver Chris Buescher's win in the fall night race at Bristol.
And if Keselowski endures another year like he did in 2022 — when he failed to win a race and earned just one top-five — such a transition isn't just possible; it seems likely. Keselowski, the 2012 Cup Series champion, is at the point in his driving career when's he somewhat limited in how much more he can accomplish simply because of his age. But he's just getting his feet wet on the ownership side, and his goal is unequivocally to return RFKR to its glory days when the organization was truly among the sport's elites.
When does Keselowski want to place his full attention on being a team owner? It's hard to say. But if things don't go so well on the race track in the coming months, it's almost bound to be not too far in the distance.