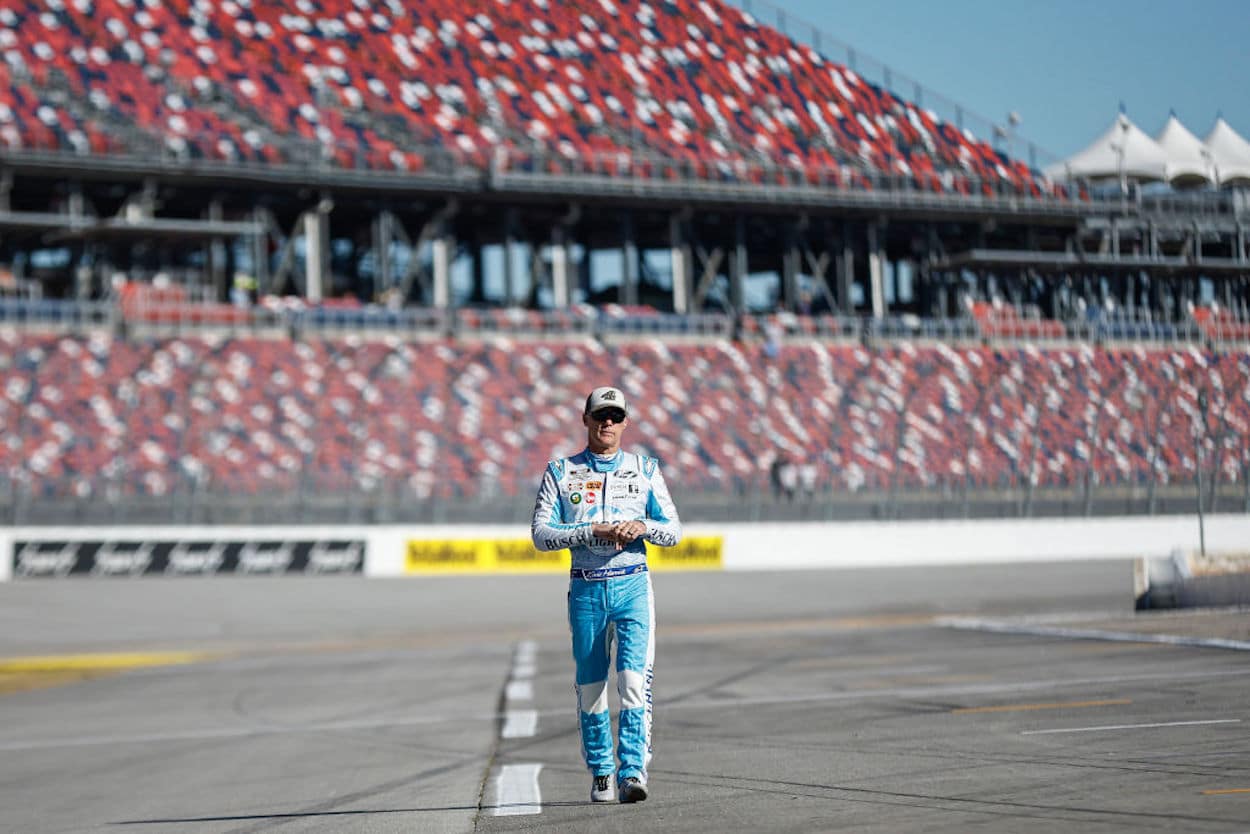 With All Due Respect to Kevin Harvick, It's High Time He Decided to Hang It Up
While it will certainly be a change to imagine a NASCAR season without Kevin Harvick, it's about time that he called it a career.
With 60 career NASCAR Cup Series wins, a Cup Series title, and victories in all of NASCAR's marquee events, Kevin Harvick has accomplished just about everything one could ever dream of accomplishing in the United States' premier motorsports league.
And now, it's time for him to retire. Time not just in the sense that he announced Thursday that 2023 will be his final season, but time in the sense that he probably should've actually made this announcement two years ago.
Disagree with this assessment? That's fine. But the facts prove otherwise — as we'll see in just a moment. 
As recent as 2020, Kevin Harvick was still competing at an elite level
While so much was going wrong in the world in 2020 — remember that pandemic thing? — Kevin Harvick was enjoying one of the best seasons of his NASCAR Cup Series career. By midsummer, he'd won several races and established himself as a favorite to win the championship, as had Denny Hamlin.
Then by the time the playoffs and, specifically, the Round of 8 rolled around, Harvick had been to Victory Lane a Cup Series-high nine times and showed no signs of breaking from the dominant form he'd carried for most of the season. Entering the Round of 8 elimination race at Martinsville, Harvick was atop the standings and seemed like a virtual shoo-in for the Championship 4.
Then, the wheels fell off. Harvick struggled all day at the paperclip-shaped short track, finishing 17th and just missing out on an opportunity to race for a second series championship in the next weekend's season finale at Phoenix.
Turns out, the end of the 2020 season is actually when Harvick perhaps should've called it quits from racing. Because he hasn't been the same since. Not even close.
Kevin Harvick has been in rapid decline for the last two years
The last two seasons have been a struggle for Kevin Harvick — and that's putting it mildly. Sure, the Stewart-Haas Racing driver has backdoored his way into the playoffs in both years, and this past season, Harvick even bore shades of his old front-running self over a memorable two-week stretch in which he scored back-to-back wins at Michigan and Richmond.
But his overall performance has dipped significantly from 2020 and several years leading up to it when he went to Victory Lane with regularity. Consider: 2021 was the first season since 2009 that Harvick didn't win a race. Likewise, consider: Harvick's 15th-place points finish in 2022 was his worst since 2009 and the third worst of his Cup Series career. The veteran driver's number of top-fives and top-10s in the past two years has also nosedived from his norm.
So how did Harvick go from leading the Cup Series in victories and contending for the championship in 2020 to being shut out of the Winner's Circle in 2021 and plummeting all the way to a 15th-place points finish in 2022?
We'll explore the reasons next.
Kevin Harvick's decision to retire is the correct one, with one possible caveat
As much as it might appear this way, Kevin Harvick didn't just wake up in 2021 and forget how to drive race cars at a high clip. Instead, his decline in performance is largely traceable to the decline of the organization for which he competes — Stewart-Haas Racing — which, after years of hanging with the likes of Hendrick Motorsports, Joe Gibbs Racing, and Team Penske, has seen its star fade somewhat over the last couple of seasons and is no longer widely considered a tier-one organization.
Another likely reason for Harvick's seemingly swift drop-off in performance during the past two years is the simple fact that he's getting further past his prime. While it might seem odd on the surface that being just a year or two older than he was during his mostly magical 2020 season would be much of a factor in his on-track results, you have to consider his age. Sure, the two years separating a 27-year-old from a 29-year-old driver or even a 33-year-old from a 35-year-old rarely seem to matter in NASCAR, but when a driver is in their mid-to-late-40s, it's usually a different story. At this age, two years are more like five years would be for someone in their 20s or 30s. Five years are more like eight or 10.
Harvick, who turned 47 in December and is the Cup Series' oldest active full-time driver, isn't immune to this type of rapid decline in driving skills. That's just how it works in almost all cases when a driver is his age or somewhere close to it.
The sad reality is that if Harvick hung around much longer, he would almost certainly become an also-ran or mid-pack driver incapable of hunting even the occasional win, much less a championship. Don't believe me? I'd invite you to go back and look at how Richard Petty, Jimmie Johnson, Tony Stewart, Dale Earnhardt Jr., Bobby Labonte, and Terry Labonte did over their last few seasons as full-time drivers.
To put it as nicely as possible, the answer is: not very good. Harvick is in the same age range all those drivers were in when they started fading out in a noticeable way.
Finally, Harvick needs to hang it up simply because he's ready. On Thursday, the Bakersfield, Calif., native made no bones about his belief that his time to step aside is quickly approaching. If Harvick is losing the desire to drive race cars 38 weekends out of the year — which means not only competing in a dangerous sport but also missing out on precious family time — then he absolutely shouldn't continue on. Doing so would be a disservice to his fans, his wife and two young children, and mostly to himself. 
Simply put: If Harvick doesn't want to race past 2023, he shouldn't race. Case closed.
The only possible problem with his decision to hang up his helmet at the end of 2023? It might not be soon enough.