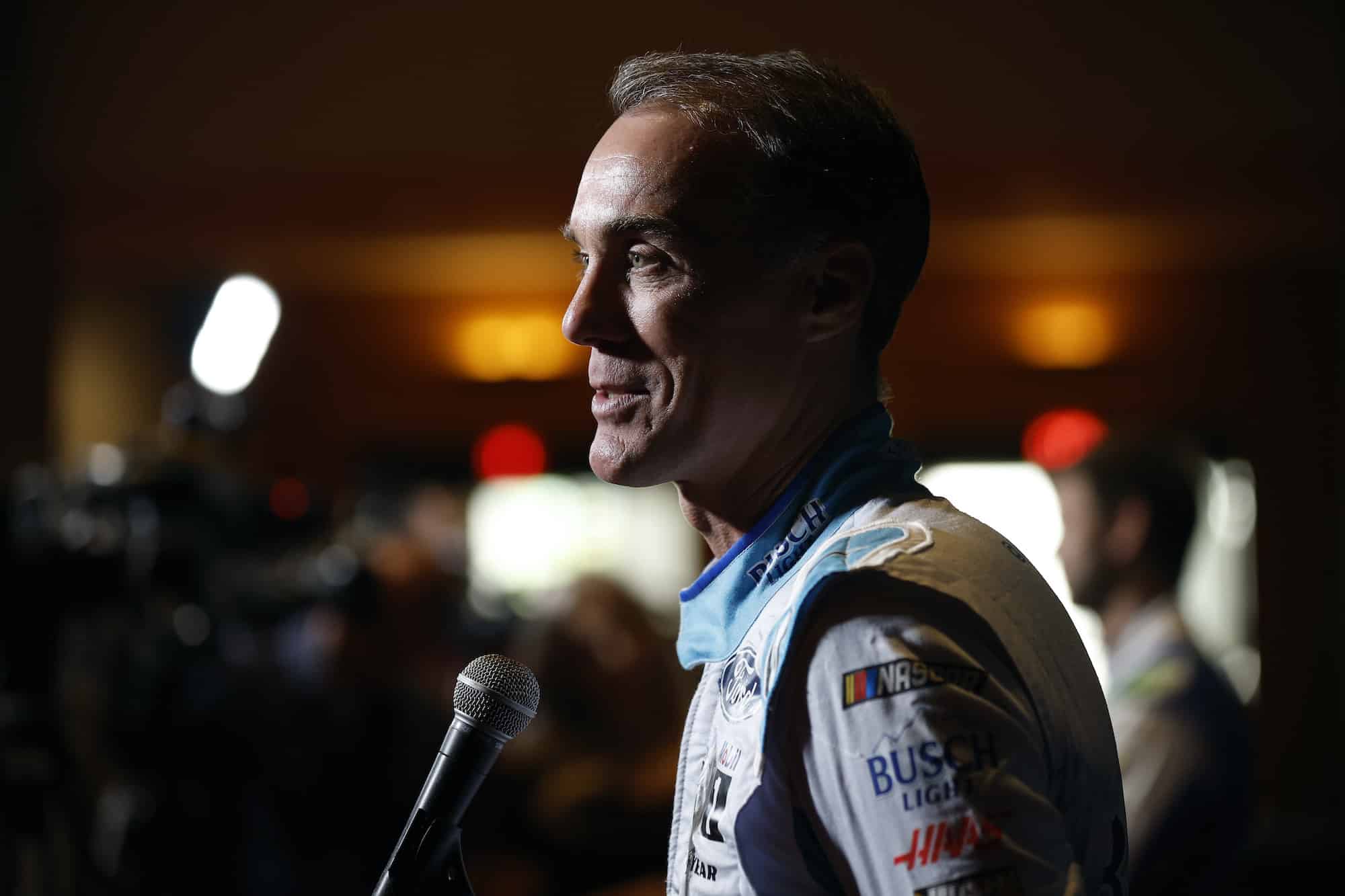 Kevin Harvick Already Has a Job Lined Up for 2024, According to Report
Kevin Harvick announced he will end his racing career after the 2023 Cup Series season, and, according to a report, already has a job lined up for 2024.
For months, fans have speculated about Kevin Harvick and his future. This week, the future NASCAR Hall of Famer revealed that he will be hanging up his helmet for a final time following the 2023 season.
What's next after 22 years behind the wheel in the Cup Series? According to a report, the Stewart-Haas Racing driver won't be on track competing in the 2024 season, but he will be there covering the action as a member of the Fox broadcast team.
Kevin Harvick announces retirement 
In 22 seasons, Kevin Harvick has compiled a staggering list of accomplishments, including 2001 Rookie of the Year, 2007 Daytona 500 winner, three-time Brickyard 400 winner, two-time Coca Cola 600 winner, two-time Southern 500 winner, and, the biggest of them all, the 2014 championship.   
At 47 years of age, the driver's future has unsurprisingly been a hot topic of discussion lately. In December, Harvick told reporters before the awards banquet in Nashville that he would have a decision before the 2023 Daytona 500.
The driver made his decision official this week.  
"All I've ever wanted to do is race," Harvick said at the beginning of a video shared on social media. "It started when I was five, and unbelievably, by the time I was 25, I was in the NASCAR Cup Series. I've called NASCAR's premier series my home for the last 22 years. I've seen a lot and I've done a lot and I'm grateful for the opportunity. 
"I'm always ready for a new season. It presents new challenges and it forces you to find new ways to outsmart and outrun the competition. But come November when the checkered flag drops on the season finale in Phoenix, it will also be my final race as a NASCAR Cup Series driver. It's time to call time." 
Moving to broadcast booth in 2024, according to report
Interestingly, earlier this week, Harvick made headlines when he was announced as part of a new ownership group with the CARS Tour that includes Dale Earnhardt Jr., Jeff Burton, and Justin Marks. Late-model racing is obviously a part of his future plans. 
According to Jim Utter at Motorsport.com, that's not the only way Harvick will remain connected to racing. The SHR driver will transition up to the Fox broadcast booth and work as an analyst, joining Mike Joy and former teammate Clint Bowyer in 2024.
Sources indicated the driver would also work at least one race in both the Xfinity and Truck series each season and make regular appearances on NASCAR Race Hub.
Harvick has experience on television
While it will be a change of scenery for Harvick, it won't be unfamiliar territory. The driver has shown he's skilled at calling the action over the last several years as a part of the network's Xfinity Series drivers-only broadcasts. 
What makes Harvick good on the air is he's not only knowledgeable, but he has a way of breaking down and sharing his wealth of information in an easy-to-digest method that makes for a good viewer experience. He should blend in seamlessly.
It will be odd in 2024 to not see Harvick on the track. But at least fans will still get their fill of Happy as he and Bowyer will more than likely provide some informative and entertaining commentary.