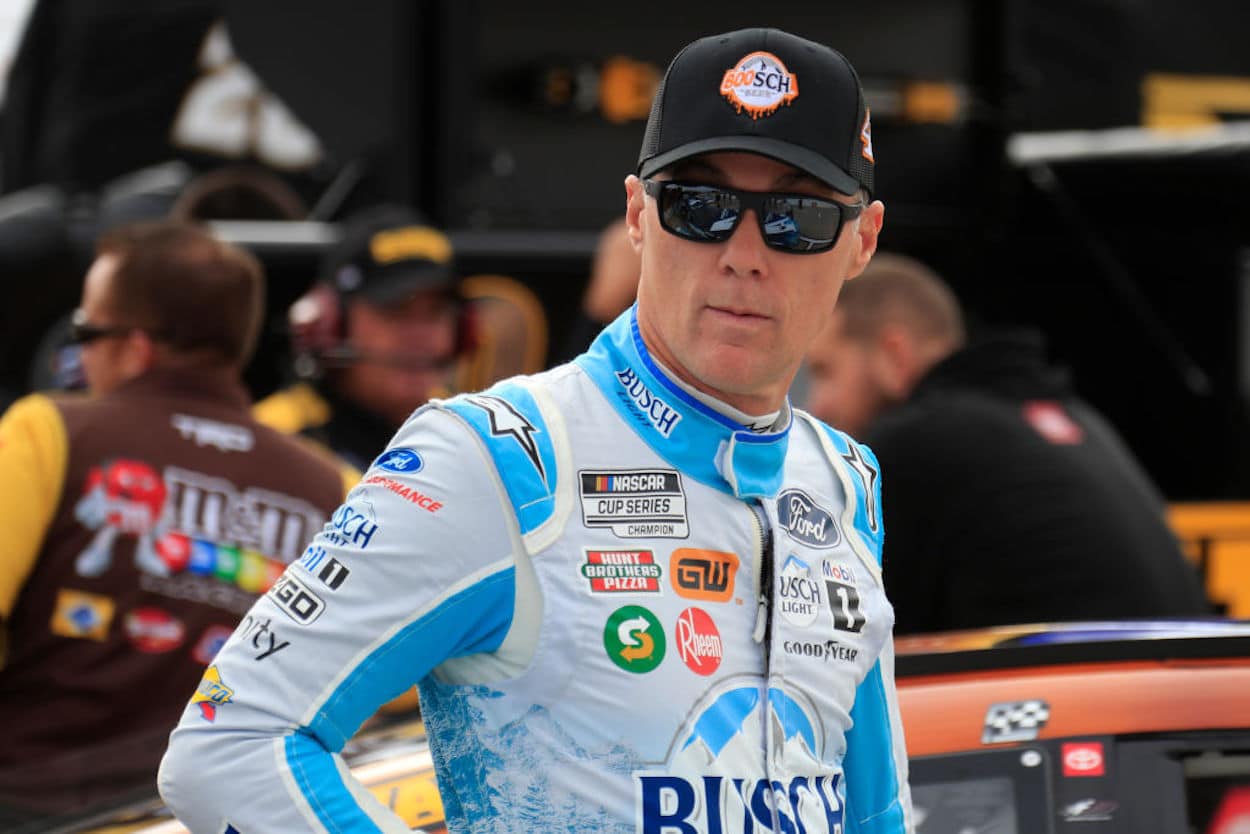 Stewart-Haas Racing Is No Longer One of NASCAR's Elite Teams, And Even Darker Days Could Be Ahead
While there was a time when Stewart-Haas Racing was one of NASCAR's elite organizations, thing have since changed. What's gone wrong?
As recently as 2020, Stewart-Haas Racing won over a fourth of the races on the NASCAR Cup Series schedule and was widely considered one of motorsport's elite organizations.
But over the past two years — one with the old Gen-6 Cup car, the other with the newer Next Gen vehicle — SHR has endured quite the precipitous decline and lagged well behind perennial championship contenders Hendrick Motorsports, Team Penske, and Joe Gibbs Racing.
Will Stewart-Haas break out of its slump in 2023, or are even leaner times on the horizon both near and far?
Stewart-Haas Racing didn't need a tune-up period to assert its strength as an organization
At first, success seemed to come almost too easily for Stewart-Haas Racing. Upon its formation in 2009 — which occurred when then-two-time Cup Series champion Tony Stewart left Joe Gibbs Racing and became a co-owner of the organization formerly known as Haas CNC Racing — SHR wasted no time proving that it could compete with NASCAR's big boys.
In that first year with Stewart at the ownership helm alongside businessman and team founder Gene Haas, Stewart — who drove SHR's No. 14 car in addition to his role as co-owner — won four points-paying races along with the exhibition NASCAR All-Star Race. He finished sixth in points, three spots ahead of SHR's other driver, Ryan Newman, who failed to win a race but enjoyed a strong season nevertheless.
The good times continued from there and only got better, with Stewart delivering SHR's first Cup Series championship in the rebranded company's third season. Then, three years after that, Kevin Harvick — in his first season with the SHR — gave the organization its second title in its six-year existence.
But 2014 was the last time SHR ascended NASCAR's highest mountain. In the eight years since, Hendrick Motorsports has won three Cup Series championships, Team Penske and Joe Gibbs Racing have captured two apiece, and the now-defunct Furniture Row Racing outfit earned a title with Martin Truex Jr.
It was only in 2021, however, that the organization run by Stewart — a now-three-time Cup Series champion who retired from driving at the end of 2016 — took a major performance dive. After a 10-win 2020 campaign in which Harvick led all Cup Series drivers with nine victories and SHR rookie Cole Custer also made a trip to Victory Lane, the organization celebrated just one victory in 2021, which came courtesy of Aric Almirola at New Hampshire.
The company was a tick better overall in 2022, as Harvick ended a lengthy drought and went to Victory Lane on two occasions, while second-year teammate Chase Briscoe scored his first career Cup Series win and made it to the Round of 8. But a total of three victories among SHR's four drivers is still far, far below the kind of numbers that Stewart-Haas put down in most of the seasons from 2009-2020 — when its drivers went to Victory Lane 65 times — and it marked the third consecutive year that an SHR driver has been unable to reach the Championship 4.
Whether the organization's best days are behind it or ahead of it will largely depend on one key factor, which we'll look at next.
One factor, more than any other, will have a profound effect on Stewart-Haas Racing's future near and far
Since arriving at Stewart-Haas Racing in 2014 and winning the championship in his first year with the organization, Kevin Harvick has been hands-down SHR's top driver in terms of sustained success. But Harvick, who recently turned 47 years old, is nearing retirement — which could happen as soon as the end of the 2023 season (Harvick has been non-committal about any plans beyond 2023).
But regardless of when Harvick decides to move on, SHR is going to have some major shoes to fill, and the driver that Tony Stewart and Gene Haas end up choosing to take over Harvick's No. 4 Ford will have a tremendous bearing on the company's future in both the short term and long term.
Harvick, after all, is a generational talent who, along with capturing a championship, is tied with Kyle Busch for most Cup Series victories among active drivers. Over his 22-year career at NASCAR's highest level, Harvick has won all of the sport's crown-jewel races, including the Daytona 500, Coca-Cola 600, Brickyard 400, and Southern 500. He won't be easily replaced, and the driver SHR does tab to fill his seat will need to be someone who's capable of coming in and immediately competing for wins and championships.
Who that driver will be and when they'll be needed is anyone's best guess, but the other three drivers on SHR's 2023 driver roster — Chase Briscoe, Aric Almirola, and Ryan Preece — have a combined total of four Cup Series wins. So to expect any of them to suddenly become an elite talent is little more than wishful thinking at this point.
If SHR hopes to return to its glory days and recapture the magic that was commonplace for the company for more than a decade, Tony Stewart and Gene Haas must make the right call when hiring Harvick's replacement. Failure to do so would likely relegate the organization to mid-pack or even back-marker status for years to come. Maybe even forever.