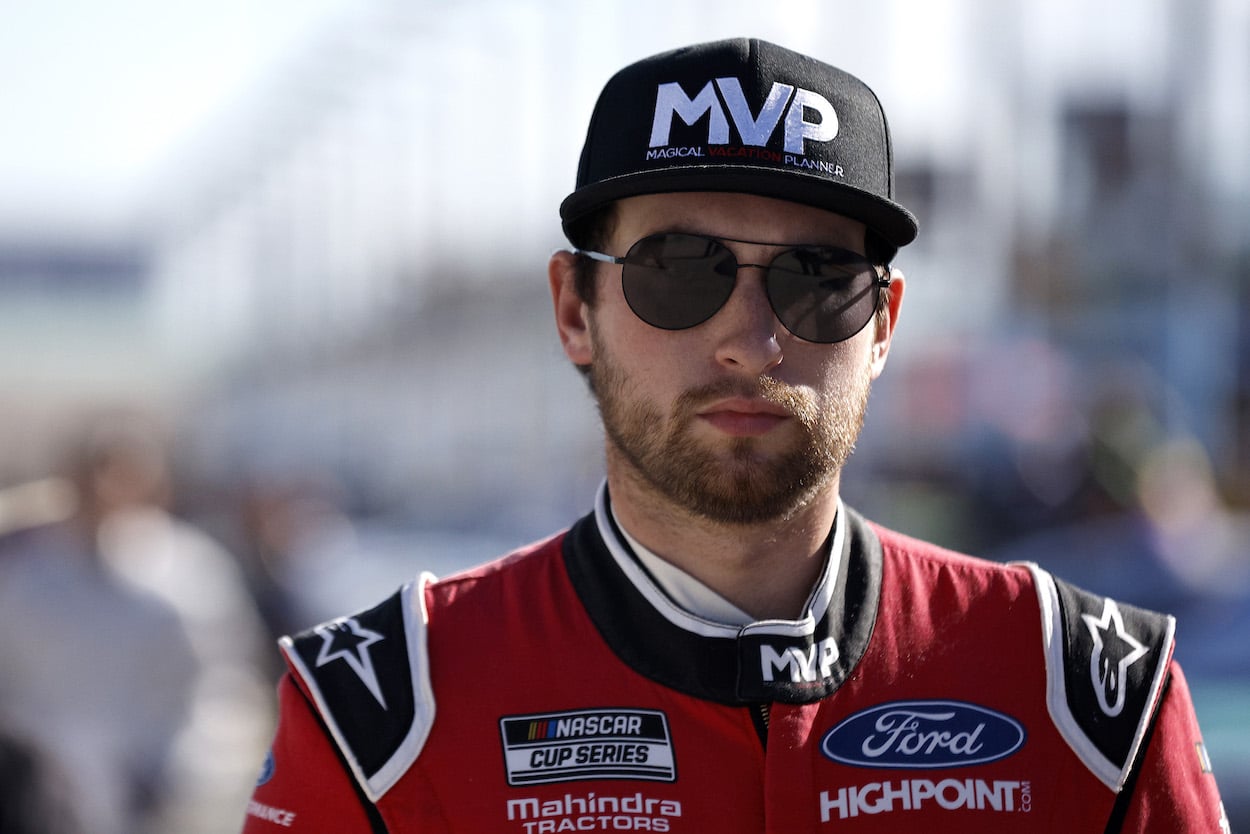 4 NASCAR Drivers Who Showed Flashes of Greatness in 2022 But Have Unfinished Business in 2023
Flashes of greatness? Sure. Unfinished business? Definitely.
For some NASCAR drivers, like recently crowned champion Joey Logano, the 2022 Cup Series season is all about what was.
For others, it's all about what could've been.
Among those who undoubtedly regret how 2022 ended and feel like they have some unfinished business in 2023 are Denny Hamlin, Tyler Reddick, Chase Elliott, and Chase Briscoe.
Let's take a look at how these four drivers — more than anyone else — had the potential to deliver so much more than they did in the unforgettable season that wrapped up on Nov. 6.
Denny Hamlin was on the wrong end of two situations that prevented a Championship 4 appearance
The regular-season portion of the 2022 NASCAR Cup Series campaign was quite the roller-coaster ride for Denny Hamlin, who finished uncharacteristically inconsistent in his No. 11 Joe Gibbs Racing Toyota and was saved by virtue of earning wins at Richmond and in the Coca-Cola 600 at Charlotte.
Hamlin actually thought he had a third trophy in the bag, but NASCAR ruled differently after discovering some illegal tape on the front of his car in a postrace inspection at Pocono, where the apparent winner and his second-place-finishing teammate, Kyle Busch, were both disqualified for the same irregularity, handing the victory to Chase Elliott.
While being stripped of the win itself was of little consequence to Hamlin in terms of the big picture, losing the five playoff points ended up having a huge impact on his season.
Had Hamlin been able to keep those points, he would've been among the NASCAR drivers competing at the Championship 4 for the fourth consecutive season in spite of Ross Chastain's highly publicized late-race maneuver in the Round of 8 elimination event at Martinsville. In fact, Chastain, who ultimately edged Hamlin by four points, might not have even made his bonsai, go-for-broke move in Turns 3 and 4 on the final lap because the positions he gained wouldn't have been enough to overtake Hamlin for the final spot in the Championship Round.
The bottom line? If Hamlin kept his Pocono playoff points or Chastain didn't do the unthinkable at Martinsville, Hamlin — rather than Chastain — would have competed for a championship at Phoenix. But for Hamlin, it simply wasn't meant to be.
Tyler Reddick is no longer among the NASCAR drivers with lame-duck status
Despite competing throughout the second half of the 2022 Cup Series campaign as a lame duck at Richard Childress Racing, Tyler Reddick still managed to put together a career season that not only yielded his first career Cup win but also produced two more victories in NASCAR's premier division.
Had Reddick not declared his intention to leave RCR for 23XI Racing and sputtered through an absolutely miserable Round of 16, the 26-year-old native of Corning, California, might have also been a real player in the championship battle.
But without the full support of RCR behind him — or at least the full support of his boss, Richard Childress, who went out of his way not to give Reddick any credit once he became a lame duck — Reddick was essentially one of the NASCAR drivers racing with one hand tied behind his back.
Although Reddick managed to score two of his three wins after announcing his plans to move on from RCR, the ongoing internal strife surrounding his decision, in combination with plain ol' rotten luck in the opening playoff round, doomed his chances of making a deep run.
"We had two bad races with bad finishes," Reddick said in a postrace interview after elimination in the Round of 16, which consisted of races at Darlington, Kansas, and Bristol. "We had two really good race cars, but we just didn't capitalize on it, and that was enough to miss the Round of 12."
If his circumstances — both on and off the track — had been different, it's possible that we might be talking about "2022 NASCAR Cup Series champion Tyler Reddick."
At times, he was just that good.
Chase Elliott dominated the regular season but fell off after
Given Chase Elliott's enormous success in 2022, it feels kind of awkward to include him on a list of those who'll likely look back on the year as a missed opportunity. But it was precisely that for NASCAR's perennial Most Popular Driver.
After cruising to the regular-season championship on the strength of four wins in the first 26 races, Elliott entered the final 10 as the clear favorite to take home the championship trophy. Instead, the Hendrick Motorsports driver was but a shell of his regular-season self in the playoffs, recording just three top-10 finishes — and only two top-5s — in the 10 playoff events.
Thanks to the massive amount of playoff points he accrued in the regular season, Elliott still managed to stumble his way into the Championship 4, but he finished last among the four men who arrived at Phoenix with a shot at the title.
Elliott's five wins in 2022, which included a playoff victory at Talladega, outnumbered everyone else's win total. But at the end of the day, it's all about the championship, and he simply didn't perform at his best when the stakes were at their highest.
Chase Briscoe is among the NASCAR drivers with significant late-season regrets
A case can be made that when all the dust finally settled, Chase Briscoe actually overachieved rather than underachieved in 2022.
For example, after winning just one race in the regular season and struggling to finish in the top 10 with any degree of consistency, Briscoe didn't enter the playoffs on a shortlist of the NASCAR drivers serving as favorites to win the championship or even make a deep playoff run. But a deep playoff run he did make, advancing through the Round of 16 and the Round of 12 all the way to the Round of 8 before his championship dreams came crashing down.
However, it's what happened during the final laps of that Round of 8 elimination race at Martinsville that will likely gnaw at Briscoe for a while.
Needing a win and nothing less to be part of the Championship 4 the next weekend at Phoenix, Briscoe was in position to do the unthinkable as the laps ticked down at Martinsville and his No. 14 Stewart-Haas Racing Ford led the way.
Running on older tires than many of his closest pursuers, Briscoe ultimately couldn't hold them at bay.
After leading 25 consecutive laps, the second-year Cup Series driver surrendered the lead with five to go and quickly faded to ninth as his tire wear began to take a huge toll. Had the final pit sequence occurred five laps later, Briscoe may well have raced for a championship at Phoenix, where he claimed his first career Cup Series victory back in March. 
Unlike in the two previous playoff rounds, such good fortune didn't follow Briscoe to Martinsville.
"If the race was 10 less laps, I was probably gonna win, but I just fell off a cliff really hard there at the end," Briscoe said afterward. "It's unfortunate, but I had a shot."