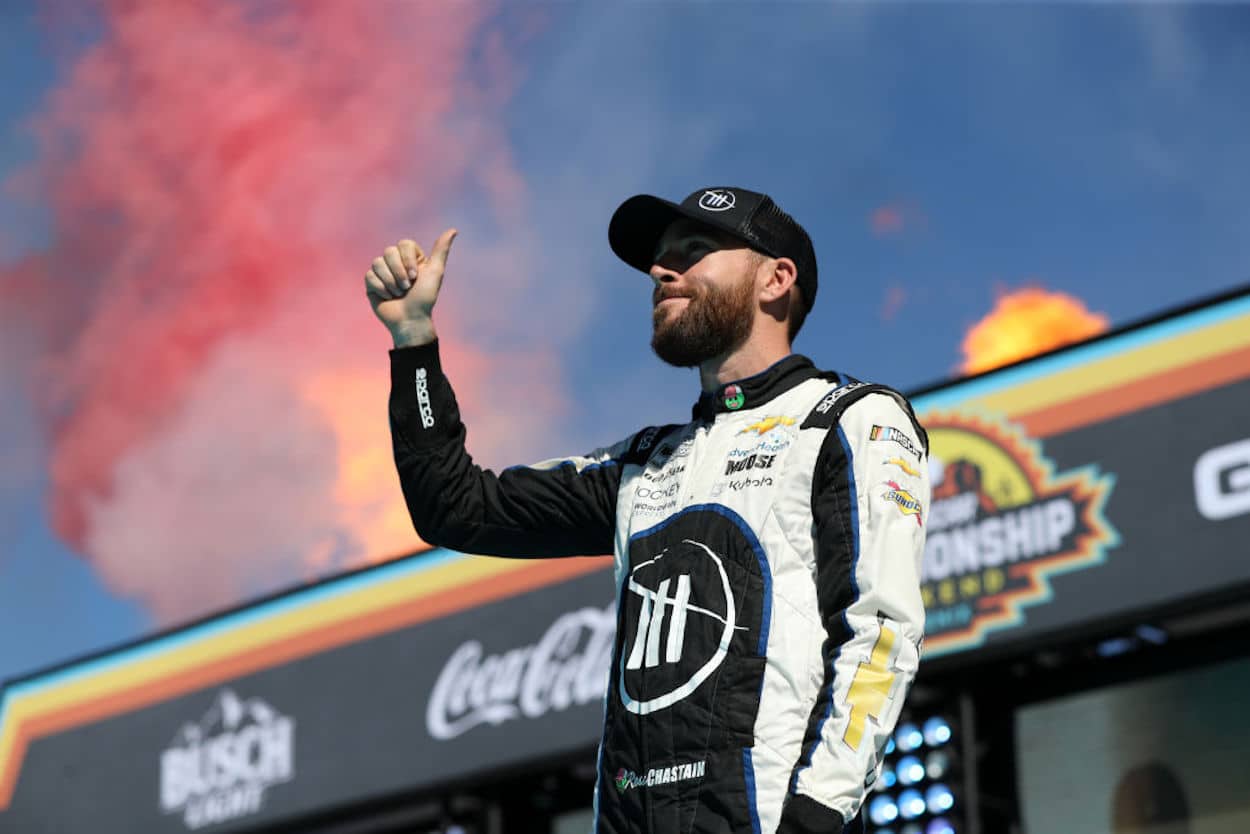 Is Ross Chastain a One-Season Wonder or a Championship Contender for the Foreseeable Future?
Like it or not, Ross Chastain isn't going anywhere. But what does the future hold for NASCAR's resident watermelon farmer?
In terms of individual driver performance, no one provided a more pleasant surprise in the 2022 NASCAR Cup Series season than Ross Chastain.
An eighth-generation watermelon farmer whose only previous full season at the Cup level was 2021, Chastain defied all odds by becoming a weekly contender for the win despite being in his first year with a Trackhouse Racing organization in its second year of existence.
While Chastain faced some challenges along the way, at several points even becoming the object of intense scrutiny for his perceived overly aggressive style of driving, the recently turned 30-year-old from Alva, Florida, managed to soldier on and eventually come just one position shy of a championship that no one expected him to sniff when the season started.
Now with easily the best season of his driving career — at any level — under his belt, what's in store for Chastain in 2023? And, more specifically, is he a one-season wonder or a soon-to-be perennial contender?
Ross Chastain's 2022 results reveal a well-rounded game
If you're looking to identify whether a season widely deemed as "successful" is a fluke or a predictor of long-term greatness, look no further than how consistently the driver performed over the course of 36 races.
Unlike Aric Almirola — who struggled badly throughout most of 2021 but made the playoffs because of one seemingly out-of-nowhere midseason win at New Hampshire — Ross Chastain ran at or near the front almost the entire 2022 campaign. In fact, Chastain's 21 top-10 finishes and 15 top-fives were both Cup Series highs — even eclipsing the marks set by champion Joey Logano and regular season champion Chase Elliott.
And unlike some drivers who struggled at some types of tracks but excelled at others, Chastain exhibited no glaring weakness. Need proof? Consider for just a moment that Chastain's two wins came at the Circuit of The Americas road course and 2.66-mile, high-banked Talladega Superspeedway — two tracks that couldn't be at more opposite ends of the speed and handling spectrum. It would be one thing if Chastain's victories and other top performances had all come at short tracks or intermediates or road courses or superspeedways.

But they didn't. They came at tracks of all varieties. In other words, Chastain's team didn't find some magical setup that helped him run great at certain types of tracks while he stunk up the show at others. It's therefore reasonable to surmise that Chastain's achievements from 2022 were no anomaly. 
The bottom line? Chastain and his team brought their "A" game pretty much everywhere all the time, and there's no reason they can't do the same in 2023 — especially considering it will be Year Two with the Next Generation Cup Series car they enjoyed so much success with this past season.
Ross Chastain's go-for-broke attitude isn't going away anytime soon
Ross Chastain pushed the envelope so far that it was to his own detriment on some occasions in 2022, angering the likes of veterans Denny Hamlin, Martin Truex Jr., and Chase Elliott when his aggression sent their cars into the spin cycle.
More times than not, however, Chastain's no-holds-barred approach played a role in allowing him to race near the front of the field and battle for wins. And, of course, on one memorable Sunday afternoon — the afternoon of the Round of 8 elimination race at Martinsville Speedway — Chastain's go-for-broke attitude resulted in him earning a berth in the Championship 4 when he never lifted off of the throttle in turns 3 and 4 on the final lap, passing five cars in the process.
Had Chastain not taken such a drastic and, yes, risky measure, he would've missed out on the opportunity to race for a championship the next weekend at Phoenix — and his in-car audio later revealed that he was well aware of this reality as he motored down the backstretch for the last time.
Chastain's move coming to the checkered flag left almost everyone, including some of his fiercest rivals, in awe and wishing they had been as creative in their efforts to qualify for the championship race.

While it's possible that Chastain will never repeat his video game-style move in the future, executing it just one time proved once and for all that he'll stop at absolutely nothing to get the outcome he wants. And you can rest assured that Chastain's lay-it-all-on-the-line approach won't change once the calendar flips to a new year. He's going to carry it with him for the rest of his career, which will go a long way toward helping him ensure he doesn't rest on his laurels from 2022.
With Justin Marks guiding the ship, Trackhouse Racing has all the tools Ross Chastain needs
Finally, there's yet another reason Ross Chastain's amazing 2022 won't be a blip on the proverbial radar or the equivalent of a lightning strike. The reason is simple: He's competing for an organization that's no joke.
Oh sure, Trackhouse Racing still doesn't have the name-brand recognition of Hendrick Motorsports or Team Penske or Joe Gibbs Racing, but that's irrelevant as it relates to Chastain's long-term outlook.
Fact is, with its acquisition of all the assets it purchased from Chip Ganassi Racing when CGR folded at the end of 2021, Trackhouse Racing is capable of providing Chastain and teammate Daniel Suarez with top-notch equipment for the foreseeable future. And team co-owner Justin Marks, himself a racer from years gone by, is clearly 100 percent dedicated to the cause of making Trackhouse the kind of team that doesn't taste a little success and then fade into the background.
Operating out of the old Ganassi shop with mostly former Ganassi employees, Trackhouse isn't as new to the game as one who's unaware of the organization's history might assume. No, after winning a total of three races in 2022 between Chastain and Suarez and placing both drivers in the playoffs, Trackhouse is as well-positioned for 2023 and future seasons as any team in the Cup Series garage. And for this reason and several others, so is Chastain.