2022 Cup Series Season in Review: Trackhouse Racing
A season review of Trackhouse Racing shows the second-year organization recorded a very successful season that included three wins and one of the coolest moves in NASCAR history.
If there was one team the entire NASCAR industry didn't see coming in the 2022 Cup Series season, it was Trackhouse Racing. In its second year, the organization made its mark in a big way, from Ross Chastain and Daniel Suarez earning their first career Cup wins to the watermelon farmer pulling off the Martinsville Miracle that became a viral video and extended the team and NASCAR's brand around the world.
While there were plenty of good things to talk about this year with the team co-owned by Justin Marks and Pitbull, it wasn't all good. Chastain upset more than a few drivers with his aggressive driving. Here's a look back on Trackhouse's history-making season.
Trackhouse Racing was surprise team of 2022 Cup Series season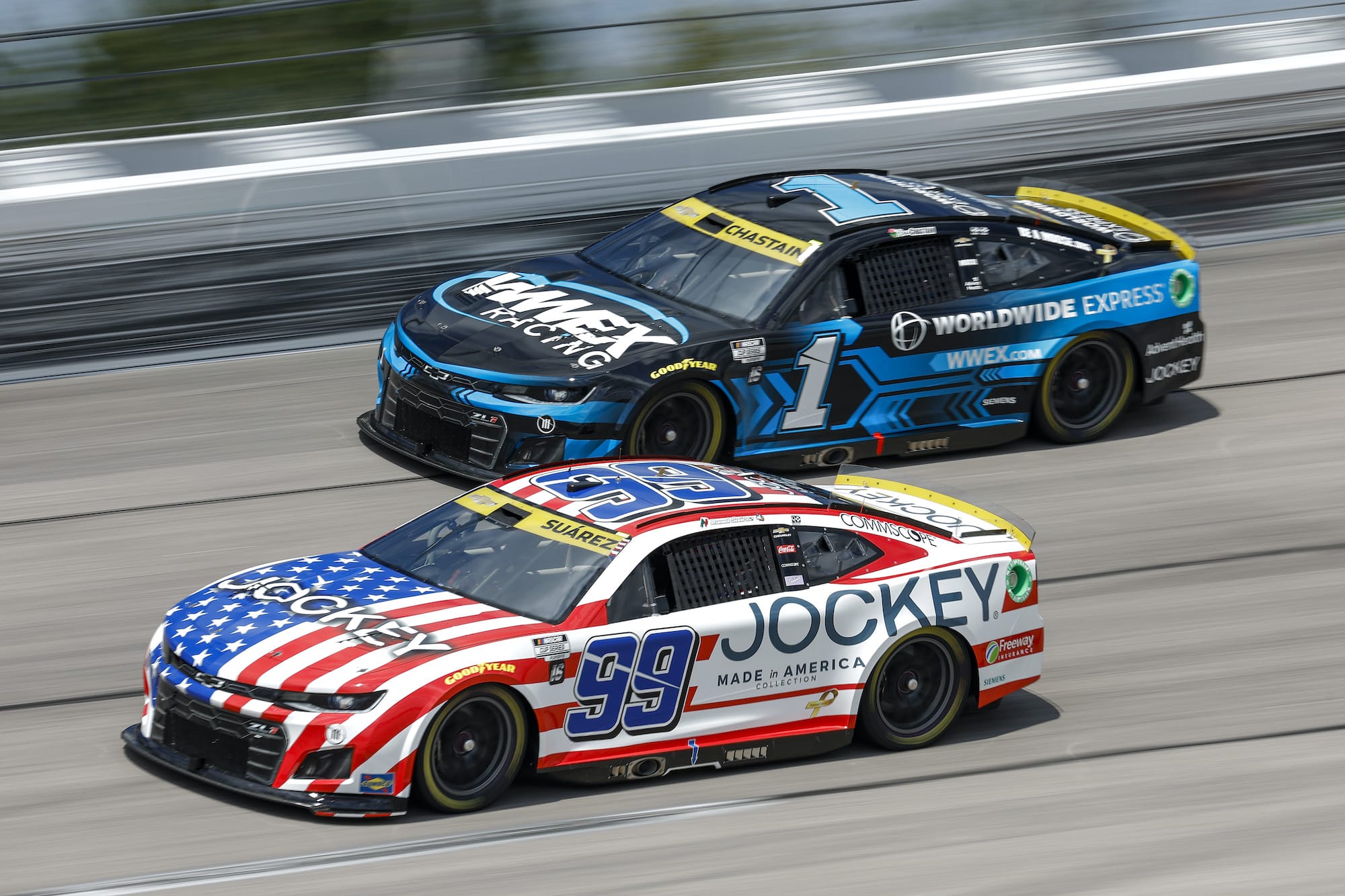 The Trackhouse Racing story in 2022 was unquestionably a major highlight for the Cup Series. Both Ross Chastain and Daniel Suarez served notice to the competition early in the season, with the pair combining for five top-5 finishes in the first five races. 
Chastain scored three consecutive top-5s at Las Vegas, Phoenix, and Atlanta, before his breakthrough at Austin and Circuit of the Americas, where his aggressive last-lap move on AJ Allmendinger and Alex Bowman just a few turns from the finish line was dramatic and historic, scoring the first win in the organization's short existence. 
Less than a month later, the 29-year-old made his second trip to Victory Lane when he unexpectedly won at Talladega on the final lap and showed that he could win on two very different track styles. 
A couple of months later, Suarez got in on the action, running a dominant race in wine country and winning his first-ever career Cup trophy at Sonoma. 
Both drivers made it into the playoffs, with Chastain advancing all the way to the Championship 4 and coming up just short behind winner Joey Logano. 
Chastain didn't make a lot of friends
While Chastain's aggressive driving allowed him to win in the Lone Star State, that same style also ruffled more than a few feathers throughout the season.
Martin Truex Jr. had his first of several run-ins with the No. 1 car at Dover in May. A month later at Gateway, Denny Hamlin fell victim to the watermelon farmer's impatience and got sent into the wall at Gateway, which then resulted in a comical cat-and-mouse-game and the Joe Gibbs Racing driver repeatedly blocking him. 
Unfortunately, Chastain was just getting started. He had additional incidents with Truex and Hamlin and added another JGR victim to the list with Kyle Busch at Richmond, who converted the Trackhouse driver's name into a verb, suggesting he had been "Chastained." 
Others were unhappy with the No. 1 car at some point, including Austin Dillon and Chase Elliott, who blamed the Trackhouse driver for ending his championship hopes at Phoenix in an incident that spun the 2020 champ and sent him into the wall, although most outside of the Hendrick Motorsports camp agreed Chastain wasn't to blame. 
Overall grade: A
When NASCAR fans look back on the 2022 Cup Series season, Trackhouse, despite Chastain's moves upsetting multiple drivers, will be remembered as one of the best stories of the year because it was an unproven team that showed winning is possible in the new Next Gen car, which is what the governing body intended when it went with the new car that is composed of vendor-supplied parts.
One win might be considered a fluke. Three is a trend. Both drivers making it into the postseason and advancing beyond the first round was a great finish to the season and should provide a springboard for 2023.
And, of course, you can't forget Chastain's final-lap move at Martinsville. That video game move will go down as one of the coolest moments in NASCAR history, and the driver has to be given credit for the guts to do it, and then pulling it off.
All of it combined earns the second-year organization a solid A.  
By the numbers
Ross Chastain
2021 | 2022
Daniel Suarez
2021 | 2022
Wins
0 | 2
0 | 1
Top 5s
3 | 15
1 | 6
Top 10s
8 | 21
4 | 13
Top 20s
22 | 26
20 | 24
Average Start
19.8 | 14.4
20.1 | 15.1
Average Finish
18.6 | 13.3
20.1 | 16.5
Laps Led
62 | 692
74 | 280