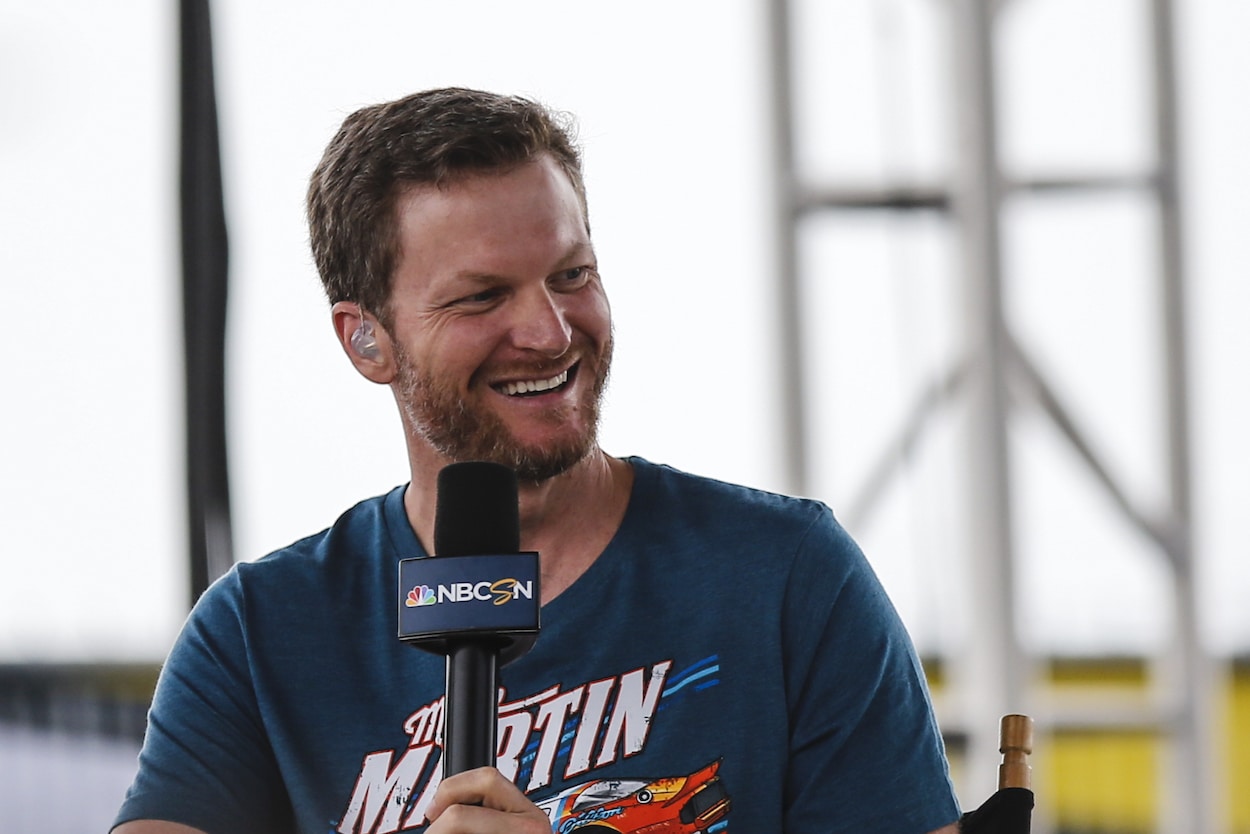 Dale Earnhardt Jr. Calls Out Ross Chastain for Being Insincere in His Postrace Apology: 'His Words After the Race Were Bull****'
Dale Earnhardt Jr. calls them like he sees them. What he saw on Sunday from Ross Chastain in his postrace apology was insincerity and the Hall of Famer called out the driver for his "bull****."
Dale Earnhardt Jr. has spoken glowingly in the past about Ross Chastain's aggressive driving style. He's suggested the Cup Series needs more drivers like him. 
On Sunday near St. Louis, Chastain went out and did Ross Chastain-like things and upset Denny Hamlin and Chase Elliott in the process. After the race, the Trackhouse Racing driver profusely apologized and accepted responsibility and any retribution that might be coming his way. This week on the Dale Jr. Download, the NASCAR Hall of Famer reviewed the race and the apology, and called out the driver for his insincerity and "bull****" words.  
Ross Chastain apologizes after wrecking Denny Hamlin and Chase Elliott
Ross Chastain took his aggression game to another level in the inaugural Cup Series race at World Wide Technology Raceway outside of St. Louis on Sunday. He angered not one but two drivers in the race, and it only took him one stage to do it.
The adventures all came in Stage 2 when the 29-year-old, clearly frustrated by his inability to make a pass on Denny Hamlin, decided to drive it in hard into the corner and into the rear bumper of the No. 11 Toyota, sending it up the track and into the fence. 
Fast forward to late in the stage when the watermelon farmer opted to make it three-wide going into a turn. Chase Elliott was the odd man out when Chastain got into the left side of the No. 9 car and sent him for a spin. 
During the race, Chastain acknowledged over his radio that he had upset the drivers and would address them when it was over. After the race, it's unknown if he talked to his fellow competitors, but he did offer a lengthy apology with an interesting choice of words. 
"Just terrible driving, Jamie," the driver told Fox's Jamie Little. "It's one thing to do it once but I just kept driving into guys. At this level, I'm supposed to be better than that. Such a shame for Moose and Advent Health and Jockey and Worldwide Express. Have all these people believing in me and Justin Marks and Pitbull put me in this car. They deserve better."
"Will you go talk to them?" the reporter asked.
"I will," he said. "I owe half the field an apology. Words aren't going to fix it so I'll have to pay for it on the track. Almost did today and I deserve everything that they do. I can't believe that I continue to make the same mistakes and overdrive the corners and drive into guys. I had time under caution to get reset and we go green and I drive into somebody. Terrible." 
Dale Earnhardt Jr. calls BS
Dale Earnhardt Jr., like so many other fans, heard Chastain's postrace comments, and while the driver apologized, it didn't feel completely honest. Those weren't mistakes. He deliberately ran into Hamlin. The incident with Elliott might not be as clearly defined, but it doesn't happen at all if he doesn't stick his nose in the middle. He was being aggressive. His style.
Taking all of these factors into account, Earnhardt called out the driver during this week's Dale Jr. Download podcast for being insincere in his remarks and compared him to a kid who has shoplifted candy from a store and thinks if he apologizes enough that he'll get to keep the candy.
"His words after the race were bulls***," Earnhardt bluntly offered. "He poured it on so thick. I don't know, man. At one point, I almost thought he might be mocking us or something. He's trolling us. It got so thick there. He was going on and on just repeating himself at times."
Earnhardt is a fan of Ross Chastain
While Earnhardt offered critical remarks of Chastain, don't mistake that as disdain for the driver. In fact, it's just the opposite. The two-time Daytona 500 winner has a unique connection with the young driver. He used to be his landlord. He talked about their relationship recently on his podcast when, unsurprisingly, addressing another conflict between the driver and his friend Martin Truex Jr. that started at Dover.  
"It's quite interesting. As much as I love Truex, and he will always be one of my best friends, and I think that he is a cool cat because he's that blue-collar, hunting and fishing outdoorsman kind of guy that we need in the sport," Earnhardt said. "Ross is that I don't care, I'm not here to make friends guy that we need in the sport. Boy, have we lacked some of that. 
"Ross is a guy that's come in and he's out there racing like he's not getting a check. Every spot he's racing for is worth food on the table. Bit of a throwback in the way drives, in my opinion. He doesn't give an inch and we need a lot of guys out there like that. The more the better."
In his latest podcast discussing St. Louis, Earnhardt reiterated how he thought the Cup Series needed more aggressive drivers like Chastain "banging around." He can just do without the apologies. 
Like Sportscasting on Facebook. Follow us on Twitter @sportscasting19 and subscribe to our YouTube channel.