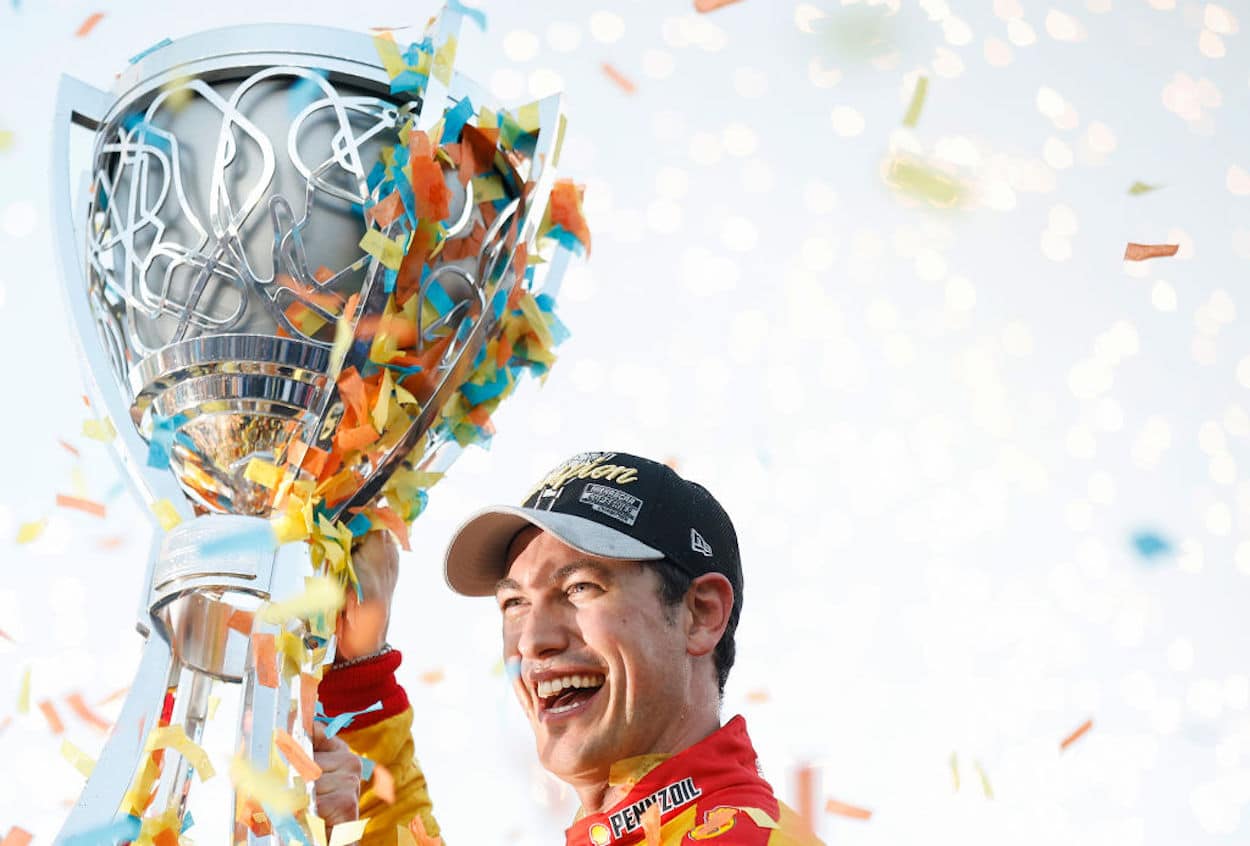 5 Lasting Takeaways From an Unforgettable 2022 NASCAR Cup Series Season
The 2022 NASCAR Cup Series was eventful, but that's all in the past now. Let's look back on the lessons we learned along the way.
With the 2022 NASCAR Cup Series season that ended less than a week ago still fresh in everyone's mind, it's time for a little reflection.
One of the wildest and most unpredictable seasons in NASCAR's 74-year history, 2022 didn't lack drama, excitement, or unusual occurrences.
With all this in mind, up next are a handful of lasting takeaways from the 36-race campaign that concluded with Joey Logano winning the championship on November 6 at Phoenix Raceway.
Joey Logano has ice water in his veins
We'd be remiss if we didn't top the list of takeaways with Joey Logano and his memorable run to the 2022 Cup Series title.
While Logano's season was bumpy at times, there was no point when the Team Penske driver seemed like a longshot to win the championship. And when the proverbial heat got ratcheted up to its highest level — in the Championship 4 — Logano rose to the occasion, scoring a dominant win at Phoenix that culminated in his second championship at NASCAR's highest level.
Logano, for his part, never doubted that he was in the catbird's seat for winning the championship, and he even went as far as to proclaim himself the title favorite both before the playoffs began and then again leading into the final race. But this kind of confidence wasn't just lip service; Logano put it in motion on the race track by becoming the first driver to punch a ticket to the Championship 4 — which he did with a victory in the Round of 8 opener at Las Vegas — and then executing a nearly flawless performance at Phoenix.
"We made sure that there was no stone unturned when it came to preparing for this race," Logano said during his recorded postrace champion's press conference. "When you saw how confident I was and my team was, it's because we were truly ready.
"You can't fake confidence. You can maybe show it a little bit, but truly deep down inside, you have to believe that if you're going to be ready for this battle ahead of you. I've never felt more ready."
Ross Chastain will do anything to get the finish he needs
In the week leading up to Joey Logano's championship-winning performance, the focus of the NASCAR world was squarely on Ross Chastain, who did the unthinkable in the Round of 8 elimination race at Martinsville when he never lifted off the gas in turns 3 and 4 in an effort to pick up the positions he needed to reach the Championship 4.
Sure enough, the strategy worked like a charm as Chastain went zipping past five cars — all while bouncing off the outside wall — between the entrance to Turn 3 and the checkered flag. The eighth-generation watermelon farmer picked up five positions — more than good enough to punch a ticket to Phoenix, where he ultimately finished third in the race and runner-up to Logano in the championship fight.
More significantly, though, Chastain's video-game style move at Martinsville will go down as one of the boldest and outside-the-box maneuvers of all time, and come whatever may, he'll be forever remembered for doing quite literally whatever was necessary to keep his championship aspirations alive.
In the immediate aftermath of the Martinsville race, Chastain received messages from people in all corners of the globe expressing admiration for his go-for-broke pass.
"It's wild. It really is," Chastain said four days later during his recorded Championship 4 media availability in Phoenix. "I've just tried to even grasp how far it's went. Hearing from different people that are literally around the world, they're like people that have never talked about NASCAR are talking to them about it. That's Asia, Mexico, like everywhere. It's wild.
"What has it been like? It's been odd. It doesn't seem like it's me in the car. Like, it's not my car when I watch the video."
The playing field is more even than it's ever been 
Five first-time winners. A record-tying 19 different race winners in 36 events. Four different organizations represented in the Championship 4. No driver with more than five wins.
No matter how you slice it, 2022 was a year of enormous parity in the NASCAR Cup Series — thanks in large part to the rollout of the Next Generation race car that features mostly standardized vendor parts and thereby greatly limits the top teams' ability to innovate and gain a major upper hand on those who lack such robust resources.
While not everyone is a fan of that equality, it created a level of week-to-week suspense the likes of which NASCAR's premier series hasn't enjoyed in years. Maybe ever.
Will this change in 2023 and in seasons to come as teams learn more about the Next Gen model? It could. But for now at least, parity is king in the Cup Series.
The Next Gen car is great in some areas but needs work in others
Sticking with the topic of the Next Generation race car, virtually everyone — including NASCAR — agrees that the vehicle remains a work in progress. 
By virtually all accounts, the car produced better racing on the intermediate tracks that have long been maligned for follow-the-leader-style affairs where the cars get strung out, minimal passing occurs, and observers often take extended Sunday afternoon naps to pass the time.
The only problem? The improved on-track product at the mile-and-a-half and 2-mile layouts came at the expense of the short tracks and road courses, where passing proved more difficult than ever, and the overall quality of the racing suffered.
Of even greater concern, however, is the effect the Next Gen car had on safety. Both Kurt Busch and Alex Bowman suffered season-altering concussions after it became apparent that the car's rear end is too stiff, resulting in the driver — not the car — often absorbing the brunt of the impact from contact with the concrete wall.
NASCAR has vowed to fix the issue ahead of the 2023 season, but it's unclear at the moment exactly how the fix will look — or how effective it will be. 
NASCAR has a zero-tolerance policy for left hooks at high speeds
Despite numerous inconsistencies over many decades in how it polices the sport, NASCAR has been very consistent on at least one matter: how it handles a situation where one driver deliberately turns left into another driver's right rear quarter panel at high speed.
In 2022, this happened for the first time in a long time when Bubba Wallace intentionally turned Kyle Larson into the Las Vegas Motor Speedway frontstretch wall at roughly 160 miles in a blatant act of retaliation.
NASCAR later suspended Wallace for one Cup Series race, making it clear that nothing has changed since 2011 when the sanctioning body did the same to Kyle Busch for wrecking Ron Hornaday in a Camping World Truck Series event at Texas.