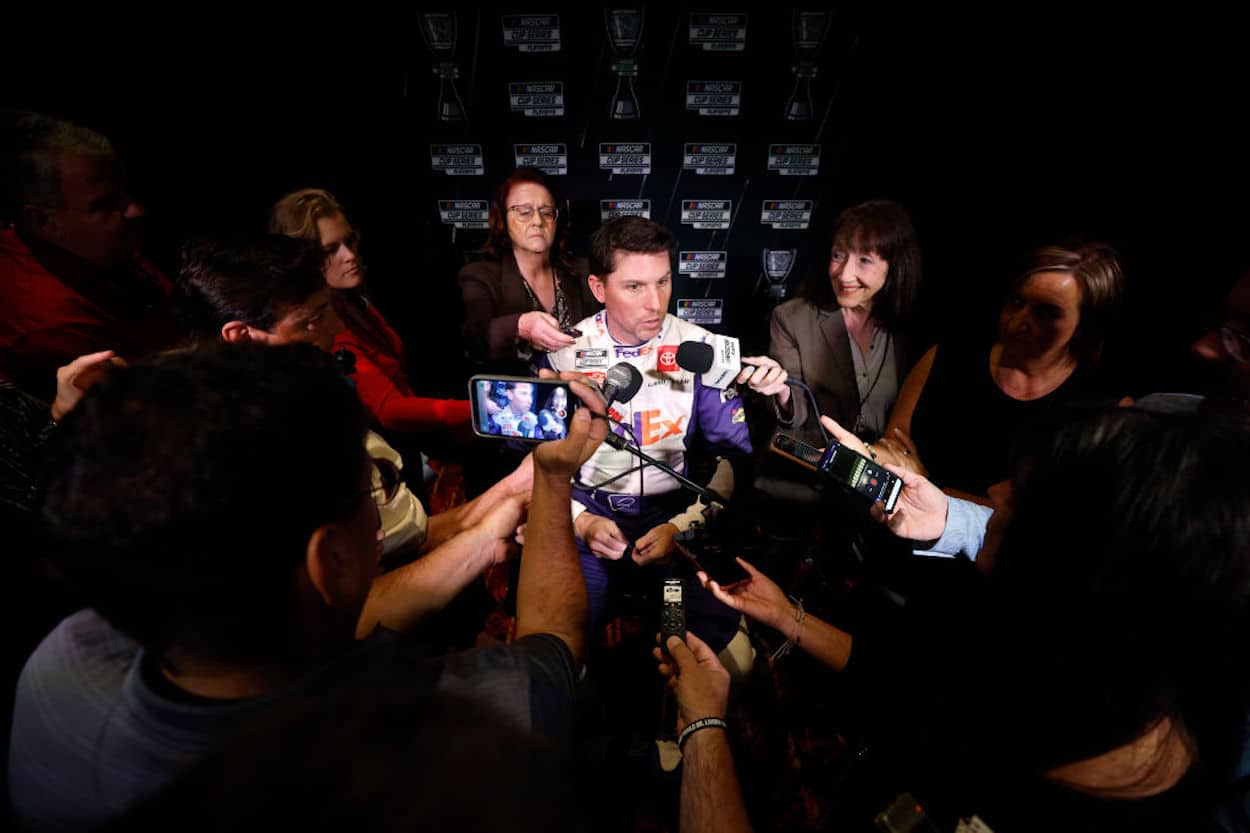 Denny Hamlin Updates Kurt Busch's Status, Admits Team Cheated, Dishes on William Byron Penalty Reversal and Safety Meeting with NASCAR
Denny Hamlin isn't one to mince words, and he proved that over the weekend by holding court at Charlotte Motor Speedway.
Never one to mince words about any topic these days, Denny Hamlin held court so-to-speak during his media availability over the weekend at Charlotte Motor Speedway.
Not surprisingly, the Joe Gibbs Racing driver once again had a lot on his mind.
Among the subjects Hamlin addressed were the ongoing conversation about driver safety, the status of injured 23XI Racing driver Kurt Busch, his disqualification after winning at Pocono earlier this year, and NASCAR's decision last week to reverse the points penalty on William Byron for wrecking Hamlin under caution at Texas Motor Speedway last month.
Let's dig into what Hamlin had to say to Sportscasting.com and other media outlets on these matters and more.
Denny Hamlin won't rule out Kurt Busch returning this season
Hard as it might be to believe when considering how little Kurt Busch has to gain by potentially coming back before season's end, Denny Hamlin wouldn't rule out the possibility when speaking with reporters at Charlotte Motor Speedway.
Hamlin, co-owner of the 23XI organization that Busch joined prior to the 2022 season, said that the 2004 Cup Series champion had a doctor's appointment last week and that an announcement on his plans for the remainder of 2022 would be coming sometime this week.
Busch has missed 12 races since suffering a concussion when his car backed hard into the wall at Pocono Raceway during a qualifying run on July 23, but he returned to the track this past weekend as a spectator atop his team's pit box. As for whether Hamlin would want Busch to get back behind the wheel for the four remaining races this season if he receives medical clearance, the second-year team owner didn't take a strong position.
"It really won't matter to us, I think," Hamlin, who co-owns 23XI along with six-time NBA champion Michael Jordan, said in response to a question from Sportscasting.com. "It's kind of whatever he feels comfortable with. … We're indifferent on it, to be honest with you."
Denny Hamlin is slightly more optimistic about the direction NASCAR is going with safety
With concerns over driver safety reaching a fever pitch in the last few weeks thanks in large part to two drivers — Kurt Busch and Alex Bowman — each being sidelined with a concussion from a hard impact with the first-year Next Generation Cup Series car, NASCAR seems to finally be taking steps to answer the call for improvements to the Next Gen's safety features.
The sanctioning body conducted a crash test at an undisclosed location in Ohio this past week, and NASCAR officials revealed their findings in a mandatory meeting with all Cup Series drivers on Saturday morning at Charlotte Motor Speedway. While several drivers indicated the mood in the meeting was rather tense, NASCAR has put plans in motion to replace the problematic bumper on the car ahead of next season's Daytona 500.
Hamlin called the drivers' meeting with NASCAR "informative" and was surprisingly diplomatic in his assessment of the meeting after being one of the most outspoken critics of the Next Gen car — and NASCAR's overall approach to driver safety — in the past few weeks.
"There's plenty of other people starting to speak out now, which is good," Hamlin said. "Not all of the soundbites have gotta come from me."
Hamlin said he walked away from the meeting feeling like he was heard and that NASCAR is now operating with a sense of urgency to make the cars safer.
"At this point, I feel like I've said everything I could on the safety side," he added. "I wouldn't change anything [I've said], but now we just wait on the results. We heard what they said they were going to do, and now we sit back and wait and see those results come through in the next 3 to 6 months."
Hamlin acknowledged that NASCAR undoubtedly would prefer not to be under such intense scrutiny over driver safety at a time when the focus would typically be on the playoffs and the battle for the championship.
"They had some good momentum early in the year," Hamlin said of NASCAR, "but now everything's kind of caving in on them a little bit — from every side — but eventually things do catch up [with you]."
Denny Hamlin is none too pleased with the William Byron penalty reversal
When NASCAR fined William Byron $50,000 and docked the Hendrick Motorsports driver 25 points — dropping him below the Round of 8 cutline — for wrecking Denny Hamlin under caution at Texas, Hamlin felt like the penalty was in order.
NASCAR changed course following Hendrick Motorsports' appeal, however, increasing the fine to $100,000 but eliminating the points penalty altogether.
Naturally, Hamlin found the amended ruling from the three-member National Motorsports Appeals Panel a bit curious since raising the fine but doing away with the points penalty on Byron seemed to be sending a mixed message.
"It was fortunate for him — unfortunate for me," Hamlin said at Charlotte.
Does Hamlin believe NASCAR made the right decision in this instance?
"NASCAR made their decision, and it's just three guys [on the appeals panel] that said that it was different. It was interesting that they raised the fine but [gave] the points [back]. Super-interesting, for sure."
Denny Hamlin admits his team was clearly in the wrong at Pocono
After NASCAR disqualified race winner Denny Hamlin and second-place finisher Kyle Busch for flunking post-race inspection at Pocono in July, Hamlin initially expressed frustration over the decision — which NASCAR made because of two illegal pieces of clear tape on the front of both Joe Gibbs Racing Toyotas.
Now more than two months removed from the situation, however, Hamlin admits his team did something blatantly against the rules. The tape — which likely gave the JGR cars a slight aerodynamic advantage — had been strategically placed under the wrap on the front of the cars, out of plain view. The wrap typically includes the sponsor logos and paint scheme.
"When we got busted at Pocono, we were transparent because it was so obvious like, 'What are we doing here?'" Hamlin said over the weekend at Charlotte. "When the wrap pulls back and the crew chief says, 'What the hell's that?' there's a problem."
Denny Hamlin doesn't believe being a team owner gives him special insight into NASCAR's safety efforts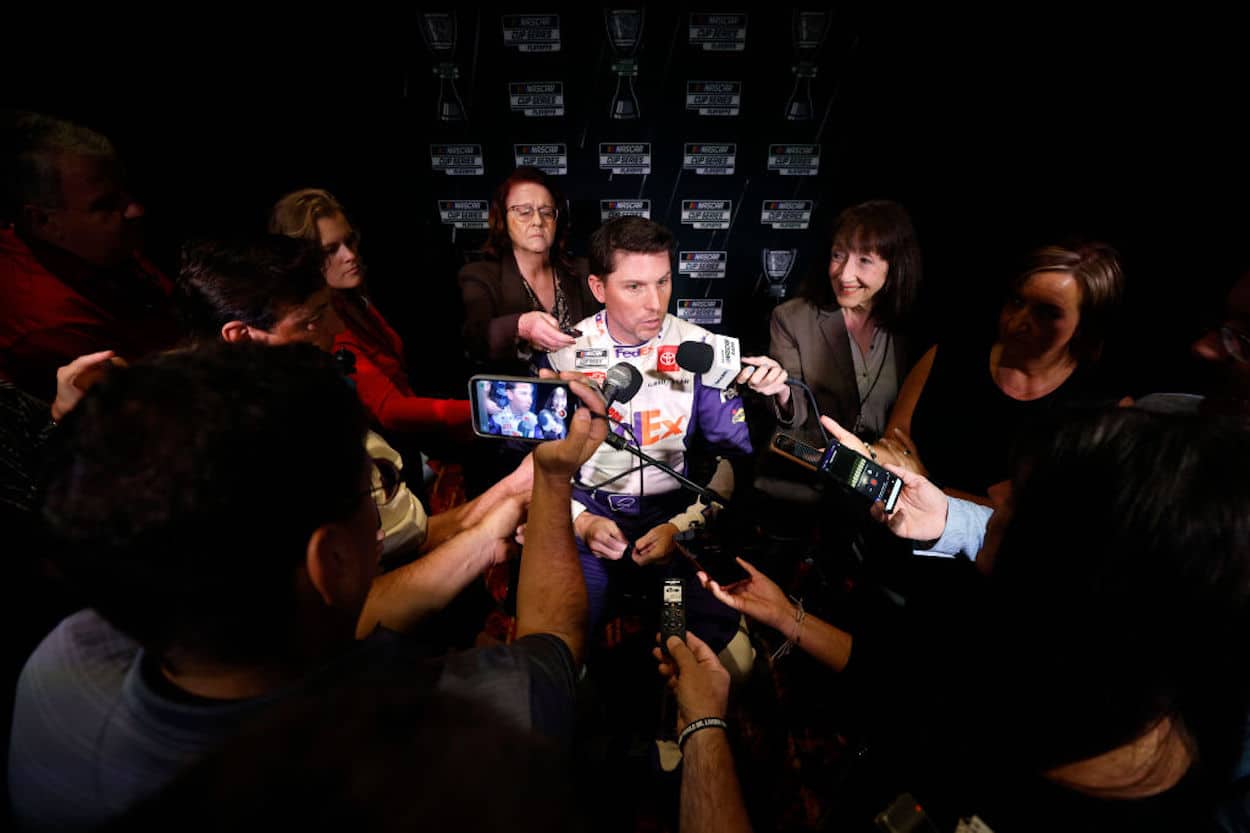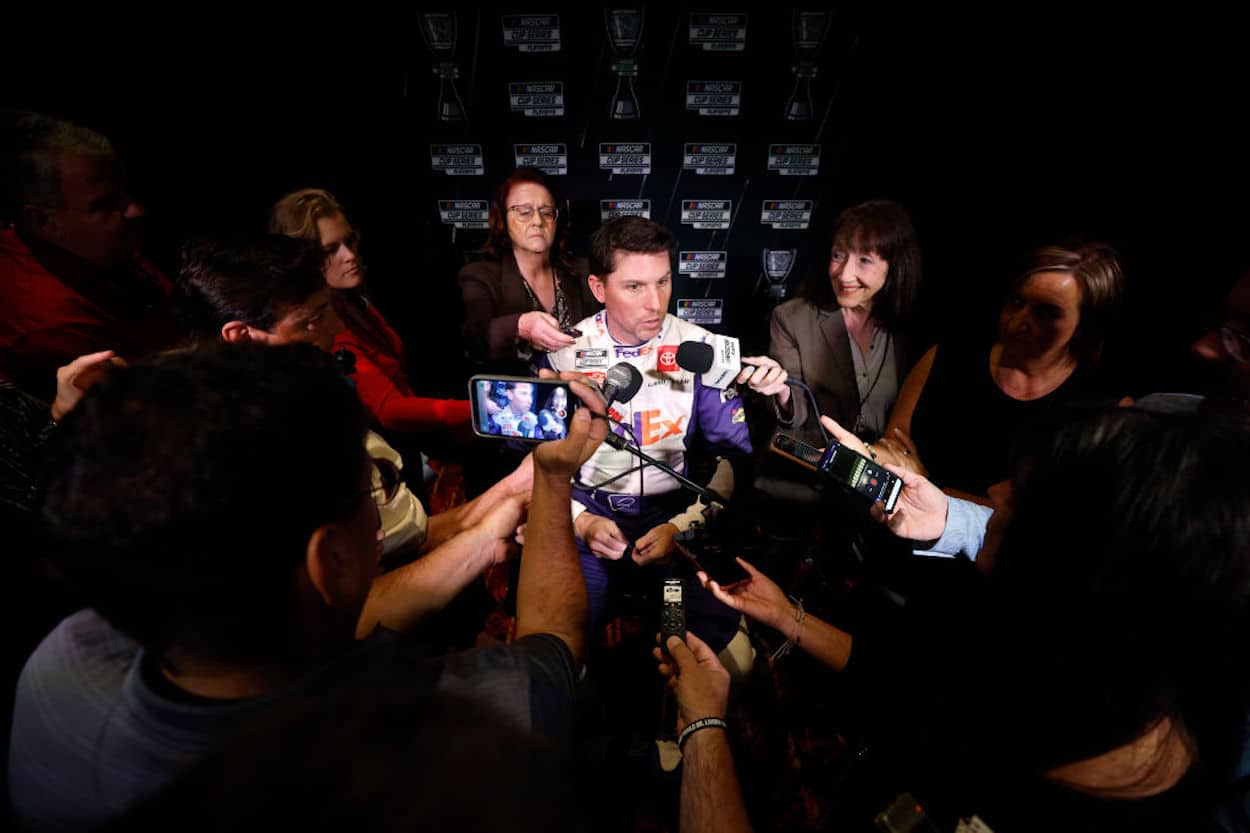 Two weekends ago at Talladega, Brad Keselowski — a driver and co-owner for Roush Fenway Keselowski Racing — said he believes that being a team owner gives him insight into NASCAR's safety efforts that he wouldn't otherwise have.
"I'm sure it affects my view, absolutely, in the sense that I get to sit in meetings I didn't sit in before, where I have a better context of things that are happening," Keselowski said. "There's more transparency for sure, being in that spot."
Asked by Sportscasting.com at Charlotte Motor Speedway if he felt like being a team owner likewise gave him access to inside info, of sorts, Denny Hamlin acknowledged being aware of some information faster than he would be if he was just a driver.
"I see the emails when John Probst [NASCAR's senior vice president of racing innovation] sends out an update for something for the safety — or just a competition update," Hamlin said. "I see it right away, because it goes right to us. You know about it a little sooner. Certainly as just a driver, I wasn't privy to all that small, tiny information. I don't ask for it, but I do see it."
Does Hamlin find this info a bit comforting or reassuring, perhaps?
"No," he said. "I'm not saying it's not comforting; I'm just saying there's nothing that jumps off the page to say, 'Oh wow, that's a game changer.' Hopefully, we've got some game changers coming in the future."