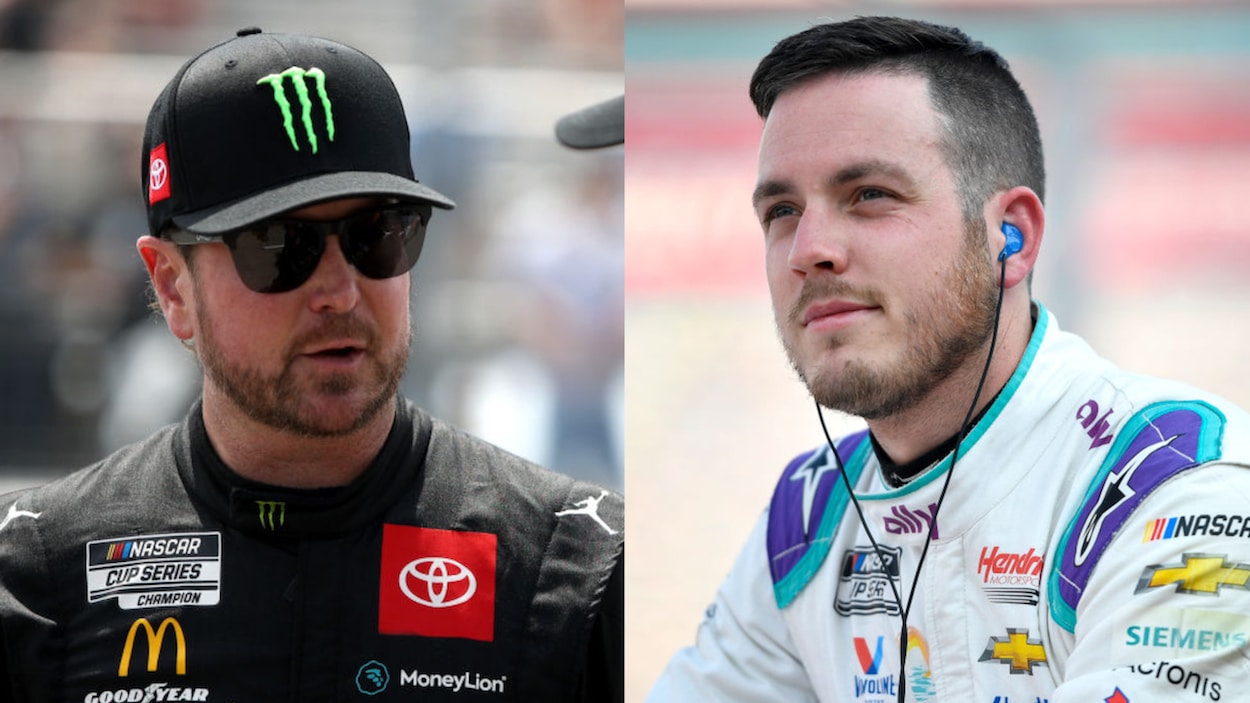 A Rushed Return by Kurt Busch or Alex Bowman Could Prove Catastrophic — and Simply Isn't Worth It
As much as NASCAR fans might want to see Kurt Busch or Alex Bowman back behind the wheel, some things are more important than racing.
One is a NASCAR Cup Series veteran of more than 20 years, inching ever closer to retirement. The other is a 29-year-old hot shoe whose best days in the sport are hopefully still ahead.
What do Kurt Busch and Alex Bowman have in common? These days, a whole lot. And you can believe — in this case — they'd rather not.
Busch has missed the last 11 races, sidelined with a concussion he suffered in a qualifying crash at Pocono on July 23. Bowman has been on the proverbial bench since last Sunday's race at Talladega — and will remain sidelined this weekend at Charlotte — after experiencing concussion-like symptoms from a wreck at Texas on September 25.
While both drivers understandably wish they could be competing for a championship right now after earning a berth in the playoffs by virtue of winning in the regular season, the risk of doing so quite simply outweighs any potential reward.
Kurt Busch has come too far to jeopardize everything for nothing
After Kurt Busch captured a playoff-clinching win at Kansas Speedway in mid-May, all seemed right in the 2004 Cup Series champion's world.
In his first season with the second-year 23XI Racing organization co-founded and co-owned by Denny Hamlin and NBA legend Michael Jordan, Busch needed just 13 races to find his way to Victory Lane and deliver the young organization's first triumph in a non-rain-shortened event.
Then came qualifying at Pocono when Busch's No. 45 Toyota spun around and backed into the outside wall at roughly 130 mph. Although the wreck didn't look particularly frightening, it was obvious that Busch had a problem when his team announced on Sunday morning that he hadn't received medical clearance to compete and would be replaced in the race by 19-year-old NASCAR Xfinity Series driver Ty Gibbs.
Busch has been visible since then — tweeting messages in support of his team and even making an appearance at a media event on September 27 at Charlotte Motor Speedway — but it's obvious he's not physically ready to come back. Nor should he.
However, Busch left the door open to returning this season when he spoke with reporters at CMS. My only question: For what exactly?
Sure, no one likes not being able to do their job, and Busch obviously has sponsors and fans and a team he cares about deeply. But the best thing he can do for everyone, especially himself, is to take the offseason to fully recover.
Busch admitted at Charlotte that his vision in one eye is still not 100 percent, which, of course, is a sign of a concussion that's not fully healed. Trying to compete in one of the season's last four races (Busch won't race this weekend on the Charlotte ROVAL) would be one of the worst decisions of his life.
Even if he won another race before the end of the season, he's already out of championship contention, and he's not going to improve his position in the standings. Sure, he'd get a big trophy, but he's already got 34 of those at the Cup level — plus one for his 2004 championship. And, of course, Busch doesn't need the money, either.
Is one or two trophies at the most, and a little extra jingle in his pocket, worth potentially jeopardizing his health forever? Hardly. Busch isn't married and doesn't have children, so there's no family to really consider here (other than perhaps his superstar younger brother, Kyle), but let's hope common sense prevails if he's medically cleared anytime soon.
How tragic would it be if Busch ended up suffering a permanent injury — or worse yet, dying — in a crash with no more than one or two years left in his career? 
Even if the 44-year-old was still championship eligible and one of the final races of 2022 was the Daytona 500, he'd still be better off staying home and fully recouping — regardless of whether he gets medically cleared to race in the season's final month.
Here's the reality: Busch has so much more to lose than he has to gain by getting back behind the wheel in 2022. Let's hope he comes to this realization in the event he gets the green light to race in the next two or three weeks.
Alex Bowman has too much career ahead of him to rush his return
Alex Bowman's health situation is far murkier than Kurt Busch's. This weekend will mark just the second race the Hendrick Motorsports driver has missed since his No. 48 Chevrolet appeared — at least from the outside of the car — to hit the wall in an extremely innocuous fashion at Texas.
However, Bowman's in-car camera and radio transmission in the moments during and after his wreck reveal a much different story. Not only did Bowman's head snap backward at the point of contact with the wall, but his comments to his team just seconds later were even more revealing.
"Done," Bowman radioed to crew chief Greg Ives. "I can't drive the rest of the day." Bowman then went on to describe the nature of the impact he felt from the driver's seat. "I don't understand how this [car] is still rolling," he said. "That's the hardest I've crashed anything in my entire life."
Although Bowman's wreck wasn't what most observers would consider violent, it bore a striking resemblance to Busch's crash in that both drivers backed into the wall at a fairly high rate of speed.
It's unlikely a coincidence that Busch and Bowman had basically the same initial outcome in accidents that looked so similar. And this is one of the reasons NASCAR conducted a crash test earlier this week on the rear bumper structure of the Next Generation Cup Series car that debuted this year and has been such a target of criticism from drivers in recent weeks.
Help seems to be on the way, but it likely won't arrive until next year's Daytona 500, when NASCAR has had the offseason to make some adjustments to the design of the car. In the meantime, Bowman — the driver NASCAR Hall of Fame team owner Rick Hendrick handpicked to replace Dale Earnhardt Jr. upon Earnhardt's retirement at the end of 2017 — needs to avoid any unnecessary risks, at all costs.
He's in the prime of his career, having entered 2022 on the heels of a career-high four-win season. Hopefully, he won't push his luck and try to race again this year, come whatever may.
Because, like Busch, there's relatively nothing good that could come from it — but there's an awful lot of bad.
"We'll do exactly what [the doctors] tell us to do," Hendrick Motorsports president and general manager Jeff Andrews said in a recorded interview with reporters last weekend at Talladega. "He's got a long career ahead of him, and we want to do the right things to make sure that's a long career, not only with us, but a safe career for him as well."
Like Busch, Bowman surely knows that playing it safe is best. But he's a racer, and racers want to race. Injured or not. Here's hoping his heart doesn't get in the way of his head — literally or figuratively speaking.
Like Sportscasting on Facebook. Follow us on Twitter @sportscasting19 and subscribe to our YouTube channel.