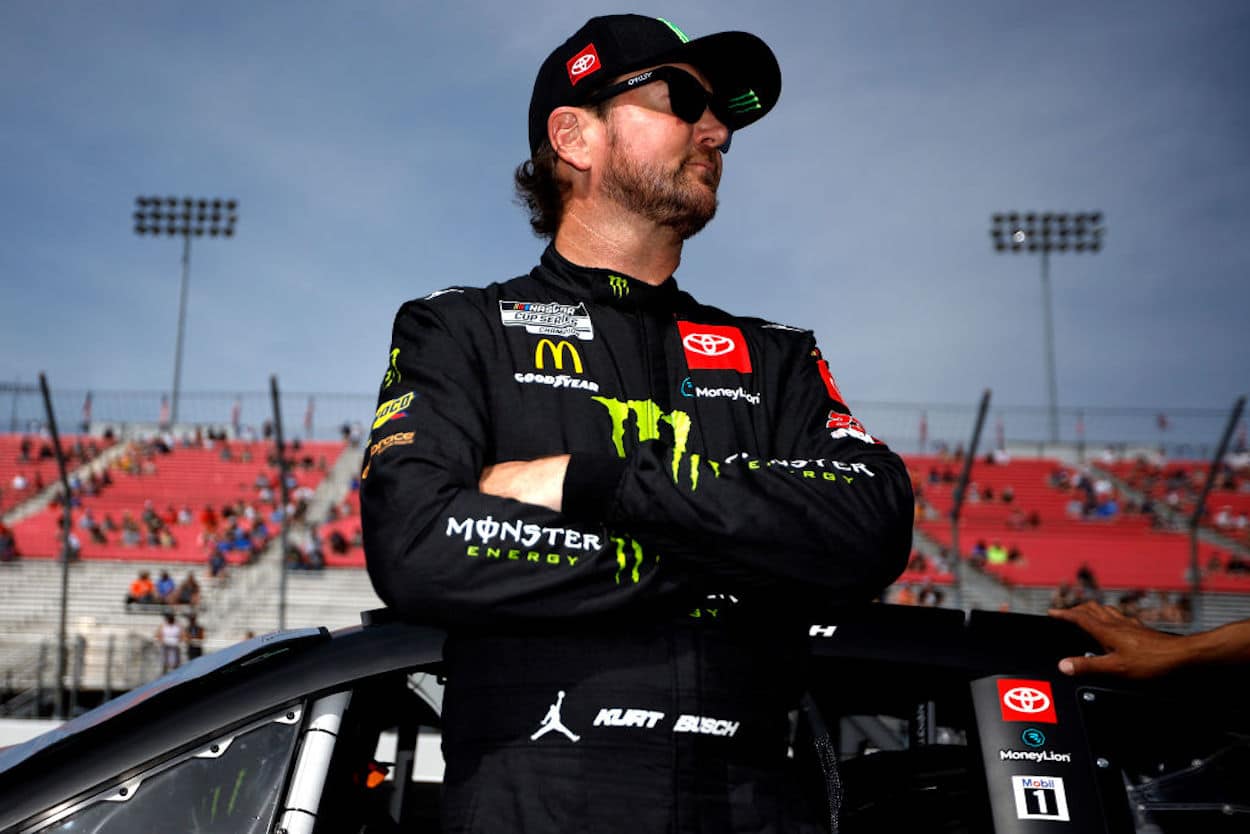 4 Cup Series Drivers Whose Plans for 2023 Remain in Limbo — And Where They Might Land
What does the future hold for Kurt Busch and some of his NASCAR Cup Series peers? Let's take a look into the crystal ball.
The biggest question of the 2022-2023 NASCAR Cup Series Silly Season was answered a couple of weeks ago when Kyle Busch announced he's leaving Joe Gibbs Racing and joining Richard Childress Racing next year.
But despite Busch's destination being finally settled, the 2023 Cup Series grid is far from set in stone. In fact, at least four current Cup drivers still don't know what their future holds.
Let's take a look at who those drivers are and where they might land.
Tyler Reddick
Kyle Busch's move to Richard Childress Racing had a direct impact on Tyler Reddick's plans for 2023 because Busch is taking over the No. 8 car that Reddick currently drives.
While team owner Richard Childress said on the day of the Busch-to-RCR announcement that the organization will field a third car for Reddick next season, many around the sport believe that's not actually going to happen. One reason is because Reddick is a lame-duck driver after announcing in mid-July his intentions to leave RCR for 23XI Racing in 2024.
In addition, Childress has made it well known since Reddick revealed his plans that he was none too pleased with the timing of Reddick's announcement — which happened roughly an hour after the driver informed his six-time Cup Series champion team owner boss that he would be moving on.
There's also the economics involved with starting a third team. As the situation presently stands, RCR doesn't have a primary sponsor, a charter, or crew members for a third car. Lining all of these up will require a major financial commitment on the part of RCR — which has led many to wonder if Childress actually intends to follow through and field another car.
But even if he does and Reddick remains with the organization for another season, the driver will undoubtedly continue to be in a less-than-comfortable situation, given all the dynamics in play. A potential alternative landing spot for Reddick next season is 23XI — his future home. But whether that happens hinges largely on the status of Kurt Busch, who's the driver we will look at next.
Kurt Busch
Sidelined since late July because of a concussion suffered in a crash at Pocono Raceway, Kurt Busch doesn't know when or if he will be medically cleared to race again.
The uncertainty of his status leaves a big question mark hanging over 23XI Racing, which has re-signed Bubba Wallace for next season but doesn't have a definite plan for its other car. Denny Hamlin, who co-owns the second-year organization with NBA legend Michael Jordan, has stated in no uncertain terms that Busch will be back in his No. 45 Toyota if he can compete and still wants to get behind the wheel.
But if Busch doesn't check either of those two boxes, he'll likely call it good on a lengthy Cup Series career highlighted by the 2004 championship, a win in the 2017 Daytona 500, and 34 total victories. Busch stepping away from the driver's seat would likely mean the beginning of a new management role for him at 23XI — which Hamlin has said will be Busch's if he wants it — and allow Tyler Reddick to join the organization a year early.
For now, though, Busch is not coming to the race track but supporting 23XI from afar as Wallace — who won a couple of weekends ago at Kansas — drives his No. 45 car through at least the rest of the season.
Ty Dillon
Following a one-year hiatus from NASCAR's premier division, Ty Dillon returned to the Cup Series this season with Petty GMS. But unfortunately for the youngest grandson of Richard Childress, his stay with the team will be short-lived.
The organization and Dillon announced in mid-July that they would part ways at season's end, and Petty GMS revealed shortly thereafter that Dillon's replacement in the No. 42 car will be Noah Gragson.
If you read between the lines, it's pretty obvious that Petty GMS decided to let Dillon go to open up a seat for Gragson — who is enjoying his best season ever with JR Motorsports in the NASCAR Xfinity Series.
What all this means for Dillon's future remains to be seen. In 195 Cup Series starts, the Lewisville, North Carolina native and younger brother of Cup Series driver Austin Dillon has just seven top-10 finishes, which include two top-fives but no wins.
Prior to going full-time Cup Series racing in 2017 with Germain Racing, Dillon enjoyed a fair amount of success driving for his grandfather in both the NASCAR Xfinity Series and NASCAR Camping World Truck Series. Is a return to the Xfinity Series — possibly with his grandfather's company — an option for Dillon if he can't find a Cup Series ride for 2023? Or might he potentially dabble in all three national series as he did in 2021?

Stay tuned.
Harrison Burton
A rookie driver for the fabled Wood Brothers Racing, Harrison Burton has struggled for most of the 2022 season to establish his footing in NASCAR's premier series.
Whether it be a result of subpar equipment, lack of seat time at the Cup level, plain ole rotten racing luck, or a combination of all three, Burton hasn't accomplished what he set out to achieve. And as a result, his status for 2023 remains in question with seven races to go in his first Cup season.
"It's all up in the air at the moment," the son of 21-time Cup Series race winner turned NASCAR on NBC announcer Jeff Burton said on a Zoom call with reporters in mid-August. "I feel like we're at a good point right now, and there's a lot of faith in me within the group and in the Wood family. I've felt nothing but support from them. … I don't have anything to announce yet, but if I could run the rest of my career in the Wood Brothers 21 car, I would be pretty happy. It's an amazing team to drive for, and I hope we can continue for sure."
Over a month has passed since Burton made that statement, and there's been no news yet on whether he'll be back in the Wood Brothers' iconic No. 21 car next season. If Burton doesn't return, it's likely he would look for an opportunity in the Xfinity Series, where he competed full-time in both 2020 and 2021 and has recorded four wins in 75 career starts.
Like Sportscasting on Facebook. Follow us on Twitter @sportscasting19 and subscribe to our YouTube channel.