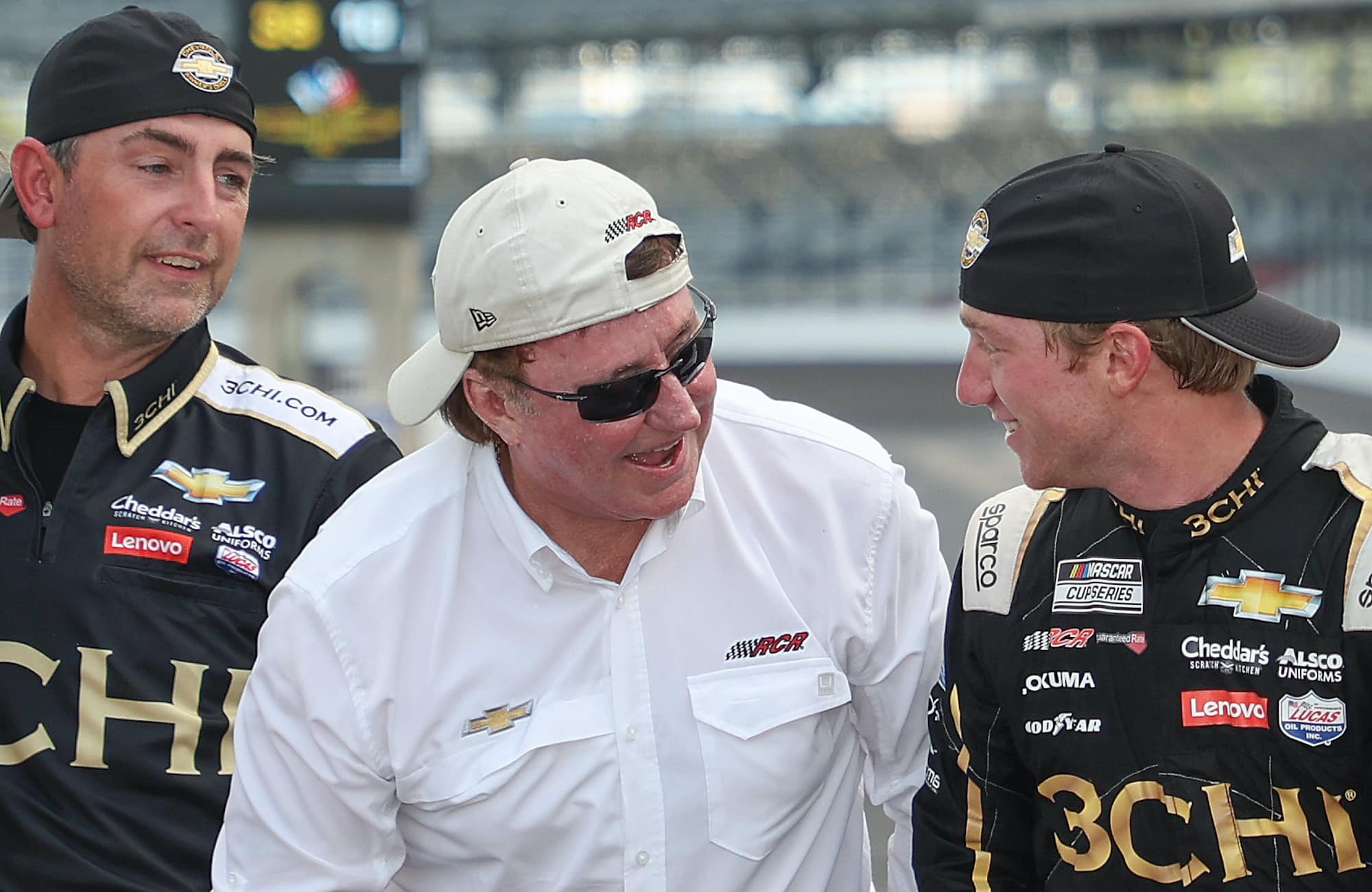 Richard Childress 'Furious' and Doesn't Want Tyler Reddick Back in 2023, According to Latest Report
The Tyler Reddick move to 23XI Racing in 2024 still has team owner Richard Childress "furious" and, according to the latest report, the driver's future at RCR in 2023 is still a question mark.
Since Tyler Reddick announced just over a month ago that he was departing Richard Childress Racing for 23XI Racing in 2024, the snubbed team owner hasn't attempted to hide his disdain for the situation. According to a new report, the feelings of the NASCAR Hall of Famer have not changed, and he's even acknowledged that he doesn't want the driver back in 2023 as he's publicly admitted.
Richard Childress believed Tyler Reddick was 'unprofessional' in announcement
When Tyler Reddick joined 23XI Racing co-owner Denny Hamlin in mid-July to announce that he was moving to a new team in 2024, Richard Childress was understandably unhappy. However, the veteran owner said he wasn't upset by the business decision as much as he was by how it all went down.
"The biggest surprise was when he came to us less than one hour before the announcement. I don't think it showed any respect for his race team or everyone who got him where he is," Childress told Fox' Bob Pockrass. "Less than one hour before the announcement? A lot of stuff swirls around an 18-month announcement.
"The biggest thing is you should come to me respectfully and say, 'Hey, I've signed, I want to do something, how do you think we should make a joint announcement?' None of that happened. I'm not upset he's going wherever he's going. But the way it was handled was very unprofessional."
Childress voices frustration after Reddick wins at Indy
A few days after that Childress interview, Reddick won at Indianapolis for his second win of the year. The driver celebrated with his pit crew and received congratulations from Childress. It was later revealed that was the first communication between the pair since the announcement. 
NBC's Parker Kligerman interviewed the owner after the race and asked about his relationship with Reddick.  
"I worked with Kevin Harvick through his whole deal, and we made a joint announcement," Childress said. "He won four races that year and we almost won the championship. This one didn't happen like that." 
"What will you say to him in Victory Lane?" the driver-reporter asked. 
"I congratulated him out there," he said. "I congratulated the whole team. The whole team did a great job."
Remains furious and doesn't want driver back in 2023
Any discussion of the topic has been relatively quiet since Indy. That is until this week when, according to a report in Autoweek, Childress remains extremely unhappy about the situation. 
According to the publication, an anonymous insider at RCR revealed that the owner is "furious" Reddick will be leaving in 2024. When asked if Childress didn't want the two-time winner to return next season, the insider nodded affirmatively.  
If true, it's a departure from what Childress told Pockrass in July. 
"I have a contract with him in 2023. He'll be at RCR in 2023," the owner said. However, the owner also hedged on his commitment. "Next year is a long time off. I committed to his team to give them everything they needed to win the championship and to go out in 2023 and give them everything they need to win the championship. I've committed that to our race team."
Whether Tyler Reddick is a part of those plans remains to be seen. If the latest report is any indication, don't count on it because it sounds like Childress wants to move on as soon as possible and put this unpleasant chapter behind him and the team.
Like Sportscasting on Facebook. Follow us on Twitter @sportscasting19 and subscribe to our YouTube channel.