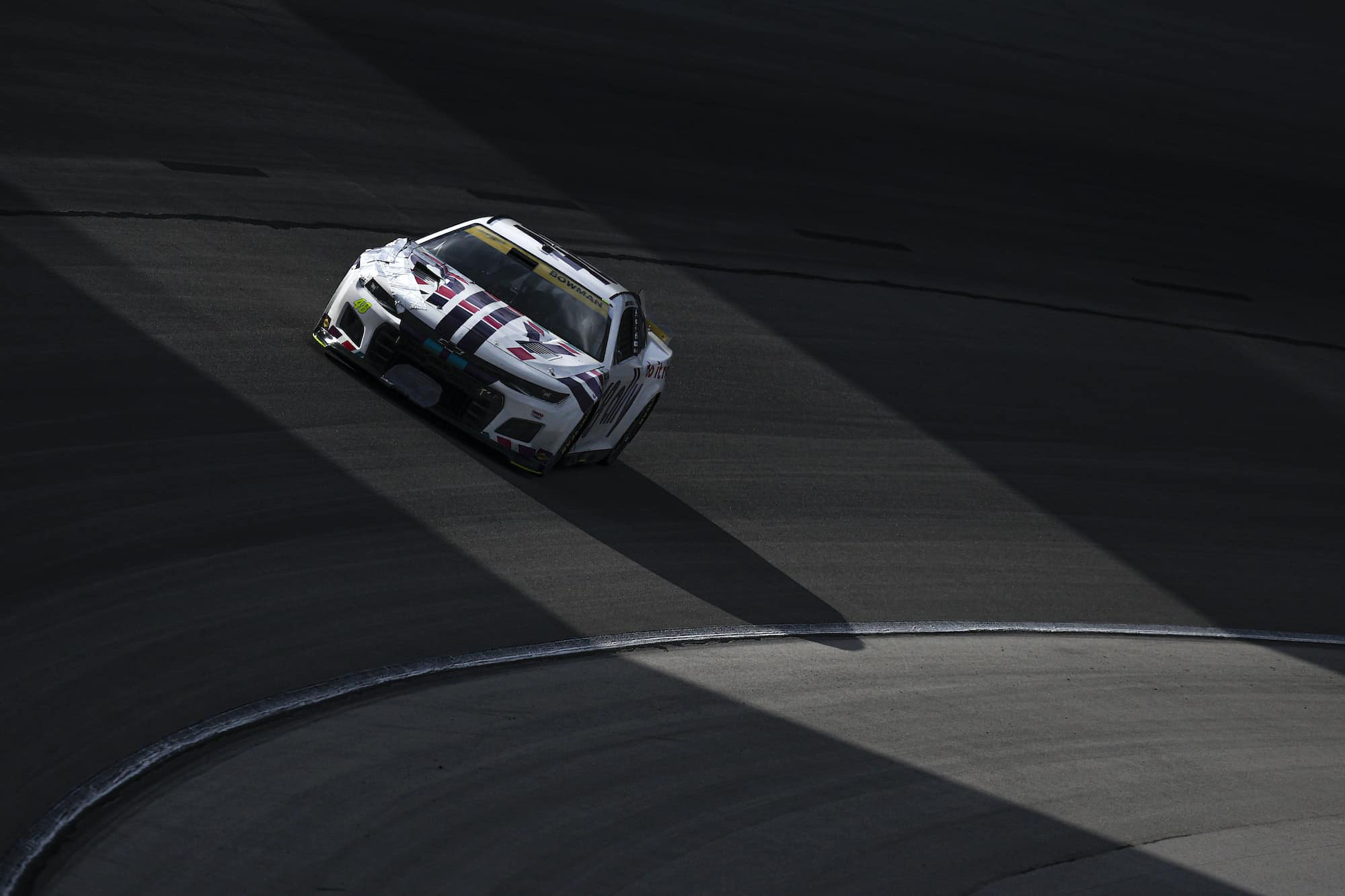 Alex Bowman Radio Communication After Texas Crash Revealed How Bad His Hit Was Long Before Doctors Ever Did and It Was Made Public
Alex Bowman communicated over his team radio just seconds after his crash at Texas how bad his hit was well before doctors confirmed it.
The news late Thursday afternoon that Alex Bowman will miss Sunday's Round of 12 playoff race at Talladega sent a shock wave through the garage. Another injured driver sitting out due to a concussion. All because of a car that the drivers have consistently said throughout the year is too stiff and results in the drivers absorbing much of the energy at impact.    
While the Hendrick Motorsports driver's condition was somewhat of a surprise when it was announced, it shouldn't have been. The communication from the driver on his team radio immediately after impact at Texas said it all. And unfortunately, it was an all too familiar sound.   
Alex Bowman out due to concussion
The 2022 Cup Series season has been a tale of two seasons for Alex Bowman. In the first 15 races of the year, the HMS driver recorded nine top-10 finishes, including a win at Las Vegas that locked him into the playoffs. 
The 29-year-old has hardly looked like a playoff driver in the last 15 races, scoring just three top 10s and, more shockingly, five DNFs, his most recent coming in the Bristol night race, where he finished 32nd. 
Last week at Texas Motor Speedway, Bowman's late-season struggles continued, as he finished 29th. He was one of the first drivers to experience tire issues and, on lap 98, blew a tire, lost control, and backed into the outside wall coming out of Turn 4 on the 1.5-mile track. 
His team repaired the No. 48 car, and he returned to the track and completed the race, finishing five laps down. 
Bowman reveals intensity of impact over team radio
The fact that Bowman finished the race is both remarkable and frightening, especially after you listen to what he said over the team radio just seconds after hitting the wall. 
"Done. I can't drive the rest of the day," Bowman said, feeling the effects of the impact. "I don't understand how this thing's still rolling. That's the hardest I've crashed anything in my entire life." 
Other drivers have said similar things
Bowman's remarks, while alarming, unfortunately, aren't anything new. Numerous drivers have made similar comments following crashes this year in the Gen 7 car. 
"All good. That was the hardest hit I've had," Bubba Wallace told Fox's Bob Pockrass after a last-lap crash during the season's first race at Atlanta. "I think that was harder than Pocono."
"It's been a pretty sore week," Joey Logano said a few days after slamming into the outside wall at Charlotte in the Coca-Cola 600. "I'm not moving as fast I typically do but it seems like I can still drive the car fast, at least in practice. So that part's good. These cars, they hit harder than ever. They hit really, really hard. They're solid. Yeah. It hurts." 
Kevin Harvick has been one of the most vocal on the impacts, and offered a detailed description of what it feels like a day before he ended his 65-race winless streak at Michigan.
"It's never the first line item on the to-do list. I can tell you from a driver, every time I hit something, it's a lot harsher than any hit I took in any of the other cars," Harvick admitted. "The only thing I can compare it to is hitting a concrete wall compared to what it used to be. That's the issue. 
"It's not you look at the cars, and you're like, 'Oh man, they look great.' That's the problem. Nothing flew off of it, right? That's the problem, and all of that energy is absorbed through you. So it feels like you get hit by the hammer, and the car survives but is that really what you want? The cars are all together. That looks great, but it doesn't feel great."
Harvick's comments align perfectly with Bowman's after Texas. The HMS driver was completely shocked that the car was still rolling after his hit. It was rolling so well that he drove it another 231 laps. And that is precisely the problem.
Like Sportscasting on Facebook. Follow us on Twitter @sportscasting19 and subscribe to our YouTube channel.