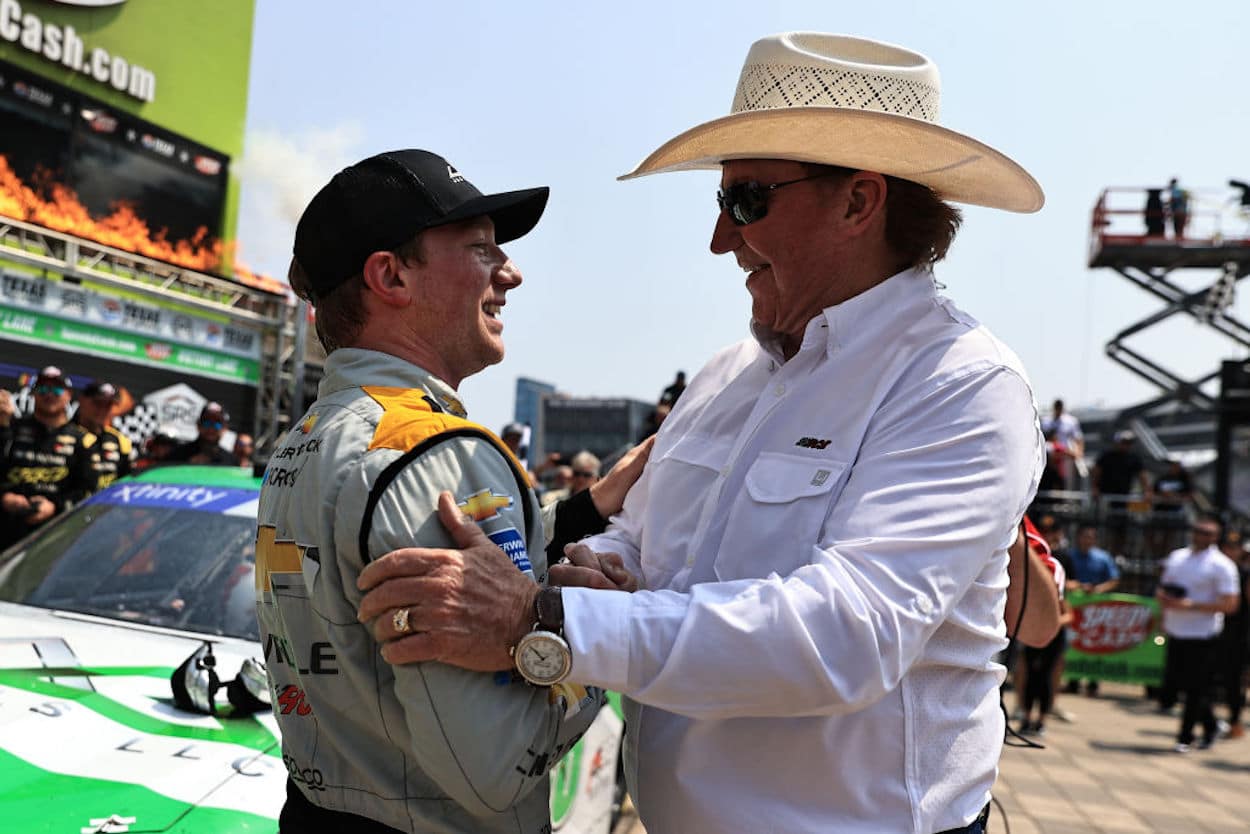 RCR Was 100% Wrong: The Timing of Tyler Reddick's Announcement He Was Leaving Couldn't Have Been Any Better
The saying "all's well that ends well" can certainly apply to NASCAR's Tyler Reddick/Richard Childress Racing saga.
There's an old adage that goes like this: "All's well that ends well." In other words, even if a situation is a bit bumpy at first, the bumps are worth it if a favorable outcome is the final result. So it is with the Richard Childress Racing/Tyler Reddick saga that's been one of the biggest stories of the 2022-2023 NASCAR Cup Series "Silly Season."
Largely overshadowed by last weekend's announcement from Kurt Busch at Las Vegas Motor Speedway that his days as a full-time driver have ended was the fact that Busch's semi-retirement opens the door for Tyler Reddick to take over his 23XI Racing Toyota beginning next season — a year ahead of schedule. But we'll get into how all this came to be.
For now, though, let's just say that what initially appeared to be a major blow to RCR — that is, Reddick abruptly deciding to leave — ultimately worked out in the organization's best interests. And we'll explain why in a minute.
Tyler Reddick's decision to leave RCR understandably didn't sit well with Richard Childress
July 12, 2022 will go down as one of the most consequential days in the history of Richard Childress Racing. Just over a week earlier, RCR had picked up the option on Reddick's contract for 2023 — and it appeared that a long-term extension might be just around the corner.
Reddick and his No. 8 team were also running well — really well, in fact — and had just recently scored their first victory together when July 12 rolled around. It was on that day, out of nowhere, that Reddick informed his boss and team owner Richard Childress of his plans to leave the organization at the end of the 2023 season to take a ride at Michael Jordan and Denny Hamlin co-owned 23XI Racing.
About an hour after Reddick told Childress of his plans, the 26-year-old California native made a surprise appearance on a Zoom call with Hamlin, 23XI Racing president Steve Lauletta and Toyota Racing Development President David Wilson to publicly announce his intentions of leaving RCR at the end of 2023 and joining 23XI.
The news garnered a harsh reaction from Childress, who made his disapproval known by having RCR's social media team blast out a tweet that read as follows: "We're proud of the success Tyler Reddick has found at Richard Childress Racing. We're focused on winning a championship in 2022 and 2023, although the timing of this announcement could not be any worse."
And with that mic drop — which came within about 5 minutes of Reddick telling the media about his plans — RCR, and Childress in particular, voiced their unhappiness about the situation loud and clear.
Tyler Reddick moving away from RCR brought about an unintended consequence
While Tyler Reddick said all the right things in making his announcement — he vowed to continue competing hard for RCR through the end of his contract, etc. — it did put Richard Childress Racing in a bit of a lurch. 
Sure, RCR had a year-and-a-half to find a replacement for Reddick, as well as potential new sponsors, but finding anyone with more driving talent or potential felt like a tall order. After all, Reddick is a two-time NASCAR Xfinity Series champion who enjoyed two solid albeit winless first two seasons with RCR in NASCAR's premier series the past two years.
It was clear very early on in 2022 — which marked the debut of the Next Generation Cup Series race car — that this could be a breakout season for Reddick, who showed flashes of brilliance and tremendous speed over the season's first half. By the time early July rolled around and Reddick earned a convincing first career Cup victory on the road course at Road America, RCR and Reddick's future together had never looked more promising.
Then, less than two weeks later after that win, Reddick pulled the rug out from under RCR and declared himself a lame-duck driver. 
Was it a bitter pill for the six-time Cup Series championship-winning organization to swallow? Absolutely. Did Reddick go about his announcement the wrong way? That's debatable — although Childress clearly thought so. But like a lot of situations in life, this one had an unintended consequence. And that unintended consequence was RCR finding and hiring one of the greatest drivers in NASCAR history to replace Reddick in the No. 8 car.
Thanks to Kyle Busch — and some good timing — RCR is positioned well for the future
When Tyler Reddick decided to move on from Richard Childress Racing, Kyle Busch was still deep in negotiations with Joe Gibbs Racing about a contract for 2023 and beyond.
Busch — who has competed for JGR since 2008 and earned both of his championships and 56 of his 60 Cup wins with the organization — seemed all but destined, at least until the early part of 2022, to finish out his career with the organization owned by three-time Super Bowl-winning coach Joe Gibbs.
But JGR, much to the surprise of virtually the entire NASCAR world, was ultimately unable to find a replacement primary sponsor for the Mars, Inc. candy brand that revealed late last year that the 2022 season would be its last as Busch's main backer. Knowing that a new contract hinged on a new sponsor materializing, Busch began exploring other options before it became official he would be moving on. One of his best suitors was none other than Richard Childress Racing, the organization whose NASCAR Hall of Famer team owner notoriously punched Busch multiple times after a race back in 2011. 
But putting the past in the past, Childress presented Busch with an opportunity the veteran driver couldn't refuse — the opportunity to replace Reddick in the No. 8 car, beginning in 2023. Busch accepted, and the rest is history. In signing Busch, RCR gets not only a two-time Cup Series champion but a generational talent who has more wins across NASCAR's national series — Cup, Xfinity, and Truck — than anyone, including 200-time Cup Series winner Richard Petty.
With all due respect to Reddick, who seems to have an extremely high ceiling in the sport, he's no Kyle Busch. Neither is anyone else, for that matter. So in revealing his plans to leave RCR, Reddick actually did the organization a favor — although no one could have known it at the time. 
Had Reddick remained on board, RCR wouldn't have been able to lure Busch, even if it had tried, for two reasons. No. 1, the organization had no seat available. No. 2, even if RCR had started a new team for Busch, the two-time Cup Series champ wasn't going to drive for a brand new, completely unproven team. It just wasn't going to happen. The only way to convince Busch to join RCR was to put him in a car that's been fast all season — so fast that it's gone to Victory Lane three times with Reddick at the wheel.
But now, with Kyle's older brother Kurt moving on from his full-time ride at 23XI Racing, Reddick can move into that car a year early rather than RCR having to create a new team for him — which was supposedly the initial plan when the company announced Busch would be taking over Reddick's No. 8. So, in the end, everything worked out OK for Reddick, too. But for RCR, the timing of Reddick's announcement he was leaving couldn't have been any … better.
In NASCAR, as with life in general, all's well that ends well.
Have thoughts on this topic? Keep the conversation rolling in our comments section below.