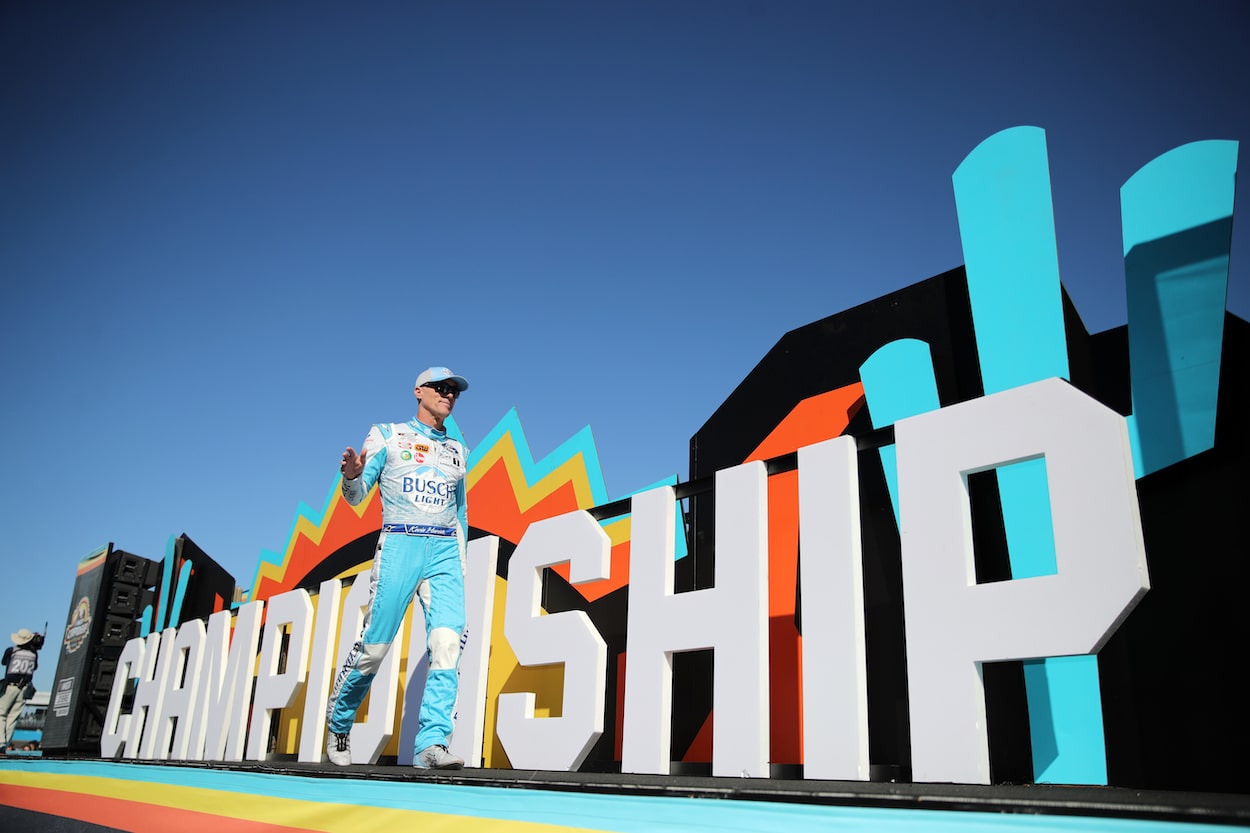 Though Kevin Harvick, Denny Hamlin, and Martin Truex Jr. Are All Inching Toward Retirement, 1 of Them Is Inching a Lot Faster
Three prominent drivers are heading toward retirement in the near future, but Kevin Harvick is likely going to get there faster.
With Kevin Harvick, Denny Hamlin, and Martin Truex Jr. all well into their 40s, it doesn't take a soothsayer to know that all three drivers' days as full-time NASCAR Cup Series competitors are numbered, especially with all three letting NASCAR know about notable gripes in recent months.
Based on the last few non-injury-related retirements, it seems that the early-to-mid-40s is the going age range for drivers to hang it up these days.
But who among the star-studded trio of Harvick, Hamlin, and Truex will be the first to call it quits? And when is it likely to happen?
It's almost certainly going to be Harvick, and it's almost guaranteed to happen in the next two or three years at the latest. Up next, we'll look at five reasons why Harvick is likely to retire before either of his similarly aging counterparts. 
1. Kevin Harvick is older than Denny Hamlin and Martin Truex Jr. and has been in the Cup Series longer
Kevin Harvick, who turned 47 on Dec. 8, is five years older than Martin Truex Jr. and Denny Hamlin, who celebrated his mid-November 42nd birthday in self-deprecating fashion.
Harvick also has five more years under his belt as a full-time Cup Series driver, which he became beginning with the second race of 2001 when Richard Childress Racing tabbed him to replace Dale Earnhardt a week after Earnhardt's death at the Daytona 500. Hamlin and Truex began full-time Cup Series racing in 2006 after making just seven starts each in 2005 to preserve their rookie status.
The mere fact that Harvick is notably older and has competed in the Cup Series notably longer makes him more likely to be the first among them to call it good on a career.
2. Kevin Harvick has already acknowledged that 2023 may be it for him
Unlike Denny Hamlin, who's expressed a desire to compete beyond 2023, Kevin Harvick has made no bones about the reality that the upcoming season could be his farewell tour. 
In fact, Harvick said as recently as the final race weekend of 2022 that he had some big decisions to make about his future and that he'd likely have some news to share by the time February's season opener at Daytona rolled around. In other words, he has been entirely noncommittal about his plans for 2024.
That's a pretty good sign that he's seriously thinking about whether he wants to continue on as the full-time driver of the No. 4 Stewart-Haas Racing Ford.
As for Martin Truex Jr., his status for 2024 is TBD, much like Harvick's.
Truex toyed with the idea of retiring after 2022 but ultimately decided to return for another year. Upon making his decision to come back, he said he didn't know what his future beyond 2023 entailed, so it's possible that he, too, might move on. But any announcement is likely to come well into the 2023 season — not at the start of the year, which is when Harvick has indicated he intends to make his plans known.
3. Kevin Harvick's performance has been in decline over the past two years
Since enjoying a magical nine-win season in 2020 that ended in disappointment when he somehow missed the Championship 4, Kevin Harvick has struggled to find his way to Victory Lane.
In 2021, he was shut out of Victory Lane altogether for the first time since 2009. This past season, he scored two wins, which came on back-to-back weekends, but he never ran up front consistently enough to be considered a serious title contender.
When Harvick was eliminated in the opening round of the playoffs, no one was too surprised.
The 2014 Cup Series champion and 60-time Cup Series race winner now has just two victories in his last 79 starts for a meager winning percentage of 2.5%. Denny Hamlin, meanwhile, won a pair of races in both 2021 and 2022 and finished ahead of Harvick in both campaigns' standings.
Martin Truex Jr. likewise has four victories over the past two seasons, finishing three positions ahead of Harvick in points during the 2021 campaign and two spots behind him in 2022. Overall, though, Truex has been better and faster than Harvick over the last two years.
With Hamlin's and Truex's performances holding somewhat steady over the last two seasons and Harvick's taking a pretty sharp decline, Hamlin and Truex likely have more competitive seasons left in them than Harvick does.
4. Kevin Harvick wants to devote time to son Keelan's racing career
Martin Truex Jr. doesn't have children, and Denny Hamlin's two children — both under the age of 10 — are unlikely to be racing anytime soon. 
Kevin Harvick has a 10-year-old son, Keelan, an aspiring NASCAR Cup Series driver who's been going strong in the karting ranks over the last few years and recently shook down a Bandolero.
Harvick is clearly involved in his son's racing career, and it's just as clear that Keelan wants to be just like his dad.
Obviously, competing in 38 races a year (if you include two non-points races) as a NASCAR Cup Series driver eats up a huge chunk of Kevin's time, and there's going to come a time when he wants to be able to provide even more of a helping hand to Keelan than he already does.
Is that time just around the corner? It's likely.
5. Kevin Harvick has business interests to which he could devote more attention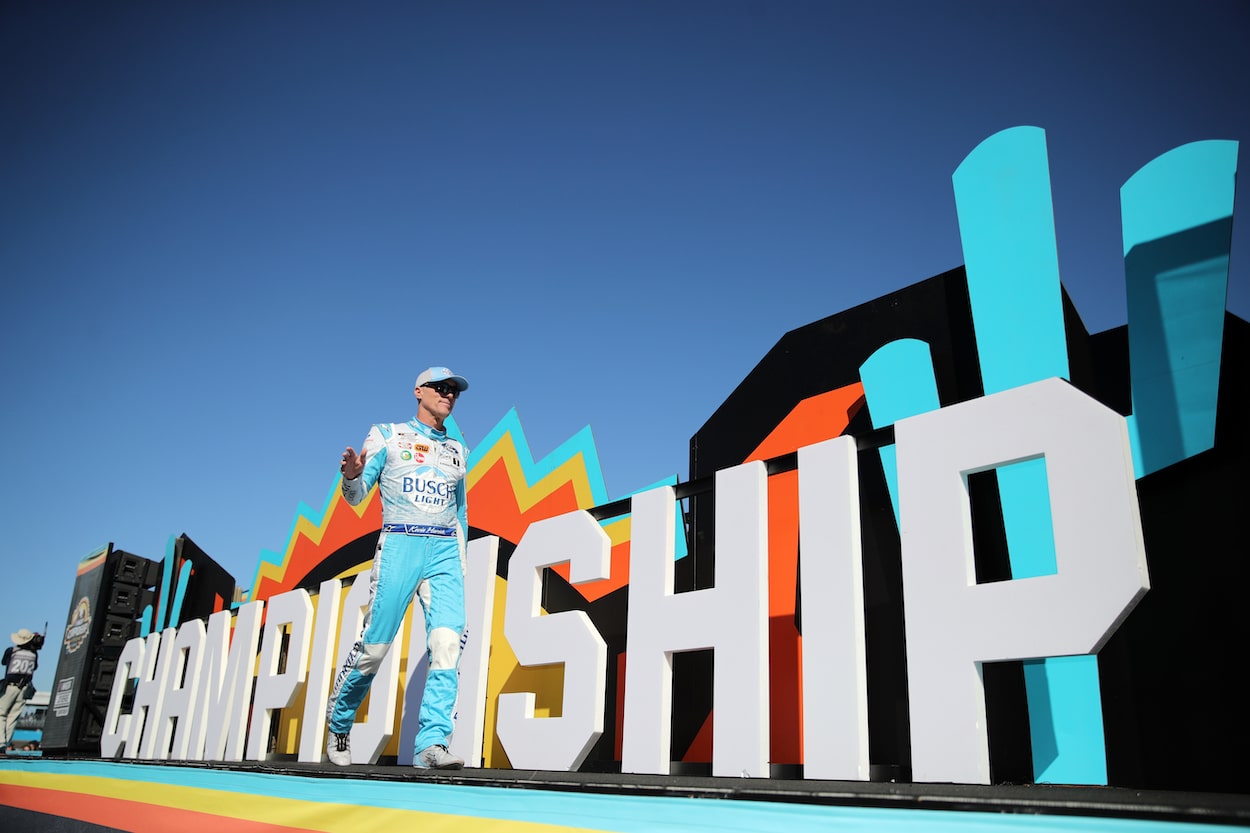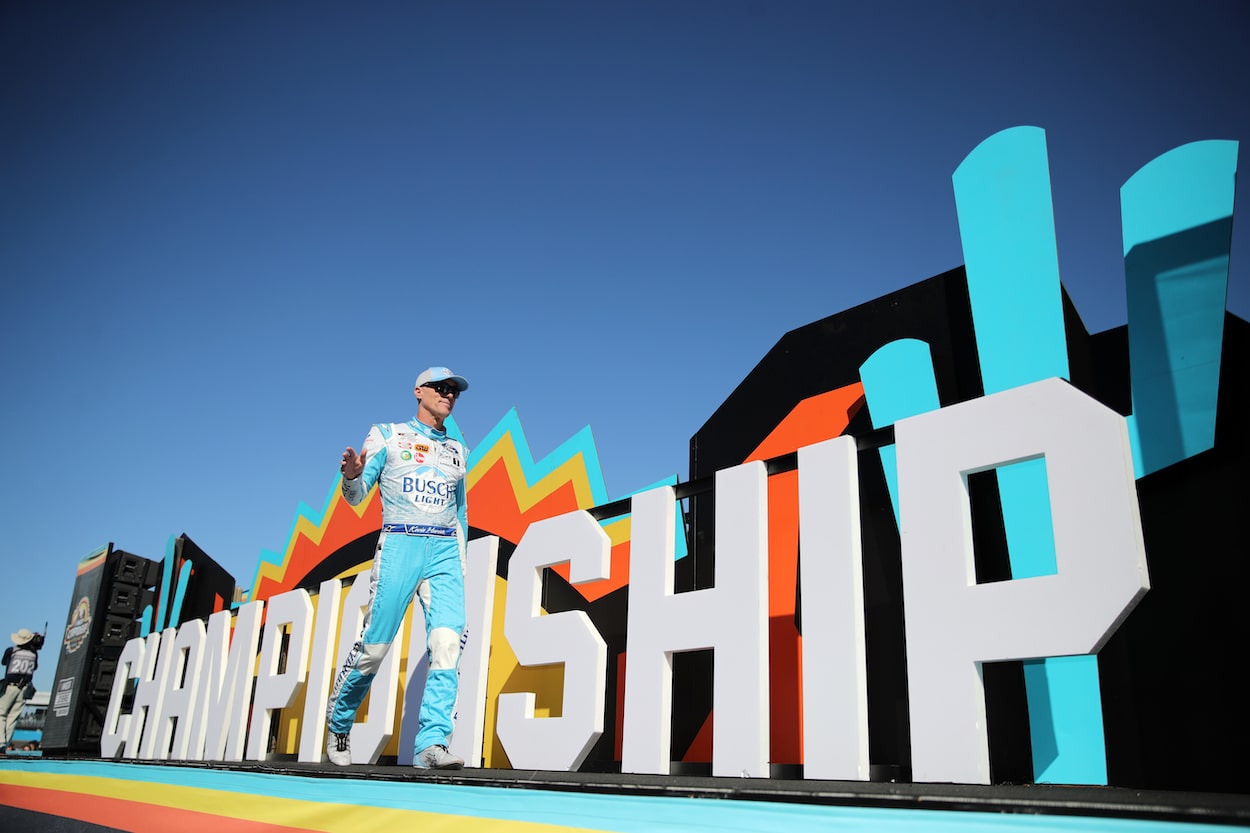 Along with being the full-time driver of Stewart-Haas Racing's No. 4 car and being son Keelan's mentor and driving coach, Kevin Harvick is the CEO of a successful business.
That business — KHI Management — is a full-service sports and celebrity marketing agency that represents some of the most successful and high-profile professionals in the sports, broadcasting, and music industries. The company's clients include the likes of NASCAR drivers Harrison Burton, Ryan Preece, Ricky Stenhouse Jr., and Riley Herbst, as well as UFC champion/professional mixed martial artist Miesha Tate.
It goes without saying that Harvick has little time to spend on the day-to-day operations of KHI Management, and it seems safe to say he'll be more involved in the company when his driving days are over.
Martin Truex Jr., on the other hand, has no comparable business interests outside of NASCAR, and Denny Hamlin's primary non-driving business interest is his role as the co-owner of 23XI Racing, a Cup Series team he heads alongside Michael Jordan. While that might sound like a lot for Hamlin to juggle, he has an arrangement with his weekend employer, Joe Gibbs Racing, that allows him to spend most of his time during the week on matters related to 23XI.
Harvick is fully committed to Stewart-Haas Racing, and driving SHR's No. 4 car will be his primary job until he decides to retire. So the idea of having more bandwidth to spend on his own business is probably pretty appealing, and it might even factor into his decision to hang it up from driving.
That's a decision that will likely come sooner rather than later — and well before Hamlin and Truex reveal their own exit plans.