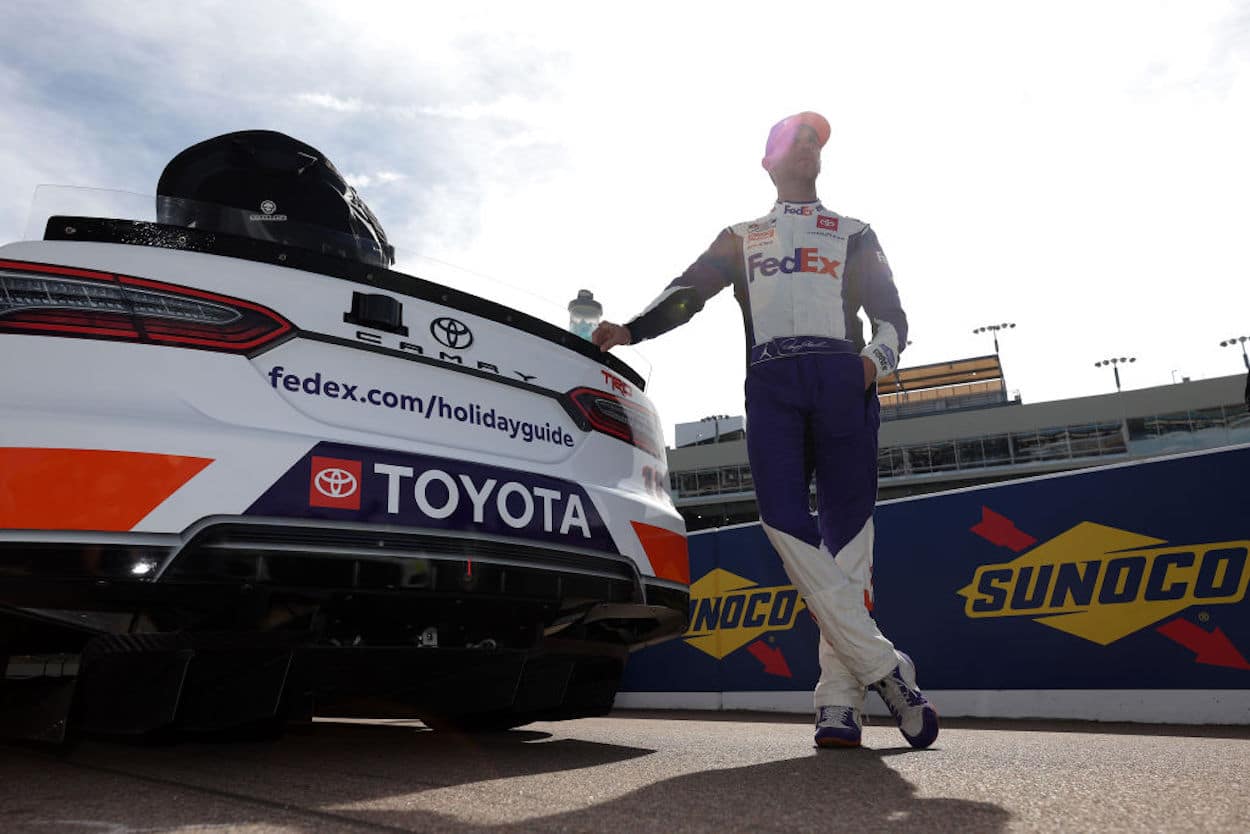 Denny Hamlin's Comical, Self-Deprecating Birthday Tweet Contains an Important Kernel of Truth
Denny Hamlin cracked a joke for his birthday, but his tweet was good for more than a laugh. There was also a larger point at play.
To celebrate his 42nd birthday on November 18, Denny Hamlin tweeted a comical message that read, "Happy birthday to me. Still assharp as ever."
Included with the tweet is a short, 15-second video clip where Hamlin mouths some words spoken by President Joe Biden during a September interview on "60 Minutes" with Scott Pelley of CBS.
"How would you say your mental focus is?" Pelley asks the then-79-year-old leader of the free world. 
"Oh, it's focused," Biden responds with a chuckle. "Look, I have trouble even mentioning, even saying to myself in my own head, the number of years."
Hamlin's tweet — which you can see below — has been retweeted more than 100 times and liked more than 2,400 times, and its self-deprecating overtones undoubtedly gave a lot of people a good laugh.
However, it also contains an important kernel of truth: At age 42, Hamlin knows his days as a driver are numbered.
So when will Hamlin hang it up from full-time NASCAR Cup Series racing? And when will several others of a similar age do the same?
Starting with Hamlin, let's consider some drivers who are likely to call it quits in the next few years, and we'll also speculate a bit on when they might actually pull the plug.
Denny Hamlin's remaining days as a driver likely hinge on his sponsor's next move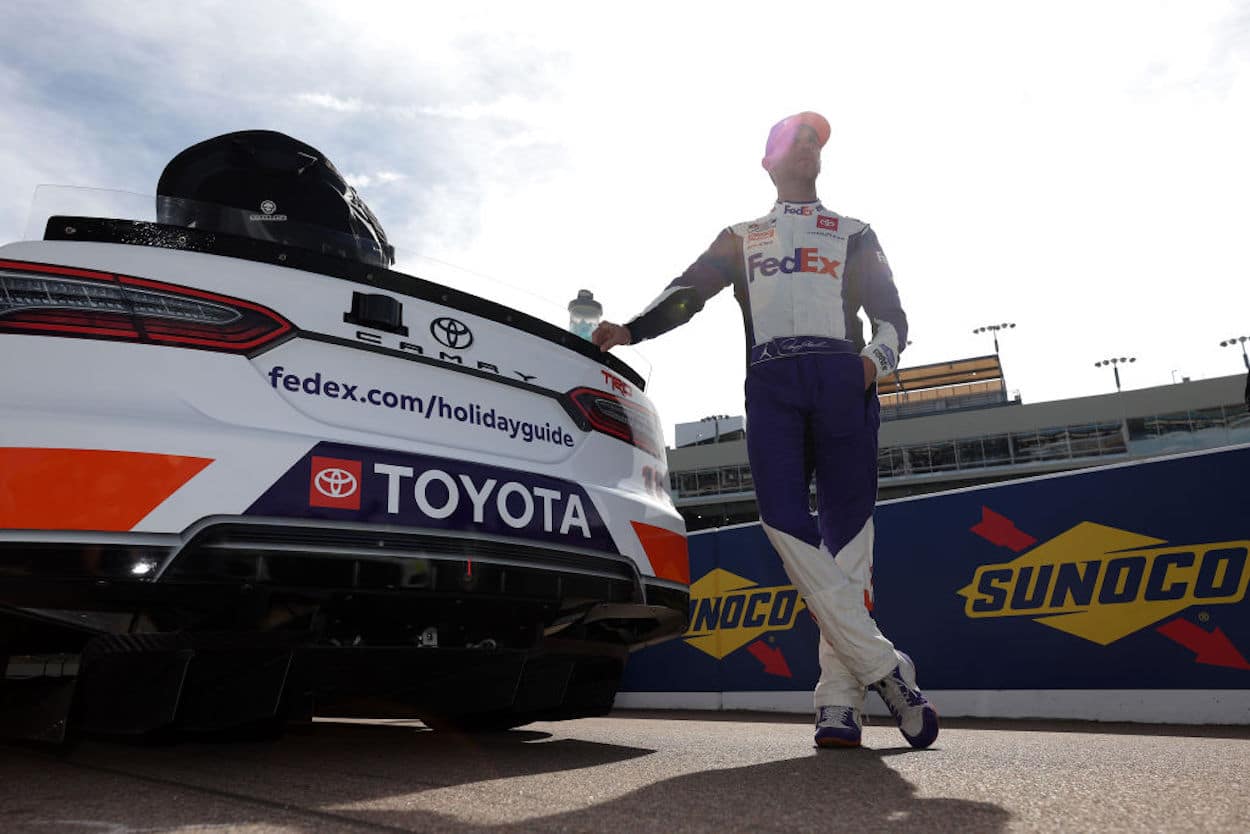 With the contract for both Denny Hamlin and FedEx — Hamlin's primary sponsor for his entire Cup Series career — set to expire at the end of 2023, next season could be it for the driver of the No. 11 Joe Gibbs Racing Toyota.
Hamlin being 42, it would make logical sense for him to wave the checkered flag on a driving career if FedEx doesn't renew — which would have huge implications for his own potential contract renewal with JGR.
Given Hamlin's role as the co-owner of another team — 23XI Racing — that shares a close technical alliance with JGR, would he ever consider driving for his own team?
"Not if FedEx extends," Hamlin told co-host Dale Earnhardt Jr. during a May recording of The Dale Jr. Download podcast. "I would like to retire at Gibbs with FedEx, because it's so unique to have a sponsor that has been part of the sport as long as they have and backed me as long as they have. There's just no way I could leave them. [If FedEx left], maybe at that point, I just run one or two races or something, but I would like to retire at Gibbs with FedEx. But if things change, things change, and then you've got to reevaluate."
So if FedEx doesn't re-up with JGR, which would likely mean Hamlin moving elsewhere in 2024, he doesn't sound all that interested in continuing to compete full-time.
"I just don't want the performance to decline where I don't think I can win every week," Hamlin said on The Download. "I don't want to get in a worse car, because it's going to expose me in a big way. I'd rather just kind of keep things as they are and when that's done, I'll be done."
Kevin Harvick hasn't made any plans to race beyond 2023
Although certainly one of the Cup Series' elder statesmen, Denny Hamlin isn't the oldest active full-time driver. That would be 2014 Cup Series champion and 60-time Cup race winner Kevin Harvick, who turns 47 on December 8.
Like Hamlin at JGR, Harvick is entering a contract year with Stewart-Haas Racing and has apparently indicated to team co-owner Gene Haas that he wants 2023 to be his final season.
Harvick was noncommittal about his plans for 2024 and beyond while holding court with reporters at Phoenix Raceway on the final race weekend of the 2022 season, however. Harvick's comment on the matter came in response to a question about whether he had any interest in sticking around for the 2024 season when he would surpass Jeff Gordon as NASCAR's "Ironman" in the season's 14th race, provided he didn't miss a race between now and then.
Would Harvick consider forgoing possible retirement to lay claim to the NASCAR Cup Series' record for consecutive starts?
"No," he said with a laugh, as captured in this video that's been preserved on YouTube. "I don't know. Everything is kind of a moving target at this point for me. I just want to have fun as we go forward and enjoy it. There's a lot to consider for 2024. I'll sit down when we get done with this week and start to worry about what all that looks like so that it doesn't put anybody in a bad spot."
Martin Truex Jr., Aric Almirola, and others are likely knocking on retirement's door
Other Cup Series drivers likely not all that far away from retirement include Martin Truex Jr., Aric Almirola, Kyle Busch, Brad Keselowski, and Michael McDowell.
Considering that the 42-year-old Truex flirted with the idea of retiring at the end of 2022 before deciding over the summer to remain the driver of Joe Gibbs Racing's No. 19 Toyota for at least one more season, it stands to reason that Truex could hang it up as soon as the end of 2023. Ditto for 38-year-old Aric Almirola, who announced before the 2022 season that he would retire at season's end but later reneged on that plan when longtime primary sponsor Smithfield expressed an interest in continuing on. Will 2023 be it for Almirola? Considering that his initial plan was to be done with full-time driving at the end of 2022, it seems fairly likely.
Now for Keselowski. The 38-year-old just wrapped up what was easily the worst season of his career, aside from his rookie campaign of 2010. Both a driver and co-owner for Roush Fenway Keselowski Racing, Keselowski might be interested in focusing exclusively on his ownership role with the company in the not-too-distant future — especially if he has more seasons like 2022, when he failed to win a race and finished 24th in points.
Both 37, Busch and McDowell are younger than Kevin Harvick, Denny Hamlin, Truex, Keselowski, and Almirola, but they're not exactly the new kids on the block, either. How much runway Busch and McDowell have left in their respective careers will probably depend largely on how the next couple of seasons go, although it seems like a pretty safe bet that Busch races until at least his early 40s since 2023 will be the first year of his new multi-year contract with Richard Childress Racing — the place where he's headed after 15 seasons at Joe Gibbs Racing that followed three seasons at Hendrick Motorsports.