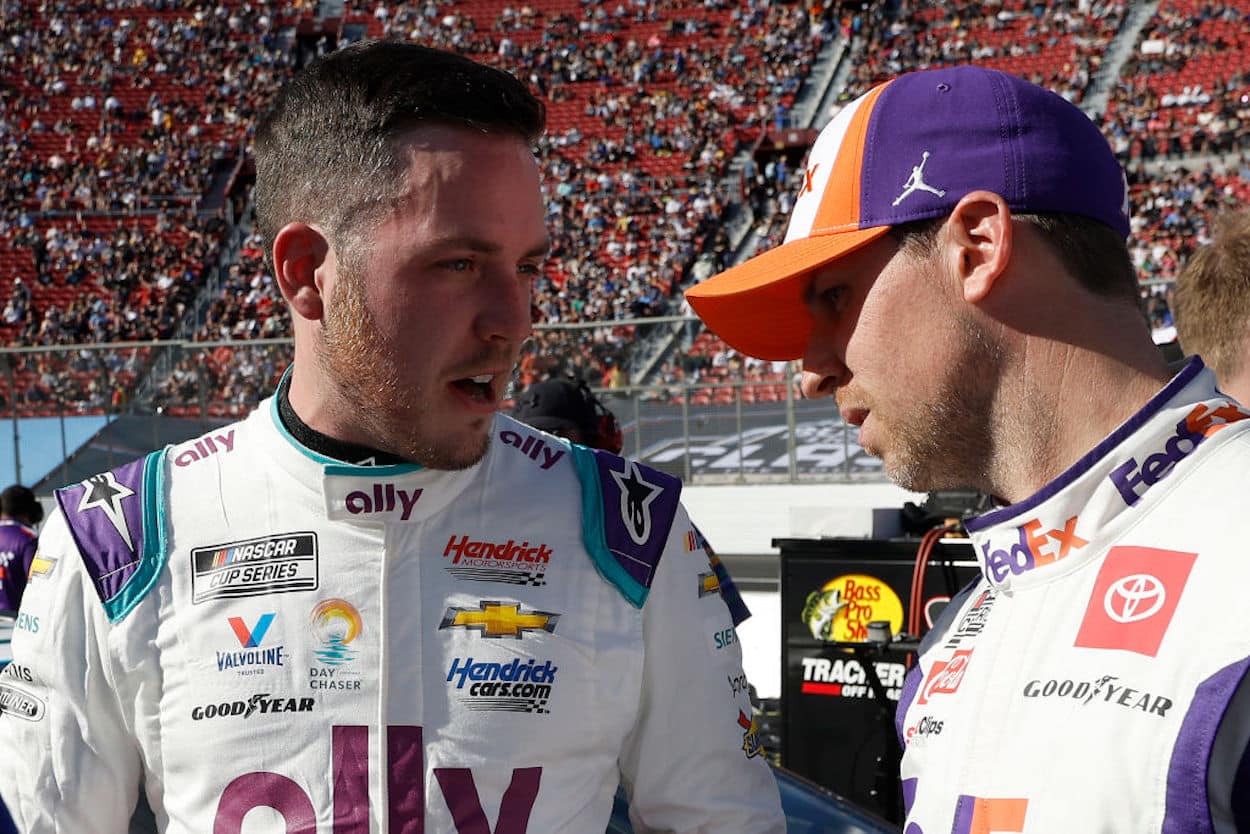 Denny Hamlin Buries the Hatchet With Alex Bowman, Who He Called a Derogatory Name 1 Year Ago
Last October, Denny Hamlin called out Alex Bowman. After a year, though, it seems like things have mellowed between the two drivers.
One of the ugliest moments of the 2021 NASCAR Cup Series season came in the penultimate race when Denny Hamlin and Alex Bowman collided in the final laps at Martinsville Speedway.
Battling with Hamlin for the lead in turns 3 and 4, Bowman drifted up the track and made contact with Hamlin — sending the No. 11 Joe Gibbs Racing Toyota for a spin.
Hamlin was understandably none too pleased, especially since he finished 24th and Bowman went on to win the race. In fact, Hamlin was so ticked off at the Hendrick Motorsports driver that, a few minutes later, he made the almost underheard-of move of disrupting the race winner's post-race celebration.
But it was what Hamlin said about Bowman — not what he did to Bowman — that turned the most heads. And this is why it's particularly notable that in just the last couple of days, the two combatants seem to have buried the proverbial hatchet on their memorable run-in from nearly one year ago.
Denny Hamlin dealt Alex Bowman a low blow at Martinsville
Moments after the race ended at Martinsville last October, Denny Hamlin wasted no time letting the world know exactly how he felt about Alex Bowman — the driver who cost him a win and nearly cost him a spot in the next weekend's Championship 4.
"He's just a hack — he's just an absolute hack," a steaming Hamlin told NBC Sports during an interview on live TV. "He gets his a** kicked by his teammates every week. He's just f***ing terrible, he's just terrible, and he sees one opportunity and he takes it. He's got the fastest car every week, and he runs 10th."
Hamlin wasn't done throwing Bowman under the bus, however.
"He didn't want to race us there," the three-time Daytona 500 winner and series veteran said. "We had a good, clean race, and I moved up as high as I could on the race track to give him all the room I could, and he still can't drive. … I just wanted to race there at the end. He's just terrible."
Hamlin made these remarks not long after parking his car in front of Bowman's car on the frontstretch and even rubbing up against Bowman's Chevrolet for a brief moment as the race winner prepared to perform a celebratory burnout. It was an awkward situation, to say the least, with Bowman basically being hemmed in by the driver he'd just wrecked for the win. After a few seconds, Hamlin took the advice of a team member and drove away after the team member warned him over the No. 11 team's in-car radio to "be smart" and think about the "big picture."
Alex Bowman tried to downplay Denny Hamlin's harsh criticism but was irked nevertheless
After the Martinsville race, Alex Bowman denied having any intention to wreck Denny Hamlin and seemed overall unphased by Hamlin's post-race antics, which lacked any real validity considering Bowman had just scored his fourth win of the season — double the number of times Hamlin had been to Victory Lane in 2021. 
But when I interviewed Bowman in late December for an article with another media outlet, the young driver was clearly still bothered by Hamlin's cutting post-race remarks.
"I've been getting pushed around and bullied for a long time, so I know if I say something back, that it just turns into a s***storm, right?" Bowman said in an interview for NASCAR Pole Position magazine. "It kind of builds up and then you start going back and forth with somebody, and it's just not worth it. I would have been mad, too, if I were him, but he stepped over the line and made it super-personal after the race, but I also understand why he was mad.
"So at this point, I felt like he made it super-personal, I crashed him, I don't feel like either of us owe each other anything. I feel like we're kind of even at that point. He might not see it that way, but I think everything he said kind of erased me being sorry."
Bowman did manage to have a little fun with the situation and even turned it into something positive: He arranged to have T-shirts printed with Hamlin's "hack" reference and sold them to raise money for Stand for Animals, a non-profit spay and neuter clinic in Mooresville, North Carolina. Bowman and primary sponsor Ally each donated $10,000 to the organization.
"We sold a lot of T-shirts that went to a good cause," Bowman told me for the NASCAR Pole Position story. "So that's really cool."
Alex Bowman's concussion has eased any lingering tensions between him and Denny Hamlin
Unfortunately, Alex Bowman saw his world get rocked late last month at Texas Motor Speedway when he suffered a concussion in an accident that didn't initially appear to be any cause for alarm — at least from the outside of the car (in-car footage revealed a much different story).
Prior to the following weekend's race at Talladega, Bowman and his Hendrick Motorsports team announced he would be sidelined for at least a week and possibly longer. Although team owner Rick Hendrick expressed optimism at Talladega that Bowman would return last weekend at the Charlotte Motor Speedway ROVAL, that ultimately didn't happen.
Then, earlier this week, Bowman revealed he would sit out at least three more races but left the door open to a possible return for the season finale at Phoenix — the Arizona native's home track. 
While Bowman received numerous well-wishes on Twitter following his latest medical update, one of them jumped off the page. It was from Denny Hamlin, who's been one of the fiercest critics of the perceived safety shortcomings of the much-maligned Next Generation Cup Series car that debuted this season. Both Bowman and Kurt Busch have suffered concussions in wrecks with the Next Gen car, and both have missed extensive seat time as a result.
Although not injured per se, Hamlin himself dealt with lingering rib pain from an accident at Daytona in August and, as a result, chose to skip an Xfinity Series race that he planned to run at Darlington the next weekend. While Hamlin and Bowman may never see eye-to-eye on what happened at Martinsville last year, Hamlin obviously wants nothing but the best for Bowman as the 29-year-old driver battles through his concussion.
"Get well soon AB," Hamlin tweeted in reply to Bowman's update. 
"Thanks man," Bowman replied.
And with that brief but cordial exchange, Hamlin and Bowman seem to have put their differences behind them. Maybe for good.
Have thoughts on this topic? Keep the conversation rolling in our comments section below.