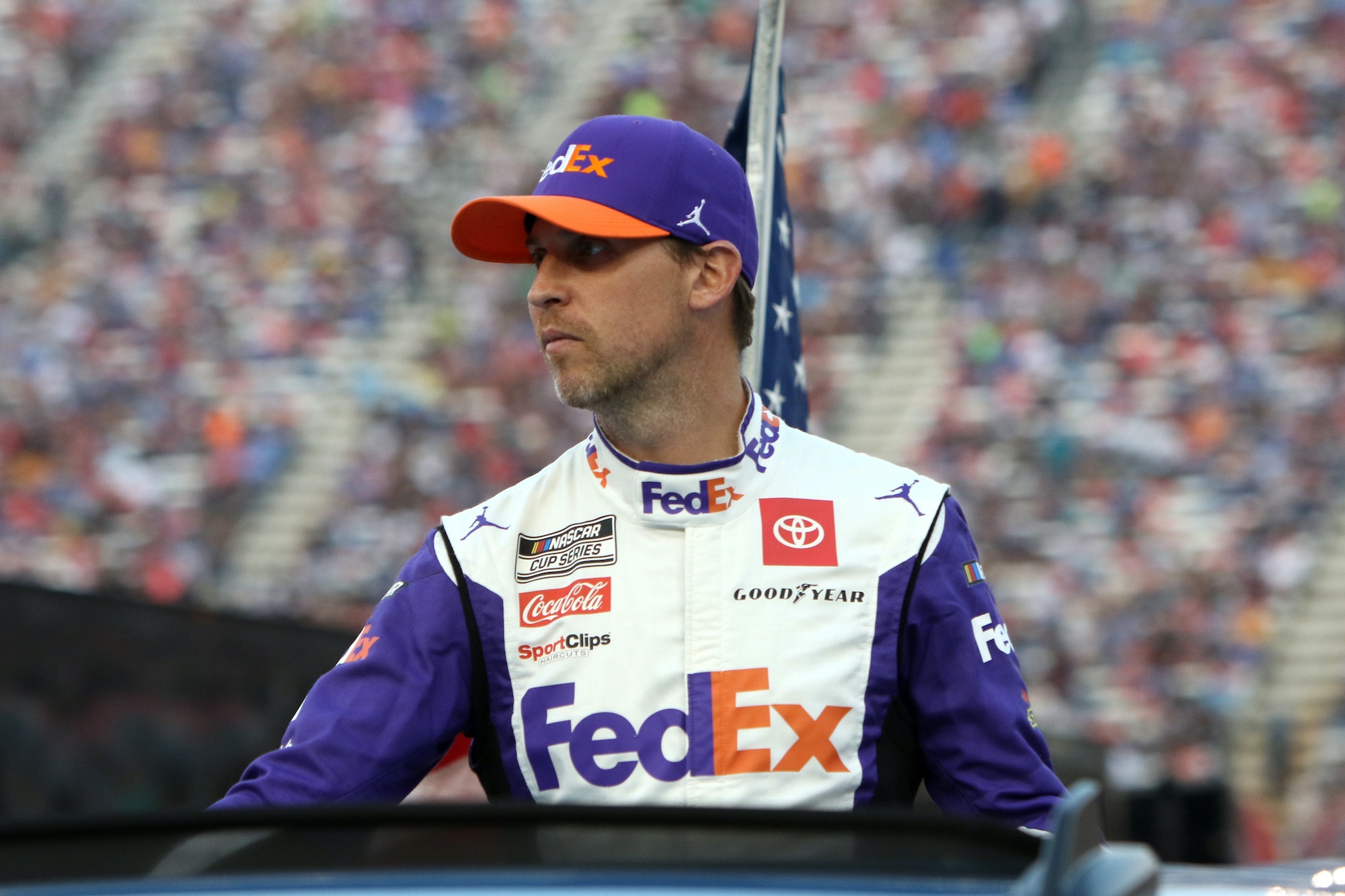 Outspoken Denny Hamlin Doesn't Mince Words and Voices Concern About Certain Direction NASCAR Is Headed
Denny Hamlin appeared on SiriusXM NASCAR Radio this week and went off on a tangent, voicing a concern he has with a certain direction NASCAR is headed.
Denny Hamlin is one of the veteran drivers in the NASCAR Cup Series garage. With so many years of experience, he's taken on a leadership role and, along with Kevin Harvick, has been outspoken on various issues the drivers want NASCAR to address, like safety concerns with the Next Gen car.
This week, with the release of the 2023 schedule for all three series, the Joe Gibbs Racing driver appeared on SiriusXM NASCAR Radio and talked about the schedule, identifying what he liked and didn't like about it. He spoke positively about the new Chicago street race, but then went off on a tangent, questioning why one track was included and cautioned NASCAR about the future and stepping out of its "zone." 
Denny Hamlin outspoken on various issues in past
The NASCAR history books will show that Denny Hamlin was a Hall of Fame-worthy driver who, despite what some of his critics might suggest, genuinely cared about the sport, as evidenced by his willingness to consistently put himself out there and criticize those in power on a host of issues. 
Last year, before the debut of the Next Gen car, Hamlin called out the sanctioning body for not sufficiently providing the drivers with safety information about the new car.
"When it comes to the crash stuff, I've asked questions to two different NASCAR people, executives. I can't get a response. That, to me, makes it even scarier," Hamlin bluntly admitted. "Man, the disconnect right now between all the parties — NASCAR, the tracks, and all the drivers — it's tough right now. It's not a good place."
This year has been no different. The three-time Daytona 500 winner was critical after the All-Star Race because NASCAR allowed Ryan Blaney to continue without properly securing his window net. 
More recently, Hamlin had a full-circle moment at Daytona when he led the field onto a wet portion of the race track, which resulted in the No. 11 and multiple cars making hard right turns into the fence. With that impact, the JGR driver confirmed what his competitors have been saying all year about the crashes being more violent in the new car. 
Hamlin cautions NASCAR about future tracks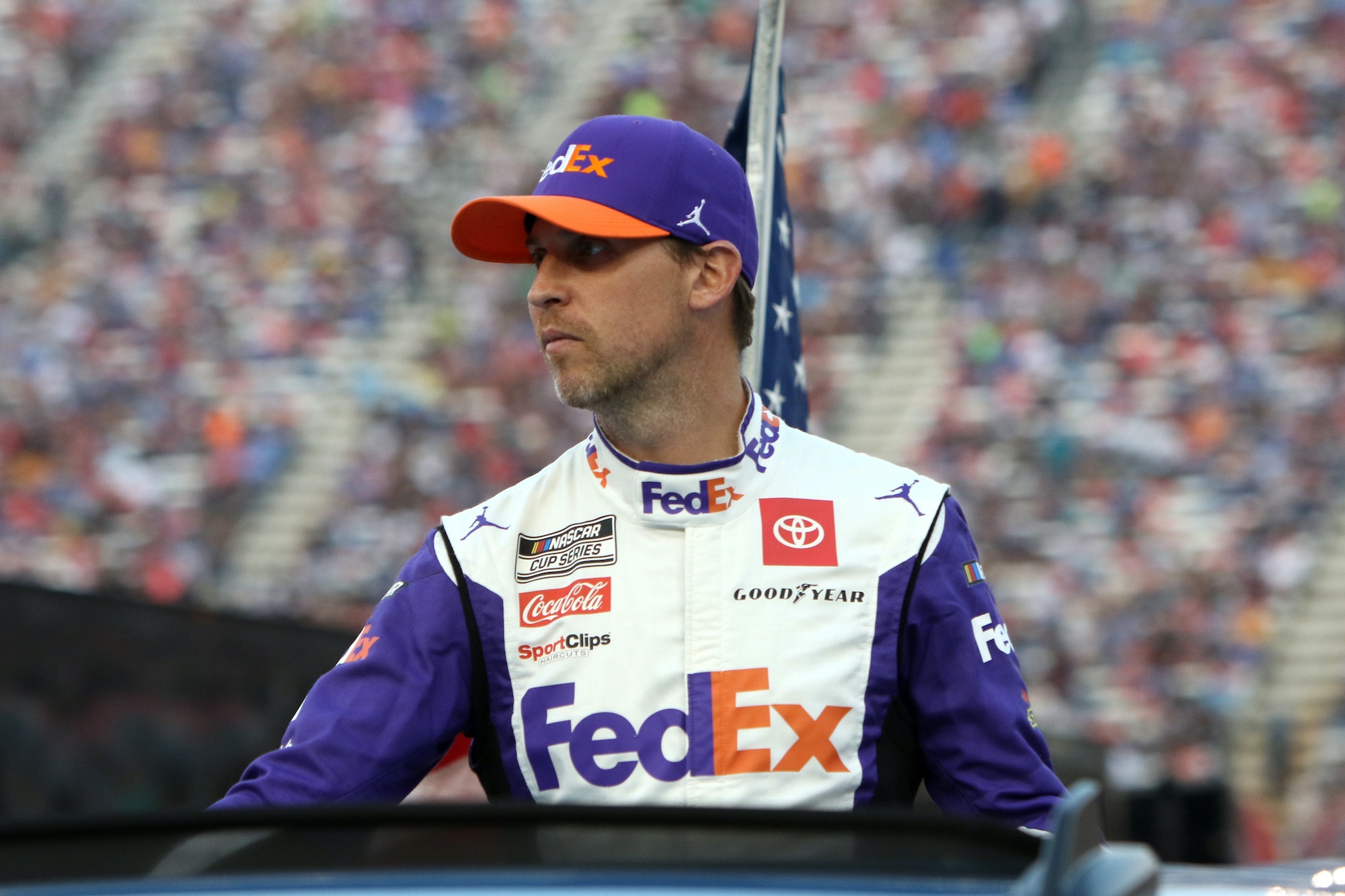 This past week NASCAR announced the 2023 schedule for all three national series. A day after the announcement, Hamlin appeared as a guest on SiriusXM NASCAR Radio and was asked his thoughts on the Cup schedule. 
He was enthusiastic about moving the All-Star Race to North Wilkesboro. He thinks racing through the streets of Chicago will be a "great spectacle." However, moments after talking positively about Chicago, the JGR driver took a detour and cautioned NASCAR about continuing down the path of incorporating more road courses into the schedule.
"What are we going to the Roval still for?" Hamlin asked. "That's not really a purpose-built road course. The racing on the oval was fantastic in May. I think that we did that as a reaction to the old car and people not coming out and things like that.
"I just think we're starting to get flooded with a little bit too much road course action, where we really need to be good at what we're good at, and that is this sport was built on short tracks, oval tracks, beating, and banging. 
"I just worry about us kind of getting out of our zone of what we are, which is NASCAR. We aren't IMSA. So why do we want to be IMSA? I just think that we really kind of, there's a place on the schedule for all of them. I think four to five road courses — fantastic. Start getting in the seven, eight, yeah, it's a challenge to me to kind of wrap my head around how does that make us better."
The 2023 schedule is set. The Roval is included. We'll have to wait a year to find out if NASCAR agrees with Hamlin on whether there are too many road courses when it releases the 2024 schedule.
Like Sportscasting on Facebook. Follow us on Twitter @sportscasting19 and subscribe to our YouTube channel.