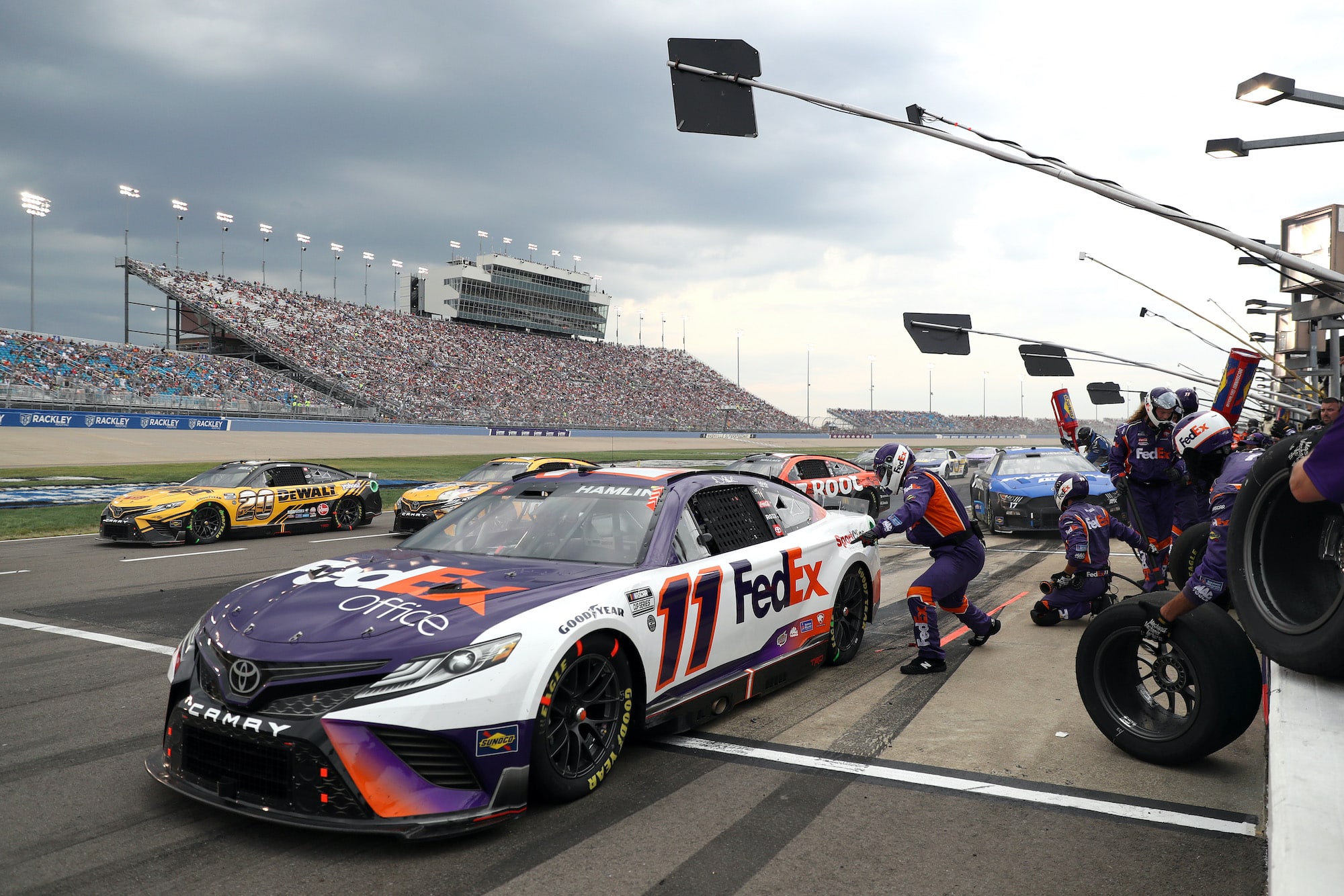 Denny Hamlin, Frustrated With Team, Suggests Yelling at Joe Gibbs About Persistent Issues
Denny Hamlin, frustrated by his team's pit road issues, suggested he might yell at team owner Joe Gibbs about the problem.
Denny Hamlin has had a fast car for much of the 2022 Cup Series season. But the three-time Daytona 500 winner understands that speed is just one component in the formula for winning races. Another key ingredient for success is pit crews. That's been a sore subject for the No. 11 team.
On Sunday at Kansas Speedway, the pit crew proved problematic on multiple occasions. After the race, a frustrated Hamlin talked about it and made an interesting remark about confronting team owner Joe Gibbs on the matter and how even that won't get anything accomplished.  
Denny Hamlin endured pit road struggles all year
Solely by the numbers, Denny Hamlin has had a decent season through 28 races with nine top-10 finishes, including a pair of wins, and is in the playoffs. But according to the driver, it's a case of missed opportunities. 
The 41-year-old has had the speed for much of the season and found himself in contention late in numerous races. Unfortunately, he's only been able to convert that into a pair of wins. Everyone knows about the one that got away at Pocono when NASCAR disqualified him and his Joe Gibbs Racing teammate Kyle Busch. But there have been others.
Just last month at Michigan, Hamlin came off pit road and would have lined up second behind Kevin Harvick with fresher tires. Instead, a pair of penalties forced him to the rear of the field. That's been a common theme this season, including last weekend at Kansas, when an equipment interference penalty sent him to the rear. The No. 11 team has 34 penalties this season. 
Hamlin talks about yelling at Joe Gibbs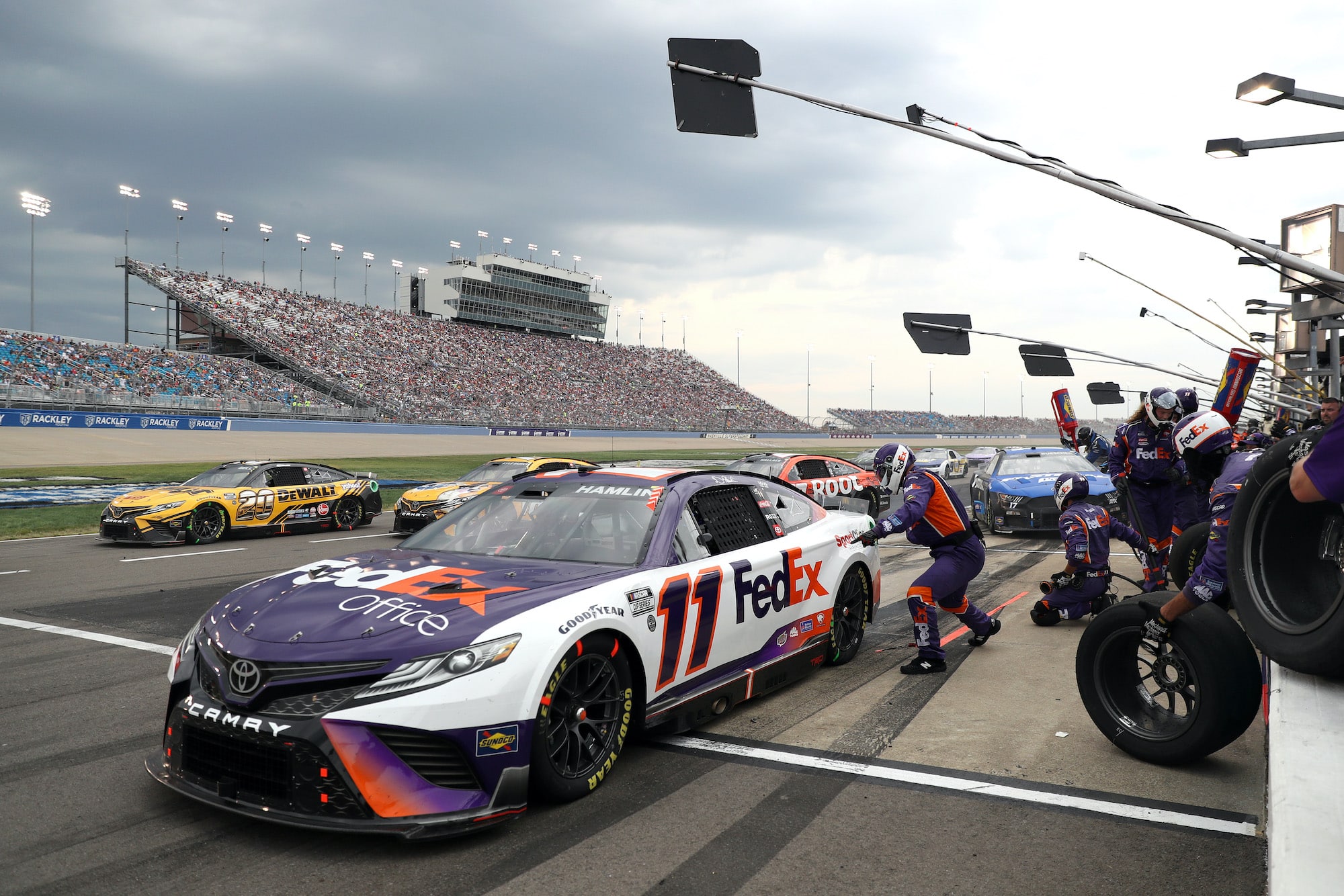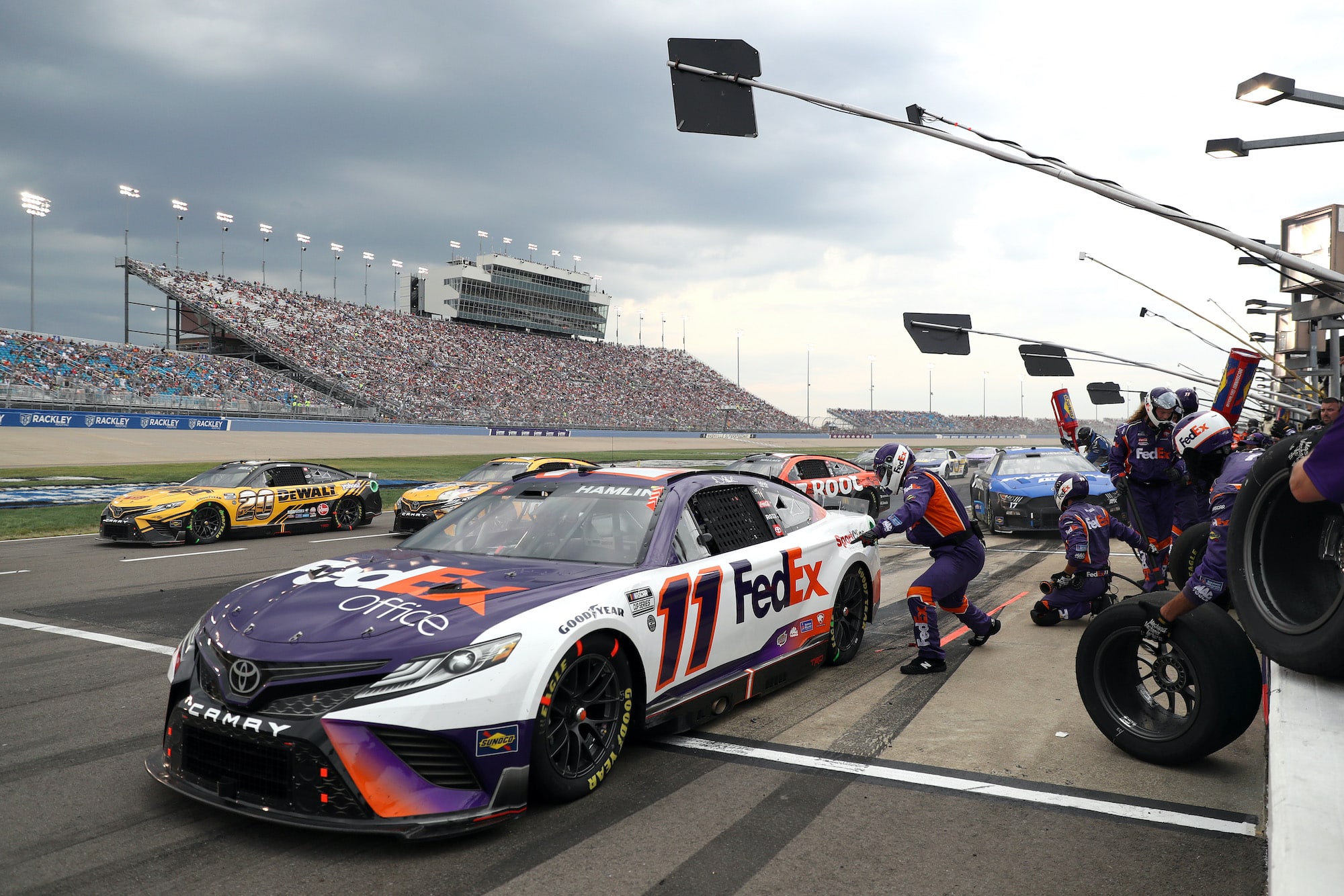 Following the race at Kansas, where Hamlin finished second behind the No. 45 car he co-owns, the driver visited with SiriusXM NASCAR's Claire B. Lang and talked about his issues on pit road, including the equipment interference penalty.
"That was one of the issues on pit road," Hamlin said. "Then we had a handful of slow stops that put us back, then put us back again. Just a tough day. Yeah, it's just hard for me to kind of keep justifying that it's going to get better. We just got to recognize this is what we got and hopefully, races fall our way. We get long runs like the end of this one so we can rally up there and show the speed we got." 
Lang asked if pit road was his biggest challenge for the day.
"It was the biggest challenge for sure," the driver admitted. "Obviously we had a fast car, but we weren't even in the picture for the first 150 laps because we kept miring ourselves 25th or 30th on pit road. That's just unfortunate. I wish we could get better, but ultimately I'm not running it." 
"You're a team player, and you're usually pretty quiet about that. At what point does it get so frustrating it's hard to be that way?" the reporter questioned.
"It seems like there's always something that's keeping the 11 team from winning races and like a lot of them," Hamlin said. "We've had the fastest car so many times and we just can't… It's going to do nothing sitting here telling you about all my problems, right? But it's just frustrating because we should be winning races right now and we're not."
"Going to do something about it?" Lang asked.
"I mean, sure. I'll go yell at Joe and yell at Coy," he bizarrely suggested. "They'll just nod their heads. I don't know after that." 
Problems at JGR 
Hamlin is understandably frustrated. His remark about yelling at Joe Gibbs is noteworthy only because of what he said earlier. "We just got to recognize this is what we got" and "I wish we could get better but ultimately I'm not running it" are comments directly aimed at those in charge at JGR who have, at least according to the driver, failed to address the pit crew issues this season. 
The entire organization has had pit road troubles this season. Christopher Bell and Bubba Wallace traded members. Kyle Busch and Martin Truex Jr. have both had their share of struggles.
Hamlin isn't an isolated case. If things continue to go the way they have all season — and there's no reason to believe they won't — it's hard to imagine any of the JGR teams seriously contending for the championship because chances are some type of pit road problem will pop up during one critical moment in the playoffs and prevent it from happening.
Like Sportscasting on Facebook. Follow us on Twitter @sportscasting19 and subscribe to our YouTube channel.