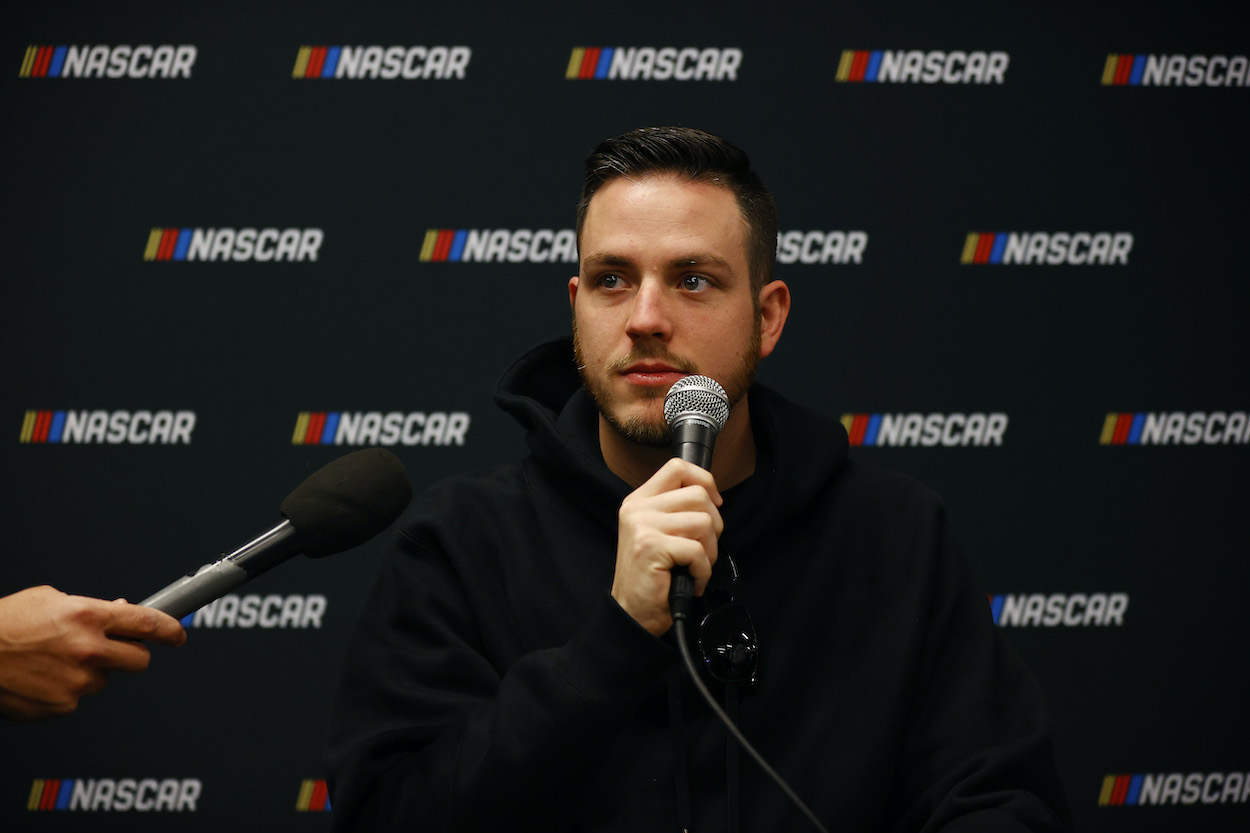 Alex Bowman Hilariously Brings Up Denny Hamlin 'Hack' Comment During Radio Interview and the Valuable Life Lesson It Taught Him About Mean People
Alex Bowman appeared on SiriusXM NASCAR Radio and hilariously brought up the topic of Denny Hamlin and the "hack" comment after Martinsville and how it all taught him a valuable life lesson.
Had Kyle Larson not recorded one of the most dominant seasons in NASCAR Cup Series history, his Hendrick Motorsports teammate Alex Bowman would have been a prominent story in the 2021 season. The 28-year-old had a breakout season in his fourth full year with HMS that included four wins, only second to Larson and more than 2020 Cup champion Chase Elliott. 
This week Bowman made an appearance on SiriusXM NASCAR Radio, where he revisited the season, talked about the victories, and reflected on his final win of the year at Martinsville. Interestingly, the driver of the No. 48 car talked about the valuable life lesson he learned when Denny Hamlin attacked him on national television.  
Alex Bowman feels wrath of Denny Hamlin after winning at Martinsville 
Denny Hamlin had been the dominant car for much of the race at Martinsville. Alex Bowman wasn't far behind. With seven laps remaining, the Hendrick driver stayed glued to the bumper of the Joe Gibbs Racing car around the half-mile track when he drove too deep into the corner, got into the side of Hamlin, sent him sliding up the track, and knocked him out of contention. Bowman went on to victory. Hamlin finished 24th. 
Immediately after the race, the three-time Daytona 500 winner was not happy and made sure Bowman knew about it when he drove his car and stopped the No. 48 car's burnout celebration before it ever got started. After a couple of tense moments, Hamlin flipped a double-bird and drove away. But he wasn't done. 
"He's just a hack," Hamlin said a few minutes later on the NBC broadcast as fans booed him in the background. "Just an absolute hack. He gets his ass kicked by his teammates every week. He's f****** terrible. He's just terrible. He sees one opportunity, he takes it. Obviously he's got the fast car of the week, and he runs 10th. He didn't want to race us there. We had a good, clean race. I moved up as high as I could on the racetrack to give him all the room I could, he still can't drive."
Alex Bowman learned life lesson and turned negative into positive and a profit 
Alex Bowman left the Virginia short track that night with a trophy and an idea. Within hours of his win and being called a hack, his online shop was selling t-shirts with "Hack" in the same purple letters as his Ally Chevrolet. 
And they were a smashing success. Within days he had thousands of preorders and announced that he would be donating a portion of the sales to local animal shelters. 
This week on SiriusXM NASCAR Radio, Bowman talked about his season and brought up that race in particular, including the valuable lesson it taught him. 
"Richmond in the spring was really special, and you know Martinsville was definitely exciting. Sold a lot of t-shirts after that deal. Thanks to all the support from the fans on that one," he laughed. 
"Hack," one of the show co-hosts joked. 
"Yep," Bowman said. "I mean life lesson. If anybody ever is mean to you and calls you names, just put it on a t-shirt and you'll do alright."
Rick Hendrick defended his driver 
This season Rick Hendrick's organization became the all-time winningest in Cup Series history. Mr. H, as he's affectionately called by many, knows what he's doing. Days after the race, he was asked about Bowman and Hamlin's comments. 
"Describe a hack. I don't know what a hack is. Look, he's won four races this year. Denny's won two," Hendrick candidly pointed out. "I think Denny just lost it Sunday. Alex races everybody clean. He's a good soldier. The sponsors love him. The crowd loves him. I think when you're in the middle of a disappointment, and you're frustrated and mad, you might say things that you wouldn't say normally. If he's a hack, I'd like to have more of 'em."
Alex Bowman is a good driver. He proved on that Sunday to be a savvy businessman. Two things that Rick Hendrick can truly appreciate.
Like Sportscasting on Facebook. Follow us on Twitter @sportscasting19.