Jimmie Johnson Candidly Admits Attending Therapy With Chad Knaus Allowed Pair to Win Final Championship but It All Came Crashing Down When Things Got Personal
When looking back in sports history, some iconic duos led to unparalleled success. Think Montana and Rice or Jordan and Pippen. In NASCAR, that duo was Jimmie Johnson and crew chief Chad Knaus. 
The two joined forces in 2002 on what turned out to be a record-setting journey that would include one of the greatest runs in NASCAR history. Despite that success, it wasn't always easy. In fact, it became downright contentious. Johnson revealed as much during a recent interview on In Depth With Graham Bensinger, where he talked about how the pair attended therapy together and ultimately how it got so bad (and personal) that the two had to call it quits. 
Jimmie Johnson partners with Chad Knaus and they race into history books
After several races in 2001, Jimmie Johnson made his full-time NASCAR Cup Series debut with Hendrick Motorsports in 2002. The rookie was paired with an unproven crew chief in Chad Knaus. During that first season, the pairing proved to be a surprisingly good fit. Johnson won three times and impressively finished fifth in the season standings. It was a precursor of things to come. 
After racking up wins and finishing high in the final standings during the next couple of years, including a pair of runner-ups in 2003 and 2004, Johnson broke through in 2006, winning his first Daytona 500 en route to winning five total times that season and more importantly, earning his first championship. Knaus was there each lap around the track. 
He was also there the next four seasons when Johnson recorded one of the most dominant stretches in NASCAR Cup Series history, winning the title in five consecutive seasons. 
After a couple of top-5 seasons, the pair recaptured its championship form in 2013 and again in 2016. After that final title, the wins dramatically dwindled. And the relationship, which had been strained at times throughout their time together, began to fracture. Following the 2018 season, in which Johnson failed to win a race for the first time in a single season since he started racing full-time, the two parted ways. 
Jimmie Johnson reveals how he and Chad Knaus attended therapy
As the case is in any lengthy partnership, hard times are inevitable. It's what happens during those challenging times that can either make the relationship stronger or tear it apart. Jimmie Johnson and Chad Knaus experienced their share of challenges together. During an interview on In Depth With Graham Bensinger, Johnson admitted in order to save the relationship, they went down a familiar path of many marriages and resorted to therapy.
"It was very little reflection and very little finger pointing of: 'You said this.' 'No, you did that.' It was like; it's a mess. This is how we're going to get better. And it really helped us for a while. I would say as far back as 2013 is when we really had some professional help and it got us to winning the championship in 2016 and then things kind of unraveled from there. It was a big help."
Johnson also acknowledged the therapy benefitted him on an individual level.
"A lot of things learned in that moment has helped me just with life in general and my personal life," the 46-year-old driver admitted. "I always felt like there was work Jimmie and home Jimmie. And I quickly realized that we are who we are. There are different stressors on each side, but we all process, analyze, handle, or react in the same way. It doesn't matter if it's personal or professional and that's something that I thought, 'No, I'm just mad at work. I don't bring it home.' Yeah, right. I don't overreact just at work on the radio with Chad. I'm overreacting here in my personal life as well."
Working relationship ends, but they have reunited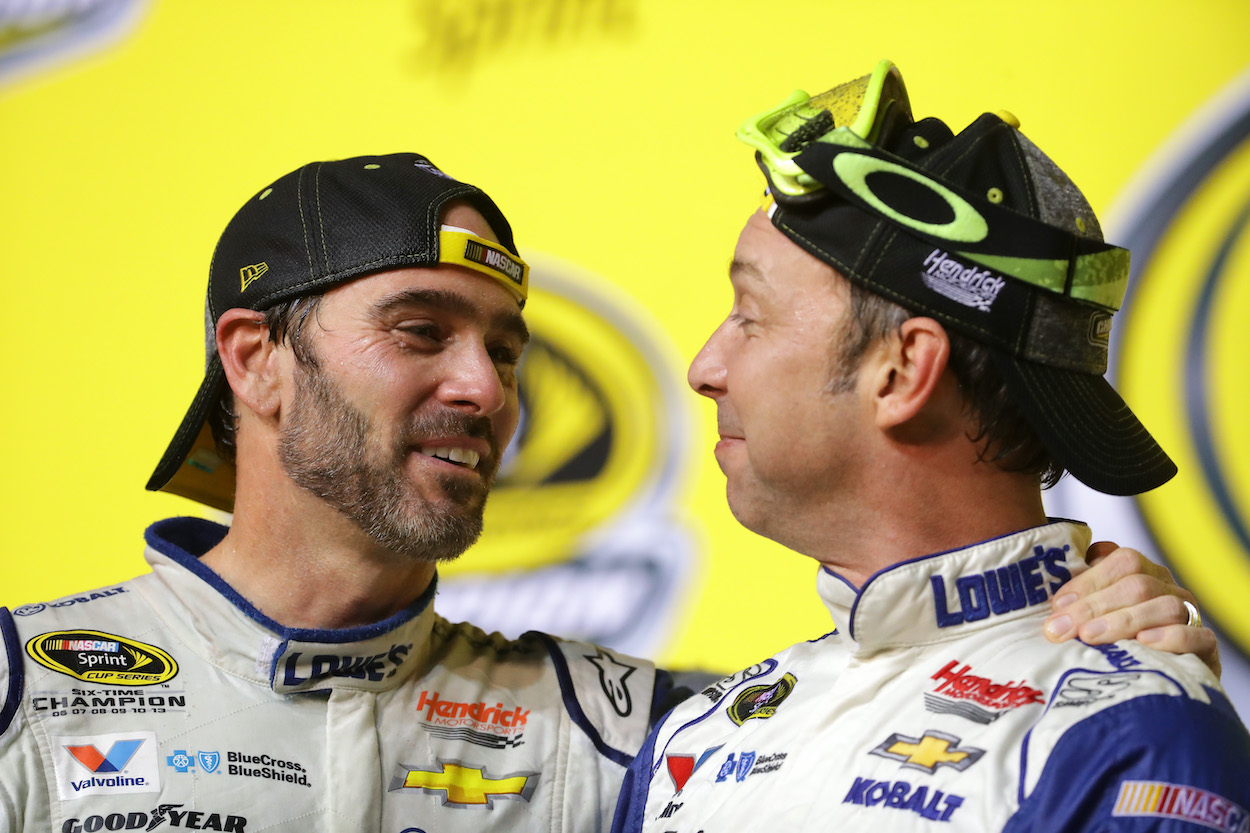 While therapy helped and bought the pair more time together, which included winning that final championship in 2016, there were still issues. Johnson said there was a specific moment in time when he realized the relationship was beyond repair.
"We had just won the championship," Johnson said. "We come back. Start the 2017 season. And that really really got under Chad's skin that I wanted to be in Aspen and not in Charlotte. And things started to get personal then. And him questioning where my heart was with the team and the time and effort I wanted to spend and be with the team was really kind of the starting fracture point." 
The two stayed together through the 2018 season, winning three times in 2017, before going winless in 2018. 
Knaus move on and worked with William Byron through 2020 while Johnson continued racing before retiring after the 2020 season.
The future Hall of Famer noted that the two have repaired their strained relationship and are in an "amazing" place and have "come full circle" working together at Hendrick again with Johnson's foray into IMSA endurance racing.
Johnson and his relationship with Knaus can be summed up with a single inspirational quote: "You get into the biggest fights with the people you care about the most because those relationships are worth fighting for."
Like Sportscasting on Facebook. Follow us on Twitter @sportscasting19.