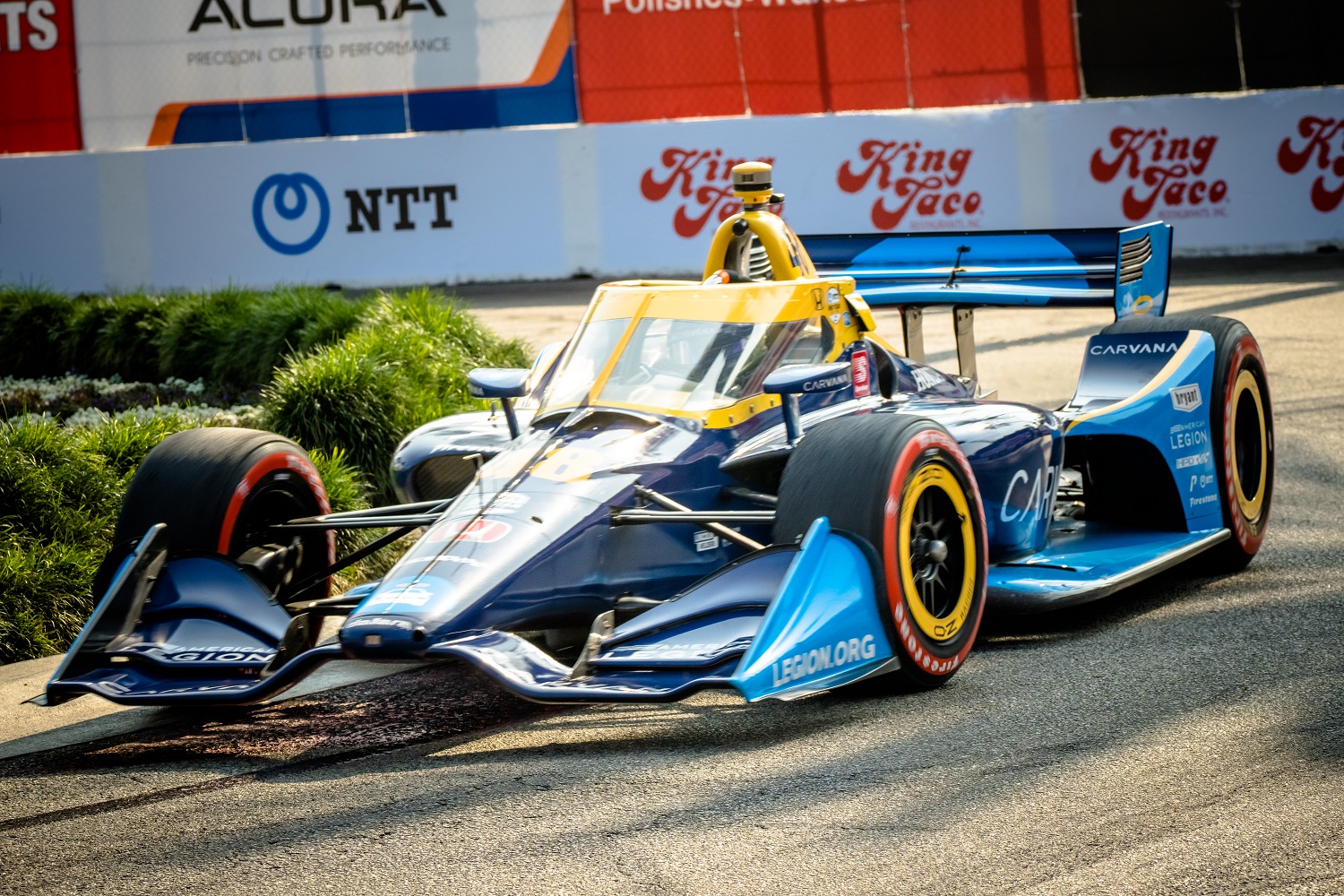 Jimmie Johnson's Big Gamble Leaving NASCAR for IndyCar Earns Steve Letarte's Praise: 'I Find It Refreshing'
Chip Ganassi Racing is making provisions for a fifth car at the Indianapolis 500, all but confirming Jimmie Johnson's intention to compete in May 2022.
Article Highlights:
Jimmie Johnson drove in IndyCar for the first time in 2021
The seven-time NASCAR Cup Series champion appears ready to tackle the 2022 Indianapolis 500
Chip Ganassi Racing will field four-full-time cars at Indy and make a fifth available for Johnson
It is now apparent that Jimmie Johnson was gunning for a spot in the Indianapolis 500 from the moment he left NASCAR for IndyCar racing. He may have been sincere when he said he wouldn't go near racing on high-speed ovals in his rookie season, but Johnson nevertheless mapped out a bigger plan.
Chip Ganassi all but said as much while discussing his own exit from NASCAR after this weekend. Ganassi revealed that he will run four full-time cars in IndyCar next year and roll out a fifth at Indy for Johnson.
And if that genuinely was Johnson's desire all along, then old friend Steve Letarte says more power to him, and we should all be that ambitious.
The end of the Chip Ganassi era at NASCAR and start of Jimmie Johnson on ovals
While the NASCAR focus understandably is on the Championship 4 in Phoenix, this weekend also marks the end of Chip Ganassi Racing's presence in stock car racing.
After two decades in NASCAR, Ganassi revealed this summer that sold the team to Trackhouse Racing. IndyCar won't be Ganassi's sole focus moving forward, but it will be the priority. Alex Palou is coming off the 2021 season title, and fellow Ganassi drivers Scott Dixon and Marcus Ericsson placed fourth and sixth, respectively. There's a lot of money in that kind of success.
Far back in the pack at 26th was IndyCar rookie Jimmie Johnson, who beat Ganassi to the NASCAR exit by a year after winning seven Cup Series championships. Johnson skipped the four races on the ovals and never finished better than 17th in 12 starts on road and street courses.
Though there hasn't been confirmation from the Ganassi camp beyond Chip Ganassi's mention to The Associated Press of the fifth car at Indy for Johnson, the retired NASCAR star could be heading for a full schedule in 2022.
Steve Letarte praises Jimmie Johnson's gamble: 'I find it refreshing'
Steve Letarte never worked as a crew chief for Jimmie Johnson at Hendrick Motorsports, where Johnson drove the No. 48 Chevy from 2001-20. Rather, he served as the crew chief for Jeff Gordon from 2005-10 and Dale Earnhardt Jr. from 2011-14, after which he began working as a race analyst for NBC Sports.
Still, Letarte worked out of the same shop housing the most successful NASCAR Cup Series organization ever. The respect he had for the driver then is surpassed now by the admiration for Johnson's willingness to take on the huge challenge of open-wheel racing.
"What Jimmie is doing, in my opinion, it's a great example for his daughters, my son, my daughter, the people out there in the world that you can do things and you don't have to be the best at them, and hard work pays off," Letarte said in an interview with the American Legion. "It doesn't matter what the world thinks of you.
"In today's world of social media and glitz and glamour and make-believe lifestyles, I find it refreshing that a guy that could have driven off into the NASCAR sunset as a seven-time champion and as one of the best to have ever raced is taking a chance. He is willing to be vulnerable and step into another top-tier racing series and struggle, continue to struggle, not hide from it, answer all the questions."
Steve Letarte believes in Jimmie Johnson
Jimmie Johnson's decision not to compete on IndyCar ovals as a rookie made sense. Judging turns from the seat of a NASCAR ride isn't preparation for doing the same in IndyCar, where hitting the wall at 175 mph or more has more substantial safety implications.
However, Johnson was generally quite a bit better on the NASCAR ovals than on the two road courses per season. Former Hendrick Motorsports co-worker Steve Letarte is confident that his results on IndyCar ovals will be dramatically different.
"Zero doubt," Letarte said. "Even if you look at his NASCAR career, he was a spectacular driver, but I don't know if you would put him in your top three road course racers. When he gets to the ovals, it will be much more familiar ground in an unfamiliar car.
"I'm like a fan. I'm excited to see it."
Like Sportscasting on Facebook. Follow us on Twitter @sportscasting19.
RELATED: NASCAR Legend Jimmie Johnson Made Plans to Drink and Drive, and It's Totally OK