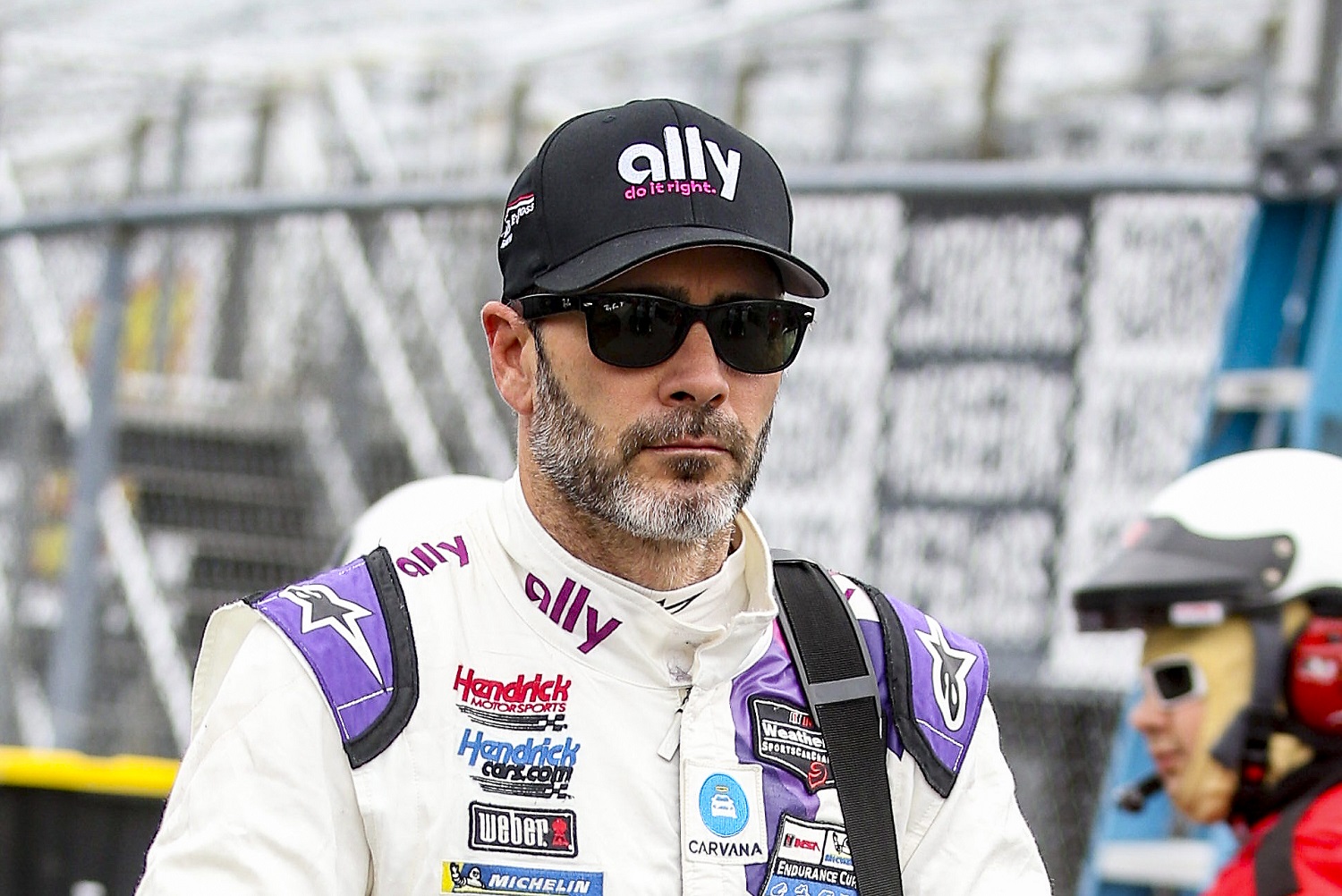 NASCAR Legend Jimmie Johnson Made Plans to Drink and Drive, and It's Totally OK
Jimmie Johnson planned to open a bottle of wine to celebrate passing his rookie test at Indianapolis Motor Speedway. But will he ever drink milk on victory lane there?
While you were filling out cover sheets for TPS reports at the office on Wednesday, Jimmie Johnson was doing real work at one of the biggest outdoor offices in sports. The retired NASCAR great was traversing the 2.5-mile oval at the Indianapolis Motor Speedway at speeds well over 200 mph.
Johnson had a good day, one that pushed him a step closer toward having to make a big decision about his motorsports future.
Jimmie Johnson aced his IndyCar test in Indianapolis despite the rain
Jimmie Johnson passed the three-part rookie orientation test Wednesday at Indianapolis Motor Speedway, making him eligible to attempt to qualify for the 2022 Indianapolis 500. The test consisted of:
Turning 10 laps of 205 mph
Completing 15 laps of 210-215 mph
Then, putting up 15 laps over 215 mph
Under the watchful eye of his Chip Ganassi Racing crew, Johnson breezed through the first two phases. He was on his way to completing the third when the skies opened up and the rain began falling late in the afternoon. He didn't complete the full final 15 laps, but officials deemed his test a success. Should he choose to follow through in attempting to qualify for the race next Memorial Day weekend, Johnson can make up the remaining laps during one of the late-April test dates.
Johnson had company on the track. Fellow NTT IndyCar Series rookie Romain Grosjean, the former Formula 1 driver, also went through his Indy Rookie Orientation Program. Driving the Andretti Autosport No. 28 DHL Honda for the first time (he's joining the team after competing for Dale Coyne Racing in 2021), he also did not log all his laps because of the rain but otherwise exceeded the standards.
Jimmie Johnson made plans to drink and drive, and it's totally OK
Though he passed his test, Johnson still felt as though he missed out by only squeezing in 55 laps between downpours.
"Definitely wanted to complete it," Johnson said. "It's so hard to get laps in an Indy car on the racetrack with the right tire. We didn't even get into our third set of tires. Thirty or 40 laps more, that, I could have run that, I didn't get to experience. At this stage of my IndyCar career, every lap makes a difference."
Still, it was a successful day for the seven-time NASCAR Cup Series champion, who switched over to IndyCar this season but only competed on road and street courses.
"(It was) just a special day to drive an Indy car at the Indianapolis Motor Speedway," Johnson said. "I have truly, truly enjoyed it. It was a childhood dream come true. The experience is more than expected and something that I really, really enjoyed."
Reporters pressed Johnson on whether successfully completing the test makes him prepared to commit to try qualifying for the Indianapolis 500.
"I can't just yet," he said. "I need to leave here today, go home, sit down, get a good bottle of wine open. I'm as close as I've ever been. The racer in me is taking a real serious look at this, but I still need to sit down and have that conversation at home."
What's holding him back for now?
Jimmie Johnson and Romain Grosjean both took the cautious approach to their rookie IndyCar season. Johnson did not race on any ovals, and Grosjean limited himself to one. Both men were concerned about handling the 220 mph speeds of the biggest ovals without extended seat time.
With his extensive Formula 1 background, Grosjean logged the better 2021 season. That told Johnson he made the right decision to stay away from ovals in favor of improving elsewhere.
"I have a lot of work to do on street courses, to be in the mix, to be competitive," he said. "I think it's fair to have higher expectations on the ovals if I do make that decision, the (Indianapolis) 500 or more, whatever that might look like."
As Johnson makes the adjustment to all types of IndyCar action, so too must his family. It's an important factor in his pending career decision.
"I really had to go through what I have to get comfortable with IndyCar, hit a couple walls," he said. "Hitting the wall at 180 (mph while qualifying in) Nashville, as much as I hated doing it, it was a good data point for me.
"Also, for my family to be around these cars, the industry. Seeing a couple bad crashes this year, seeing what the aeroscreen has done to protect Ryan Hunter-Reay at Barber when the wheel assembly came back into the windscreen.
"It's not that I regret it. It would have been an easier path. But I had to go through this journey on my own."
With that, one step remains in the journey: the go or no-go decision on aiming for Memorial Day weekend at Indy.
Like Sportscasting on Facebook. Follow us on Twitter @sportscasting19.